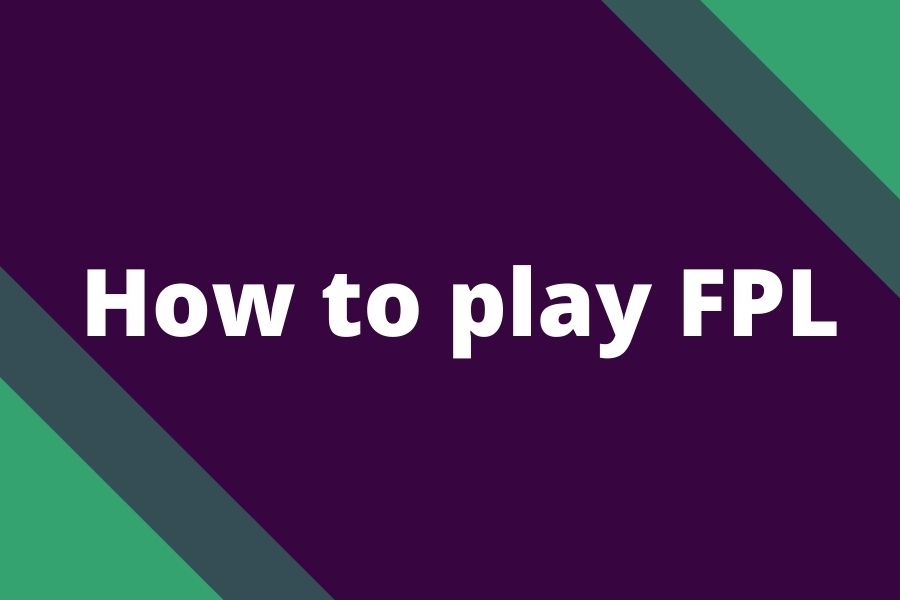 Fantasy Premier League is a global phenomenon that has captivated the hearts of football enthusiasts around the world. Fans can step into the shoes of a football manager, making strategic decisions that can lead to glory or despair. The popularity of FPL has grown exponentially over the years, with more than 10 million players from different corners of the globe participating in the last season.
If this is the first time you participate in the amazing game called Fantasy Premier League and wondering how to play FPL, you will find this ultimate guide for beginners helpful. It aims to provide a comprehensive understanding of what Fantasy Premier League is and how it works.
Let's jump to it.
What is Fantasy Premier League and how does it work?
Fantasy Premier League is an online game that allows you to take on the role of a football manager and involves selecting real-life Premier League players to form a fantasy team.
At the start of the season, you select a squad of 15 players from the Premier League. The tricky part is, that you are given a budget of £100 million to build the team. The players you choose score points for your team based on their performances in real-life matches. For instance, if a player in your team scores a goal in a real match, they earn points for your fantasy team. Similarly, goalkeepers and defenders can earn points for keeping clean sheets, while points are deducted for yellow cards, red cards, and missed penalties.
How to play Fantasy Premier League?
Here's a detailed guide on how to navigate the world of FPL.
1. Building your FPL squad and naming it
Well, once you register and log in to Official FPL, it is time to start picking your team.
But first, you need to name your team.
Tip: Your team's name will be displayed in all mini-leagues you participate in, so dedicate few thoughts to come up with something nice or clever.
Check our article: Best FPL team names.
When you start picking your team, you will see that you have a limited budget of just 100 million to pick exactly 15 players (you cannot pick less than 15). It is not the only restriction when selecting a squad, but do not worry – other squad constraints are pretty simple and easy to remember:
You must have 2 goalkeepers, 5 defenders, 5 midfielders, and 3 forwards
You cannot have more than 3 players from one team in your Fantasy Premier League squad
Source: Official FPL
Read more about our players picks for 2023/24 season:
2. Pick your FPL team
The main goal of the game is to score the most points. Your players earn points based on their performances in real-life Premier League matches.
So, before you start picking your 15-man squad, check how points in FPL are awarded.
Points for appearances:
Playing up to 60 minutes: 1 point
Playing 60 minutes or more: 2 points
Points for attacking returns:
Goal scored by a goalkeeper or defender: 6 points
Goal scored by a midfielder: 5 points
Goal scored by a forward: 4 points
Assist: 3 points
Points for clean sheets:
Clean sheet by a goalkeeper or defender: 4 points
Clean sheet by a midfielder: 1 point
Points for saves:
Every 3 shot saves by a goalkeeper: 1 point
Penalty save by a goalkeeper: 5 points
Bonus points:
Bonus points: 1 – 3 points
Points deductions:
Penalty miss: -2 points
Every 2 goals conceded by a goalkeeper or defender: -1 point
Yellow card: -1 point
Red card: -3 points
Own goal: -2 points
Source: Rules of Official FPL
Now you should realize that there are three main sources of FPL points:
Goals
Assists
Clean sheets
Tip: Basically, when selecting your 15-men FPL team, you should pick players that you think will score the most points.
That is the most important advice we can give you in this area. In your decision-making process, you can use all the available data, for example, FPL points, goals, assists, or clean sheets from previous seasons.
Read more: How do bonus points work in FPL?
3. Selecting a starting XI and a captain every gameweek
Before the deadline of every gameweek, you have to pick starting 11 from your 15 points squad. And only these 11 starting players will score you points in that gameweek. Your 11 selected players have to be in eligible formation. We recommend 442 or 433, as they are very balanced. You can change your formation by subbing in your bench players.
Source: Official FPL
Read more:
Just remember, the deadline for every gameweek is 1,5 hours before the first kickoff.
Tip: Now that you know, that you will be starting just 11 players every gameweek, pick 4 players into your team as bench fodders. So you do not need to have all of your 15 players of high quality. Put more emphasis on your starting 11 players. We recommend that all your 4 bench fodders should be a maximum of 4,5 million – but make sure they all start for their team (so when some of starting XI get injured, bench fodder came in and score you 2 points). That way you maximize the potential of your starting XI.
Also, you should pick one player as your captain for every gameweek – your captain will score double points.
Source: Official FPL
Tip: Pick some reliable player as your captain, as he is the most likely source of fantasy points. For example, players like Salah, Haaland, Kane are great captaincy choices almost every gameweek.
Read more:
4. Autosubs and vice captains
Another important feature of the Fantasy Premier League are autosubs. If some player from your starting XI does not play in the gameweek (plays 0 minutes), he will be automatically subbed off and replaced by the first player from your bench.
Tip: Substitutions do not happen very often, so you should keep expensive players on your bench.
Tip 2: Make sure you have the bench ordered. Players from your bench came by the numbers below them. So, your number 1 bench player should be a player that has the highest potential of scoring you points. For example, if you play formation 4-4-2 and you have 4.5 million forward, 4.5 million midfielder, and 4.5 million defender on your bench – put the 4.5 million defender first on your bench. 4.5 million midfielders and forwards rarely score goals or assist. However, clean sheets for 4.5 million defenders are quite common.
Read more:
A very similar feature to autosubs is vice-captain. The vice-captain does not score any doubled points for your Fantasy Premier League team. However, if your main captain does not play (plays 0 minutes), the points of your vice-captain will get doubled. Basically, it is a backup captain.
Source: Official FPL
Tip: If you have multiple heavy hitters (players cost more than 10 million) in your FPL team, make one of them your captain, and the other one your vice-captain. So, if you are going with Salah and Haaland into the 2023/24 season, Haaland can be your GW1 captain, and Salah a vice-captain. So, if Haaland gets injured in the warmup and doesn't play, Salah's points will get doubled.
Read more: What does vice captain do in FPL?
5. Making Transfers (almost) every gameweek
Once you pick your squad before the GW1 deadline, do not worry, it is not over. You still will be able to make transfers to your FPL squad before every gameweek.
After the deadline of every gameweek, you will be rewarded one free transfer – so you can swap some player from your team for a new one. Of course, the change has to respect the constraints of the game.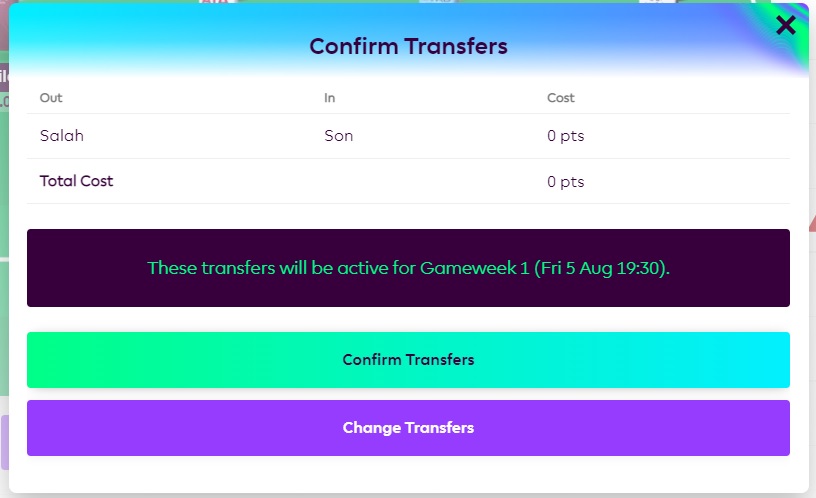 Source: Official FPL
If you want to make an additional transfer, you still can – but you will lose 4 points.
Tip: -4 points hit are rarely worth it. Try to only use your free transfers (or wildcard – more about that later) to change the squad. However, if any of your players get injured and you cannot field XI players, that's the rare case when you should consider taking -4 point hits.
If you do not use your free transfer in a certain gameweek, you can carry it over to the following gameweek, so you will have 2 free transfers available. However, you cannot have more than two free transfers. So, if you do not make any transfers for two weeks, you cannot carry over both free transfers and for the third week, you will be able to make only two free transfers and not three.
Tip: Wait with your transfers as close to the deadline as possible (unless price changes force you to do it sooner). If you make your transfers at the beginning of the week, there is always a risk that the player you brought in gets injured. So, wait until the end of the week, when you have all the information available, before making moves. However, sometimes this is not possible due to price changes.
Read more:
6. Player prices and price changes
Player prices do not remain the same every gameweek. They can change anytime during the gameweek based on the market forces (supply and demand, based on how many FPL managers are transferring in or out certain players).
Player prices can decrease or increase by 0,1 million in a day.
For example, if Mbeumo starts the season very well, a lot of FPL managers will transfer him into their teams. His price could climb up from 6.5 million to 7 million in just 3-4 gameweeks.
You could make a profit if you owned a player while his price increased. However, there is a tricky part, when you want to sell this player.
The selling price and buying price are not the same.
Let's assume you have bought Mbeumo for 6.7 and now you would like to sell him after his price increased to 7.0. You owned him while his price increased by 0.3. But if you would want to sell him, you would have to pay a sell-on fee of 50 % of the increased price (increased price while you owned him) rounded down to the nearest 0.1 m.
In this example, your sell-on fee is 50% of the increased price while you owned him, so 50 % from 0.3 million = 0.15 million. So, you could sell Mbeumo for 6.85 million. However, the number must be rounded down to the nearest 0.1, so in reality, the final selling price is 6.8 million.
If you would like to sell him for 6.9 million, you would have to wait until his price increased from 6.7 to 7.1.
Hope that makes sense.
Read more: FPL price changes explained
Tip: Price changes happen once every day. Usually during the night (European time). If you want to buy a certain player and a lot of managers are transferring him in, you should act quickly and bring him in before the price changes.
7. Plan when you use chips
We have five chips available in the Fantasy Premier League:
First wildcard
Second wildcard
Bench boost
Triple captain
Free hit

Source: Official FPL
Wildcard allows you to change your Fantasy Premier League team completely – you will get unlimited transfers in the gameweek you activate it. So you do not have to pay 4 million for additional transfers in that gameweek. That's why the wildcard is the most powerful chip. It allows you to "start over" if something went wrong. We have two wildcards available, each for every half of the season.
Read more:
Bench boost – when you use this chip, you will get points that were scored by your bench players. Basically, for one gameweek you will get 15 starters instead of 11.
Read more:
Triple captain – your captain points will be tripled for one gameweek.
Read more:
Free Hit – You can change the whole squad for just one gameweek. After the gameweek is finished, your team revert to the team you had before activating the free hit chip.
Tip: The best time to use chips is during double gameweeks and blank gameweek in the second half of the season. There will be a lot of postponements due to cup duties and in certain gameweek, some teams will play twice, and other teams will not play at all. So use your first wildcard in the first half of the season anywhere you want. But use the second wildcard, free hit, triple captain, and bench boost during blank and double gameweeks later in the season. You will get a tremendous advantage over other FPL managers.
Read more:
8. Join Leagues
In Fantasy Premier League, you can compete with all 8+ million FPL managers in the global league, but also just with your friends in mini-leagues. You can easily set up a league and invite your friends. It is more fun when you compete against someone who you know!
Feel free to JOIN our Fantasy Football Reports mini-league by clicking this link or using our league code ti56kl.
Read more:
Conclusion
Hopefully, now you have a better idea of how to play Fantasy Premier League. If you are looking for detailed information, check the official rules of FPL.
And if you are ready to play, start picking your FPL squad today. If your are interested in finding some strategies on how to play Fantasy Premier League, visit our category: FPL Strategies.
FAQ
Can you have less than 15 players in FPL?
No, you cannot have less than 15 players in your FPL squad. You must always have a full squad of 15 players, and it's up to you to spread your funds effectively into 15 players to maximize your points each week.
Further resources