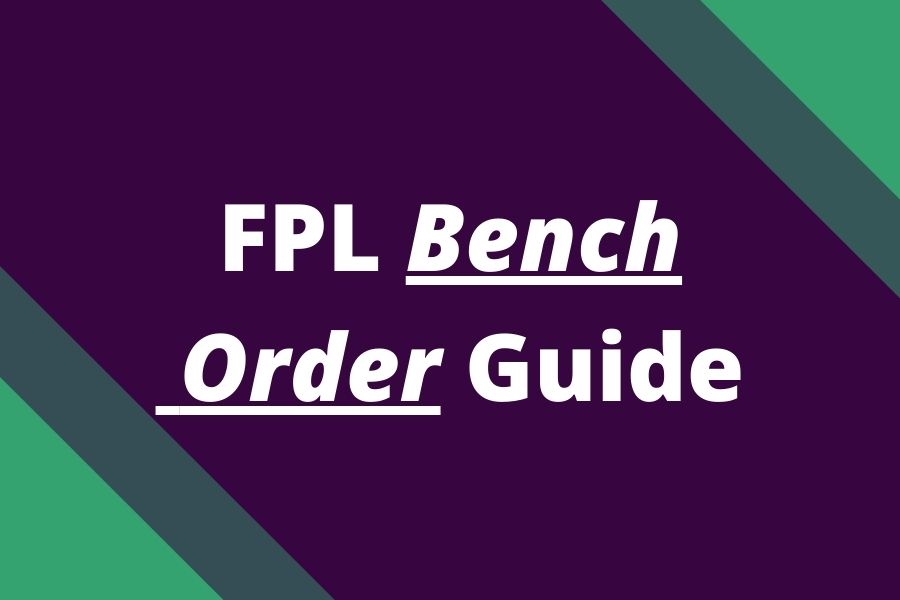 Having a playing bench is going to be an important part of your FPL strategy, especially during busy schedules. When there are many midweek games, Champions League, and league cups, we usually see a lot of rotation from managers and that is a nightmare for FPL players.
This is when having proper bench players is worthy. That's why we prepared for you this FPL Bench Order Guide.
So, let's dive deeper into how the bench of your FPL team should look like and how you should sort the players.
1. Do not overthink the rotation
The rotation and busy schedules in Premier League are connected terms in the FPL Community. But there is one thing you must realize.
There is so little time to rest for the players that almost every player will be rotated. There will be unexpected benchings every gameweek.
Every one of your players might get benched. Make peace with that. Do not overthink it. Every FPL manager is in the same situation.
We all will find some of our players benched during this period.
You can miss out on a big portion of points if you try to avoid some players only because you think they are rotation risks.
If a player (who is a good FPL asset) is a regular starter for his team, it does not matter if he gets benched once in 5 games.
He will score plenty of points in the other four games. Just do not miss out on opportunities due to fear of players being benched. Because he will be benched anyway.
Just pick the players you think will score the most points.
2. Have a playing bench, not a strong bench
Yes, you need to have a playing bench in this period. But no, you do not need a strong bench. Focus on having 2 playing players on the bench of your FPL team.
You can forget about reserve keeper and 3rd place in your bench (it is extremely unlikely you will need them, so it does not worth the effort and wasted transfers or wildcards to bring playing players to that position).
3. Two points – that's what you should expect from your bench player
In order to maximize the expected output of your starting XI, your bench players should be 4.5 m (or less) players that are regularly scoring 2 points every week.
No, players over 4.5 million are not great bench options. You can never time when they score goals so you will likely end up with two points from them anyway.
That is not worth the extra 0.5 million over 4.5m players. You should rather use those 0.5 million elsewhere in your team to maximize the expected FPL points output of your starting XI.
4. Defender as the first sub
If you are not playing 5 at the back, your first sub should almost always be a 4.0 or 4.5 million defender.
Ideally low rotation risk centre back with green fixtures during busy periods. However, if he has a really bad fixture like LIV (A) where he is likely to score 0 or 1 point, you can move a 4.5 million midfielder who is more likely to score 2 points to your first bench spot.
Even though we focus on getting 2 points from our bench players, having a 4.5m defender as the first sub will maximize the chances of getting occasional clean sheet points from your bench player.
This 4.5 million defender will be likely from a non-top-6 team. For example, in the 2021/22 season, non-top-6 teams have kept 130 clean sheets in 38 gameweeks.
That's 9.29 clean sheets per team. And that's 0.24 clean sheets per non-top-6 team per gameweek. This is a big simplification, but with having a 4.5 million defender as your first sub you still have a 24% probability of getting clean sheet points.
It is a higher probability than a 4.5 million midfielder scoring a goal or registering an assist.
Of course, a defender can score 1 point instead of 2 when conceding 2 goals. That's why you really want a defender with great fixtures in your first bench spot.
And if the fixture is bad, you put your 4.5 m midfielder as your first sub to minimize the risk and ensure 2 points.
Conclusion
When we approach a busy schedule in Fantasy Premier League, make sure you order your bench correctly. Every point counts, and if you can get even 10 extra points at the end of the season from having a correct bench order, it is definitely worth it.
Further Resources