In this article, we will look at the best midfielders to pick for your Fantasy Premier League team in Gameweek 25.
Let's dive in.
Best midfielders for FPL GW25
We will look at midfielders from every price point: budget enablers, midpriced picks and premium options.
*We avoid Everton and Wolves midfielders – they are not delivering fantasy points on regular basis and you might be stuck with them after the double gamaweek. It is better to have great single gameweek asset, rather than poor double gameweek asset, because once the double gameweek is over, you are stuck with a poor performing player. 
Budget enablers for Gameweek 25
Andreas (4.4m, Fulham)
without a doubt, the best budget midfielder in the game
Andreas does not have to be your bench fodder
Have a fixture during blank in GW25
You can play him almost every gameweek and use funds elsewhere, as he is averaging 3.7 points per game, which is equivalent to 141 points per 38 matches – a return that not even some more expensive FPL midfielders can achieve through the season
Mid-priced FPL midfielders for GW25
Ward Prowse (6.2m, Southampton)
Ward Prowse is our pick mainly due to his long-term reliability based on his points output in the previous season
On penalties and set pieces
Fixture doesnot matter, we can never time his points, he delivers when you least expect it
Grealish (6.8m, Manchester City)
overlooked, could be a potential differential
slowly and steadily collecting fantasy points
benched only once after the GW17 restart
2 goals and 5 assists after the restart
great fixture in GW25, but rotation risk due to the Champions League fixture midweek
Odegaard (7.0m, Arsenal)
with Martinelli being the rotation risk, Odegaard + Saka is the preffered Arsenal double up in the midfield
You should aim to have two Arsenal midfielders in their double gameweek in GW25
Mahrez (7.8m, Manchester City)
Each season, he has a great run where he keeps scoring until he gets rotated again, and it looks that he is now in the good form
Hard to find any other reliable midfielder among Manchester City players
Good fixture in GW25 that has big haul potential, but expect some rotation from City
Rested in GW24, so Mahrez could potentialy start against Bournemouth
Saka (8.4m, Arsenal)
key man for Arsenal
offering stable output in FPL
just pick Arsenal midfielder(s) for your team and do not worry about their fixtures
captaincy option for DGW25
Premium FPL midfielders for

Gameweek 25
De Bruyne (12.4m, Manchester City)
It hasnot been the same Kevin De Bruyne after the World Cup
Great fixture for City against Bournamouth in GW25
Having Arsenal, Liverpool and Manchester City players in your team for GW25 is going to be crutial
There are slight worries thath De Bruyne could be rotated in GW25
Salah (12.7m, Liverpool)
the main man for Liverpool
poorer season than we are used to from him
aim to bring him in for double gameweek 25, he could be captain candidate in DGW25
almost must have for DGW25, especially if you are on a free hit
Midfielders beyond Gameweek 25
Mitoma (5.4m, Brighton)
Mitoma is an amazing form
We all should have picked him after the GW17 restart
unfortunately, blanks in GW25 which prevented many managers to bring him
We have slight worries that he could be the "next Almiron" when he does well in just a cluster of few fixtures and then gets out of form
Brighton with double gameweek in GW27, but then likely blank in GW28
Rashford (7.3m, Manchester United)
The top scoring midfielder in the game
Rashford is underpriced when we consider his returns in the previous seasons (apart from the last one)
Manchester United have blank in GW25, bench him in this gameweek, do not sell
Son (11.6m, Tottenham)
one to monitor, Son is overlooked due to his poorer performances this season
but we know, how explosive he can be, and once he start firing, he can get double digits hauls in 3-4 gameweeks in a row
Could be a differential and Tottenham is heading to great fixture run
Tips for picking the best midfielders for your FPL team
If you pick premium midfielder, make sure he is also a good captaincy option.
Also, consider midfielders that are talismans for their teams
Form and fixtures are also an important parts of your decision-making process
Consider probabilities when picking midfielders in FPL. Let bookies any time goalscorer odds to help you with that. You can find them here: Premier League Goalscoring Odds.
FPL midfielders with stable points output in previous 4 seasons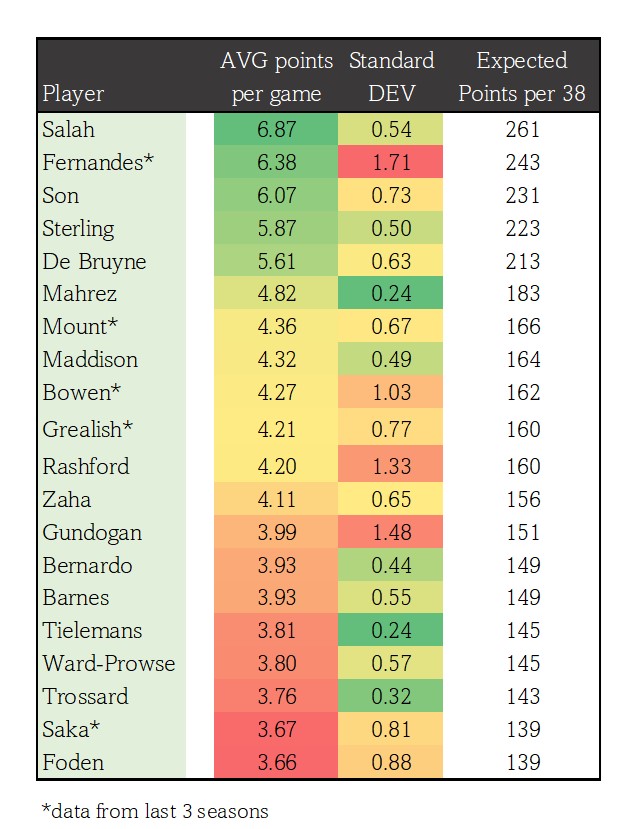 Read more in our article: Best long-term FPL picks for 2022/23 season
How many points should you expect from your midfielder in Fantasy Premier League?
Do not have unrealistic expectations from your FPL midfielders.
Usually, the top-scoring midfielders can get around

200-240 points

per season (on some occasions even more, but this is the realistic expectation from premium FPL midfielders like Salah or De Bruyne) – that is 5.2 – 6.3 points per match
Good mid-priced FPL midfielders (usually 7.5m – 9m range) can get approximately

160-190 points

per season, so expect around 4.2 – 5 points per match on average
Good cheaper midfielders (6m – 7.5m range) can get around

130-160 points

per season = 3.4 – 5 points per match
Budget midfielders can get around

115-130 points

per season = 3 – 3.4 points per match

The points of midfielders and forwards usually came in waves or in clusters – so the run of "form" can be followed with a run of blanks.
How are midfielders awarded points in FPL?
The majority of FPL points for midfielders go through goals – 5 points – and assists – 3 points – that's their main source of points.
Clean sheet point for midfielders is often overlooked = but if a team keep 20 clean sheets, that is 20 more FPL points for a midfielder (that is 5 more goals for forwards).
And usually, when FPL midfielder register two attacking returns, he is more likely to earn bonus points as well.
Further resources