In this article, we will look at the best midfielders to pick for your Fantasy Premier League team in Gameweek 20.
Let's dive in.
Best midfielders for FPL GW20
We will look at midfielders from every price point: budget enablers, midpriced picks and premium options.
Budget enablers for Gameweek 20
Andreas (4.6m, Fulham)
without a doubt, the best budget midfielder in the game
Andreas does not have to be your bench fodder
You can play him almost every gameweek and use funds elsewhere, as he is averaging 3.9 points per game, which is equivalent to 148 points per 38 matches – a return that not even some more expensive FPL midfielders can achieve through the season
Mid-priced FPL midfielders for GW20
Almiron (5.9m, Newcastle)
the top-scoring FPL midfielder, he just keeps scoring
Newcastle with great form this season, well organized defensive and offensive play
But the majority of Almiron's FPL points came in the cluster of GW9 – GW17 – was this just a cluster of extreme values, and will the regression to the mean occur now?
His underlying numbers are not bad at all, 9 goals from 5.83 xG and 2 assists from 1.42 xA – slight overperformance but not that big (stats from Understat)
Great fixtures for Newcastle GW20-GW23
Rodrigo (6.3m, Leeds)
one to consider again, back from injury, back in form
10 goals this season, cannot be overlooked
good fixtures for Leeds from GW18 to GW25
key man for Leeds
Ward Prowse (6.2m, Southampton)
1G + 2A in last four gameweeks, scored in the FA cup as well
fixture run for Southampton is good until GW23
Ward Prowse is our pick mainly due to his long-term reliability based on his points output in the previous season
On penalties and set pieces
We can never time his points, will they finally come in this fixture run?
Rashford (7m, Manchester United)
Manchester United are improving their performance
Rashford is underpriced when we consider his returns in the previous seasons (apart from the last one)
After the FA Cup game, it looks that he might be on penalties ahead of Fernandes
Rashford is bringing solid form from World Cup to the Premier League
almost must-have for double gameweek 20
Martinelli (6.8m, Arsenal)
offering stable output in FPL
Arsenal players can get you points in any match
Arsenal is at the top of the league – you want

best players from best teams in your Fantasy Premier League team

Odegaard and Saka also offer very similar points potential – you could even double up on Arsenal's midfield – the stats of Saka, Martinelli and Odegaard are very similar according to Understat
just pick Arsenal midfielder(s) to your team and do not worry about their fixtures
Double Gameweek on the horizon in GW23
Odegaard (6.7m, Arsenal)
we think, doubling up on Arsenal midfield is great strategy going forward
Odegaard is our second pick ahead of Saka, but only due to the lower price, as their stats are similar
you could even triple op on Arsenal midfield with Saka, but you would likely need to switch to 3-5-2 formation, and sacrifice having some of their defenders
Mahrez (7.5m, Manchester City)
a differential to consider for GW20 especially
3 attacking returns in the last three matches
Each season, he has a great run where he keeps scoring until he gets rotated again
Premium FPL midfielders for Gameweek 20

Son (11.6m, Tottenham)
one to monitor, Son is overlooked due to his poorer performances this season
but we know, how explosive he can be, and once he start firing, he can get double digits hauls in 3-4 gameweeks in a row
in many previous seasons, he had a poorer start (although not that poor as this season) and then just kept scoring goals in busy December, and January schedule
Could be a differential, as the majority of FPL managers are debating only Salah vs KdB as their premium midfielder

one week punt for double gameweek 20, as he historically do well against Manchester City
De Bruyne (12.5m, Manchester City)
the second top-scoring FPL midfielder
you should pick the best players from the best teams to your FPL team
the tough debate whether to go KdB or Salah – but it could be a solution that lies on the same indifference curve, as their expected output is very close – so they both might end up the season on the (almost) same amount of points
if you picked KdB over Salah, keep faith in KdB and do not transfer him out yet. He will deliver. If you want to get rid of him, wait until he scores, and then sell.
Definitely keep him for Manchester City double gameweek in GW20
Could be differential (triple) captain if you do not want for Haaland captain in DGW20
Salah (12.9m, Liverpool)
the main man for Liverpool
poorer season than we are used from him
The advantage over KdB is, that you can captain Salah in fixtures where you do not want to captain a City player, and he is on penalties
We currently favor Salah over KdB (apart from DGW20, where we think KdB is better option), but only because of the diversification of funds. With Haaland + KdB, you would have majority of your funds tied to Manchester City. Of course, it can be could, as

concentration creates wealth (FPL points). But diversification protects wealth (FPL points)

, so we are going with this solution at the moment. Concentration can easily go in both directions – great upside, but great downside as well.
Tips for picking the best midfielders for your FPL team
If you pick premium midfielder, make sure he is also a good captaincy option.
Also, consider midfielders that are talismans for their teams
Form and fixtures are also an important parts of your decision-making process
Consider probabilities when picking midfielders in FPL. Let bookies any time goalscorer odds to help you with that. You can find them here: Premier League Goalscoring Odds.
FPL midfielders with stable points output in previous 4 seasons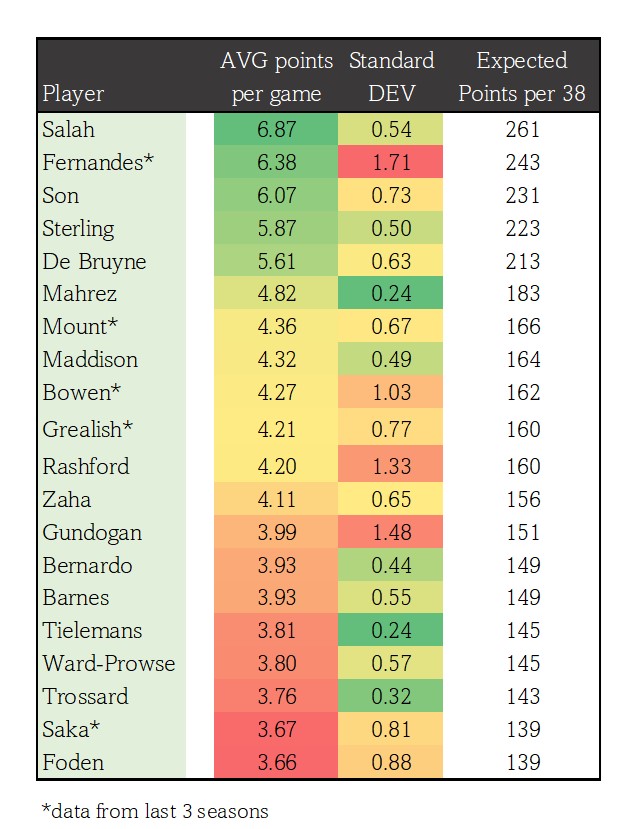 Read more in our article: Best long-term FPL picks for 2022/23 season
How many points should you expect from your midfielder in Fantasy Premier League?
Do not have unrealistic expectations from your FPL midfielders.
Usually, the top-scoring midfielders can get around

200-240 points

per season (on some occasions even more, but this is the realistic expectation from premium FPL midfielders like Salah or De Bruyne) – that is 5.2 – 6.3 points per match
Good mid-priced FPL midfielders (usually 7.5m – 9m range) can get approximately

160-190 points

per season, so expect around 4.2 – 5 points per match on average
Good cheaper midfielders (6m – 7.5m range) can get around

130-160 points

per season = 3.4 – 5 points per match
Budget midfielders can get around

115-130 points

per season = 3 – 3.4 points per match

The points of midfielders and forwards usually came in waves or in clusters – so the run of "form" can be followed with a run of blanks.
How are midfielders awarded points in FPL?
The majority of FPL points for midfielders go through goals – 5 points – and assists – 3 points – that's their main source of points.
Clean sheet point for midfielders is often overlooked = but if a team keep 20 clean sheets, that is 20 more FPL points for a midfielder (that is 5 more goals for forwards).
And usually, when FPL midfielder register two attacking returns, he is more likely to earn bonus points as well.
Further resources