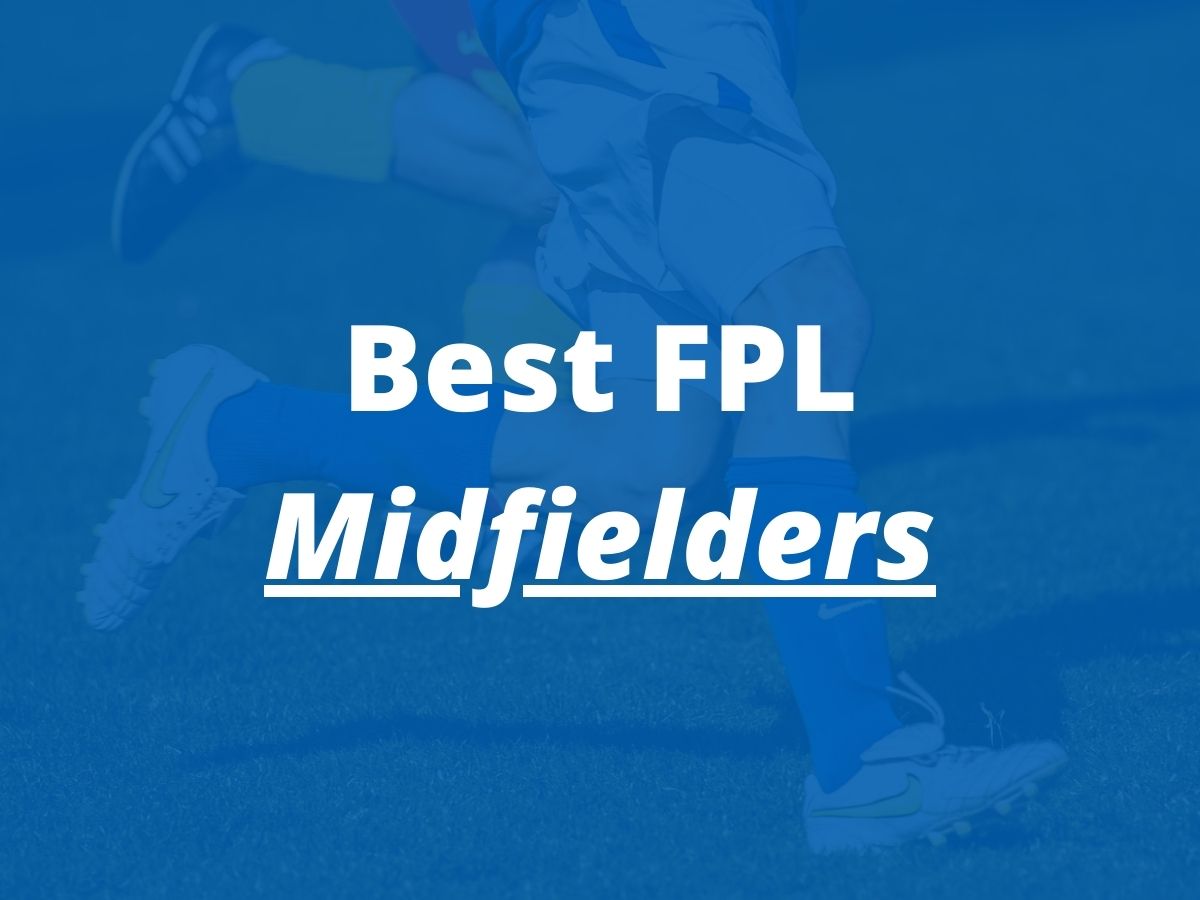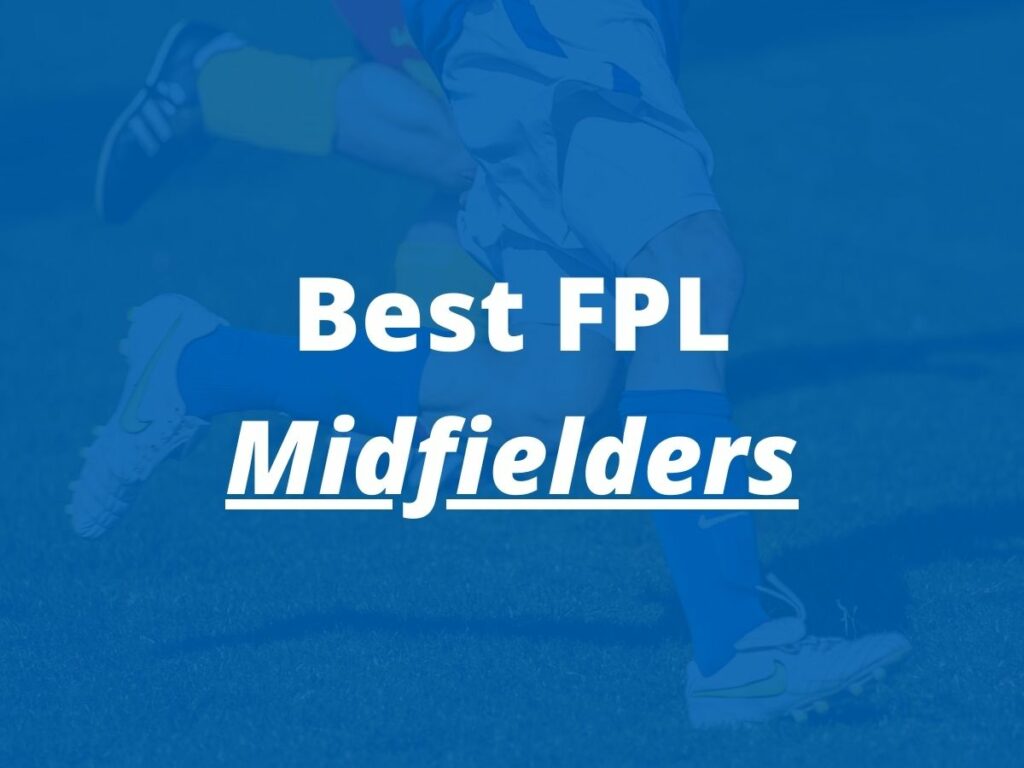 In this article, we will look at the best midfielders to pick for your Fantasy Premier League team in Gameweek 16 of 2023/24 season. Which FPL midfielders to buy, hold, or sell this week?
Let's look at our watchlist.
If you are aiming to use a wildcard in GW16, here are the FPL midfielders to pick from, with our comments and ratings of each.
Read more about GW16 in our guide: FPL Gameweek 16: Tips, Captain, Transfer Targets & Team Selection
Best midfielders for FPL 2023/24 Gameweek 16: Our Watchlist
Budget enablers for Gameweek 16 (4.5m – 5.5m)
Souček (4.9m, West Ham) – 3/10
Verdict: Hold. Potential differential that allows you to squeeze multiple heavy hitter into your FPL squad
Only in 2% of teams
Long term differential pick
4G + 1A from 4.2 xGI this season
The very attractive price which can allow you to go for Haaland and Salah
He is a constant threat from set pieces and with JWP delivery, he will get chances to score
You can never time his output, so the fixture does not matter
Palmer (5.4m, Chelsea) – 5/10
Verdict: Buy, perfect budget enabler with great upcoming fixtures
Great budget enabler
on penalties, however, Chelsea will not get a penalty every week – 4 of his 5 goals were from penalties
nevertheless, his underlying stats are OK, he is second for xG among Chelsea players (after Jackson)
Doucouré (5.5m, Everton) – 4.5/10
Verdict: Buy
5G + 2A this season from 6.4 xGI
He is overlooked by the FPL community as he is not an explosive fantasy asset
But he is the player that has already had two 120+ points seasons before
He can slowly rack up points for goals and assists, but do not expect double-digit hauls
Top for xGI among Everon players
But Everton will not score many goals
It seems he will not go to AFCON 2024
Mix of fixtures on the horizon
Gordon (6.1m, Newcastle) – 8.5/10
Verdict: Buy
Newcastle attacking number are very good – 3rd highest xG after City and Liverpool, you definitely should consider their attacking players
Gordon is the second top-scoring Newcastle player this season – while Wilson and Isak will be rotated (when both fit), Gordon is more nailed
If you want Newcastle midfielder in your team, Gordon is your pick
Gibbs-White (5.7m, Nottingham) – 2/10
Verdict: Hold, give him few more gameweek before you sell
In less than 2% of teams
fixtures are improving for Nottingham, good run up to GW18
A differential midfielder to consider
A key man for Nottingham, on penalties
But do not expect many goals from Nottingham
Ward-Prowse (6.1m, West Ham) – 4/10
Verdict: Hold
Second highest xGI among West Ham players after Bowen
On set pieces
Proven FPL asset
we can never time his points, so fixtures do not matter that much
Other budget options:
Douglas Luiz (5.6m, Aston Villa), 2.5/10 – exceptionally good previous season. But can he do it again? On penalties. If you own him, you must be patient with him – fixtures do not matter.
Mid-priced FPL midfielders for Gameweek 16 (6.5m – 8.5m)
There are plenty of good 6.5m midfielders to pick in FPL in 2023/24.
Kudus (6.6m, West Ham) – 5/10
Verdict: Buy
West Ham still with the good fixtures on the horizon
But overperforming his underlying stats, 5 attacking returns from just 2.3 xGI
owned by 2.5% of managers
showing good signs of form
he can be very explosive fantasy asset – he showed it while playing for Ajax in UCL Fantasy and for Ghana in World Cup Fantasy
Is expected to go to AFCON 2023, which starts in GW21
Mitoma (6.5m, Brighton) – 3/10
Verdict: Hold
Exceptionally good fixtures for Brighton up to GW16
Second highest xGI (5.6) among Brighton players
Brighton players were an amazing source of points last season

Expect some rotation now when Brighton plays in Europa League, but Mitoma can deliver off the bench as well
Points could be spread among multiple Brighton midfielders
Mbeumo (7.1m, Brentford) – 1/10
Verdict: Sell – Mbeumo is out for weeks. Read more: Best Mbeumo Replacements for Gameweek 16
With Toney absent until January, he will be Brentford's key man
Third for xGI (12.3) from all players this season so far, he could be a season holder (or at least until Toney is back)
Reclassification to midfielder made him a more appealing fantasy option
On Penalties

Need a lot of chances to score, can be unpredictable FPL asset
Is expected to go to AFCON 2024 in January, which starts in GW21 (see our FPL calendar)
Bowen (7.4m, West Ham) – 8/10
Verdict: Buy
highest xGI among West Ham players this season
Amazing fixture run for West Ham up to GW17
with Antonio out, could play as a centre-forward
Sterling (7m, Chelsea), 4/10
Verdict: Hold, fixtures are now improving for Chelsea, if you have him, keep him
We know how good can he be when in form, he showed it in GW3 against Luton and in GW8 against Burnley

It is not the same Sterling we saw in Manchester City kit that was able to score 200+ points in an FPL season
Tough run of fixtures up to GW16 for Chelsea
Foden (7.5m, Manchester City) – 3/10
Verdict: Hold, fixtures are now improving for City, but sell after GW17 before the blank in GW18
3rd highest xGI among Man.City players
A relatively cheap route into Manchester City's midfield
Offers reliable points output when play
Great fixtures for City in the next few gameweeks

You must accept that he will be rotated eventually
A busy schedule is coming for City, expect he will be benched sometimes
Saka (8.9m, Arsenal) – 9.5/10
Verdict: Buy.
Saka is our preferred Arsenal midfielder, however, all three – Saka, Martinelli, and Odegaard could end up the season on a similar amount of points as they did in the previous season. Just pick (at least) one of them and stick with him.
Blanked only twice this season, 5th for xGI among all players
Reliable FPL asset
Sharing penalties with Odegaard
Set and forget pick for the majority of the season
Captaincy candidate in some fixtures

Points could be shared among multiple Arsenal players
Fernandes (8.3m, Manchester United) – 4/10
Verdict: Hold, if you kept him so long, give him the Bournemouth fixture
Fernandes still offers a safe route to FPL points, key man for Manchester United
Still good fixtures ahead for Man United. If you have him, keep him.
4th best for xGI among midfielders this season.
He is becoming a differential with so many FPL managers offloading Man. United players
On penalties
8.3m price tag is very appealing
He can deliver FPL points on a regular basis

Manchester United was not convincing so far
Premium FPL midfielders for Gameweek 16 (9.0m – 12.5m)
Son (9.7m, Tottenham) – 9/10
Verdict: Hold while he is playing as a striker. But if we start seeing him on the wing again, he is likely sell. You want him to play central, that is when he is capable of delivering the most FPL points.
Top for xGI among Spurs players this season
we know, how explosive he can be, and once he starts firing, he can get double digits hauls in 3-4 gameweeks in a row

Played too wide in GW1, GW2, moved more central after that and started delivering FPL points
Poorer performances the previous season
Salah (13.1m, Liverpool) – 9.5/10
Verdict: Buy
Back to his best, second for xGI among all players
Blanked only twice this season
On penalties
Very reliable FPL asset, long-term pick
Beat 230 points in each of the last 6 seasons

Was not in convincing form in the previous season, although he finished the season strong
It is hard to fit him in next to Haaland in your PFL team, sacrifices elsewhere are needed
Is expected to go to AFCON 2024 in January, which starts in GW21 (see our FPL calendar)
Tips for picking the best midfielders for your FPL team
If you pick a premium midfielder, make sure he is also a good captaincy option.
Also, consider midfielders that are talismans for their teams
Form and fixtures are also important parts of your decision-making process
Consider probabilities when picking midfielders in FPL. Let bookies any time goalscorer odds to help you with that. You can find them here: Premier League Goalscoring Odds.
FPL midfielders with stable points output in the previous 4 seasons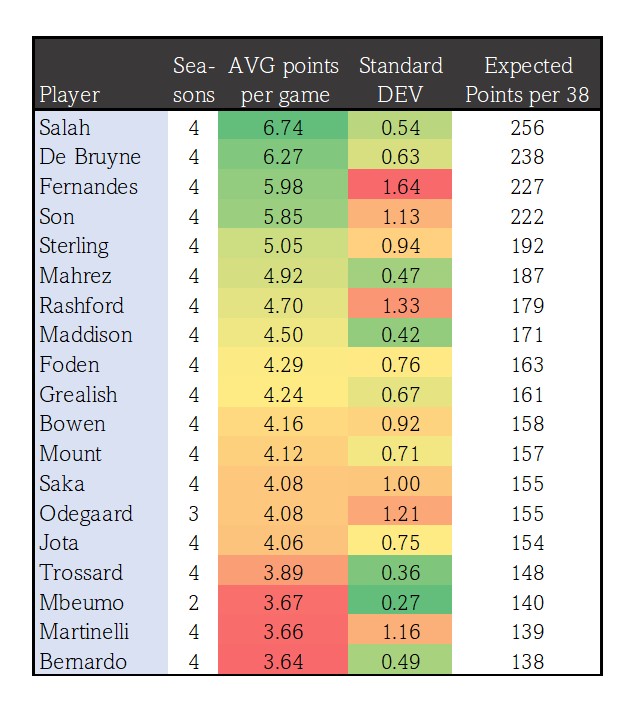 Read more in our article: Best long-term FPL picks for 2023/24 season
How many points should you expect from your midfielder in Fantasy Premier League?
Do not have unrealistic expectations from your FPL midfielders.
Usually, the top-scoring midfielders can get around

200-240 points

per season (on some occasions even more, but this is the realistic expectation from premium FPL midfielders like Salah or De Bruyne) – that is 5.2 – 6.3 points per match
Good mid-priced FPL midfielders (usually 7.5m – 9m range) can get approximately

160-190 points

per season, so expect around 4.2 – 5 points per match on average
Good cheaper midfielders (6m – 7.5m range) can get around

130-160 points

per season = 3.4 – 5 points per match
Budget midfielders can get around

115-130 points

per season = 3 – 3.4 points per match

The points of midfielders and forwards usually came in waves or in clusters – so the run of "form" can be followed with a run of blanks.
How are midfielders awarded points in FPL?
The majority of FPL points for midfielders go through goals – 5 points – and assists – 3 points – that's their main source of points.
Clean sheet point for midfielders is often overlooked = but if a team keep 20 clean sheets, that is 20 more FPL points for a midfielder (that is 5 more goals for forwards).
And usually, when an FPL midfielder registers two attacking returns, he is more likely to earn bonus points as well.
Further resources
Players:
A.Doucouré
,
Bowen
,
Douglas Luiz
,
Fernandes
,
Foden
,
Gibbs-White
,
Martinelli
,
Mbeumo
,
Mitoma
,
Odegaard
,
Saka
,
Salah
,
Soucek
,
Sterling