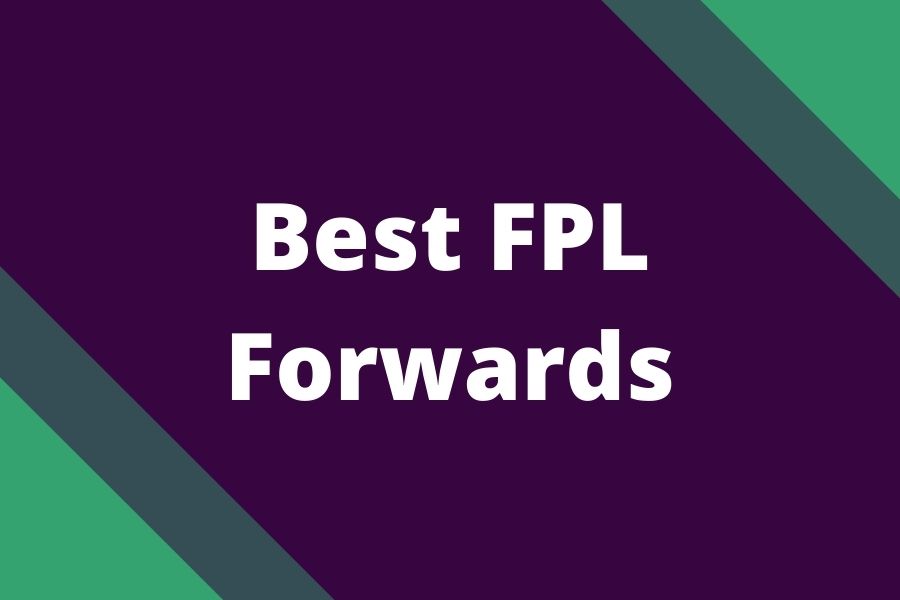 In this article, we will look at the best forwards to pick for your Fantasy Premier League team in Gameweek 7 of the 2023/24 FPL season. Which FPL forwards to buy, hold, and sell? Let's look at our watchlist.
Read more about GW7 in our guide: FPL Gameweek 7: Tips, Captain, Transfer Targets & Team Selection
Best forwards for FPL 2023/24 Gameweek 7: Our watchlist
We will look at forwards from every price point: budget enablers, midpriced picks and premium options.
Budget forwards for Gameweek 7 (4.5m – 7m)
Best 4.5m forwards:
Semenyo (4.5m, Bournemouth) – started 3 in 6 games for Bournemouth this season, 1G+1A
Archer (4.5m, Sheffield) – transferred to Sheffield, and we expect him to be a regular starter for them, banged a double-digit haul on his debut against Everton – he is the best 4.5m forward to own this season
Edouard (5.6m, Crystal Palace) – 3/10
Verdict: If you bought him for the Fulham fixture, hold him now mainly for the GW8 fixture against Nottingham. Then sell.
| | |
| --- | --- |
| 21 shots, and 3.1 xGI in the first 6 games, but only 1 shot and 0.3xG in the last 2 games | Crystal Palace do not tend to score a lot of goals |
Morris (5.5m, Luton) – 5/10
Verdict: Buy if you are looking for a double gameweek punt for GW7
A double gameweek in GW7
The main man for Luton in the previous season in the Championship with 20G + 7A
Talisman, already with 6G + 1A
On penalties
Up to GW10 fixtures look good

Luton will not score many goals
Read more: When is the next double gameweek in FPL?
Wissa (6.1m, Bretford) – 6/10
Verdict: Hold until the Wildcard, give your Brentford attackers 3 more gameweeks
With Toney suspended until January, Wissa could be a budget forward for the worst half of FPL 2023/24 season.
scored 7 goals and registered 4 assists in 2022/23 in only 1600 minutes, which is impressive
When he plays, he can deliver points
Nice run of fixtures for Brentford up to GW9, try to have at least one of their players in your team in that period

If you will go Mbeumo in the midfield as well, your team could be too reliant on Brentford scoring points. But it could be a good differential strategy.
Not a  "proven" FPL asset
Awoniyi (6.6m, Nottingham Forest), 4/10
Verdict: Hold
The surprise of the current FPL season, with 3 goals and 2 assists in 6 matches, despite tougher fixtures
Fixtures are now improving for Nottingham, he could be a good differential attacker for your FPL team
3 goals from 9 shots and 2.4 xG
Alvarez (6.9m, Manchester City) – 9/10
Verdict: Buy
One of top transfer targets
blanked only twice this season
Should get more starts now, when De Bruyne is going to be out for a few weeks
He is 6.9m forward for the most attacking team in the league, which is almost a no brainer
If you have an easy route to get him in, do it

Still could be rotated, City line ups are unpredictable
There will be Champions League rotation for City from now on
Jackson (7.1m, Chelsea) – 1/10
Verdict: Sell, suspended fro GW7. Read more: Best Jackson replacements in FPL
Second for xGI among forwards this season so far, 15 shots in 4 games
One of the most underperforming players this season based on the stats
Excellent form in pre-season, 2G+3A
Nice run of fixtures up to GW8

Not proven FPL asset
need a lot of chances to score
On 4 yellow cards
Other options to consider at this price bracket:
Wilson/Isak (Newcastle) – they are both amazing players, but none of them is a 90-minute man. They will share game time, especially now when Champions League starts for Newcastle. You could get lucky with one of them, but then he could get benched the following gameweek. They both could deliver over the Newcastle's fixture run, but will their shared game time be enough to outscore similarly priced forwards and midfielders over the long run?
Solanke (6.5m, Bournemouth) – injury doubt for GW7, but 3 attacking returns so far despite tougher fixtures. Now when fixtures are improving for Bournemouth, he should not be overlooked.
Mid-priced FPL forwards for Gameweek 7 (7.5m – 8.5m)
Watkins 7.9m, Aston Villa) – 5/10
Verdict: Hold, potential buy in GW7 – but now without penalties, the 8m price tag might be too much.
Blanked only once this season – this is what he does, he slowly racks up 5 or 6 pointers through the season

Talisman and a key goalscorer for his team

scored at least 130 FPL points on each of the previous 3 seasons
4th highest ICT index and 4th for xGI in FPL among forwards (after Kane, Haaland and Toney) in the last season
Can get FPL points regularly

He is not very explosive but can slowly rack up FPL points
Tougher fixtures, he will be a bandwagon when Aston Villa fixtures turn green in GW7
not on penalties anymore
Premium FPL forwards for

Gameweek 7 (9m – 14m)
Haaland (14.1m, Manchester City) – 10/10
Haaland is most likely to win Golden Boot in 2023/24 according to bookies odds
A top-scoring player from the previous season
Captaincy option in every game regardless of the fixture

The most expensive player in the game
His form was on the decline at the end of last season
Our current front three
Our currently preferred front three for GW6 of 2023/24 season is Haaland + Alvarez + Morris
Tips for picking the best forwards for your FPL team
If you pick premium forwards, make sure he is also a good captaincy option.
Also, consider forwards that are talismans for their teams – especially the cheaper ones
Form and fixtures are also important parts of your decision-making process
Consider probabilities when picking forwards in FPL. Let bookies any time goalscorer odds to help you with that. You can find them here: Premier League Goalscoring Odds.
FPL forwards with stable points output in the previous 4 seasons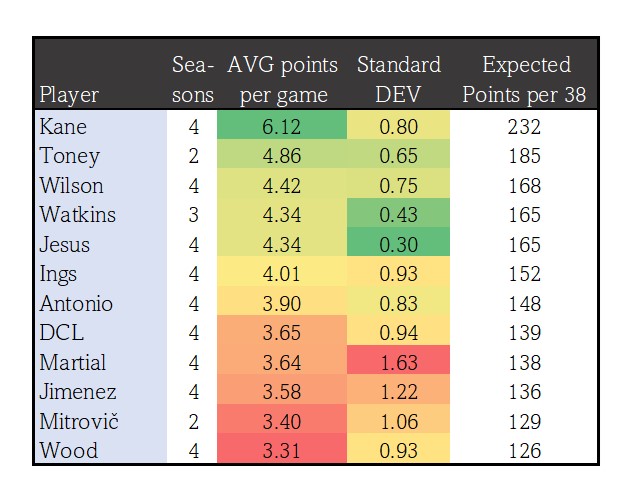 Read more in our article: Best long-term FPL picks for 2023/24 season
How many points should you expect from your forwards in Fantasy Premier League?
Do not have unrealistic expectations from your FPL forwards.
Usually, the top-scoring forwards can get around

180-230 points

per season (on some occasions even more, but this is the realistic expectation from premium FPL forwards) – that is 4.7 – 6 points per match
Good mid-priced FPL forwards (usually 6.5m – 9m range) can get approximately

130-160 points

per season, so expect around 3.4 – 5 points per match on average
Budget forwards can get around

90 – 110 points

per season = 2.4 – 2.9 points per match

The points of midfielders and forwards usually came in waves or in clusters – so the run of "form" can be followed with a run of blanks.
How are forwards awarded points in FPL?
The majority of FPL points for forwards go through goals – 4 points – and assists – 3 points – that's their main source of points.
And usually, when FPL forwards register two attacking returns, he is more likely to earn bonus points as well.
Further resources