The last match of the current Champions League season is here. Soon, the competition is over, and so does our beloved UCL Fantasy.
We have the last chance to do something about the overall ranking of our fantasy football teams, or to overtook our mini-league rivals.
But it will not be easy this time…
Let's look at UCL Fantasy Final Tips, Pick, Captain, Odds & Team Selection.
1. Strategy for UCL Fantasy Final
Well, this is the final. So, we all have to pick our fantasy team basically from only 22 players that we think will start the match.
Many UCL Fantasy teams will be alike, so there is not much room to move up in ranking or in mini-leagues.
That is good news for those who lead their mini-league, and bad for those who are chasing. But…
There is still a way how to shake up the rankings and I will tell you how.
However, your strategy depends on your position in the mini-league.
There are two options:
You either lead your league and aim to retain the number one spot, or you chase and you want to overtake the rivals above you.
Let's look at each option individually.
a) Strategy for mini-league leaders
If you are leading you UCL Fantasy mini-league before the final, you need to make sure, that your rivals will not score more points than you will.
So, the best approach here is to have exactly the same team as your rivals.
If you are leading, and you know your rival very well, you know how he thinks and how his team will approximately look like in the final, this is what you should do.
Do your best to field exactly the same team as your rivals will. Try to captain the same player as he will.
If you both have exactly the same team, you both will score the same number of fantasy points. So, there is no chance that your rival will overtake you.
If you are leading your league, you have to play defensively, and try to match the team and the captain of your rival.
b) Strategy for mini-league chasers
As you probably already know, the strategy for mini-league chasers will be the opposite of the strategy for mini-league leaders.
You have to differentiate your team from the team of the leader as much as you can. And of course, captain a different player.
This is a risky approach. Very risky.
You may lose a lot, but you may win big if you get it right.
You could go all-in into one team that you think will win the final.
Do you think that Manchester City will beat Inter Milan? Then go for 8 City players. Do you think City will keep a clean sheet? Go for 5 Manchester City defenders (4 defenders + goalkeeper). You get my point.
If you are chasing, there is no room for diversification. Diversification may protect you from the attacks of players below you. But concentration on one team can create you an opportunity to win your mini-league.
It is like on the financial market: "Diversification protects wealth, concentration creates wealth."
Of course, the risk is much higher when you decide for concentration, but in the end, it might worth it.
And if you have nothing to lose, and the win is the only option for you, you just have to go for it.
But do it wisely!
Support your opinions and your decisions with the data, odds, and every other piece of information you are able to collect.
That way you will be taking a "calculated risk".
Go get it.
2. Probabilities of winning the final
Even on this matchday, we will use our Odds to probability calculator.
Let's look at what bookies think and who do they favor to win in the Champions League Final.
| Team | Probability of winning the Final |
| --- | --- |
| Manchester City | 80 % |
| Inter Milan | 20 % |
Bookies favor Manchester City over Inter Milan, and they assigned a 80 % probability of winning the final to the Reds.
3. Clean sheet odds for the final
Any chance of a clean sheet in the UCL Fantasy Final? Let's look at bookies' clean sheet odds.
You can check the odds in the separate article: Champions League Clean Sheet Odds.
According to bookies odds, Manchester City are more likely to keep a clean sheet. But do not get too excited about clean sheets in the final.
Based on the clean sheet odds, we should expect only 0.55 clean sheets in the final, which is pretty low.
4. Goalscoring odds for the final
As expected, bookies assigned the highest probability of scoring a goal to Haaland.
You can check our whole goalscoring odds table in the article: Champions League Goalscoring Odds.
5. Balls recovering heroes
Picking players that are good at recovering balls is the safe way to UCL fantasy points. From these two teams, these are players that do well in that metric:
Rodri (must-have)
Dias (must-have)
Calhanoglu
6. Best captain for UCL Fantasy Final
Well, the captaincy is tricky in the final. It is an exceptional match.
We would say, you should captain the best player from the team you think will win.
That's why we are going for Haaland as our number one captain pick. He is the obvious captaincy option.
If you are looking for other captaincy option, you could go for KdB, or a defender (Dias) who is good at balls recovered. If you do not think there will be clean sheets, also mids such as Calhanoglu or Rodri (balls recovered heroes), can provide you with a "safe" output of 4-5 points.
Differential captain: Gundogan – he just cannot be overlooked based on his recent form.
If you think there will be a tie and the game will go to the extra time, you can also field Alvarez who will likely get minutes in the second half (and in potential extra time)
7. Predicted line ups for Champions League Final
Also let's look, how both teams might line up in the final.
Manchester City predicted line up
Ederson; Walker, Dias, Aké; Rodri, Stones; Silva, Gundogan, De Bruyne, Grealish; Haaland
Inter Milan predicted line up
Onana; Darmian, Acerbi, Bastoni; Dumfries, Barella, Calhanoglu, Mkhitaryan, Dimarco; Martinez, Dzeko
8. My final team selection and my strategy
I will do it differently this time. I am not going to post our "scout team" for the UCL Fantasy Final.
But I will post my personal team, and how it will likely look in the final.
My team is with 911 points currently 11129 th overall and I am 21st in my country (Slovakia) mini-league. I am also 74th in our FPL Reports League (big congrats to Super Saud who is leading our mini league!)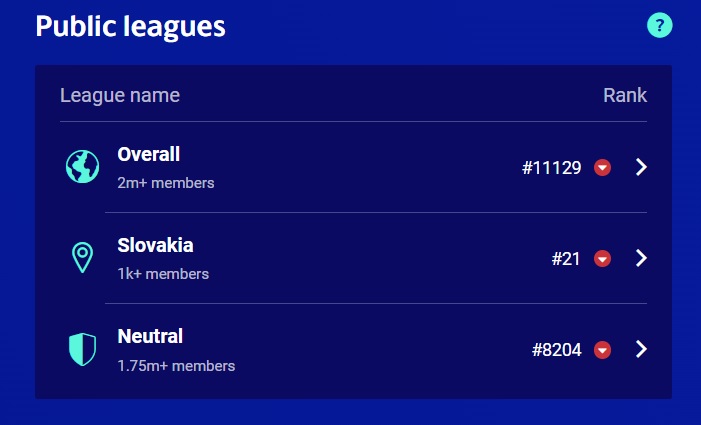 I am far away from my season targets (which was to win my country mini league and finish inside the top 100). I am disappointed that I will not beat my best overall position from the 2018/19 season when I finished 25th overall.
My aim for this matchday is to have fun and get to top 10k at least.
Buy I am not going to take any risks. I will be playing it safe and diversify my player to both teams with higher emphasis on Manchester City players.
I will try to outrank my competitors by playing it safe while hoping other managers will do mistakes or try to be too smart in the final.
I have not confirmed any transfers yet (and you should neither until we know the lineups), so it might change, but this is how I will likely line up for the UCL Fantasy Final:
Note: Grealish will highly likely become Gundogan, without bringing Dimarco in. I am also speculating on bringing Alvarez in (for Giroud) instead of Bilva. But this could work only if the game goes to the extra time, so Alvarez would potentially get around 60 minutes against tired Inter defense.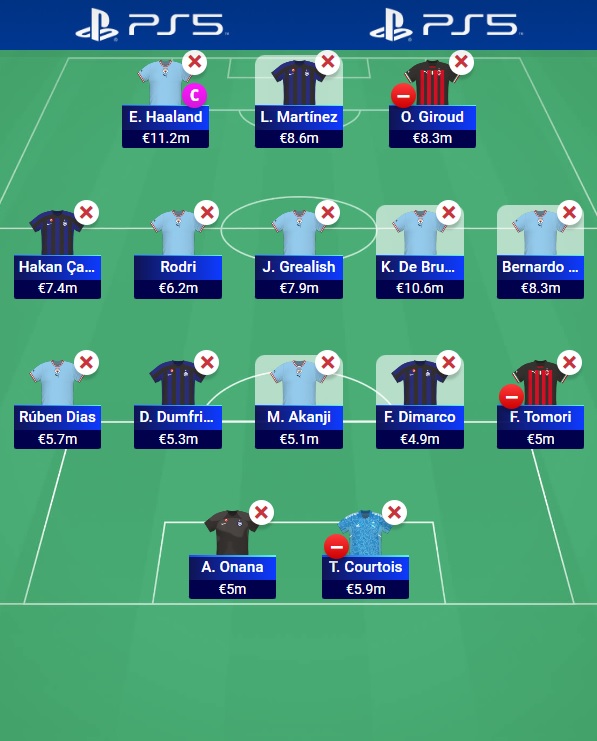 So, choose your strategy wisely for the last matchday of UCL Fantasy. But most importantly, enjoy it.
We play the game for joy, so even if you do not achieve your mini-league goals after the final whistle, you should smile and be thankful for the ride we have during this season.
It was a hell of a journey.
Hopefully, UCL Fantasy Tips from FPL Reports helped you on your path to UCL Fantasy success. Good luck to all readers in the last matchday of the season.
Cheers,
Matej.