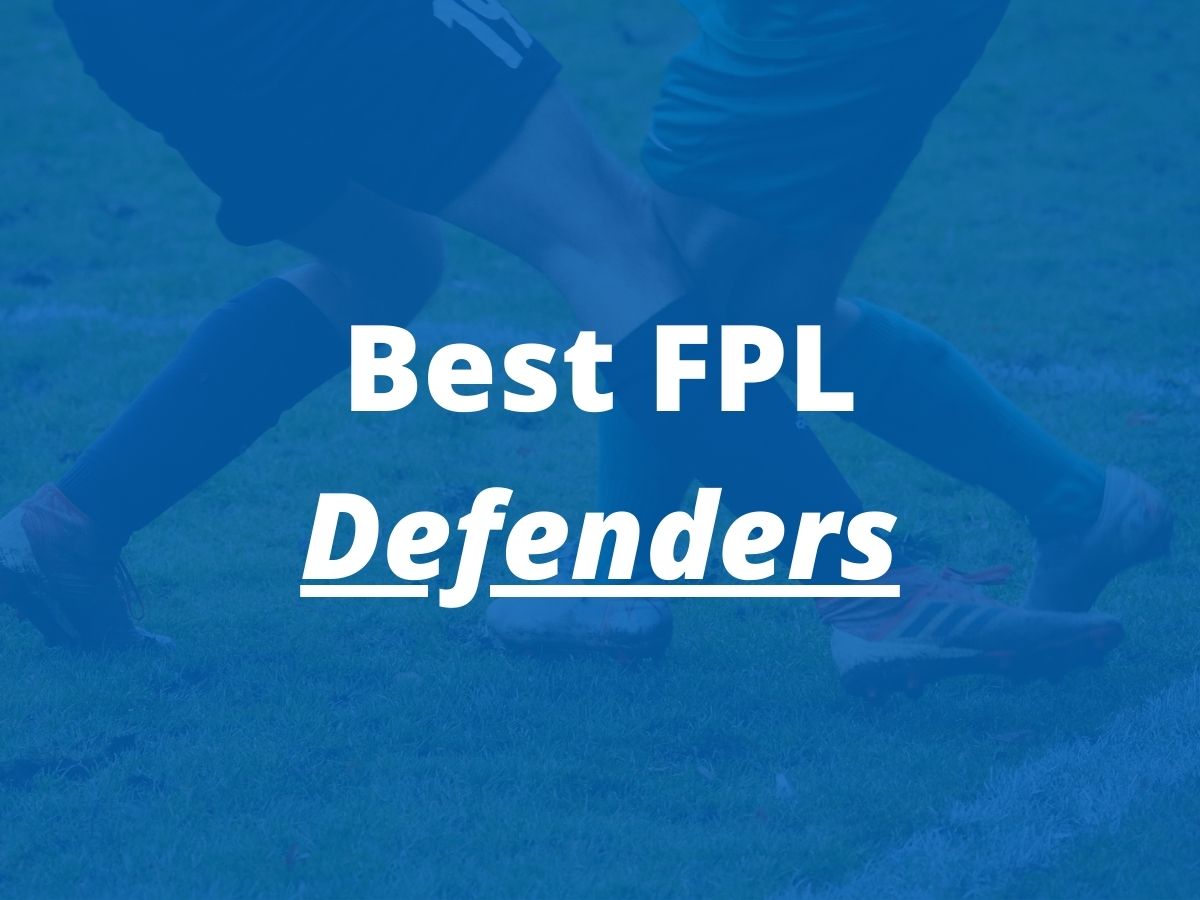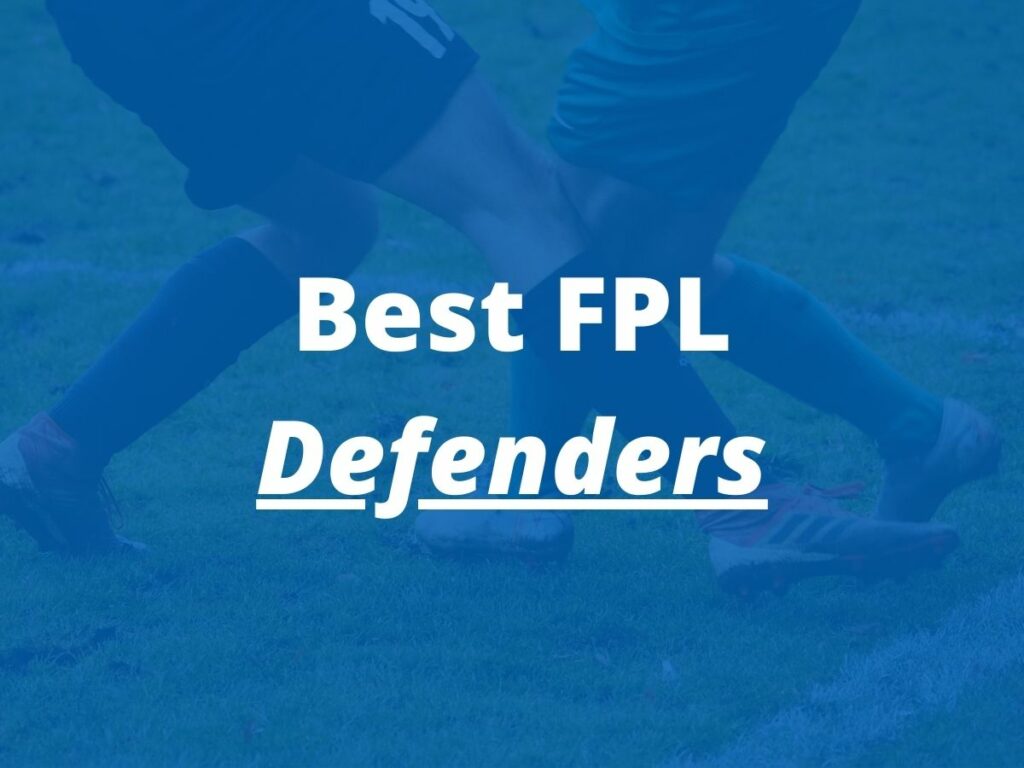 In this article, we will look at the best defenders to pick for your Fantasy Premier League team for Gameweek 16 in the 2023/24 season. Which FPL defenders to buy, hold, or sell?
Let's dive in. If you are aiming to use a wildcard in GW16, here are the FPL defenders to pick from, with our comments and ratings of each.
Read more about GW16 in our guide: FPL Gameweek 16: Tips, Captain, Transfer Targets & Team Selection
Best defenders for FPL 2023/24 Gameweek 16: Our Watchlist
We will look at defenders from every price point: budget enablers, midpriced picks, and premium options. Here is our watchlist of defenders (with our ratings) that we consider before Gameweek 16 in FPL.
Budget defenders for Gameweek 16 (4m – 4.5m)
First, let's start with the best 4m and 4.5m defenders, who will likely be just on the bench of our FPL teams.
Notes:
Charlie Taylor (4m) has been starting regularly for Burnley, so he could be a great 4m budget defender for your Widlcard team. Burnley's fixture also improves now, so you could even have him first on your bench. But do not expect many clean sheets.
Branthwaite (4.1m) – another regularly starting 4m defender
Maguire (4.3m) – started last few games in the Premier League and Champions League for Man. United
Lascelles (4.1m) – while Botman is out, Lascelles should be starting regularly for Newcastle, a great bargain for FPL managers. There is still no return date for Botman as his injury could be worse than initially thought and might require surgery
Pinnock (4.6m, Brentford) – 5/10
Verdict: Hold. Make sure your team is not full of Brighton or Man City players who have blank in GW18
Brentford was solid defensively in the last season
Attacking threat after set pieces
fixtures with clean sheet potential up to GW17
Gabriel (4.8m, Arsenal) – 7/10
Verdict: Hold
Solid run of fixtures on the horizon for Arsenal 
Arenal has the lowest xG conceded this season
Arsenal was second for clean sheets in the previous season
he might get another unexpected benching, but we expect him to start the majority of matches
Goal threat, 3.33 attacking returns per season on average over the last 3 seasons
Andersen (5.1m, Crystal Palace) – 2/10
Verdict: Sell, fixtures are worsening
The key man in Crystal Palace's backline
offers a slight goal threat, he was averaging 2.33 attacking returns per season in the last 3 Premier League campaigns
Good at bonus points – third for bonuses after Trippier
Mid-priced FPL defenders for Gameweek 16 (5m – 5.5m)
Pedro Porro (5.3m, Tottenham) – 5/10
Verdict: Buy, fixtures are improving
Porro finished last season very strongly, with 3 goals and 3 assists in 15 matches
3rd for xGI among defenders this season
Mix of fixture ahead for Spurs
Pedro Porro offers attacking threat on the top of clean sheet potential, 4 assists this season so far from 3.4 xGI
Cash (5.1m, Aston Villa) – 3/10
Verdict: Sell, fixtures are now worsening and he has become a rotation risk
Cash has good underlying stats, by far second for xGI among defenders
Do not overlook Digne (5th for xGI among defenders) either, however, once Alex Moreno is back, Digne could lose his spot
Saliba (5.3m, Arsenal) – 8/10
Verdict: Buy
the most nailed Arsenal defender
Walker (5.3m, Manchester City) -6/10
Verdict: Hold, City's fixture are improving, but be prepared for blank GW18
Started every game this season so far
Other possible options in the 5m bracket:
Schar (5.2m, Newcastle), 3/10 – If you are looking for a cheaper route into Newcastle defense and cannot afford Trippier, great fixtures on the horizon
Ben Mee (5m, Brentford), 3/10 – Overlooked. 12G+9A in his last 8 Premier League seasons, so solid consistency in attacking returns for a defender
Ruben Dias (5.5m, Manchester City) – 6.5/10
Verdict: Hold, City's fixture are improving, but be prepared for blank GW18
It's hard to find a nailed Man City defender
But if we should pick one now, it would be Dias
Manchester City with the lowest xG conceded of all teams, but now they have tougher fixtures on the horizon and blank gameweek in GW18
Expect rotation among City players during this busy schedule, and make sure you have some OK backup on the bench of your team in case your Man City defender gets benched
Premium FPL defenders for

Gameweek 16 (6m – 8m)
Trippier (7m, Newcastle) – 9/10
Verdict: Buy, best defender to own this season
Top for bonus points and xGI among defenders
the top-scoring defender from last season, top scoring defender this season thanks to 7 assists
Bonus points magnets
Newcastle solid defensively, although they did not keep many clean sheets in the second half of last season
Trippier with great underlying stats: top for xA among defenders in the previous season, second for xA among all players after KdB in the last season
on free kicks and corners
One of your top defenders to pick in FPL
Van Dijk (6.1m, Liverpool) – 7/10
Verdict: Buy if you are looking for a differential
A differential pick, overlooked as other FPL managers are not considering Liverpool defenders
If you cannot afford TAA, you could go for Van Dijk
But you get what you pay for, so TAA will likely outscore Van Dijk over the whole season again
But his attacking threat after set pieces is undeniable, he could have another season with around 3 goals and a few odd assists
With Szoboszlai and TAA delivery from set pieces, Van Dijk will be a threat
TAA (7.9m, Liverpool) – 5/10
Verdict: Buy, potential differential, but it is hard to justify the price tag. Hard to fit him in, if you want Salah, Haaland and Son in your team.
multiple routes to FPL points
disappointed the previous season with "only" 156 points
TAA had a slow start to the season but improved and finished strongly, so if continues in his form from the end of last season, he is definitely one to own in our fantasy teams
It's hard to fit him into our FPL teams
No Champions League for Liverpool this season, so we expect less rotation.
Liverpool with poor defensive performance, attacking returns might not be enough to justify TAA price tag, we need clean sheets too
Tips for picking the best defenders for your FPL team
With defenders, you always want a defender that has a very high chance of a clean sheet. You can use our Premier League Clean Sheets Odds to find goalkeepers, who are most likely to keep a clean sheet in the next gameweek of FPL.
Also, when considering defenders for your fantasy team, you always have to take a look at fixtures and asses whether a certain defender has the potential for a clean sheet. Does he have a tough or easy fixture? And as we mentioned, our clean sheet odds will help you with that.
Check FDR to find defenders with the great fixture run that could be good for clean sheets and attacking returns as well
Also, asses the attacking potential of defenders – attacking full-backs, attacking wing-backs, and center back who are good at headers after corners can offer high points output as you do not have to rely solely on clean sheet points
FPL Defenders with stable points output in the previous 4 seasons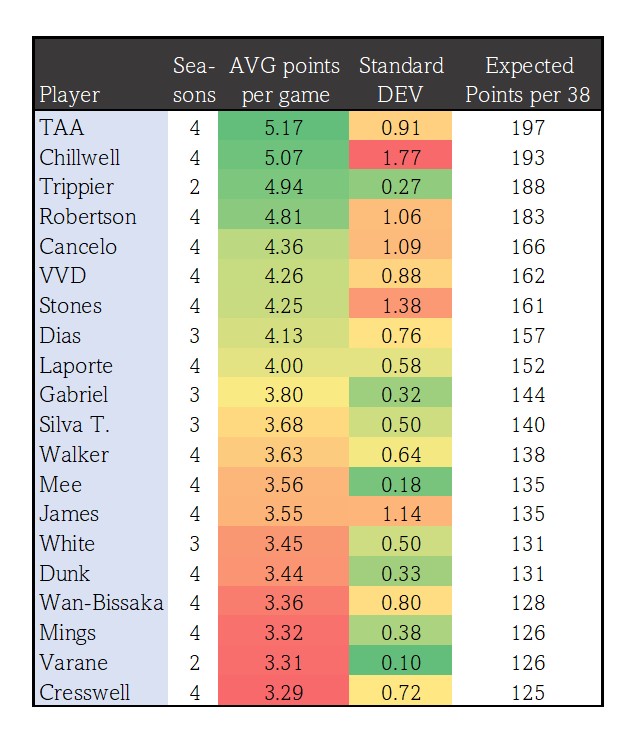 Read more in our article: Best long-term FPL picks for 2023/24 season
How many points should you expect from your defender in Fantasy Premier League?
Do not have unrealistic expectations from your FPL defenders.
At best, the top teams can keep around 14-20 clean sheets per season. So, when you select a premium defender, expect you will get a clean sheet in every second match at the best.
Mid-table teams tend to keep around 8-13 clean sheets per season. So, with mid-priced defenders, expect a clean sheet in every fourth match
Bottom table teams usually keep around 0-7 clean sheets per season. So when picking budget enablers from bottom-table teams, do not really expect more than a clean sheet in every 6th match.
attacking full-backs (like TAA, James, Cancelo, Chilwell) can get around 10 attacking returns in a season – so 1 attacking return every 4th match is an excellent return from your defenders
few center backs (who are good at headers) might get around 3-5 goals per season, so a goal every 10th match from your centre back is an excellent rate of attacking returns
So, usually, top-scoring FPL defenders can get around 170-210 points per season.
But usually 140-160 points is the amount of points you should aim to get from you defenders during the whole FPL season – that is a more realistic goal
How are defenders awarded points in FPL?
The majority of FPL points for defenders go through clean sheets – 4 points – that's their main source of points.
Then attacking returns can earn them extra points as well – 6 points for a goal and 3 for an assist. And usually, when a defender keeps a clean sheet and gets an attacking return there is a potential that he will get awarded a few bonus points.
Further resources