Another double gameweek is here.
Spurs face Everton and Southampton, so there is no doubt that almost every FPL manager will have Son and Kane in his team.
But should we pick a third spurs player into our teams? If so, which one? And also, who to captain – Son or Kane?
Let's dive into FPL GW32 Tips
Which Tottenham players we should pick?
So, having Son and Kane (2nd and 4th most productive FPL players of this Fantasy Premier League season) is a no-brainer for GW32. 
Some FPL managers consider adding third Spurs player to the mix. But which one it should be? 
For a moment it looked like Gareth Bale is a viable FPL pick again. But FPL managers who had brought him in after his brace against Crystal Palace were highly disappointed.
Real Madrid player has scored only 3 FPL points in four gameweeks since then forcing managers to quickly fix their mistake and transfer him out.
It is hard to predict, whether Bale starts at least one game in double gameweek 32, so he is not a good option in this moment (but if you believe he will start at least one game and is able to repeat his performances, go ahead and bring him in).
In terms of goals and assists, Lucas Moura with 3 goals and 4 assists is the fourth Spurs top goalscorer.
Brazilian started 7 of the last 8 Spurs Premier League games and managed to score 2 goals and 3 assists in that period – so he is in pretty good form.
Basically, if you want to take a risky approach and go all-in in Spurs attack against Everton and Southampton, trio Kane-Son-Lucas is the safest way to go, rather than Kane-Son-Bale.
Can we trust Spurs defense?
However, we like the idea of diversification a little bit more for GW32.
So – either go with just Kane and Son, or with Kane, Son, and one defender.
Tottenham defense has looked shaky this season. However, when we look at the stats, Spurs have 10 clean sheets this season, and only 4 teams have kept more.
Also, only 4 teams have conceded fewer goals than Spurs this season. So, the argument that Spurs defense is bad this season is a little bit unjustified.
Tottenham back 4 have not been consistent this season, so it is hard to predict how Spurs backline will look like in both GW32 matches.
Reguilon could be a good pick, because of his attacking threat (he has 4 assists this season). He has also started last 6 from 7 Premier League games.
However, because of the uncertainty about who will start in the Spurs back 4, we are looking at Hugo Lloris as our third Spurs player.
In fact, Spurs captain is with 123 points fifth top-scoring goalkeeper in FPL and third top-scoring Spurs player after Kane and Son.
He is owned only by 6.7 % FPL managers, so he is solid differential, too.
Who is the better captain for GW32: Kane or Son?
Let's look to the last dilemma of this gameweek, and that is the captaincy headache.
If you want to fully exploit the power of this double gameweek, you should captain a Spurs attacker – Kane or Son.
So, let's look at the underlying stats from Understat. At first, we compare the data of these two from GW1 to GW31.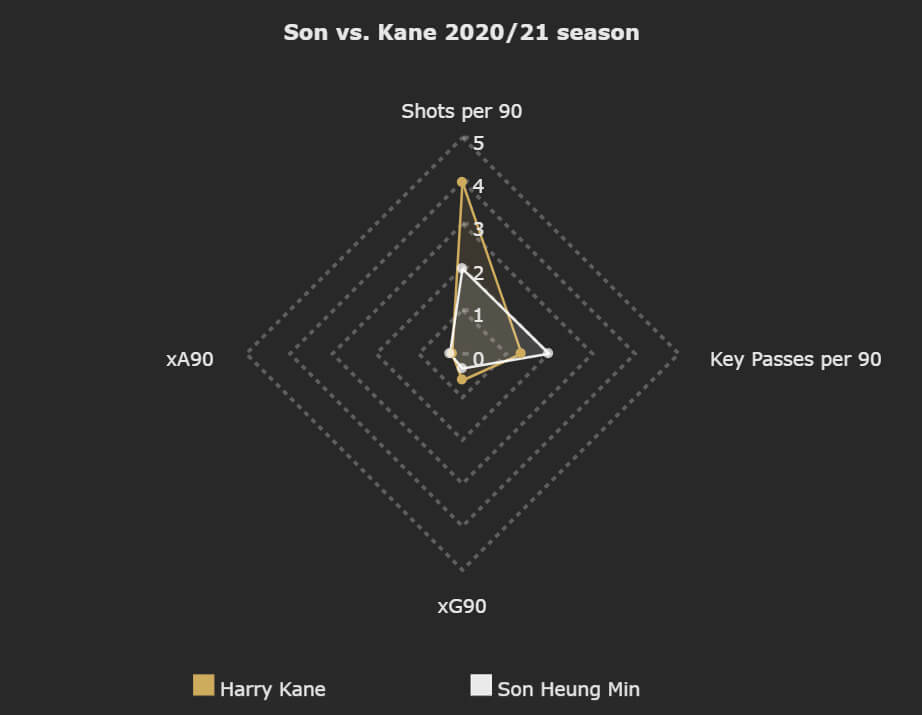 Kane is way more productive in terms of shots (3.98 vs. 1.97) and xG (0.62 vs. 0.34) per 90 minutes.
However, Son has a slight advantage over Kane when it comes to key passes (2.01 vs. 1.37) and xA (0.29 vs. 0.24) per 90 minutes.
If you are interested to know more about xG statistics, read our article about Expected Goals and how to use them in FPL
We also analyzed data over the period of last 6 gameweeks of these two players.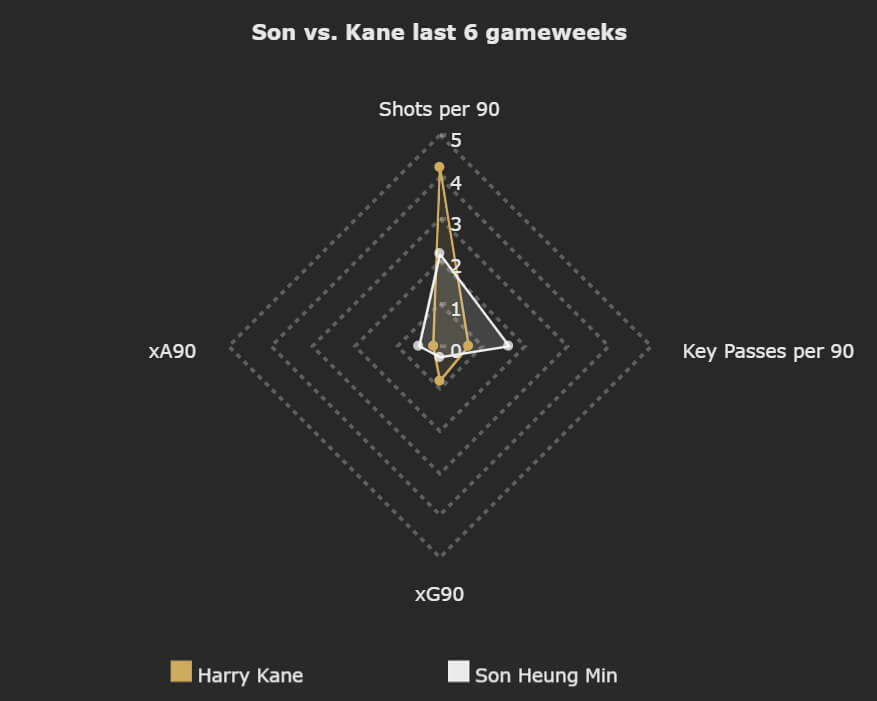 The results are similar: Kane way more active in shots and xG per 90 minutes, and Son slightly better in key passes and xA per 90 minutes.
So, which one to pick as our GW32 captain?
If you are a stat guy, Kane's attacking underlying numbers are better than Son's, so you should pick Kane as your captain.
However, we always claim that stats cannot say the full picture. They measure the past, and there are way more other factors that impact a player's final FPL points output (finishing ability, FPL classification, bonus point potential, penalties…).
Our opinion about these two have not changed through the season, so we say what we always say when deciding whether to captain Kane or Son: they are two captaincy options lying on the same indifference curve.
So, at the end of the day, it might not matter which one you picked, as they both can score the same number of points.
And in cases like that, we always captain a midfielder, because he has a higher points ceiling. So, regardless of the statistics, Son is our number one captain again.
At the end of the FPL GW32 Tips, let's look at our scout picks.
Lloris (EVE (A), SOU (H))
5,6 m
Azpilicueta (BHA (H))
6,3 m
Son (C) (EVE (A), SOU (H))
9,4 m
Kane (EVE (A), SOU (H))
11,7 m