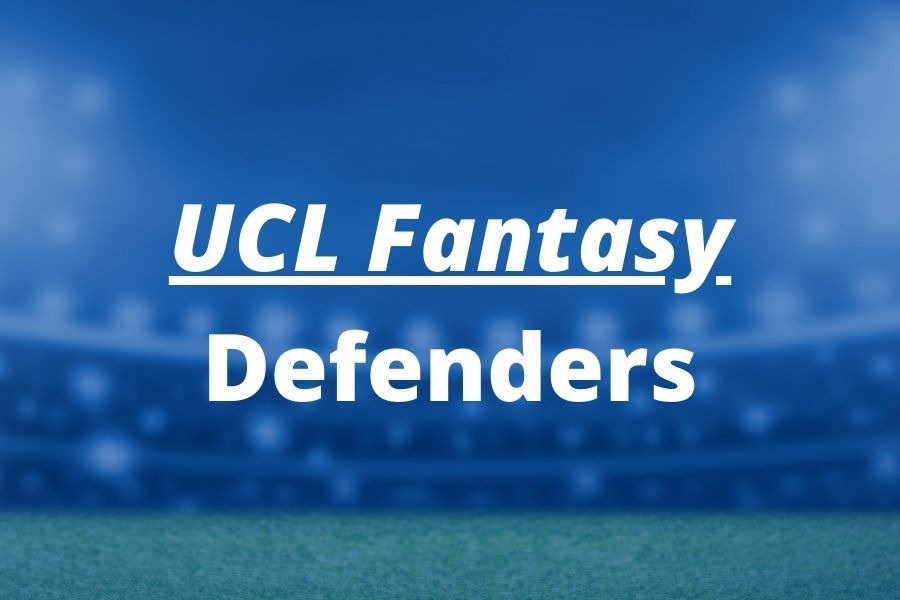 In this article, we will look at the best defenders to pick for your Fantasy Champions League team in Matchday 3. 
We have many 4.0 million starting defenders. However, only a few of them offer points potential that is higher than just appearance points.
Brugge defenders are extremely cheap and scored a lot of fantasy points so far. But can day keep their defensive form against Atletico in MD3 and MD4? We do not think so, that's why we do not consider them as good picks in Matchday 3.
However, 4.0 million defender to consider, is Nuno Tavares who has already scored 3 goals for Marseille in League 1. Apart from his attacking potential, he also have a solid chance of a clean sheet in Matchday 3.
Another 4.0 defender to look at is Manchester City's Sergio Gomez. He missed the Matchday 2 fixture against Dortmund, but there is a chance he will start in MD3 against Kodaň. However, wait for press conferences and predicted line ups before buying him. It is a risky pick, but if your budget is very tight, it could be worth it – 63 % chance of clean sheet for 4.1 million? That's just hard to overlook.
Similarly, if you have trust in Ajax defense, Bassey could be a good pick as well. He is just 4.1 million and recovered few balls so far. However, two fixtures against Napoli and then Liverpool are not really a clean sheet territory. 
At a 4.5 million price point, these are good defenders to consider in UCL Fantasy Matchday 3:
Reinildo (Atletico Madrid) – good at balls recovered, 35 % chance of clean sheet
Pepe (Porto) – good fixture, good at balls recovered
Raphael Guerreiro (Dortmund) – attacking threat, good fixtures in MD3 and MD4
Otamendi (4,6 million, Benfica) – balls recovered magnet, but tough fixture against PSG
There are few solid options in 5.0 million price bracket for Matchday 3. The first one is Lucas Hernandez (5.1 million, Bayern). It is a quite cheap route into Bayern defense that have the highest clean sheet potential in Matchday 3 from all teams. And we will know whether he starts before the deadline. He has injury problems, so we need to monitor whether he will recover during the international break. Nevertheless, you need Bayern's defensive coverage in MD3 and MD4.
Another 5.0 million defender to watch is Danilo (Juventus) – great fixtures against Macabi Haifa, high clean sheet chance and he is good at balls recovered.
Other 5.0 million defenders to consider in Matchday 3:
Di Lorenzo (Napoli) – Alongside Otamendi the most balls recovered (20) from all players, but tougher fixtures. You would need to rely on points from Balls recovered.
If you are looking for a set and forget defender for a group stage, it could be Cancelo. City can keep a clean sheet against anyone and he offers an attacking threat. And the fixtures in MD3 and MD4 are awesome. 
Alexander Arnold could do well against Rangers in Matchday 3 and Matchday 4. However, Liverpool's defense has been quite shaky this season. But if you are on Limitless Wildcard, he is a no brainer.
Other premium defenders to consider in Matchday 3:
Dani Carvajal – good fixture, high chance of a clean sheet and you will need Real Madrid defensive coverage in MD3 and MD4
Picking defenders in UCL Fantasy
When selecting a defender into your UCL Fantasy team you consider:
Whether a defender that you pick has a good chance of a clean sheet. Our Champions League Clean Sheet Odds will help you with that. This is the most important criterium you should consider, as clean sheets are most important source of fantasy points for defenders.
Whether a defender has attacking potential: Can he score goals after free kicks and corners? Does he play in an advanced position so he could register a few assists?
Balls recovered potential. Centre backs usually recover more balls than full backs which makes them more appealing from this point of view. You can check, which players are best at bells recovered in our article: Best players at balls recovered.
If you find a defender that offers all three above, you find gold and should pick him into your team. However, that is rare. So make sure that the defenders you pick satisfy at least 2 of those 3 criteria.