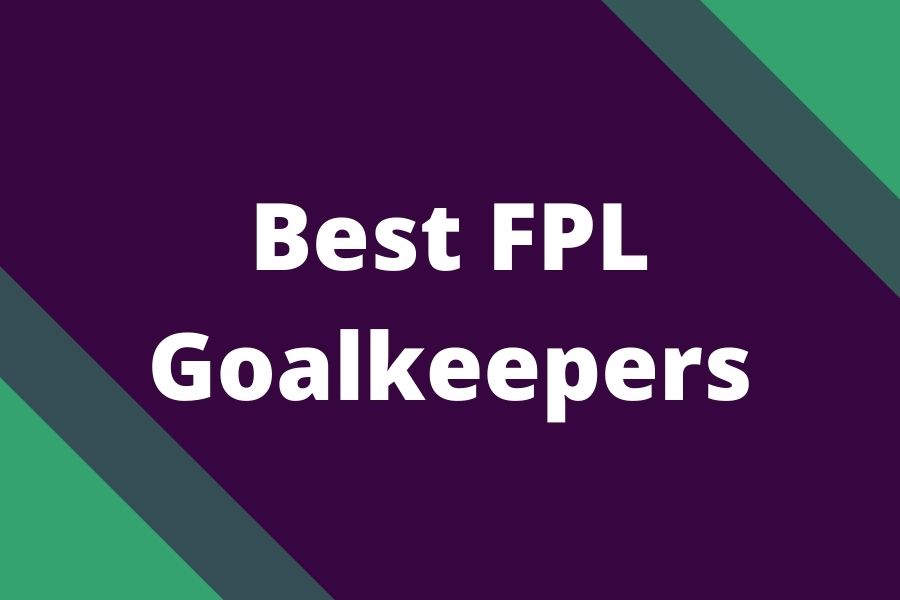 In this article, we will look at the best goalkeepers to pick for your Fantasy Premier League team in Gameweek 25.
Let's dive in
Best goalkeepers for FPL GW25
We will look at goalkeepers from every price point: budget enablers, midpriced picks and premium options.
Budget enablers for Gameweek 25
Forster (3.9m, Tottenham)
with Lloris out until April, we have a starting 3.9m goalkeeper in FPL
however it would be just a short-term pick – once Lloris is back, you would have to use your transfers on a goalkeeper, so it may even cost you a hit if you had some pressing issues elsewhere in your squad
Ward (4.0m, Leicester)
Who would said after the first 8 gameweeks (and 8 blanks), that Ward would be among our considerations again
Two clusters of points for Ward, 7 blanks in GW1-GW8, 6 clean sheets in GW9 – GW16 – and now from GW17 onwards, it looks like cluster of blanks again
averaging almost 3 saves per match
Definitely solid backup goalkeeper for that price, in case your first-choice goalkeeper does not play
But not the starting goalkeeper, there are other, better options to pick
Pickford (4.4m, Everton)
the potential backup goalkeeper that you would play in blank gameweek 25, where Everton has a double gameweek
he is third for saves among goalkeepers, so there is a potential to get few extra points in Gameweek 25
Only good pick for double gameweek 25 and perhaps for blank gameweek 28 where Everton has fixture
Mid-priced FPL goalkeepers for GW25
Kepa (4.7m, Chelsea)
good at saves and bonus points
Kepa is currently third for bonus points among goalkeepers, and he played way fewer matches than other goalkeepers
top for points per match among goalkeepers who played at least twice this season
good pick, with solid fixtures, and when Chelsea keep a clean sheet, he is likely to get few bonus points as well

have a fixture in blank gameweeks 25 and 28
Ramsdale (4.9m, Arsenal)
Arsenal with a double gameweek in GW25
Arsenal is second for clean sheets (9) after Newcastle (12)
But it is not the same Ramsdale as we saw in previous season
Arsenal is not allowing so many shots on target as in the last season, so Ramsdale is not getting many save points and bonus points
So you would have to rely on points from clean sheets, rather than saves and BPS
but still great bargain at 4.9m, based on Arsenal defensive display
Arsenal second best for xG conceded and goals conceded this season
Sa (5.0m, Wolves)
double gameweek in GW25
But Wolves are not guaranteed a fixture in GW28, which makes Pickford a slightly better pick for GW25 and GW28
Premium FPL goalkeepers for

Gameweek 25
Ederson (5.4m, Manchester City)
Manchester City are usually great defensively, however, they do not keep as many clean sheets this season as we expected
With Ederson, you are relying solely on points for Clean Sheets (and perhaps on a rare assist – Ederson has 2 assists in last 5 seasons)
Manchester City are not allowing many shots against, so he can get many points for saves and bonuses – that's why he is unlikely to end up as the top-scoring keeper even if Manchester City keeps the most clean sheets of all EPL teams
Currently, Ederson is likely the only nailed Man City defensive player
Hopefully, they can finally keep a clean sheet in GW25, against Bournemouth
Our preferred goalkeepers' duo for blank/double gameweek 25
Our current preferred duo is Raya (DGW in 27) + Pickford (DGW in 25, fixture in GW28) – and spread the rest of funds elsewhere
Goalkeepers beyond double gameweek 25
Raya (4.7m, Brentford)
cannot be overlooked as he is top for saves and top for bonus points
so you do not have to rely solely on points from Clean Sheets
the disadvantage is a blank gameweek in GW25 so you would need to have a backup
Double Gameweek in GW27, so time to bring him in is after GW25
Brentford (alongside Chelsea, Fulham and Man City) is 4th for clean sheets (8), behind Newcastle, Manchester United and Arsenal
Pope (5.5m, Newcastle)
suspended for Crabao Cup final, so should be back in GW26
If you have a backup for him, just bench him in blank GW25
the top scoring goalkeeper in the game
Newcastle solid defensively – only 15 goals conceded, the least of all teams
However, Newcastle is defensively overperforming
Tips for picking the best goalkeepers for your FPL team
With goalkeepers, you always want a keeper that has a very high chance of a clean sheet. You can use our Premier League Clean Sheets Odds to find goalkeepers, who are most likely to keep a clean sheet in the next gameweek of FPL.
Also, when considering a goalkeeper for your fantasy team, you always have to take a look at fixtures and asses whether a certain goalkeeper has the potential for a clean sheet. Does he have a tough or easy fixture? And as we mentioned, our clean sheet odds will help you with that.
Check FDR to find goalkeepers with a great fixture run that could be good for clean sheets
Also, asses the save potential of a goalkeeper you would like to pick. Make sure you check which goalkeepers have the most saves and bonus points.
Goalkeepers that are bonus points magnets can get double-digit haul, when they keep a clean sheet. So when they keep a clean sheet in every 5th or 6th match, it is ok, as they deliver a big amount of points on those occasions.
Do not forget to pick a playing goalkeeper to your bench, in case your first choice GK gets injured. But you bench goalkeeper does not have to be an expensive one, as you will likely will not need him many times. Choose goalkeeper from 4-4.5m price bracket as your backup
Strategies for picking a goalkeeper in FPL
King and the heir
You pick starting 4.5 million goalkeeper and 4.0 million backup goalkeeper from the same team. So, when the 4.5m number one gets injured, you will automatically have his replacement on your bench.
That way you will have coverage for 38 gameweeks for just 8.5 million in total. The disadvantage is, that 4.5m goalkeepers might not deliver so many points as you would need.
Total costs = 4.5 + 4 = 8.5m
Expected points output during the season = 120 – 130 points
Rotating goalkeepers
In this strategy, you pick two 4.5m, or 5.0m goalkeepers that rotates very well. So, when the first one has home fixture, the other one has an away fixture. And the other way around.
Or when the first one has an easy fixture, the other one has a tough fixture. The idea is, that you will exploit this rotation (of H/A, or fixtures), to maximize the point output from your goalkeepers, as you will always play the one with the better fixture.
This strategy looks great on paper. But when put in practice, you will leave many point son the bench too many times. It is hard to predict, when the points come from – sometimes, you bench goalkeepers with tough fixture, but that could be the fixture with a surprising clean sheet, 6 saves and 3 bonus points.
The expected output of this strategy varies. You could score even 180+ points through the season with this strategy, if your goalkeepers score points in fixtures when you want them to score. But if not, you might be actually losing points, as you might bench the big hauls.
Total costs = 4.5 + 4.5 = 9m
Expected points output during the season = 100 – 190 points
Premium set and forget
You pick one premium goalkeeper (like Ederson or Alisson), and do not worry about them the whole season. Premium goalkeepers has high clean sheet potential, although they rarely collects points for save points.
You would pick 4.0 million goalkeeper to the bench – either a starting goalkeeper or non-starting.
Total costs = 4.0 + 5.5 = 9.5m
Expected points output during the season = 135 – 160 points
Switching goalkeepers based on fixtures
The most common strategy in FPL. You pick one goalkeeper with a very good fixture run and when his fixtures turn red, you transfer him out for another goalkeeper whose fixtures improve.
Total costs = 4.0 + 4.5/5.5m = 9.5m – 10.5m + transfers made
Expected points output during the season = 110 – 190 points
FPL Goalkeepers with stable points output in previous 4 seasons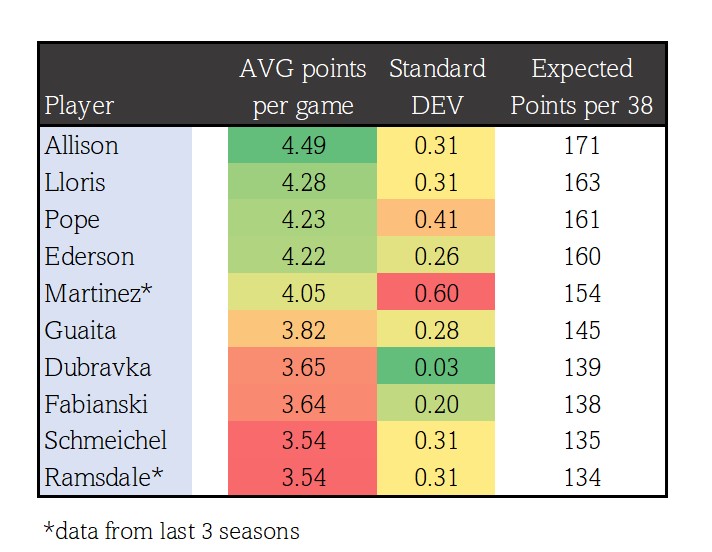 Read more in our article: Best long-term FPL picks for 2022/23 season
How many points should you expect from your goalkeeper in Fantasy Premier League?
Do not have unrealistic expectations from your FPL goalkeepers.
At the best, the top teams can keep around 14-20 clean sheets per season. So, when you select a premium goalkeeper, expect you will get a clean sheet in every second match at the best.
Mid-table teams tend to keep around 8-13 clean sheets per season. So, with mid-priced goalkeepers, expect a clean sheet in every fourth match
Bottom table teams usually keep around 0-7 clean sheets per season. So when picking budget enablers from bottom-table teams, do not really expect more than a clean sheet in every 6th match.
So, usually, a top scoring goalkeepers can get around 140-160 points per season. On some occasions, the top-scoring goalkeeper can get even 170 points or more in a season – but it is hard to predict who it is going to be.
So, 140-160 points is the amount of points you should aim to get from you goalkeeper during the whole FPL season
Of course, you will never get a distribution of a clean sheet that is so symmetric – CS in every 2nd match, CS in every 4th match, etc…
Because of the Law of Large Numbers (when we are stretched too far from the mean, the values tend to return to the mean over time, and regression happens) and Theory of Clusters (extreme values tend to be concentrated in the clusters), you will likely see a concentration of clean sheets in few matches, then a large strike of blanks, etc.
That's why you should look at average clean sheet count when selecting a goalkeeper, and not just at his "form" – how many clean sheets he kept in the last few matches – as this can be just a cluster of extreme values (either cluster of returns, or a cluster of blanks).
How are goalkeepers awarded points in FPL?
The majority of FPL points for goalkeepers go through clean sheets – that's their main source of points.
Then, saves can earn them a few extra points as well. And usually, when a goalkeeper keeps a clean sheet and gets 3 or more saves there is a potential that he will get awarded a few bonus points.
Penalty saves, assists and goals are rare points sources as well.
| Action | Points for goalkeepers |
| --- | --- |
| Playing up to 60 minutes | 1 |
| Playing 60+ minutes | 2 |
| Clean Sheet | 4 |
| Every 2 goals conceded | -1 |
| Every 3 saves | 1 |
| Penalty save | 5 |
| Goal scored | 6 (rare, but sometimes happen) |
| Assist | 3 (rare, but sometimes happen) |
| Bonus points | 1-3 |
| Yellow card  | -1 |
| Red card | -3 |
| Own goal | -2 |