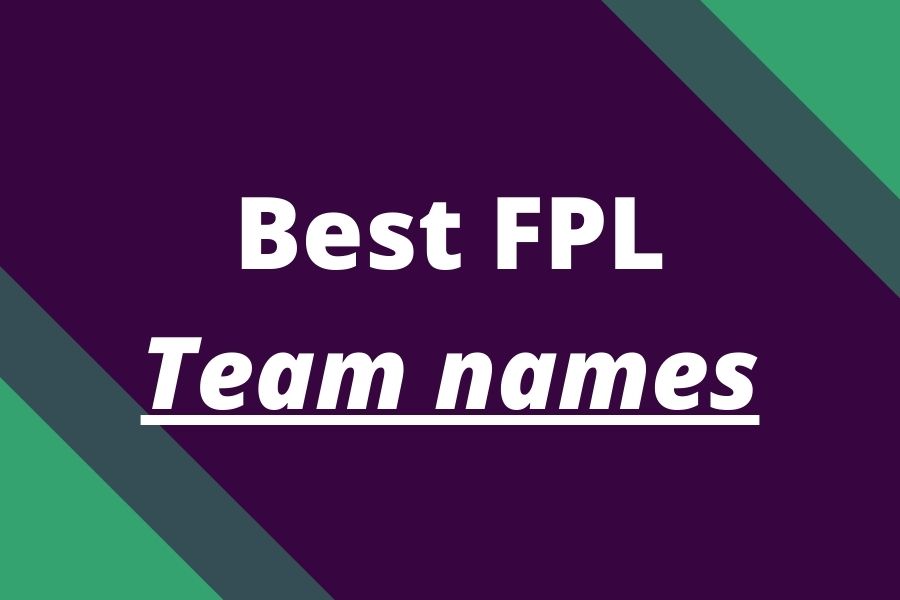 Every Fantasy Premier League season starts with selecting a good FPL team name. At first glance, you might say that the name of your fantasy team does not matter…
However, some experience FPL veterans would say that it is not entirely true. Yes, your skills and positions in the overall ranking are way more important. But FPL is also about having fun and the season does not always go the way we plan.
And when you compete with your friends, colleagues, and mini-league rivals, they all will see your FPL team name when checking mini-league standings. Selecting a good, creative, or funny name for your fantasy team can make you stand out from the crowd in all of your mini-leagues.
How to pick good FPL team name
Be creative
Your team name reflects your identity, so choose team name that is related to you, or the topic you like
If you want to be known in FPL community, use the same FPL team every season and built a brand around it
Be careful and do not use an offensive team name because offensive team names can be reported by any player and FPL could take an action against managers with inappropriate team names.
FPL Team name character limit: 20 characters
List of best (and funny) FPL team names
For your inspiration, we collected some good FPL team names and put them in the list.
For Fuchs Sake
Sarri Not Sarri
Pique Blinders
Rice Rice Bebe
Hakuna Mateta
Top Dier
Best Ings In Life Are Free
Kepa Clean Sheet
Cameroon Diaz
No Kane, No Gain
Luke KyleWalker
Krul and the Gang
Jurgener Believers
Gangster's Allardyce
Come Digne With Me
Tea & Busquets
Obi-Wan Iwobi
Expected Toulouse
Willian Dollar Baby
Game of Stones
How I Met Your Mata
Lord of the Ings
Guns 'N Moses
Flying Without Ings
Lallanas in Pyjamas
Things can only get Becker
Silva lining
Me, My Delph and I
Hotel? Thiago
Werner Bros
Chicken Tikka Mo Salah
Lingardium Leviosa
It's Getting Messi
Stranger Mings
Hit the Targett
Show Me The Toney!
Alisson Wonderland
Jean Claude Van Dijk
Alfa Romeu
Back of the Neto
Neves Say Never
Never Going Toulouse
You Kante be Serious 
Stay Hydrated, Drinkwater
Living in Allardyce
Backstreet Moyes
Drinkwater Not Koke
A.Wengers Endgame
Cancelo Culture
Alli or Nothing
Albrighton the Night
Catch me if you Kane
Tim is Krul
Salt & Pépé
My Little Toney
Bruno Dos Tres
Shaw must go on
The Konate Kid
Ayew joking
You Jota be jokin me 
Can you change your FPL team name?
Do not worry, you can change the name of your Fantasy Premier League team during the season.
How to change FPL team name?
If you wish to change your team name after you registered:
Go to Pick Team/My team 
Find My Team's kit section in the right panel.
Click on Design your kit and change your team name.
For a detailed guide (with screenshots) on changing the team name, check our article: How to change FPL team name?