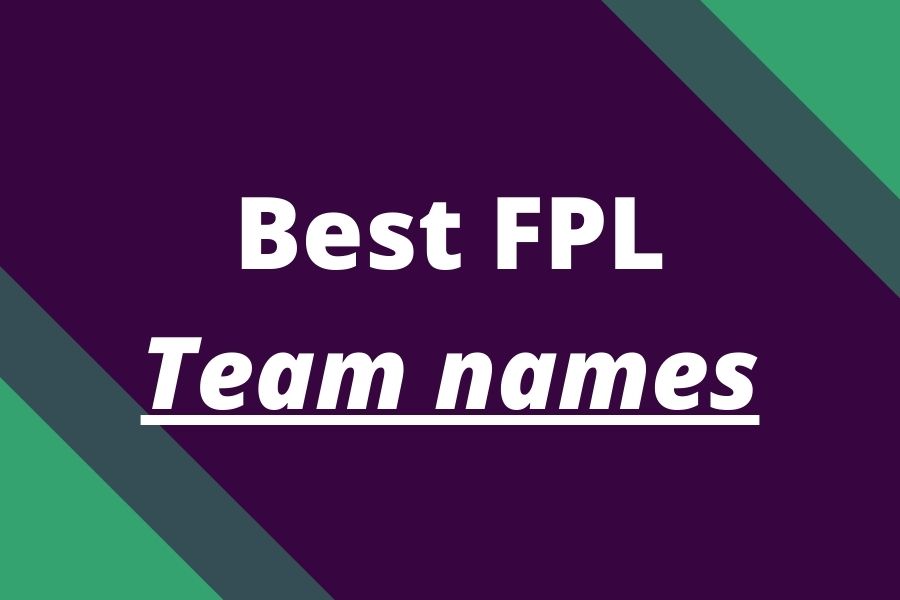 Every Fantasy Premier League season starts with selecting a good FPL team name. At first glance, you might say that the name of your fantasy team does not matter…
However, some experience FPL veterans would say that it is not entirely true. Yes, your skills and positions in the overall ranking are way more important. But FPL is also about having fun and the season does not always go the way we plan.
And when you compete with your friends, colleagues, and mini-league rivals, they all will see your FPL team name when checking mini-league standings. Selecting a good, creative, or funny name for your fantasy football team can make you stand out from the crowd in all of your mini-leagues.
Read more: 4 Books that will help you improve your FPL skills
How to pick a good FPL team name?
Be creative
Your team name reflects your identity, so choose a team name that is related to you or the topic you like
If you want to be known in the FPL community, use the same FPL team every season and built a brand around it
Be careful and do not use an offensive team name because offensive team names can be reported by any player and FPL could take action against managers with inappropriate team names.
FPL Team name character limit:

20 characters
Some ideas on how to make up your own creative Fantasy Football Team name
Choosing a Fantasy Football team name can be a fun and creative process. Here are some suggestions and ideas to help you generate your FPL team name:
Player Puns: Incorporate clever wordplay using the names of popular football players. For example, "Ctrl + Dele" or "Cahill on the Roof."
Pop Culture References: Draw inspiration from movies, TV shows, or music. For instance, "The Hazardous Avengers" or "Game of Throw-ins."
Team-Specific Names: Tailor your team name to support a specific club. For example, "Anfield Warriors" or "Emirates United."
Fantasy Themes: Incorporate elements of fantasy or mythology. You could go with "The Goalkeepers of Valhalla" or "The Wandering Wizards."
Football Jargon: Utilize football-related terms to create a unique name. Consider "The Offside Trappers" or "Midfield Maestros."
Inside Jokes: If you have a group of friends participating, create a team name based on an inside joke or shared experience.
Remember to keep it lighthearted and have fun with your team name. It's an opportunity to showcase your creativity and show your love for the game.
14 Best & Funny FPL team names (rated by us)
Rice Rice Bebe
Top Dier
Kepa Clean Sheet
Flying Without Ings
No Kane, No Gain
Willian Dollar Baby
Absolutely Fabregas
Game of Throw-Ins
How I Met Your Mata
Ctrl + Alt + De Laet
Haven't Jota Clue
The Kouyate Kid
Ayew joking
Kroos Control
List of other great FPL team names
For your inspiration, we collected some good FPL team names and put them in the list.
For Fuchs Sake
Sarri Not Sarri
Pique Blinders
Rice Rice Bebe
Hakuna Mateta
Top Dier
Best Ings In Life Are Free
Kepa Clean Sheet
Cameroon Diaz
No Kane, No Gain
Luke KyleWalker
Krul and the Gang
Jurgener Believers
Gangster's Allardyce
Come Digne With Me
Tea & Busquets
Obi-Wan Iwobi
Expected Toulouse
Willian Dollar Baby
Game of Stones
How I Met Your Mata
Lord of the Ings
Guns 'N Moses
Flying Without Ings
Lallanas in Pyjamas
Things can only get Becker
Silva lining
Me, My Delph and I
Hotel? Thiago
Werner Bros
Chicken Tikka Mo Salah
Lingardium Leviosa
It's Getting Messi
Stranger Mings
Hit the Targett
Show Me The Toney!
Alisson Wonderland
Jean Claude Van Dijk
Alfa Romeu
Back of the Neto
Neves Say Never
Never Going Toulouse
You Kante be Serious
Stay Hydrated, Drinkwater
Living in Allardyce
Backstreet Moyes
Drinkwater Not Koke
A.Wengers Endgame
Cancelo Culture
Alli or Nothing
Albrighton the Night
Catch me if you Kane
Tim is Krul
Salt & Pépé
My Little Toney
Bruno Dos Tres
Shaw must go on
The Konate Kid
Ayew joking
You Jota be jokin me
Team names according to your favorite Premier League squad
Manchester City
Haalanders
Haalaland
WalkinWithWalker
CanceloCancellers
Ake'Breakers
JAlvarezJazz
Rúben's Raiders
StonesRollinScores
Ake'n'Bake
Stones'n'Rolls
WalkerTexasRangers
Rúben'sRubies
Chelsea
ArrizaBagels
SterlingSilver
SilvaLining
ChilwellChillers
James'Gems
EnzoEndzone
Liverpool
Arnold's Armada
AlissonWonderland
Szoboszlai Soiree
Dijk's Dancers
Darwin's Evolution
Jota's Jokers
Salah-vation Army
Manchester United
Shaw Thing FC
Case of Miró
Ayew Shaw
Arsenal
Ode to Ødegaard
MartinellisMartini
White Lightning
Eddie's Nketi-Ah!
Tottenham
Maddison Square
Forster and Furious
Son-shine Squad
Sarr-castic Spurs
Newcastle
JoelinTONE
Watts in the Box
Willock-n-Load
Manquillo's Magpies
Targett Market
Longstaff Legion
Aston Villa
Astonishing Villa
Villans' Victory
Chamber of Secrets
Bailey's Comet
MingSingAlong
Cash and Dash
Luiz's Booze Cruise
Cashing In Goals
Ming's Dynasty
Brighton
MadeOfSteele
Gross Income
Welbeck in Time
Grossly Talented
Marching Solly-ders
Estupiñacolada
West Ham
Rice to the Top
Rice'n Shine
Hammering Ings
Ings n' Jingles
Brentford
Da Silva Lining
Wissards
Pinnockolada
Mee Myself and I
Crystal Palace
Eze Peasy Lemon Squeezy
Ayew Kidding Me
Ayew Serious
Bournemouth
Give Mee Moore
Billing's Billionaires
70+ Creative Fantasy Football Team Names for your inspiration
All The Way Up
Tiki Taka Titans
The Goal Diggers
Net Busters
Penalty Kings
Defending Demons
Wembley Wonders
FPL Magicians
Top Corner Crew
Pitch Invaders
Fantasy All-Stars
Goal Rushers
Tactical Tinkerers
Clean Sheet Pros
Fantasy Fanatics
FPL Phenoms
Midfield Maestros
Backline Bandits
Hat-Trick Heroes
Captain Connoisseurs
Bench Boost Brigade
Chip Chasers
Wildcard Wizards
Transfer Titans
Head-to-Head Heroes
Set Piece Masters
Goalkeeping Gurus
Fantasy Gaffers
Red Card Rebels
Dream Team Builders
Injured Reserve Squad
Deadline Day Darlings
Winning XI
Attacking Avengers
Defensive Dominators
Clean Sheet Kings
Goal Machine Gang
Captain Courageous
Fantasy Warriors
FPL Legends
Midfield Masters
Attacking Aces
Tactical Troopers
Fantasy Fever
Goal Blitzers
FPL Dreamers
Pitch Perfection
Tactical Tacticians
FPL Dynamos
Captain Choices
Fantasy Flames
Deadline Dynamos
Point Collectors
Midweek Marvels
Injury-Free Eleven
Clean Sheet Champs
Goal Scoring Geniuses
Fantasy Fan Club
Assist Architects
Squad Rotators
Fantasy Formation
Defense Destroyers
Fantasy Firepower
Midfield Maestros
Tactical Thinkers
Fantasy Field Marshals
Deadline Day Delight
Winning Wonders
FPL Fortune
Formation Fanatics
Goal Guardians
XI Gladiators
Squad Shufflers
Midfield Marvels
Tactical Titans
Fantasy Fireworks
Ultimate XI
My team name
Each year, I select the same team name for FPL, Fantasy Champions League or World Cup/Euro Fantasy. And that is Mateho XI – I know that it is very simple, basic. But its a combination of my nickname and reference to the movie Ocean's Eleven. My friends can easily identify my team in every fantasy football competition.
Can you change your FPL team name?
Do not worry, you can change the name of your Fantasy Premier League team during the season.
How to change FPL team name?
If you wish to change your team name after you registered:
Go to Pick Team/My team 
Find My Team's kit section in the right panel.
Click on Design your kit and change your team name.
For a detailed guide (with screenshots) on changing the team name, check our article: How to change FPL team name?
Other resources
Still have not found the best FPL team name for your XI? Check other resources as well: