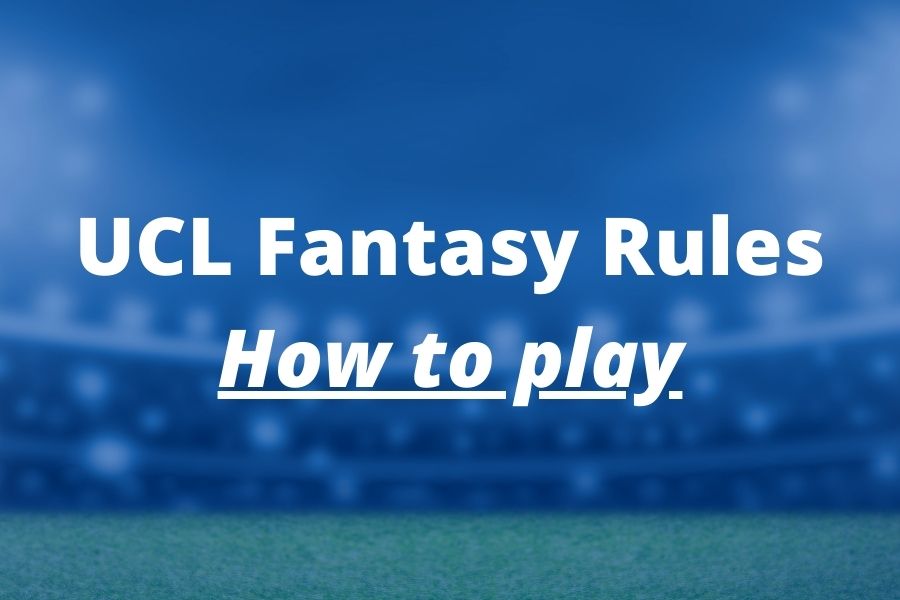 Here is our quick guide on how to play UEFA Champions League Fantasy for beginners.
Without further ado, let's jump in.
What is UEFA Champions League Fantasy and how does it work?
Champions League Fantasy is a game where you manage your own fantasy team and get points based on the player's real performance.
You can compete against your friends in mini-leagues and against all other UCL Fantasy managers in the overall rankings.
How to pick a team in UCL Fantasy?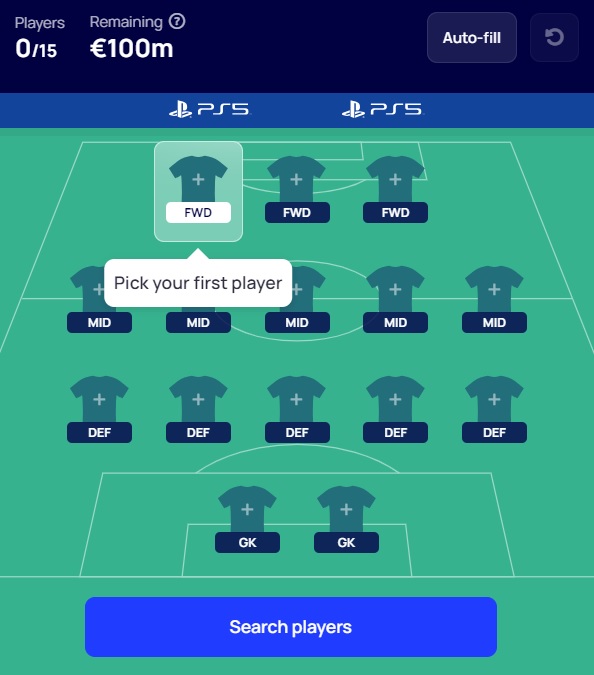 Register for UCL Fantasy at the Official website
Pick your team name (you can find UCL Fantasy team name ideas in our article: Best Fantasy Football Team Names)
You can also join UCL Fantasy late, if you did not start the season before Matchday 1
Pick a team of exactly 15 players (you cannot have less than 15 players on your team)
2 x Goalkeepers, 5 x Defenders, 5x midfielders, 3 x Forwards
Your team must be within the 100 million budget (the budget will rise by 5 million on the Round of 16)
Maximum 3 players per team in the group stage. This number increases in the knockout stage.
| Stage | Max. players per club |
| --- | --- |
| Group stage | 3 |
| Round of 16 | 4 |
| Quarter-finals | 5 |
| Semi-finals | 6 |
| Final | 8 |
Source: Official UCL Fantasy Rules
Selecting a captain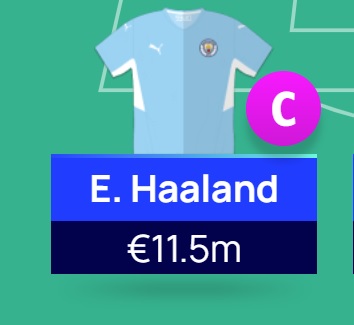 Pick a captain – a player that you think will score the most points during the next Matchday. Captain points are doubled.
Once the first day of matches ends, you can change your captain. For example, if you captain a player who plays on Tuesday and does not score many points, you can switch the armband to a player who is yet to play on Wednesday. Of course, your previous captain's points will not be doubled anymore
Important: You can only switch captaincy to a player who is yet to play, and not to a player who already played
Tip: Always pick a captain from Tuesday's games first. Then, if he does not deliver, you can switch the captaincy to the player who plays on next day
Read our rules for switching the captaincy: When to change a captain in UCL Fantasy?
When the captaincy choice is clear, there is no need to be different and pick a second-best captaincy option as your captain. Second-best is the second-best (and not the best) for a reason. So always, select the best option as your captain regardless of his ownership or how many other managers will captain him.
Auto Subs and Manual Substitution
You can make substitutions to your team during the matchday or between matchdays. How do those auto-subs and manual substitutions work? Read more about it in our article: UCL Fantasy: Auto subs & Manual Subs – how to use them in your strategy?
By making manual substitutions, you can change the formation of your UCL Fantasy team.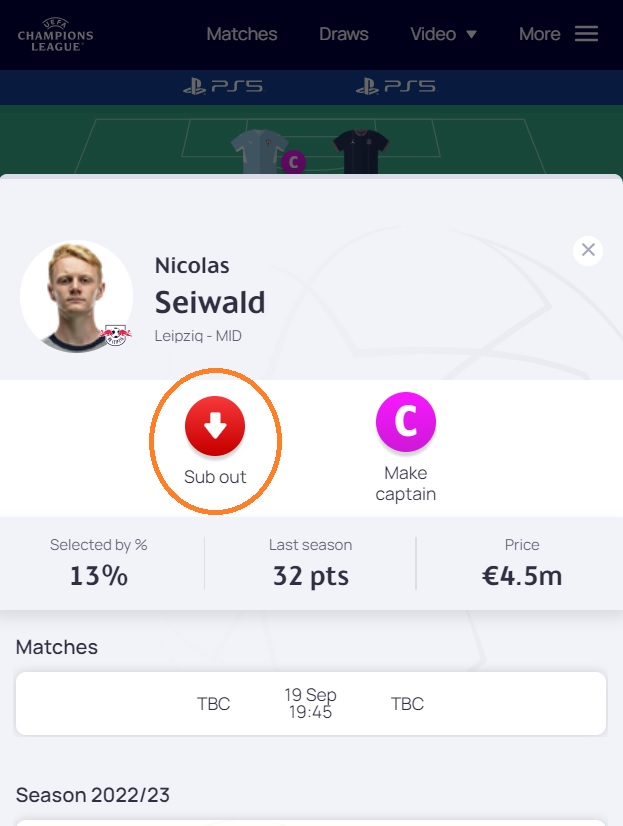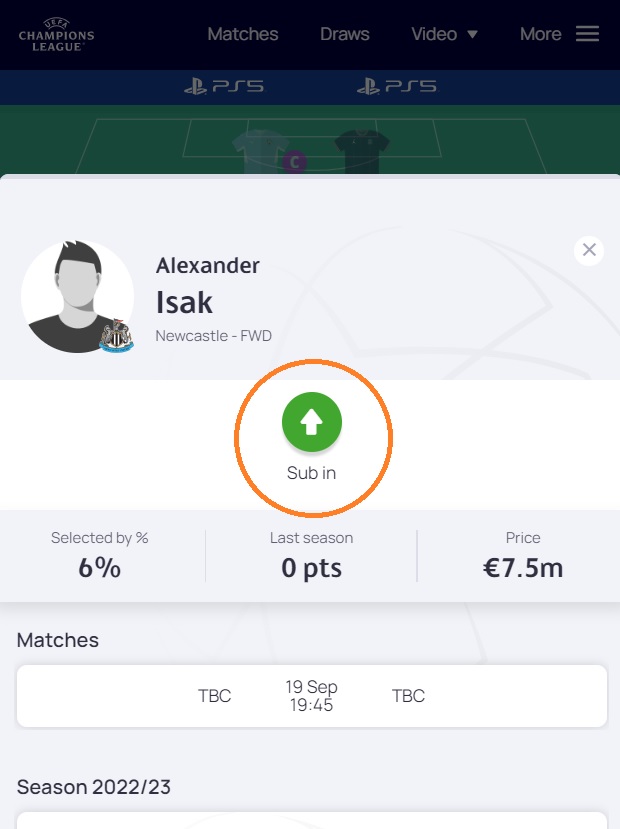 Making transfers
Each matchday in the Group Stage, you can get 2 free transfers that you can use to make changes to your team. The number of free transfers increases in the Knock Out Stage. You can read more about using transfers in Champions League Fantasy in our article: UCL Fantasy Transfer Rules. In this article, we also discussed when and on which players you should use your transfers.
Price changes
Players' prices will not stay the same the whole season but they will be changing based on players' performance. If a player scores a lot of points, his price will rise. On the other hand, if the player underperforms, his price might fall.
We have a separate article that discusses, how price changes work in UCL Fantasy.
How are points scored in Champions League Fantasy?
If you are a beginner to Champions League Fantasy, one of your most common questions is: how do players earn points?
Do not worry, we have got you covered. You can check it out in the article: UCL Fantasy Points Scoring System.
Chips: Wildcard & Limitless
In the Champions League Fantasy, you will get two chips that allow you to make interesting changes to your squad: Wildcard and Limitless Wildcard.
We discussed the differences between them in our article: What is a limitless chip in UCL Fantasy and What is the wildcard in UCL Fantasy and when to use it?
Deadlines
The deadline for each matchday is at the time of the first kickoff of that matchday. Your team will lock on the deadline, so do not forget to make your changes just in time before the deadline!
You can find the times of all deadlines in UCL Fantasy deadline times.
Create/Join Leagues and invite your friends
Compete against your friends by creating leagues and inviting them to join in. You can read more about managing mini-leagues in our articles:
Join our UCL Fantasy League
Feel free to JOIN our UCL fantasy mini-league for the 2023/24 season using our league code 50U1FM5M03. Or click the auto-join link here.
Fantasy Champions League Tips
If you are looking for actionable tips for improving your UCL Fantasy score, make sure to check our guide: Vital Tips for UCL Fantasy Success.
We also regularly publish tips, captains, best picks, transfer targets, and much more before each matchday. You can find our tips, captain, and teams here:
How to make the best decisions in UCL Fantasy?
Before each matchday find some time to think about your team and possible moves
Plan for the long term, plan when you use your chips to get a strategic advantage from using them
Follow players' stats on sites like Understat
Join discussions on UCL Fantasy Twitter and UCL Fantasy Reddit
Try to find undervalued players
Optimize your team (and the money spread in your team) for the biggest expected output
Find which players are in form by checking the last matches
Use bookies odds to find what bookmakers and their statistical models expect to happen. Check Champions League Clean Sheets Odds and Champions League Goalscoring Odds before every matchday