After a break, our favorite fantasy football game returns. There are just 4 games to be played, but there are still plenty of good UCL fantasy options to pick from.
Points differences in mini-leagues and in overall ranking are very tight, and the Champions League Quarterfinals might predetermine the success of your squad.
Let's look at our UCL Fantasy Tips for the 1st leg of the quarterfinals.
Tips for Matchday 9 (QF 1st Leg) of UCL Fantasy

1. Transfer tips for UCL Fantasy quarterfinals
Just as we said before the R16, think long-term. You have 5 free transfers – that looks like a lot, but in fact, it is not.
Try to assess, which teams will likely go through and bring in players from teams that have high chances of progressing to the semifinals.
To help you with that, we converted bookies' odds of progressing to the semifinals into probabilities.
So take a look at what bookies think, and which teams they favor to progress to the next round. You can find these odds in our latest UCL Fantasy article: Probabilities of advancing to semifinals.
Of course, you can use your own probabilities based on who do you think goes through.
The important thing is to realize that not all teams have equal chances of progressing to the semifinals.
So, when you consider this in your squad selection for the quarterfinals, it can help you minimize the number of potential transfers you will have to make when your players get eliminated. 
Try to get 15 starters into your squad. Substitutions are a vital piece of UCL fantasy success. So, when transferring players out, prioritize to transfer out players that got eliminated.
Try to get 4 active players into your bench, you will appreciate the possibility of 4 available substitutions later during matchday.
And, of course, avoid -4 point hits if possible – you do not want to take unnecessary losses if you do not need to.
There are just 8 teams in UCL Fantasy quarterfinals – so there are fewer "quality players" that are able to score 4+ points and repay the -4 point hit.
The Deeper in knock-out stages we get, the fewer points are available in the game to collect (as there are fewer players).
2. Lewandowski replacement and the best forward line
Robert Lewandowski injured his knee, and he is out of the 1st leg of the Champions League quarterfinals against PSG.
That is a huge blow not just for Bayern Munich but also for 42 % UCL Fantasy managers who own Polish striker in their squads.
There are not many other options that could fill the void in the forward line of our UCL Fantasy squads.
The forwards from Chelsea and Porto have been uninspiring this season so far. Roberto Firmino and Gabriel Jesus are both out of form.
And we do not really know who will play at front for Bayern Munich – and from all that players that could jump in for Lewandowski, only Choupo-Moting is classified as a forward.
In the end, only one of Haaland, Benzema, and PSG forwards could be a viable Lewandowski replacement. So, there is a clear UCL fantasy forward line that is shaping: Haaland, Benzema, Mbappe.  
3. In-form players for UCL Fantasy Quarterfinals
There are several players whose form has really caught our eyes in the last few weeks.
Karim Benzema is one of them. He has 9 goals and 1 assist in his last 7 games for Real Madrid and he is definitely a captain contender for Tuesday's games.
Diogo Jota is back from injury and simultaneously back in form, too. He did brilliantly for Portugal during the latest international break and helped his national team with three goals in two games.
He also registered 4 goals for Liverpool in his 6 games since returning from the injury.
Ilkay Gundogan is also maintaining his great form as he has 5 goals in his last 6 starts for Man City and Germany.
The form of Kylian Mbappes is outstanding, as he scored 7 goals in his last 6 games for PSG.
If you are interested in Chelsea assets, take a look at Mason Mount. Since Tomas Touchel took over Chelsea, the young Englishman registered 4 goals in 8 matches and he is the most in-form attacking player The Blues.
Bayern Munich has a few in-form players, too. Goretzka has 3 goals and 3 assists, Gnabry 4 goals and 1 assist and Muller 3 assists in Bayern's last six matches.
4. Balls recovered heroes for Quarterfinals
There is no doubt, that you should pay attention to players who are great at balls recovered. This new feature completely changed the nature of the Fantasy Champions League.
The fact, that Cristian Romero is with 58 points the most productive player of the game, only confirms that. He scored 27 points (47 %) via balls recovered!
Romero's Atalanta got eliminated, but there are still other players that recover a lot of balls.
You want to concentrate on players that are regularly recovering more than 6 balls per game – that means they can score you around 2 extra points every game.
In the table below, you will find list of players that are best at balls recovered. It is sorted by the most balls recovered per game.
| Player | Balls Recovered | Matches | Balls Recovered per Game |
| --- | --- | --- | --- |
| Hummels | 72 | 7 | 9.57 |
| Casemiro | 53 | 6 | 8.83 |
| Akanji | 41 | 5 | 8.2 |
| Fabinho | 47 | 6 | 7.83 |
| Boateng | 39 | 5 | 7.8 |
| Marqinhos | 52 | 7 | 7.43 |
| Alexander Arnold | 44 | 6 | 7.33 |
| Jorginho | 47 | 7 | 6.71 |
| Sule | 40 | 6 | 6.67 |
| Alaba | 46 | 7 | 6.57 |
| Danilo | 52 | 8 | 6.5 |
| Varane | 46 | 8 | 5.75 |
| Cancelo | 39 | 7 | 5.57 |
| Modrič | 39 | 8 | 4.88 |
Hummels or Akanji can score extra 2-3 points for you even without a clean sheet, and we think you should pick at least one of them into your squad. We prefer the former.
Also, Alexander Arnold could be a great replacement for Cristian Romero. Although he is not as great at balls recovered as Atalanta's centre-back, he is still good at it, and in addition, TAA offers an attacking threat.
His assists potential is exceptional for a defender, and he is on free kicks duties for Liverpool. So, there is a lot of ways how young Englishman can score points for your UCL fantasy squad.
Do not forget midfielders that are good at recovering balls. They are cheap, and their points output is stable. So, you can expect 4-5 points from them even without an attacking return.
Casemiro is our number one pick from balls recovering midfielders. He is recovering almost 9 balls per game – what is extra 3 points per game. He also offers an attacking threat, as he has 1 goal and 2 assists in his last 9 games for Real Madrid.
We recommend you choose another midfielder good at balls recovered next to Casemiro. Our pick is Jorginho, who could be also on penalties for Chelsea.
5. Best captain for UCL Fantasy MD9
Well, regarding the captain selection, it will not be as easy in Quarterfinals, as it was in R16. In R16, we have 4 playing days and we could change captain 3 times – so our chances of nailing the captaincy were very high.
But in the 1st leg of Quarterfinals, we have just 2 playing days. It means, we can switch the captain just one time.
Karim Benzema, Mohamed Salah, Erling Haaland, and Gundogan are all great captaincy picks for matchday 9, but they all play on Tuesday. So, you can pick just one of them as your captain. And this kind of dilemma can cause a headache.
All Tuesday's matches promise goals. However, it looks that Manchester City has the "easiest" fixtures based on bookies' odds.
Based on their odds, there is a 68% chance that Man City will win the game – that's the highest form all teams (Real Madrid 37%, Liverpool 36%, Dortmund 13%).
Also, according to bookies odds, there is a 67% probability that there will be more than 2.5 goals in the fixture Manchester City vs. Dortmund (there is just 53% probability, that there will be more than 2.5 goals in the fixture Real Madrid vs. Liverpool).
We got those numbers converting bookmakers' odds into probabilities using our Odds to probability calculator.
So, the Man City fixture should be high scoring and the home team is a clear favorite according to probabilities that bookmakers use.
That's why City's in-form midfielder Ilkay Gundogan is our go to captain for Tuesday night of Fantasy Champions League.
For Wednesday games, selecting the captain is not that hard. We can overlook Chelsea vs. Porto fixture as we do not consider any of their players for good captaincy options.
That leaves us with Bayern and PSG options. And from all their players, it is Kylian Mbappe who is the man in form, as we mentioned in "in-form players" section. So he is our backup captain in case Gundogan fails to deliver.
6. Scout picks for UCL Fantasy Quartefinals
Let's finish our preview for the 1st leg of UCL Fantasy Quartefinals with our scout picks.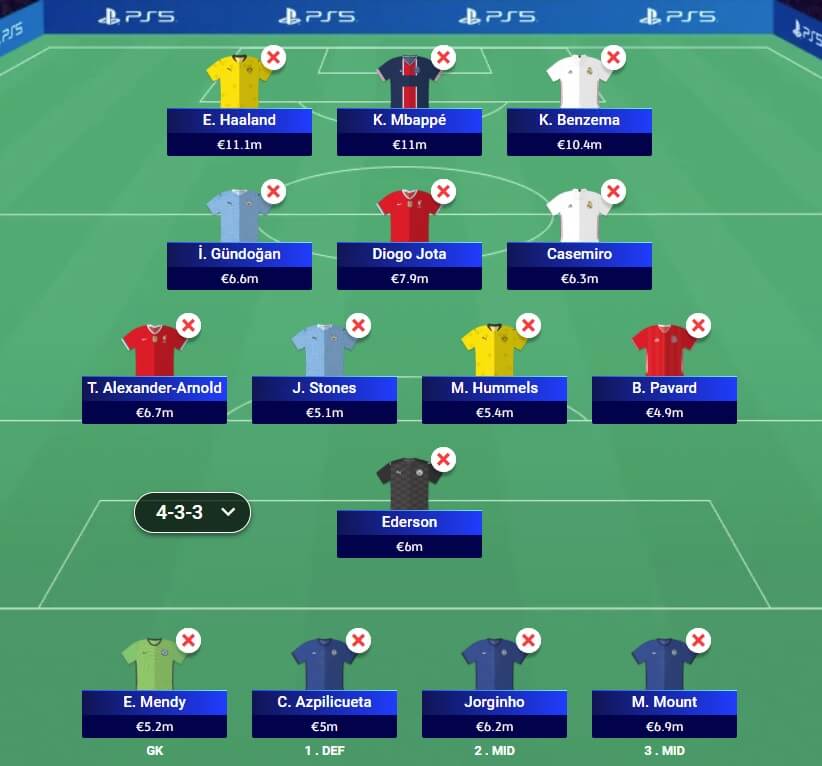 Few more tips for UCL Fantasy QF are yet to come
We will bring you few more tips for UCL Fantasy Quarterfinals 1st Leg, such as MD9 Clean Sheets Odds and MD9 Goalscoring Odds.
Stay tuned. And good luck!
How is your UCL fantasy tea set up for Quarterfinals? Who is your captain?
Leave a comment below!