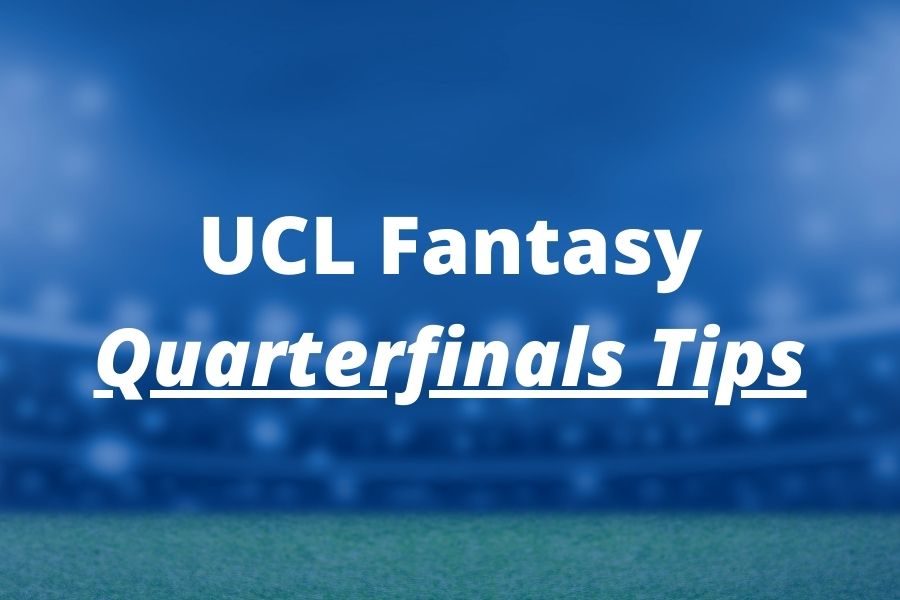 After a break, Fantasy Champions League returns with Matchday 9. There are just 4 games to be played, but there are still plenty of good UCL fantasy options to pick from in the 1st Leg of the Quarterfinals.
Points differences in mini-leagues and in overall ranking are very tight, and the Champions League Quarterfinals might predetermine the success of your squad. The deeper we go into the tournament the harder it will be to differentiate your UCL Fantasy team from squads of your rivals.
Let's look at our UCL Fantasy MD9 Tips for the 1st leg of the quarterfinals, where we discuss strategy, best picks, captain, odds, team selection and more.
1. UCL Fantasy Quarterfinals Tips & Strategy
Focus on teams that have a high chance of advancing to the semifinals
Just as we said before the Round of 16, think long-term. You have 5 free transfers before Matchday 9 – that looks like a lot, but in fact, it is not.
Try to assess, which teams will likely go through and bring in players from teams that have high chances of progressing to the Champions League Semifinals.
To help you with that, we converted bookies' odds of progressing to the semifinals into probabilities.
So take a look at what bookies think, and which teams they favor to progress to the next round. You can find these odds in our latest UCL Fantasy article: Probabilities of advancing to semifinals.
Which teams will likely advance to the Semifinals in #UCLFantasy? #MD9 #ChampionsLeague pic.twitter.com/SxT4A7JBQU

— Fantasy Football Reports (@FplReports) April 11, 2023
Of course, you can use your own probabilities based on who you think goes through. The important thing is to realize that not all teams have equal chances of qualifying for the next round.
So, when you consider this in your squad selection for the quarterfinals, it can help you minimize the number of potential transfers you will have to make when your players get eliminated.
Aim to get 15 starters with your free transfers
Try to get 15 starters into your UCL Fantasy squad. Substitutions are a vital piece of success in UCL Fantasy. So, when transferring players out, prioritize transferring out players that got eliminated.
Read more: UCL Fantasy: Auto subs & Manual Subs – how to use them in your strategy?
Try to get 4 active players into your bench, you will appreciate the possibility of 4 available substitutions later during the matchday 9.
And, of course, avoid -4 point hits if possible – you do not want to take unnecessary losses if you do not need to.
There are just 8 teams in the UCL Fantasy quarterfinals – so there are fewer "quality players" that are able to score 4+ points and repay the -4 point hit.
The Deeper in knock-out stages we get, the fewer points are available in the game to collect (as there are fewer players).
Pick goalkeepers who play on different days and are from different halves of the bracket
Do not pick goalkeepers from the same day – that way you cannot use your substitutions for your goalkeeper if your first goalkeeper blanks.
Similarly, if you pick goalkeepers from the same half of the bracket, they might end up playing against each other in the semifinals – blocking possible substitution, forcing you to transfer one of your goalkeepers out. Try to pick goalkeepers from different days and from different halves of the Champions League bracket as well.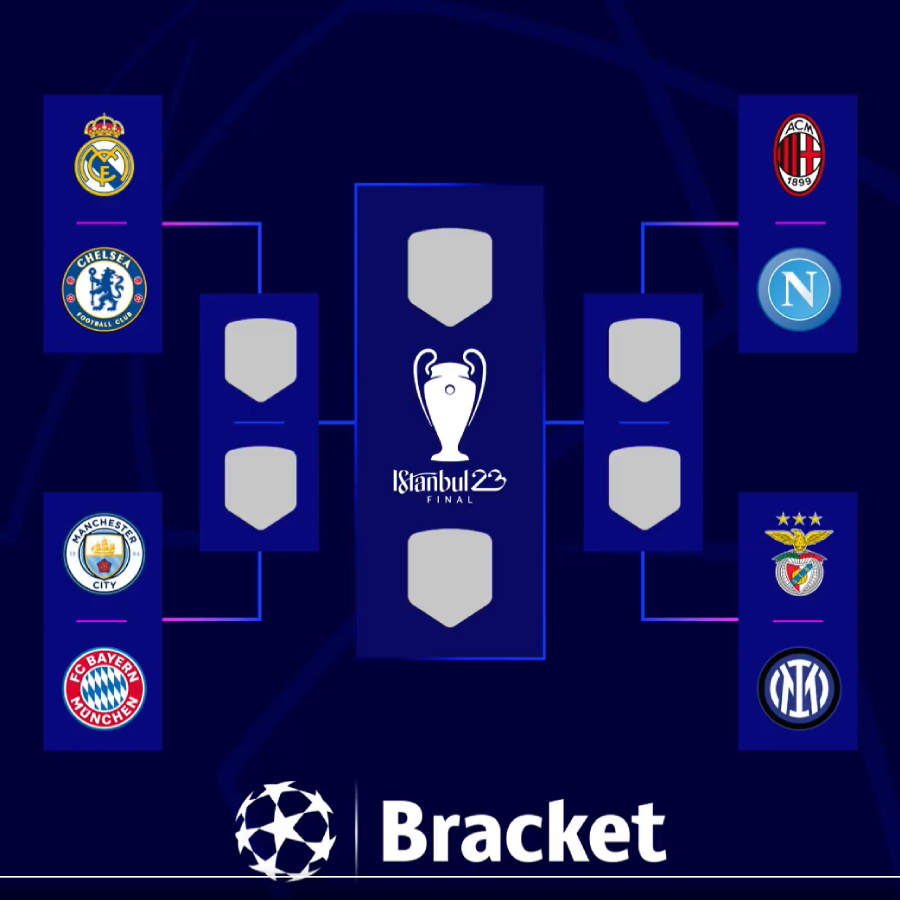 The champions league 2023 bracket (Source: Official UEFA on Twitter)
Use all free transfers
Just to remind you, we cannot carry free transfers to the next round in the elimination round of Fantasy Champions League. So use all 5 free transfers before the Matchday 5 deadline.
Read more: UCL Fantasy Transfer Rules.
Do not overlook midfielders good at balls recovered
The deeper we are in the tournament, the fewer options among good attacking players we have. So, you do not need to have 5 attacking midfielders in your team now. There are just a few really good midfield options that can deliver attacking returns regularly.
Do not be afraid to bring the likes of Florentino or Lobotka, who are good at balls recovered and can deliver 3-6 points in almost every matchday – and outscore other attacking midfielders in the long run.
2. Fixtures to target in UCL Fantasy Matchday 9
Which fixtures you should target? We always use bookies' odds to help us determine that. Let's look at which teams have the highest chance of winning their match in the Matchday 9 and scoring a lot of goals in that game:
Real Madrid – 51 % to win the match, 21 % to score more than 2.5 goals
Manchester City – 49 % to win, 26 % to score more than 2.5 goals
Benfica – 43 % to win, 14 % to score more than 2.5 goals
Napoli – 42 % to win, 15 % to score more than 2.5 goals
3. Best players to pick in the Matchday 9
We look at key players to pick in UCL Fantasy Quarterfinals 1st leg (Matchday 9). We examine each position and each price bracket. You can check our separate articles here:
*Note.: Osimhen is out the first leg. Ramos and Leao are possible replacements for our UCL Fantasy teams.
Victor Osimhen, expected to miss the first round of UCL quarter finals at San Siro according to Napoli president 🚨🔵 #UCL

"Victor is not in the conditions to play, unfortunately — so we hope to have him back for return fixture at the Maradona on April 18", says via Repubblica. pic.twitter.com/FkB91cgz7A

— Fabrizio Romano (@FabrizioRomano) April 11, 2023
4. Best captain for UCL Fantasy Quarterfinals 1st leg
Well, regarding the captain selection, it will not be as easy in UCL Fantasy Quarterfinals, as it was in R16. In the Round of 16, we had 4 playing days and we could change captain 3 times – so our chances of nailing the captaincy were very high.
But in the 1st leg of the Quarterfinals, we have just 2 playing days. It means we can switch the captain just one time.
Haaland is the obvious captaincy option for Tuesday, so (if fit) he is our number one captain option for Matchday 9. However, if you want to try something different, Benfica goalscoring machines Joao Mario and Goncalo Ramos would be our differential captaincy picks for Tuesday.
Our backup captain for Wednesday is Karim Benzema as Real Madrid has the best fixture of Matchday 9 according to bookies odds. If you are looking for a differential backup captain, Osimhen and Vinicius are our picks.
Captaincy thresholds
There are just a few matches in the Quarterfinals, so there is a smaller range of great captaincy options. That's why our captaincy threshold is lower than in the group stage. For Matchday 9, our captaincy threshold is 5 points.
It means, that if our Tuesday captain scores 5 points or more, we will keep the amrband on him.
Substitution threshold
Our subs threshold is 4 points. Meaning that if your players scores 4 points or more, you will not sub him off after the first day.
Read more about our captaincy thresholds: UCL Fantasy Captaincy Thresholds: When to change captain?
5. Odds and Probabilities for Matchday 9
Clean Sheet Odds for Quarterfinals 1st Leg
As usual, we converted bookies' clean sheet odds into clean sheet probabilities using our Odds to probability calculator.
Real Madrid and Benfica have the highest probability of keeping a clean sheet in Matchday 9, so you might aim to get one or two defenders from each of those teams.
Zobraziť tento príspevok na Instagrame
You can see all Champions League Clean Sheet Odds here.
Goalscoring Odds for Quarterfinals 1st Leg
Haaland leads the goalscoring odds table again. He is followed by Benzema, Alvarez and Ibrahimovič.
You can find odds of scoring a goal here: Champions League Goalscoring Odds.
6. Scout picks for UCL Fantasy Quarterfinals
Let's finish our preview for the 1st leg of UCL Fantasy Quarterfinals with our scout picks.
*Monitor the situation around Osimhen as he could be out. If so, Leao or Ramos could be his replacement for your team.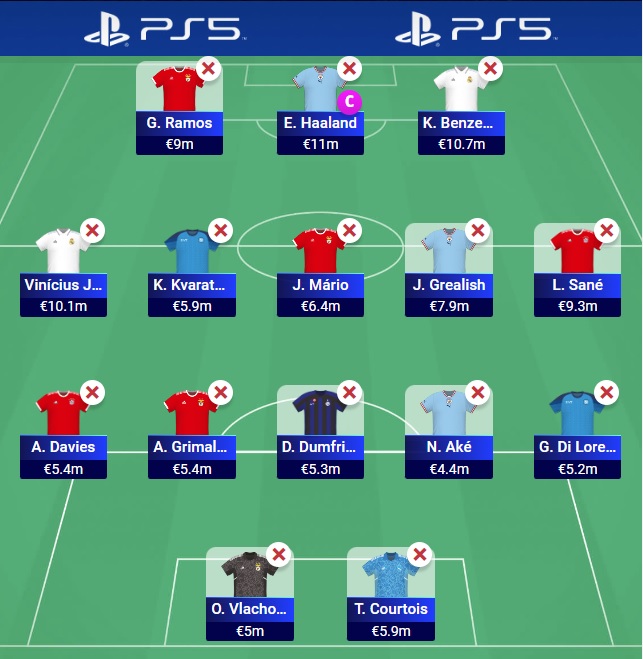 7. Fantasy Champions League Tips
Find more tips, strategies, and picks for UCL Fantasy in these articles: