After a break, our favorite fantasy football game returns. There are just 4 games to be played, but there are still plenty of good UCL fantasy options to pick from.
Points differences in mini-leagues and in overall ranking are very tight, and the Champions League Quarterfinals might predetermine the success of your squad.
Let's look at our UCL Fantasy Tips for the 1st leg of the quarterfinals.
Tips for Matchday 9 (QF 1st Leg) of UCL Fantasy

1. Transfer tips for UCL Fantasy quarterfinals
Just as we said before the R16, think long-term. You have 5 free transfers – that looks like a lot, but in fact, it is not.
Try to assess, which teams will likely go through and bring in players from teams that have high chances of progressing to the semifinals.
To help you with that, we converted bookies' odds of progressing to the semifinals into probabilities.
So take a look at what bookies think, and which teams they favor to progress to the next round. You can find these odds in our latest UCL Fantasy article: Probabilities of advancing to semifinals.
Of course, you can use your own probabilities based on who do you think goes through.
The important thing is to realize that not all teams have equal chances of progressing to the semifinals.
So, when you consider this in your squad selection for the quarterfinals, it can help you minimize the number of potential transfers you will have to make when your players get eliminated. 
Try to get 15 starters into your squad. Substitutions are a vital piece of UCL fantasy success. So, when transferring players out, prioritize to transfer out players that got eliminated.
Try to get 4 active players into your bench, you will appreciate the possibility of 4 available substitutions later during matchday.
And, of course, avoid -4 point hits if possible – you do not want to take unnecessary losses if you do not need to.
There are just 8 teams in UCL Fantasy quarterfinals – so there are fewer "quality players" that are able to score 4+ points and repay the -4 point hit.
The Deeper in knock-out stages we get, the fewer points are available in the game to collect (as there are fewer players).
2. In-form players for UCL Fantasy Quarterfinals
There are several players whose form has really caught our eyes in the last few weeks.
Karim Benzema is one of them. He has 10 goals and 6 assists in his last 6 games for Real Madrid.
Diogo Jota is back in form. He did brilliantly for Portugal during the latest international break and has 4 goals and 1 assist in his last 5 matches for Liverpool and Portugal.
Kevin De Bruyne is also maintaining his great form as he has 4 goals and 1 assist in his last 4 starts for Man City.
Raheem Sterling is showing glimpses of form as well with 2 goals and 3 assists in last 4 matches for Citizens and England.
Of course, we cannot forget to mention Robert Lewandowski and his 7 goals and 1 assist in the last 5 matches for Bayern and Poland
If you are interested in Chelsea assets, take a look at Kai Havertz. He has 5 goals and 1 assist in his last 7 matches for the blues and Germany.
3. Best captain for UCL Fantasy QF 1st leg
Well, regarding the captain selection, it will not be as easy in Quarterfinals, as it was in R16. In R16, we have 4 playing days and we could change captain 3 times – so our chances of nailing the captaincy were very high.
But in the 1st leg of Quarterfinals, we have just 2 playing days. It means, we can switch the captain just one time.
Kevin De Bruyne, Raheem Sterling, Riyad Mahrez and Mohamed Salah are all great captaincy picks for matchday 9, but they all play on Tuesday. So, you can pick just one of them as your captain. And this kind of dilemma can cause a headache.
Both Tuesday's matches promise goals. It is a tough call between Kevin De Bruyne and Mohamed Salah for us, but we are going to pick Mohamed Salah as our Tuesday captain. According to bookies odds, Manchester City has 37 % chance of scoring 2,5+ goals against Atletico while Liverpool has a 40 % chance of scoring 2,5+ goals against Benfica.
Salah has also better goalscoring odds than KdB.
You can check all goalscoring odds for Quarterfinal here.
For Wednesday it is a very easy call as we are going with Rober Lewandowski as our backup captain.
4. Scout picks for UCL Fantasy Quartefinals
Let's finish our preview for the 1st leg of UCL Fantasy Quartefinals with our scout picks.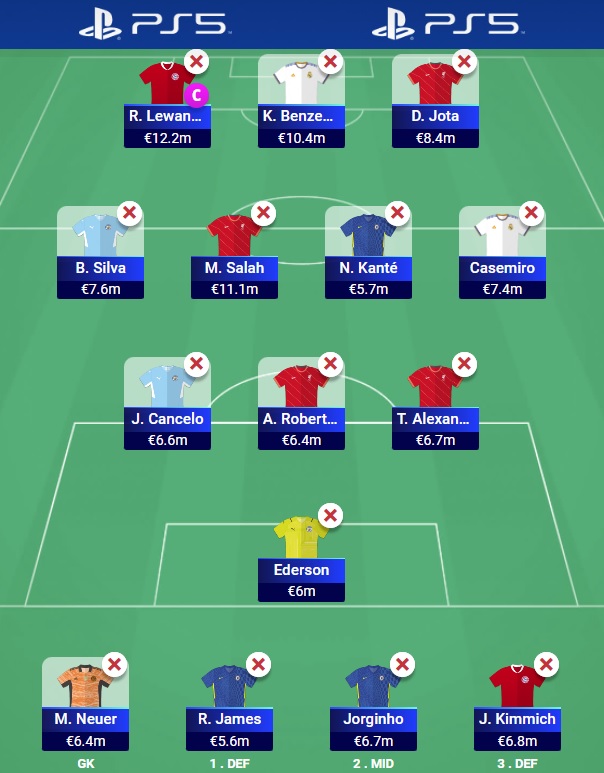 How is your UCL fantasy tea set up for Quarterfinals? Who is your captain?
Leave a comment below!