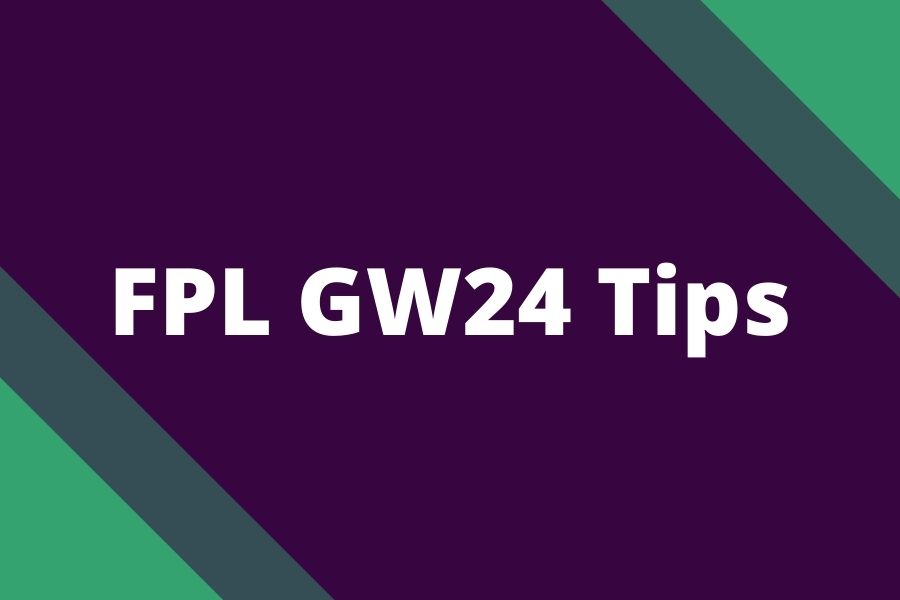 Busy schedule in Fantasy Premier League continues and Gameweek 24 starts soon. Let's look at our tips, best picks, differentials, captain and team selection for GW24.
Let's start with our FPL GW24 Tips.
1. Fantasy Premier League Gameweek 24 Tips
There is a blank gameweek and a double gameweek in the gameweek 25, so do not forget make your moves considering GW25
If you can, save one of your free transfers
There are new stats available in player's details at Official Fantasy Premier League website – you can make deeper research about player's performances now
Arsenal has an early fixture, so there is a slight chance that there will be some lineup news on Twitter before the deadline – so if you are aiming to sell Martinelli, wait a bit until 15 minutes before the deadline
It looks that Reece James is out for Gameweek 24 (source)
Have a placeholder for Toney for GW26
Transfer targets for GW24: Saka, Salah, TAA
Differential Captain: Rashford
Big thanks to Mikkel Tokvam for creating this useful overview of upcoming double gameweeks and blank gameweeks:
Expected no. of fixtures per GW updated on the back of DGW 27 announced. pic.twitter.com/6tiHjbCxsf

— the Transfer Algorithm (@MikkelTokvam) February 10, 2023
2. Fixtures to target in GW24
In which fixtures we could expect a lot of fantasy points? Fixtures to target in Gameweek 24 according to bookies odds:
Nottingham vs Manchester City: Citizens 74 % to win, 41 % to score 2.5+ goals
Chelsea vs Southampton: The Buels 70 % to win, 33 % to score 2.5+ goals
Manchester United vs Leicester: The Red Devils 59 % to win, 34 % to score 2.5+ goals
3. Key players to own in Gameweek 24
Haaland
Saka – a key man for Arsenal, then a double gameweek in GW25
Chelsea defender/goalkeeper – Chelsea with the highest clean sheet odds in GW24 (more about clean sheet odds later in the article)
Rashford – has amazing form, you should have him in your FPL team by now. Do not sell him after this GW, just bench him in blank gameweek 25
Trippier – despite a tougher fixture, consider that Trippier is a 3rd top scoring player in the game – so he can get you points in any match. We do not recommend benching him against Liverpool
4. Best players to pick in Gameweek 24 and onwards
We also looked at players from each position: goalkeepers, defenders, midfielders, and forwards.
We examine which players are best picks in each price bracket: budget enablers, midpriced picks, and premium options:
5. FPL Gameweek 24 differentials
Joao Felix (Chelsea, 7.6m)
selected by 3.4 %
Southampton with only one clean sheet this season
we do not have a lot of data about Joao Felix, but in two matches he played, he was averaging 1.17 xGI
However, he is only short-term punt. In the long run, we think his classification will be a problem, as he is classified as a forward – so he is only awarded 4 points for goals instead of 5 (as midfielders do)
If he was classified as a midfielder, we would have considered him to be a good long-term pick. But now, we do not think his points potential is high enough with only 4 points for a goal
Kilman (Wolves, 4.4m)
selected by 3.0 % of FPL managers
Wolves with very high chance of clean sheet in GW24 according to ours clean sheet odds
another short term play for GW24 + DGW25, then you can bench him due to his low price
6. Best captain pick in Gameweek 24
Who to captain in gameweek 24? We will keep the captaincy section short once again.
Captaincy is clear for DGW24. Haaland is the obvious captain pick. Our captaincy index agrees.
According to the captaincy index, Haaland is the best captain pick in GW24 with a score of 1.54
Son is second with a score of 1.42
And Kane is third with a captaincy index value of 1.37
If you are looking for a differential captaincy option, Rashford would be our number 1 captain differential against Leicester.
Note.: There are slight worries that Haaland's time could be managed against Nottingham, so make sure you have a vice-captaincy on the right player.
7. What bookies odds say about Gameweek 24
As usual, we converted bookies odds into probabilities using our Odds to probability calculator, to assess the potential of gameweek 23.
Clean sheet odds for GW24
With a 53 % probability of keeping a clean sheet, Chelsea leads the clean sheet odds table for GW24. Bookies also expect Manchester City (47 %) and Wolves (44 %) to do well defensively in Gameweek 24.
Wolves defenders could be good differentials for GW24 and for GW25 also, where they have a double gameweek.
 

Zobraziť tento príspevok na Instagrame

 
Bookies expect 5.39 clean sheets in gameweek 24. In last season, we were used to a rate of 5.58 per clean sheets gameweek. This season we have seen clean sheets at the rate of 5.52 clean sheets per gameweek.
Due to a correction in the number of clean sheets: Newcastle, Brentford
Newcastle overperformed their defensive expectations the most from all teams. They should have kept 6.72 clean sheets instead of 12 according to our expected clean sheets table.
Due to an improvement in the number of clean sheets: Southampton, Manchester City
Southampton underperformed their defensive expectations the most of all teams. They should have kept 3.15 clean sheets instead of 1 according to our expected clean sheets table.
You can see the expected clean sheets table and clean sheet odds for all Premier League teams here.
Goalscoring odds for GW24
As usual, Haaland leads the any-time goalscorer odds table for GW24. Kane and Rashford follow.

You can look at all most likely goalscorers for GW24 here: Premier League Goalscoring Odds.
Improve your fantasy football skills with these 4 books >>
8. Chips in Gameweek 24
For us, we do not aim to use any chip in gameweek 24. However, if your strategy is different, here are our team's inspirations for potential chips.
9. FPL GW24 Team selection
Now let's look at our FPL team for GW24. Haaland is our captain.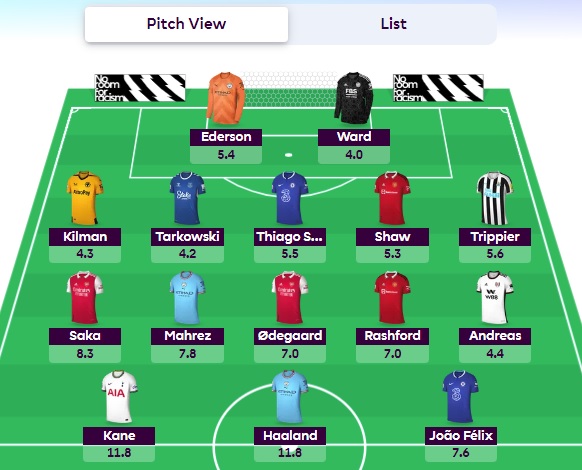 10. Fantasy Premier League Tips
Find more tips, strategies and picks for Fantasy Premier League in these articles:
We hope our FPL GW24 tips helped you to gather some useful information before the Gameweek 24 deadline.
Join our Fantasy Football Reports League if you haven't already with a league code of zte1cv. Or click the auto-join here.
Good luck in FPL GW24!