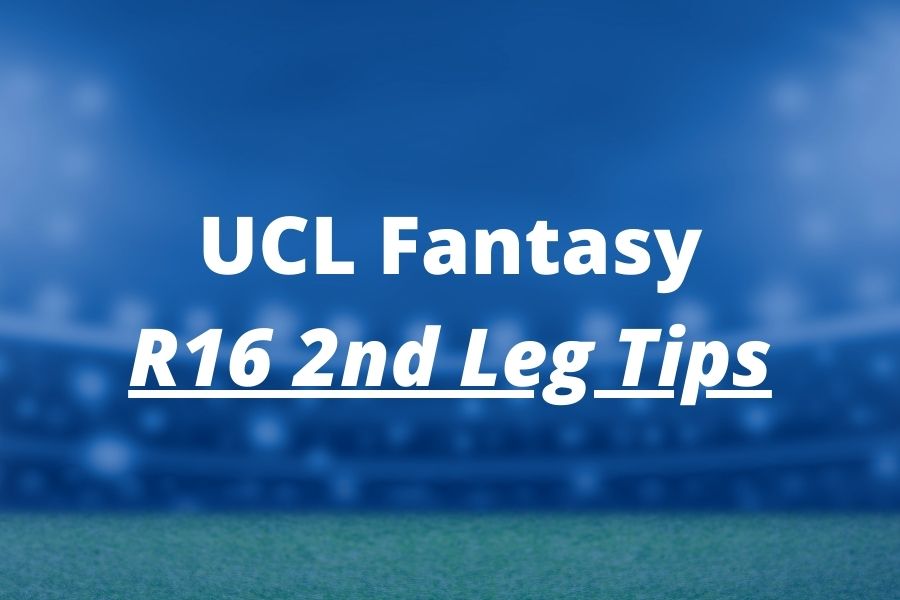 Replays of the round of 16 replays in the Champions League are here. Without further ado, let's jump to our UCL Fantasy Matchday 8 (R16 2nd Leg) Tips, with our strategy, odds, best picks, captain, transfer targets, team selection and more.
Fixtures are the same as in Matchday 7, so if you set your team correctly with your unlimited transfers before the 1st leg of R16, you should have a solid fantasy squad for the 2nd leg, as well.
However, there are some important things we have to mention.
1. UCL Fantasy Matchday 8 tips & strategy
Have patience in Matchday 8.
Do NOT chase the points from the 1st leg.
I mean, if some player did very well in the first leg and you did not own him, do not tear your team apart to bring him in for some player who did not do well in the first leg.
This time, it could be just the opposite and the player that did extremely well in the 1st leg of R16 can easily blank in the 2nd leg, and the player who blanked in the 1st leg can easily haul in the 2nd leg.
When you were picking your squad with unlimited transfers before the 1st leg, you had faith in your players.
Fixtures are the same in Matchday 8, so keep your faith in players you have picked before, and keep faith in your decision-making process.
Plan ahead with your transfers
In the Champions League knockout stage, we can't carry out free transfers to the next round, so do not forget to use all three of them.
So, plan ahead.
Transfer out players that probably will not make it to the quarterfinals and bring in players who probably will.
We used our Odds to probability calculator to calculate probabilities of progressing to the quarterfinals for each team. Feel free to use them when deciding about your transfer.
🚀Which teams will likely advance to Quarterfinals in #UCLFantasy? #MD8

Find out more at: https://t.co/p5IudA0kuw pic.twitter.com/mFspG67tRf

— Fantasy Football Reports (@FplReports) March 6, 2023
You can find our odds of advancing to the Quarterfinals in the article: Probabilities of progressing to quarterfinals.
Have a captain for each day
Just as in Matchday 7, aim to have four good captaincy options for the Round of 16 2nd Leg – one for each playing day. More about captaincy later in the article.
2. Fixtures to target in UCL Fantasy Round of 16 2nd Leg – Matchday 8
Which fixtures you should target? We always use bookies' odds to help us determine that. Let's look at which teams have the highest chance of winning their match in the R16 2nd leg and scoring a lot of goals in that game:
Manchester City – 67 % to win the match, 38 % to score more than 2.5 goals
Benfica – 66 % to win, 35 % to score more than 2.5 goals
Napoli – 61 % to win, 30 % to score more than 2.5 goals
We also think you should target Real Madrid vs. Liverpool match, where could be goals at both ends of the pitch.
3. Best players to pick in the Matchday 8
We look at key players to pick in UCL Fantasy Round of 16 2nd Leg (Matchday 8). We examine each position and each price bracket. You can check our separate articles here:
4. Key players to own in Round of 16 replays
Osimhen – fixture and form for Napoli
Kvaratshkheila – fixture and form for Napoli
Joa Mario – a great fixture for Benfica, on penalties
Di Lorenzo – attacking threat, high clean sheet odds
Benfica defender/goalkeeper – the highest clean sheet odds for MD8
Haaland – can deliver in any match
Vinicius or Benzema (or even both) – Liverpool shaky in the defence
Manchester City defender/goalkeeper – Dias or Ederson the safest options
Coman – the man in form for Bayern, could be your Sané replacement who is likely going to be benched
Bayern defender/goalkeeper – Bayern with 6 clean sheets in 7 matches of the current Champions League campaign
5. Differentials for Matchday 8
Phil Foden (MID, Manchester City)
In form for Manchester City
low owned
good fixture
unfortunately, slight rotation risk
Ben Chilwell (DEF, Chelsea)
we will know whether he starts before the deadline
low-owned in UCL Fantasy and overlooked
Chelsea with solid clean sheet chance against Dortmund
attacking threat
6. Transfer tips for Matchday 8
We have 3 free transfers, but we cannot carry any of them to Matchday 9. So use them all to:
transfer out injured and suspended players
transfer out players who lose starting spot
transfer out players who are likely get eliminated, as they heavily lost in the first leg
transfer out defenders whose clean sheets probabilities for Matchday 8 are not as good as in Matchday 7
transfer in best captaincy options, if you do not have them
transfer in players who are highly likely to advance to Quarterfinals
transfer in defenders whose clean sheet odds improved for Matchday 8
Possible transfers for UCL Fantasy Matchday 8
Sané (lost starting spot) to Coman or Musiala
Cancelo (lost starting spot) to Upamecano or Davies
Dortmund defender, Inter defender, Liverpool defender to Chilwell
Salah to Vinicius
7. Best captain picks for UCL Fantasy R16 2nd Leg
During the replays Fantasy R16 – Matchday 8 – we can change our captain 3 times, which is a big advantage. That gives us a big chance to get a good captaincy return.
You need to make sure you have a solid captaincy option for each day!
And what is the magic number when you should be satisfied with the return of your captain?
Generally, we consider it to be 6 points. So, when your captain scores 6 points, you keep the armband on him.
But it's R16 and we can change our captain 3 times. So, we altered our captaincy rule a bit.
We changed our magic captain number to 8 points and decreased it by every playing day.
It means, when your captain scores 8 or more points on the first day (Tuesday), you keep the armband for him. If not, you change it. But then the threshold changes to 7 points on the second playing day (Wednesday).
To recap, the captaincy thresholds for the R16 are:
07 Mar: 8 points
08 Mar: 7 points
14 Mar: 6 points
15 Mar: 5 points
And the captains? Well, we picked these four players as the best captain options for Matchday 8:
07 Mar: Joao Mario
08 Mar: Coman
14 Mar: Haaland
15 Mar: Osimhen
However, all those players are expensive heavy hitters, so you probably will not have all of them in your squad.
So, just picked at least two or three of them for your team. And make sure you have other solid captaincy options for other days.
Read more about our captaincy thresholds: UCL Fantasy Captaincy Thresholds: When to change captain?
8. Odds and Probabilities for Matchday 8
Clean Sheet Odds for R16 2nd Leg
As usual, we converted bookies' clean sheet odds into clean sheet probabilities using our Odds to probability calculator.
There is a bigger difference in clean sheet odds than we saw in the previous round. So we can make a better guesses about clean sheets in Matchday 8.
Benfica, Napoli and Manchester City have the highest probability of a clean sheet, so you might aim to get one or two defender from each of those teams. Bookies also favor Chelsea and Tottenham to do well defensively.
 

Zobraziť tento príspevok na Instagrame

 
You can see all Champions League Clean Sheet Odds here.
Goalscoring Odds for Matchday 8
The any-time goalscorer odds are available here (but only for half of the teams: those who play on 7 and 8 March): Champions League Goalscoring Odds.

9. Using chips in Matchday 8
The best time to maximally exploit the power of chips was in the group stage. However, if you still have some of your chips left, plan when you use them.
Use limitless wildcard as soon as possible, while we have many teams and many players to choose from – that way you maximize the chances that you will catch a big haul. The fewer players we have in the game, the lower points potential is. If you aim to use your limitless chip in Matchday 8, here is our draft for the inspiration: UCL Fantasy Limitless Wildcard Team.
Regular wildcard – Save it for a Matchday where more than 5 of your players get eliminated, so you cannot cover it with free transfers. You can play the game a bit riskier, and bet on teams who might get eliminated and then get rid of those players with wildcard chip.
10. Team selection for UCL Fantasy Matchday 8
Now, when we mentioned all we wanted, it is time to look at our scout squad. Here is our UCL Fantasy Matchday 8 team selection (squad constructed solely for round of 16 replays):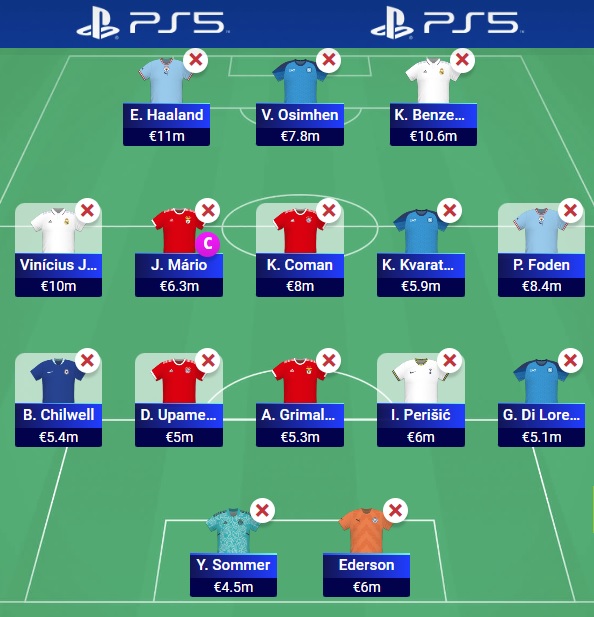 11. Fantasy Champions League Tips
Find more tips, strategies, and picks for UCL Fantasy in these articles: