Are you going to play your limitless wildcard in Matchday 6 of UEFA Fantasy Champions League? Time for making changes to your team is running out.
That is why we have a limitless wildcard team for you as an inspiration and a few important tips about what to look out for when playing this chip with almost unlimited potential. If you are not sure what this chip is, read our article first: What is Limitless chip in UCL Fantasy?
This article is part of the series: Fantasy Champions League Matchday 6: Tips, Best Picks & Captain
Let's quickly dive in.
Tips for playing limitless wildcard in UCL Fantasy
1. Load up your squad with players who have the best fixture
2. Pick at least 8-9 players (but a maximum of 11) who play on earlier fixtures, so you could make substitutions before the last day
3. Pick premium defenders with high clean sheet probability
4. Wait for line-ups before deadline
Let's take a closer look.
1. Load up your squad with players who have the best fixture
You can use bookmakers' odds to assess which fixtures are the best. And then load up your team with the best players from teams with the best fixtures.
This is an approach that will help you to maximize the possible points output for the matchday. And it is the best approach to maximize the potential of the limitless wildcard.
You want to catch as many points hauls as possible. So, focus on the players with the best fixtures and forget about other players.
Also, do not forget to check out our Champions League Goalscoring Odds which will help you assess which players are most likely to score a goal on the current matchday.
2. Pick at least 8-9 players who play on Tuesday
This is very important.
With so many heavy hitters in your team, only a few of them are going to blank. It would be very hard to make substitutions if the majority of your UCL Fantasy team played on Wednesday.
That is why you want you need to have 8-9 players (but a maximum of 11) who play on Tuesday. If some of them blank, you will sub them off.
Otherwise, you would have substitution headache on Wednesday if all your players score points.
3. Premium defenders are no-brainer
Pick defenders who have a high chance of a clean sheet + are either great at balls recovered or have a great attacking threat.
Check our Champions League Clean Sheet Odds to help you assess who is most likely to keep a clean sheet in the next round of UCL Fantasy.
4. Wait for line-ups before the deadline
Wait for a few line-ups we will know before the deadline. Then make final changes to your limitless wildcard team.
Limitless wildcard team for Matchday 6
Now here comes the good part.
This is our UCL Fantasy Limitless team for Matchday 6. This is how we would play the limitless chip in the current matchday.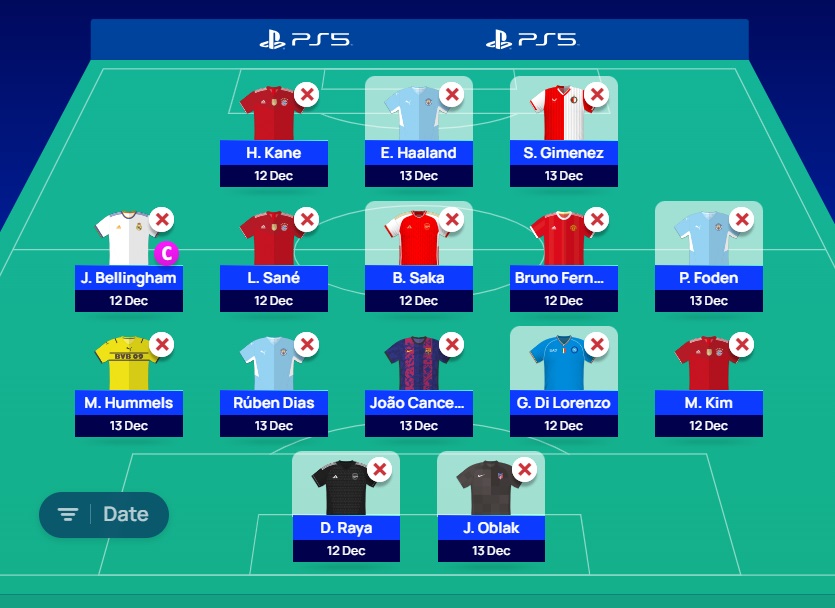 Source: Official UCL Fantasy