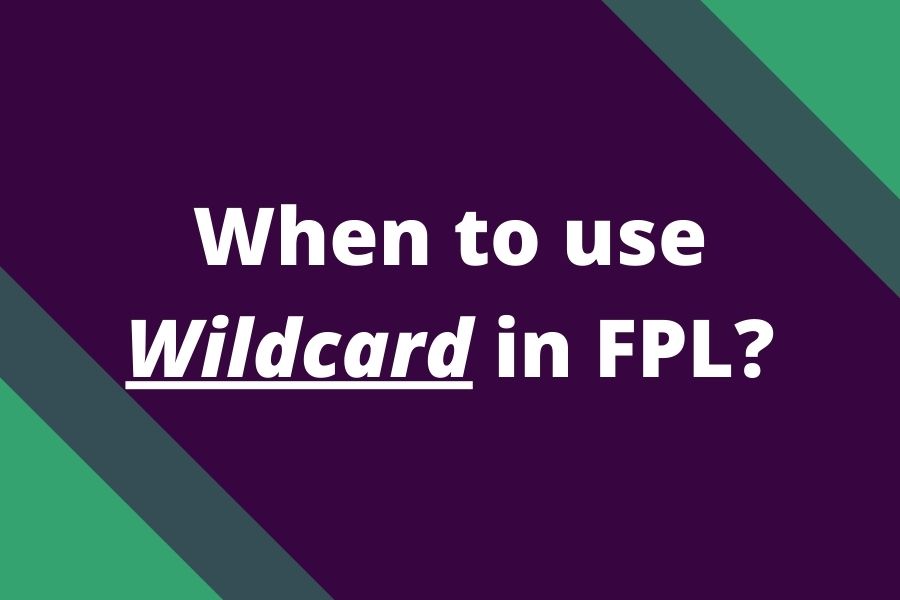 One of the most crucial decisions an FPL manager has to make during Fantasy Premier League season is when to use their wildcard. So, let's look at when are the best opportunities to exploit the maximum potential of this powerful chip.
This article is a part of our series: What is Wildcard in FPL and how does it work?
When to use Wildcard in FPL 2023/24?
First Wildcard (Possible to activate between GW2 – GW20)
Here are our first thoughts on the best times to use the first wildcard in the 2023/24 season.
A very early wildcard in GW5:
First international break,
you can use the fixture swing, get rid of some Brighton, Everton Assets, limit your exposure to Arsenal players,
and then load up on teams with green fixtures like Chelsea, Liverpool, Crystal Palace (Eze), Newcastle (Trippier, Wilson/Isak/Almiron) and strengthen your team with additional Manchester City players (we should have more information on who is a regular starter for City)
Advantages: You can bring in bandwagons early
Disadvantages: The information, stats and data we will have at this time might still be influenced by noise. You will be without wildcard up to GW21, so it will be harder to react at news and changes in form.
Suitable for: If you really did not pick a good team before GW1, or if you have a big exposure to few teams that do not perform
A strategical wildcard in GW8:
Second international break
we will have a lot of data about the season
We should know at that time who the best players to own are, who the bargains are, what is the preferred formation etc
You would get rid of Brentford and Chelsea players whose fixtures worsen
Great time to bring in Aston Villa assets (Watkins + one defender)
Suitable for: If you have OK start to the season, but want to rebalance your squad based on gathered information and data about 2023/24 season
A late wildcard in GW19:
GW18 will be a blank gameweek (City and Brentford do not play)
You can dead-end your team into GW18, sell your Manchester City players right before GW18, and then bring them back with your wildcard
We will have a lot of data about the season at this point
Suitable for: If you have a really good start to the season and did not need to use wildcard earlier
Second Wildcard (Possible to activate between GW21 – GW38)
Gameweek 27: After a small blank gameweek in GW26
Gameweek 30: After a big blank gameweek in GW29
Between Gameweek 33 – 37: Before possible double gameweeks (GW37 should be the biggest DGW of the season)
Key Moments to Use a Wildcard in Fantasy Premier League
Knowing when to use these wildcards can be the difference between a good and a great FPL season. There are certain moments in the Premier League campaign when using a wildcard can be particularly advantageous:
1. Right Before Double Gameweeks (2nd wildcard)
One such moment is during Double Gameweeks. These are Gameweeks where some teams play more than once, providing an opportunity for managers to earn extra points.
Using a wildcard before Double Gameweek allows managers to bring in players who have more than one match, maximizing their potential points return.
Usually, double gameweeks occur mainly in the second half of the season, so this is particularly good timing for the second wildcard.
Read more: When is the next Double Gameweek in FPL?
2. After you dead-end your team into blank gameweek (2nd wildcard)
Another possible time for using the second wildcard is after the blank gameweek (unless you use a free hit chip in the blank gameweek). Blank gameweek occurs when some teams do not play at all in that round, so some of your players might not play.
So, the pretty common strategy is, that a few weeks before the blank gameweek you start offloading players who do not play in the blank gameweek making sure you can field 11 starting players.
But the players you sell, are perhaps players you want once the blank gameweek is over.
So you will use wildcard after the blank gameweek – you get rid of all the mess in your team, all players that you brought in just because they had a game in a blank gameweek, and bring balance back to your squad.
3. During the international break (1st wildcard)
Another possible moment to use a wildcard could be during an international break. International breaks often lead to injuries and fatigue among players, which can disrupt an FPL team. Using a wildcard during an international break allows managers to replace injured or tired players and react to any changes in player form or team dynamics.
But make sure you activate the wildcard at the beginning of the international break (at the start of the new gameweek) to catch some price rises during 14 days long period.
Read more: When are international breaks in FPL 2023/24 season?
4. During fixture swings (1st wildcard, 2nd wildcard)
"Fixture Swing" refers to a period in the schedule where a team's fixtures shift from being particularly difficult to notably easier, or vice versa. This is important for FPL managers because it can significantly impact player performance and, therefore, fantasy points.
For example, if a team has a run of games against top-tier teams and then shifts to a series of matches against lower-ranked teams, this is considered a positive fixture swing. FPL managers might consider bringing in players from this team ahead of the fixture swing to take advantage of the potentially easier matches and the opportunity for players to score more points.
Conversely, if a team's schedule is about to become more difficult, FPL managers might consider transferring out players from that team to avoid potential low scores.
Each season, there are a few gameweeks, where a lot of teams experience the fixture swing at the same time. This is a great opportunity to use especially 1st Wildcard as you can ditch all players who will face tough fixtures in the upcoming gameweeks and replace them with players whose upcoming fixtures just turned green.
Read more: Flat Track Bully Index Explained
5. When your team is full of injuries and suspensions
Finally, some managers choose to activate their wildcards when their team is full of injured or suspended players.
But before you decide to do this, first make sure the problem cannot be solved with a couple of hits. Many times, saving wildcard for double gameweeks or fixture swings is more rewarding.
6. Always try to use your wildcard for tactical purposes and not the emotional ones
You can read more about this in our separate article: Essential tips for effective use of Wildcard in FPL
When NOT to use the wildcard
a) When you are chasing past points
It is almost a never good idea when you use a wildcard just because you are chasing the past performance. Remember, if you just chasing the past with your wildcard, you will only have the same team as other managers already got before you.
You end up having the same players on your team as they do, but other FPL managers brought them to their teams way before you, so they were rewarded points, and you did not. This leads to less differentiation and can limit your potential to gain points.
b) When you are angry
Never use a wildcard just because you are angry because your team did not perform well in that gameweek. FPL is unpredictable, in the next gameweek it could be just the other way around.
Rage wildcard activations almost never pays out. Do not let emotions to stay in your way when making important FPL decisions.
Read more: Tips How To Enjoy FPL Without Sacrificing Mental Health
c) After the gameweek 1
The Fantasy Premier League Gameweek 1 is almost always a mess. So try to avoid using wildcard after gameweek 1. Here is why:
Limited information: Gameweek 1 is just the beginning of the season, and there is limited information available about player performances and team dynamics. It's difficult to assess the true potential of players and teams based on just one or two matches. Making drastic changes to your team based on such limited data can be risky and lead to poor decision-making.
Overreacting to one week: The first week of the season can be particularly unpredictable. Teams and players may still be adjusting to new tactics, formations, or even newly signed players. It's important not to overreact to a single good or bad performance. Making wholesale changes to your team based on one week's results may result in missing out on players who could potentially perform well in the long run.
Wait a few gameweeks: It's crucial to consider upcoming fixtures and trends before using a wildcard. By waiting a few weeks, you can gather more information about team form, player injuries, and the difficulty of upcoming matches. This additional knowledge allows you to make more informed decisions and select players who have favorable fixtures or are in good form.
Flexibility later in the season: By delaying the use of your wildcard, you have the advantage of greater flexibility later in the season.
Conclusion
The wildcard is a powerful tool in FPL, offering the flexibility to make unlimited transfers and the potential to drastically improve your team. However, it's not just about having the wildcard; it's about how and when you use it. With careful planning and strategic use, the wildcard can be the difference between a good and a great FPL season. So, plan wisely, play strategically, and may your wildcard bring you many points!