It is here.
Our favorite competition Fantasy Premier League starts in just a few days. After well-deserved rest, more than 7 million FPL managers are heading towards the 9-month long battle for the good finish in the global ranking and for the victory in their mini-leagues.
Are you so excited as we are? We hope so.
We prepared for you few (but important) pieces of advice before the start of the season, and as usual, our FPL GW1 Tips.
If you are new to FPL and you are not completely familiar with this competition, we highly recommend you read our beginner's guide: how to play Fantasy Premier League first. Then get back to this article.
Feel free to Fantasy Football Reports mini-league. Click the auto-join here. Or use league code: dwchch
Anyway, for our regular reader that are familiar with our content, let's start with FPL GW1 Tips.
1. Do not leave the selection of your squad for the last minute. If you want to take this season seriously, you should be 80-90% sure about your squad 2-3 days before the first kickoff. Decisions made just a few minutes before the deadline are usually bad, influenced by fear and emotions.
2. Speaking about emotions, you should eliminate them when selecting your GW1 team. You should build your squad on logic and data.
3. Use information from the previous seasons when picking your team. Look at players' points from last season and seasons before. Are there any players that are able to repeat their strong performance year after year? If so, these are strong contenders for your GW1. They are safe options and could be the core of your FPL team throughout the whole season. Take look at our article: Most reliable FPL players from previous seasons, you will find who these players are.
4. Look at the best FPL team from last season in our article: The best FPL team 2020/21. It is an analysis ex-post, and it shows which players we should have picked at beginning of the last season and which formation we should have used.
5. Do not take unnecessary risks with your GW1 squad. We have very little information about the upcoming season. We recommend you to play it safe, with low risk in the first gameweek. Go for reliable players and try to avoid players that we know nothing about. If you do want to take some risk, make sure you have it under the control and that you select a maximum of 1 or 2 "risky" players.
7. Think long-term. Look at fixtures in GW2, GW3… How does your GW1 squad look for post-GW1 fixtures? Do you have good captaincy options for the following gameweeks?
8. If you think you found the team you like, your optimal GW1 squad, go through all positions in your squad and challenge every player in your team. Is this player the best option for this position? Do I really need (want) him in my team? Why did I pick him? And if you find yourself doubtful about some players, then maybe it is time to start tinkering again.
9. Do not forget to ask yourself one very important question: What did I overlook? We are human beings, we always overlook something when making decision complex like this (selecting our GW1 team). Make sure you analyzed all data, that you went through all players and that you made your decision best as you could.
10. FPL GW1 is always complete chaos. Try to not chase points after it. Take a deep breath after the gameweek is over, and try to save a transfer for the next gameweek (unless some of your players get injured). You will have more information and data to make a right decision then.
Alright, so much for the FPL GW1 Tips. Now let's look at GW1 and the start of the season in more detail.
Fixtures are an important part of our decision-making process when selecting our squad and making transfers.
Basically, fixtures are the only thing we know about following matches. We usually expect that teams do better in easy fixtures than in tough ones, so we expect more fantasy points in them.
Our new writer Aleksei looked at the form of each team and created a defensive and offensive strength index for all Premier League teams. Then he looked at fixtures at the start of the season and found out which teams have the best fixtures from the attacking standpoint, and which teams have the best fixtures from defending standpoint.
Firstly, let's look at teams that should be a great source of attacking points (goals and assists) in the first gameweeks of the new season based on their form from the end of last season and new season fixtures:
Good attack and good fixtures: Man United and West Ham.
Good attack and mixed or average fixtures: Chelsea, Leeds, Leicester, Liverpool, Man City, Spurs.
Average attack and good fixtures: Brighton and Everton.
Average attack and mixed or average fixtures: Arsenal, Aston Villa, Brentford, Newcastle.
Below average attack and good fixtures: only Watford.
Below average attack and mixed or average fixtures: Burnley, Crystal Palace, Southampton, Wolves.
Below average attack and bad fixtures: Norwich.
And now take a look at teams that should be a great source of defensive points (clean sheets) based on their defensive form from the end of last season and new season fixtures:
Great defense with average fixtures: Chelsea, Man City, Man Utd
Average defense with good fixtures: Brighton, Everton
Average defense with average or mixed fixtures: Leicester, Liverpool, Spurs, Arsenal
Below average defense with mixed fixtures: Aston Villa, Leeds, Newcastle, West Ham
Below average defense with bad fixtures: Burnley, Crystal Palace, Southampton, Wolves
Bad defense: Brentford, Norwich, Watford
Aleksei's analysis suggests that we should not overlook attacking players mainly from Man United, West Ham, Chelsea, Leeds, Leicester, Liverpool, Man City, and Spurs.
Similarly, this analysis suggests that we should not overlook defenders mainly from Chelsea, Man City, Man United, Brighton, and Everton. 
Feel free to read full Aleksei's fixture analysis here.
A few years ago, we observed that some players tend to do well in easy fixtures and some players do well in all kinds of fixtures.
We published our study on this topic and constructed a Flat Track Bully Index – an index that measures whether the fixtures are relevant for players' points.
If interested in this topic and want to know, which players perform better in easy fixtures, read our Flat Track Bully analysis here.
3. Best captain for FPL GW1
We like to use fixtures when selecting our captain for the following gameweek. We usually captain a strong reliable player (one that is able to deliver points on weekly basis) that has a good fixture in that gameweek.
In the GW1, we picked two standout captaincy fixtures:
Norwich vs. Liverpool
Manchester United vs. Leeds
And from those two teams, we have two very obvious captain contenders based on their performance in previous seasons. I am pretty sure you know that who those two captaincy options are.
Mohamed Salah and Bruno Fernandes. Outputs of both players are stable what makes them strong and reliable picks in almost any fixture. But in GW1 they both have a good fixture on their side.
At the end of the day, it might not matter which one you picked, as they both could score the same number of FPL points in the GW1.
However, if we should pick one of them, it would be Mohamed Salah. He was rested (while Fernandes played on EURO's) and plays against a newly-promoted team. We are also less reliant on penalties when picking Salah as our captain over Bruno.
If you are looking at a differential captain for GW1, take a look at Sadio Mané. He has the same great fixtures and carries great form from preseason friendlies.
4. Bookmakers' odds for GW1
At Fantasy Football Reports, we often use bookmakers odds to help us with our fantasy decisions.
We convert them into probabilities with our Odds to probability calculator, to get an overview of: who is most likely to score each GW, and which teams are most likely to keep a clean sheet.
You can check the GW1 clean sheet odds here. Bookies favor mainly Chelsea, Leicester, and Liverpool to perform well defensively in the first gameweek of the season.
They also expect only 5.27 clean sheets in the GW1, which is less than 5.89 clean sheets per gameweek that we witnessed last season.
That suggests that there could be fewer clean sheets in the GW1 than we are used to in an average gameweek. It also suggests that GW1 could be a high-scoring and chaotic gameweek.
According to Premier League Goalscoring Odds, Salah is the player that is most likely to score a goal in the GW1.
5. Top scorers from pre-season
Speaking about pre-season friendlies, let's briefly look at which players registered most goals and assists in them.
| Player | Goals | Assists | Involvements (G+A) |
| --- | --- | --- | --- |
| Son | 3 | 3 | 6 |
| Moura | 4 | 1 | 5 |
| Mahrez | 3 | 2 | 5 |
| Zaha | 4 | 0 | 4 |
| Idah | 4 | 0 | 4 |
| Mane | 3 | 1 | 4 |
| Watkins | 3 | 0 | 3 |
| Antonio | 3 | 0 | 3 |
| Dowell | 2 | 1 | 3 |
| Philogene Bidace | 2 | 0 | 2 |
| Ziyech | 2 | 0 | 2 |
| Gundogan | 2 | 0 | 2 |
| Walcott | 2 | 0 | 2 |
| Adams | 2 | 0 | 2 |
| Nketiah | 2 | 0 | 2 |
| Benrahma | 2 | 0 | 2 |
| Bowen | 2 | 0 | 2 |
| Lacazette | 2 | 0 | 2 |
| Brownhill | 2 | 0 | 2 |
| Borja | 2 | 0 | 2 |
| Abraham | 2 | 0 | 2 |
| Bamford | 2 | 0 | 2 |
| Klich | 2 | 0 | 2 |
| Iheanacho | 2 | 0 | 2 |
| Jota | 2 | 0 | 2 |
| Minamino | 2 | 0 | 2 |
| Alli | 2 | 0 | 2 |
| Pepe | 1 | 1 | 2 |
| Toney | 1 | 1 | 2 |
Source: flashscore
Note: Assist data were not available for most of the matches
6. Overlooked players and differentials
There are few players pretty low owned that we consider as strong differentials. Do not overlook them as the majority of other FPL managers.
Mahrez – amazing form from the UCL elimination rounds and pre-season as well. Only in 6.3 % of FPL teams
Benrahma – solid output last season in limited minutes. Solid pre-season form. Only 6.0m. Sitting in less than 3% of FPL teams.
Wilson (Main man for Newcastle, owned by 6,3%)
Raul Jimenez (he is back, key Wolves players, wait and see for us, but good be a great pick later if he looks back to his best. Selected by 3.8 %)
Gundogan (amazing previous season, plays for one of the best attacking teams in the league. Owned by 6.7 %)
Greenwood (likely starts in first matches, owned by 4.5 %)
Mane (in-form asset, reliable pick, owned by 4.1%) 
Pope, Lloris (both owned around 5%, historically strong performance every season)
7. Bench fodders for your FPL team
Which cheap players will likely start for their teams? We looked at pre-season minutes to determine it. These players could be cheap options for your bench if you plan to maximize the budget of your starting XI (and we recommend you to do that).
Goalkeepers: There is no playing 4.0 million keeper
Defenders: White, Ayling (both are great 4.5m options). In the 4.0m price bracket: Amartey (could get some game time unless Leicester purchase new CB), Omobamidele (likely only 4.0m starter in the game)  
Midfielders: Brownhill, Bissouma, Romeu, Gilmour, Allan, Cork, Nakamba (all 4.5 million mids that should get some game time during the season).
Forwards: Obafemi (should get some game time from the bench – but likely not a starter –  after Ings departure). 
8. Scout team for FPL GW1
And this is our current GW1 draft, our scout team.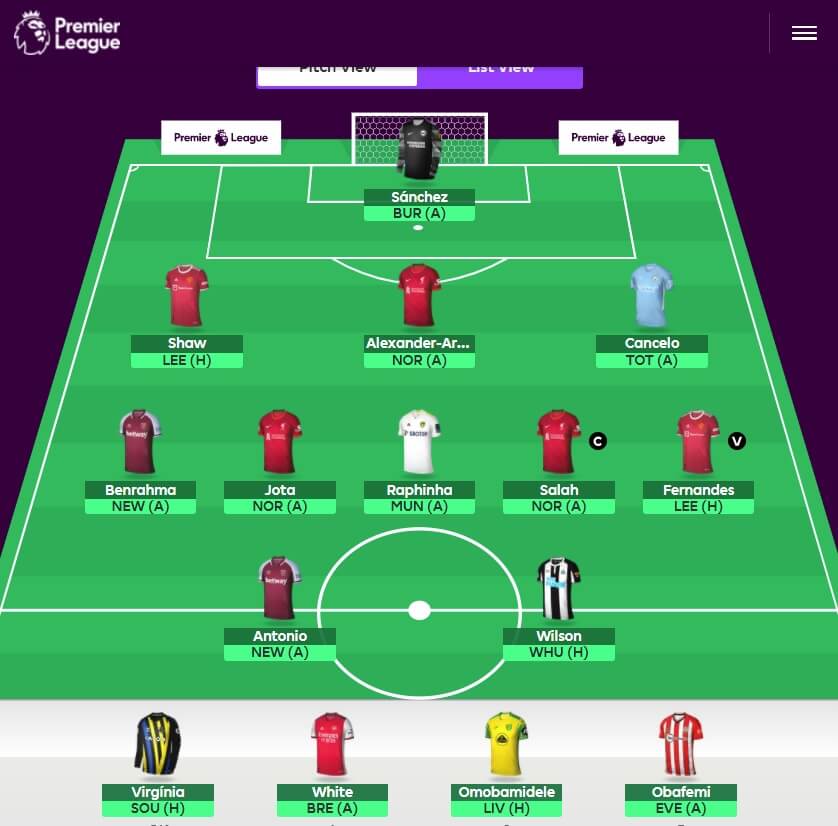 Hopefully, our FPL GW1 Tips helped to get you in the picture before the first kick-off. However, at the end of the day, it is all about you and your decision-making process. We want to inspire you, show you things to focus on and what to not overlook. 
Now it is up to you to make your own research to complete your GW1 squad and make the right decisions about your FPL team.
Good luck in the gameweek 1!