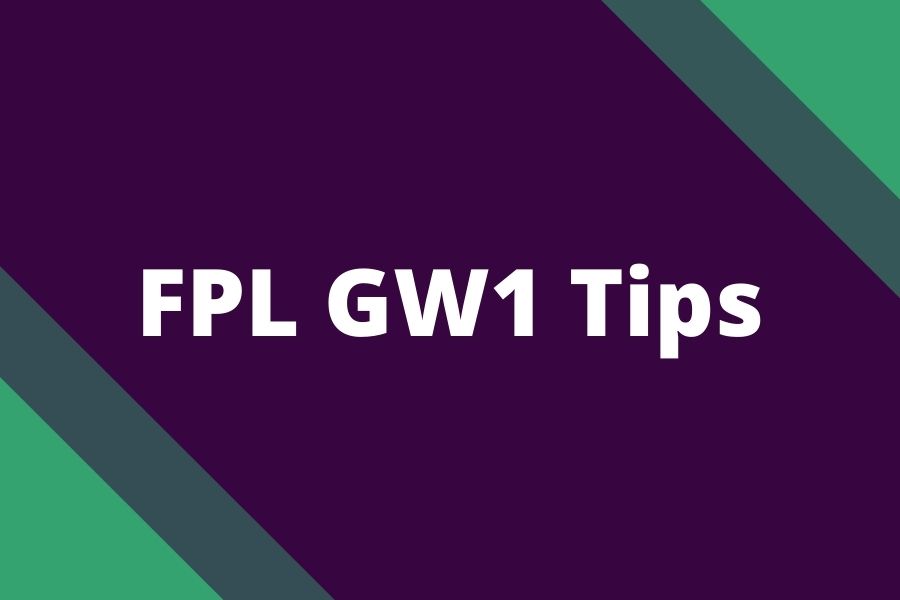 It is here.
Our favorite competition Fantasy Premier League starts in just a few days. After well-deserved rest, more than 8 million FPL managers are heading towards the 9-month long battle for the good finish in the global ranking and for the victory in their mini-leagues.
Are you so excited as we are? We hope so.
We prepared for you few (but important) pieces of advice before the start of the season, and as usual, our FPL GW1 Tips.
If you are new to FPL and you are not completely familiar with this competition, we highly recommend you read our beginner's guide: how to play Fantasy Premier League first. Then get back to this article.
Feel free to Fantasy Football Reports mini-league. Click the auto-join here. Or use league code: zte1cv
Anyway, for our regular reader that are familiar with our content, let's start with FPL GW1 Tips.
Let's start with some serious tips for GW1.
1. Do not leave the selection of your squad for the last minute. If you want to take this season seriously, you should be 80-90% sure about your squad 2-3 days before the first kickoff. Decisions made just a few minutes before the deadline are usually bad, influenced by fear and emotions.
2. Speaking about emotions, you should eliminate them when selecting your GW1 team. You should build your squad on logic and data.
3. Use information from the previous seasons when picking your team. Look at players' points from last season and seasons before. Are there any players that are able to repeat their strong performance year after year? If so, these are strong contenders for your GW1. They are safe options and could be the core of your FPL team throughout the whole season. Take look at our article about most reliable FPL players from previous seasons, you will find who these players are.
4. Look at the best FPL team from last season in our article: The best FPL team 2021/22. It is an analysis ex-post, and it shows which players we should have picked at beginning of the last season and which formation we should have used.
5. Do not take unnecessary risks with your GW1 squad. We have very little information about the upcoming season. We recommend you to play it safe, with low risk in the first gameweek. Go for reliable players and try to avoid players that we know nothing about. If you do want to take some risk, make sure you have it under the control and that you select a maximum of 1 or 2 "risky" players.
7. Think long-term. Look at fixtures in GW2, GW3… How does your GW1 squad look for post-GW1 fixtures? Do you have good captaincy options for the following gameweeks?
8. If you think you found the team you like, your optimal GW1 squad, go through all positions in your squad and challenge every player in your team. Is this player the best option for this position? Do I really need (want) him in my team? Why did I pick him? And if you find yourself doubtful about some players, then maybe it is time to start tinkering again.
9. Do not forget to ask yourself one very important question: What did I overlook? We are human beings, we always overlook something when making decision complex like this (selecting our GW1 team). Make sure you analyzed all data, that you went through all players and that you made your decision best as you could.
10. FPL GW1 is always complete chaos. Try to not chase points after it. Take a deep breath after the gameweek is over, and try to save a transfer for the next gameweek (unless some of your players get injured). You will have more information and data to make a right decision then.
2. Way to improve your Fantasy Premier League skills
Perhaps this is your first FPL season and you are really excited about it. Or you are familiar with FPL but you could not crack that top10k in previous seasons or beat your mini-league rivals.
Although FPL is the game where luck plays a certain role, it is also a game of skill. So, if you would like to improve your FPL game, you can only do it by making better decisions about your team. 
These 11 recommendations will help you improve your game:
improve your game by getting quality information – if you do not have best information, you cannot make the best decision, so you need to sacrifice some time to obtain/read them
learn from points distributions in previous seasons
make your own decisions and do not copy others
always think about the long-term big picture
never let emotions to make decisions instead of you
follow stats like shots or xG
think about moves before you make them
optimize your formation and ask yourself questions like – is this 7.5 million forward going to score more goals than this 6.0 million defender?
Listen to QUALITY podcasts
follow the right people on FPL twitter
Read good books about FPL. 
Best 4 Books about FPL
To follow up on the last point from above. These FPL books that we truly recommend:
Fixtures are an important part of our decision-making process when selecting our squad and making transfers.
Basically, fixtures are the only thing we know about following matches. We usually expect that teams do better in easy fixtures than in tough ones, so we expect more fantasy points in them.
So, when picking players into your FPL team, check FDR to find which teams have the best fixtures at the start of the season.
Best opening fixtures:
Manchester City – an amazing run of fixtures from GW1 – GW6. It would be very crazy to start the season without 2 (or ideally 3) City players in your team. Cancelo is almost a must. You can pair him up with Dias to have a big exposure to City defence. Their players are great source not just attacking points, but defensive points as well. From attacking players, the choice is obvious: Haaland or De Bruyne. To learn more about the Citizens new signing, check our article: Erling Haaland – FPL Deep Dive.
Liverpool is starting the season with a match against newly promoted Fulham, so going without Salah or TAA feels extremely risky. And it is not just about Fulham. After that, The Reds have solid run of fixtures until GW7. Our preferred trio from Liverpool is Salah, TAA, and Robertson. 
Arsenal – The Gunners have favorable fixtures at the beginning of the season as well. Do not overlook Ramsdale – he cost just 5.0 and offers great points potential not just because of clean sheets, but because of saves and bonus points too. Gabriel Jesus was on fire in pre-season and is the highest-owned player in the game. Going without him would be risky. 
4. Best captain for FPL GW1
This season, we bring you something new. We created a Captaincy Index – our own system for selecting the best captain in the current gameweek. 
To find more about it, check the article: FPL GW1 Best Captain [Captaincy Index].
According to the index, Mohamed Salah is the best GW1 captain. 
If you want to learn more about picking a captain in Fantasy Premier League, go to our article: How to pick a captain in FPL.
5. Bookmakers' odds for GW1
At Fantasy Football Reports, we often use bookmakers odds to help us with our fantasy decisions.
We convert them into probabilities with our Odds to probability calculator, to get an overview of: who is most likely to score each GW, and which teams are most likely to keep a clean sheet.
GW1 Clean Sheet Odds
You can check the GW1 clean sheet odds here. Bookies favor mainly Liverpool, Manchester City, and Manchester United to perform well defensively in the first gameweek of the season.
They also expect only 5.38 clean sheets in the GW1, which is less than 5.58 clean sheets per gameweek that we witnessed last season.
That suggests that there could be fewer clean sheets in the GW1 than we are used to in an average gameweek. It also suggests that GW1 could be a high-scoring and chaotic gameweek.
Speaking about clean sheets, we found out that there are teams that are able to keep almost the same amount of clean sheets every season. They could be greate source of defensive points in FPL. Check which teams we talk about in the article: Most stable defensive teams.
GW1 Goalscoring Odds
According to Premier League Goalscoring Odds, Haaland is the player that is most likely to score a goal in the GW1.
6. Overlooked players and differentials
There are few players pretty low owned that we consider as strong differentials. Do not overlook them as the majority of other FPL managers.
Rodrigo – Solid pre-season form. Only 6.0m. Sitting in less than 1% of FPL teams.
Wilson  – Main man for Newcastle, great 2 opening fixtures, owned by just 3 %
Chilwell – top player for points per match from last season (better than Salah!). But all the love of FPL managers goes to James who is owned by almost half of them. In comparison. Chilwell is currently sitting in just 5,7 % of FPL teams. 
Kulusevski – amazing previous season. Owned by 5.5 %
Lloris – owned by around 5%, historically strong performance every season
7. Bench fodders for your FPL team
Which cheap players will likely start for their teams? We looked at pre-season minutes to determine it. These players could be cheap options for your bench if you plan to maximize the budget of your starting XI (and we recommend you to do that).
Goalkeepers: Based on Brendan Rodgers comments, it looks like Ward (4.0m) could get some playing time in new season
Defenders: White is great 4.5m option. In the 4.0m price bracket: Neco Williams and Patterson are expected to be starters for their teams
Midfielders: Andreas and Colback (both 4.5m) should be regular starters
Forwards: Archer, Greenwood and Taylor (all 4.5m) should get some game time from the bench – but neither of them is a regular starter
8. Scout team for FPL GW1
We have a separate article for our scout selection for GW1. You can find it here: FPL GW1 Team.
Hopefully, our FPL GW1 Tips helped to get you in the picture before the first kick-off. However, at the end of the day, it is all about you and your decision-making process. We want to inspire you, show you things to focus on and what to not overlook. 
Now it is up to you to make your own research to complete your GW1 squad and make the right decisions about your FPL team.
Good luck in the gameweek 1!