An exciting round ahead, blank and double gameweek at the same time: that is gameweek 25 in Fantasy Premier League. Liverpool, Arsenal, Everton, and Wolves play twice in GW25 while Brighton, Brentford, Manchester United and Newcastle do not play at all.
Without further ado, let's jump to our FPL GW25 Tips, where we discuss best picks, transfer targets, captain, differentials, odds, using chips (free hit) & team selection.
1. Fantasy Premier League Blank (Double) Gameweek 25 Tips
Hopefully, you have two free transfers ready to deal with this gameweek
Do not tear your team apart to bring in Everton on Wolves players – you might be stuck with them in following gameweeks
You should aim to have Arsenal coverage (2-3 players), Liverpool coverage (2-3 players) and perhaps a defender from Everton (0-1 player) or Wolves (0-1 player)
Then do not overlook single gameweek teams like Manchester City (try to have 2-3 City players for GW25) who have great fixture in Gameweek 25
It is not necessary to free hit, if you can have 3 Arsenal, 2 Liverpool and 2 Man City players with free transfers and perhaps one hit.
The free hit could be more valuable later in the season in blank gameweek 28 or in one of the bigger double gameweeks
Bench Trippier and Rashord – you will want them in your team after GW25
2. Key players to own and transfer targets for GW25
Haaland
Saka – a key man for Arsenal, captaincy candidate
Salah – Liverpool are improving their performances, captaincy option
TAA – can he finally start delivering points as we were used to from him? GW25 is a perfect opportunity to bring him back into our FPL teams, at least for the short-term,
Arsenal defender – ideally Gabriel
3. Fixtures to target in Double Gameweek 25
In which fixtures we could expect a lot of fantasy points? Fixtures to target in Gameweek 25 according to bookies odds:
Bournemouth vs Manchester City: Citizens 76 % to win, 47 % to score 2.5+ goals
Arsenal vs Everton: The Gunners 73 % to win, 38 % to score 2.5+ goals
Liverpool vs Wolves: The Reds 66 % to win, 36 % to score 2.5+ goals
And of course, the teams with double gameweek fixtures.
4. Best players to pick in Blank/Double Gameweek 25 and onwards
We also looked at players from each position: goalkeepers, defenders, midfielders, and forwards.
We examine which players are best picks in each price bracket: budget enablers, midpriced picks, and premium options:
5. FPL Gameweek 25 differentials
Alvarez (Manchester City, 6m)
selected by 1.8 %
There could be a rotation among Manchester City players due to the Champions League played midweek
So if looks that Haaland might be benched, Alvarez became the perfect option for GW25 managers on a free hit
Great fixture against Bournemouth
Bowen (West Ham, 8m)
owned by 2.7 % of managers
one week punt
another single gameweek player that could do well in GW25
improved his performance little bit lately, 2 goals and 3 assists in last Premier League 8 matches
6. Best captain pick in Gameweek 25
We are currently leaning towards captaining Salah in GW25. Saka is also a great captaincy pick. Haaland's minutes could be managed after the Champions League fixture.
7. What bookies odds say about Gameweek 25
As usual, we converted bookies odds into probabilities using our Odds to probability calculator, to assess the potential of gameweek 25.
Clean sheet odds for GW25
With a 46 % probability of keeping a clean sheet, Manchester City leads the clean sheet odds table for GW25. Bookies also expect West Ham (42 %) and Liverpool (37 %, 40 %) to do well defensively in Gameweek 25.
🚀Clean sheet odds for blank & double Gameweek 25 in #FPL#GW25 #FPLCommunity

Find full table at: https://t.co/qqR5rk3ohZ pic.twitter.com/dupIGBqGMe

— Fantasy Football Reports (@FplReports) February 22, 2023
Bookies expect 5.41 clean sheets in gameweek 25. In last season, we were used to a rate of 5.58 per clean sheets gameweek. This season we have seen clean sheets at the rate of 5.58 clean sheets per gameweek.
Clean Sheet probabilities for double gameweek teams
|   | Expected Clean Sheets | Probability of at least one CS | Probability of two CS |
| --- | --- | --- | --- |
| Arsenal | 0.88 | 70 % | 19 % |
| Liverpool | 0.77 | 62 % | 15 % |
| Everton | 0.38 | 35 % | 3 % |
| Wolves | 0.33 | 31 % | 2 % |
Expected vs. actual clean sheets
Due to a correction in the number of clean sheets: Newcastle, Manchester United
Newcastle overperformed their defensive expectations the most from all teams. They should have kept 6.96 clean sheets instead of 12 according to our expected clean sheets table.
Due to an improvement in the number of clean sheets: Manchester City, Southampton
Manchester City underperformed their defensive expectations the most of all teams. They should have kept 10.66 clean sheets instead of 8 according to our expected clean sheets table.
You can see the expected clean sheets table and clean sheet odds for all Premier League teams here.
Goalscoring odds for GW25
Goalscoring odds for GW25 are available here: Premier League Goalscoring Odds. Only data from the first matches of double gameweek.
8. Using Chips in Gameweek 25: time for a free hit?
Blank/Double gameweek 25 could be a good week to use free hit as some players do not have fixtures at all and some players have two fixtures.
However, teams of many FPL managers are in good shape for GW25, so they do not need to use free hit. If you can get 2-3 Arsenal players, 2 Liverpool players, and a few Manchester City players with max one hit, we think you should not consider using your free hit. 
Free hit could also be valuable in a bigger blank gameweek 28.
Also, if you are going to use your triple captain chip in GW25, Saka would be our pick. This could be a good strategy for managers who did not use their triple captain chip on Rashford or Haaland in previous gameweeks.
Currently, we are not going to use a free hit or any other chip in Gameweek 25. However, if your strategy is different, here are our team's inspirations for potential chips.
9. FPL GW25 Team selection
Now let's look at our FPL team selection for GW25 – Scout squad. Salah is our captain. 4-4-2 formation.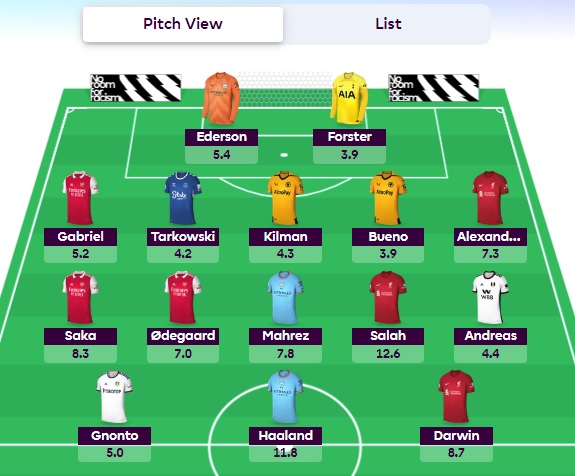 10. Fantasy Premier League Tips
Find more tips, strategies and picks for Fantasy Premier League in these articles:
We hope our FPL GW25 tips helped you to gather some useful information before the Gameweek 25 deadline.
Join our Fantasy Football Reports League if you haven't already with a league code of zte1cv. Or click the auto-join here.
Good luck in FPL GW25!