First matchday of Fantasy Champions League is now over and the second starts in just a few days. There is not too much time to prepare. 
The show must go on and the schedule of every team is extremely busy. So be careful when picking players to your fantasy team, we might see a lot of rotation and unfortunately injuries, too.
Let's dive to our UCL Fantasy Matchday 2 tips.
Fixtures to target in Matchday 2
First, Let's use our Odds to probability calculator to find out which fixtures we should target in Matchday 2 according to bookies odds.
Tuesday fixtures
Plzeň vs. Inter Milan: Inter Milan 68 % to win, 36 % to score 2.5+ goals
Porto vs. Club Brugge: Porto 67 % to win, 33 % to score 2.5+ goals
Liverpool vs. Ajax: Liverpool 63 % to win, 41 % to score 2.5+ goals,
Wednesday fixtures
Macabi Haifa vs. PSG: PSG 87 % to win, 64 % to score 2.5+ goals
Manchester City vs. Dortmund: City 79 % to win, 53 % to score 2.5+ goals
AC Milan vs Dynamo Zagreb: AC Milan 72 % to win, 39 % to score 2.5+ goals
Who to captain in UCL Fantasy MD2?
Just as last week, we prepare two captain picks, one for Tuesday games and one for Wednesday games. Here they are.
Tuesday captain: Mané (BAR (H))
If you are going Rolls Royce attack for Matchday 2 (Mbappe, Neymar, Haaland) or (Mbappe, Neymar, Messi), you have to captain some of your midfielders (or defenders) on Tuesday. Mané is our pick as we have greater confidence in Bayern's mids than Liverpoool's. 
Other Tuesday captain contenders: Sané, Salah, Kane
Wednesday Captain: Mbappe (MHA (A))
It is all about Macabi Haifa vs PSG game. That is fixture to target, that is the fixture where you should have your captain on Wednesday. For us, it is Mbappé.
Other captain contenders for Wednesday: Neymar, Messi, Haaland.
When you should change your captain? Read our system for switching the captaincy here.
Limitless wildcard: should you use it in the Matchday two?
We have some nice fixtures in Matchday 2 of Fantasy Champions League. 
A lot of premium UCL fantasy players could do very well in this matchday. However, there is no clear answer to the question, whether you should play your limitless wildcard on matchday 2.
Of course, it depends on your current team and how it is set up for MD2, how it is set up for MD3, or your overall strategy, and also on your plan to use classic wildcard.
So, consider ups and downs, see the bigger picture. And if you lean towards using your limitless wildcard in the MD2, then there are definitely great fixtures to exploit the potential of this chip.
We revealed our Limitless Wildcard Squad for Matchday 2 of UCL Fantasy in a new article. So if you are interested in using this chip in this Matchday, you can get inspired by our Limitless Wildcard Team. 
As usual, we looked at what bookies think about the Matchday 2 of UCL Fantasy.
We checked the clean sheet odds to determine which teams are most likely to keep a clean sheet in the MD2 and goalscoring odds to determine which players are most likely to score a goal in MD2.
It can be very helpful when selecting the defense of your UCL Fantasy team or choosing your captain.
Clean sheet odds for MD2
Bookies favor PSG, AC Milan and Manchester City to do well defensively in MD2. You can find the full Champions League clean sheet odds table here.
Goalscoring odds for MD2
You can find goalscoring odds for the Champions League here.
UCL Fantasy Team for Matchday 2
Well, in the end, look at our UCL Fantasy team for Matchday 2. It can be a good inspiration for you if you are on your regular wildcard. We might do 1 or 2 changes to our team before the deadline.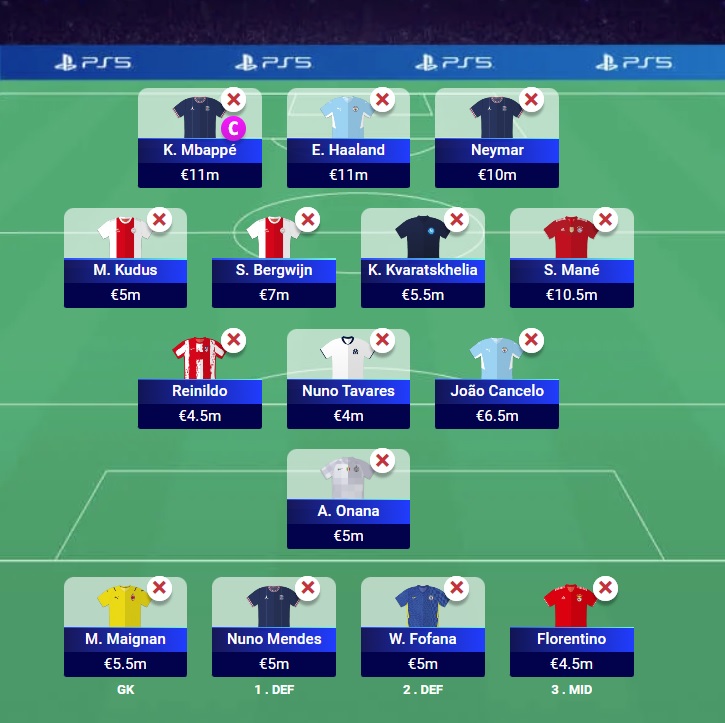 The second Matchday of the Fantasy Champions League campaign starts in just a few days. Make an informed decision about your UCL Fantasy team and prepare it for success.
Good luck!