First matchday of Fantasy Champions League is now over and the second starts in just a few days. There is not too much time to prepare. The show must go on and the schedule of every team is extremally busy. So be careful when picking players to your fantasy team, we might see a lot of rotation and unfortunately injuries, too.
Let's dive to our tips for UCL Fantasy Matchday 2.
Who to captain in UCL Fantasy MD2?
Just as last week, we prepare two captain picks, one for Tueasday games and one for Wednseday games. Here they are.
Tuesday captain: Mohamed Salah (MID (H))
It was really tough call for us to choose only one from two players that we consider to be best armband contenders for Tuesday. Mohamed Salah and Robert Lewandowski.
At the end we choose Egyptian. Points potential of Salah and Lewandowski for matchday 2 is very similar. It would not be a surprise if they score the same amount of points on Tueasday.
Both have great fixture, but we favor Salah because he is classified as a midfielder, so he gets one extra point for every goal and one extra point for clean sheet.
However, at the end of the day it may not matter because they both can score big hauls. If you captain one of them on Tuesday, you will probably do well.
However, if you afraid that Salah might be rotaded, then go for Lewandowski. We will know Bayern line up before the deadline.
(Update) Be careful! There are last minute rumours that Salah, Mané and Firmino will be benched and Jota, Minamino and Origi will play for Liverpool. But it is not confirmed. If true, than Lewandowski is much better choice for captain.
Wednesday Captain: Kylian Mbappé (BFK (A))
In our opinion, Istanbul Basaksehir vs. PSG is the standout fixture for the captaincy on Wednesday in matchday 2 of UCL Fantasy. Both Neymar and Kylian Mbappé are great captaincy picks.
Let's look at some data from this season of Ligue 1. Brazilian scored 2 goals and registered 3 assist. Frenchman scored 6 times and has 3 assists. They both have almost identical underlying statistics as you can see in the chart below.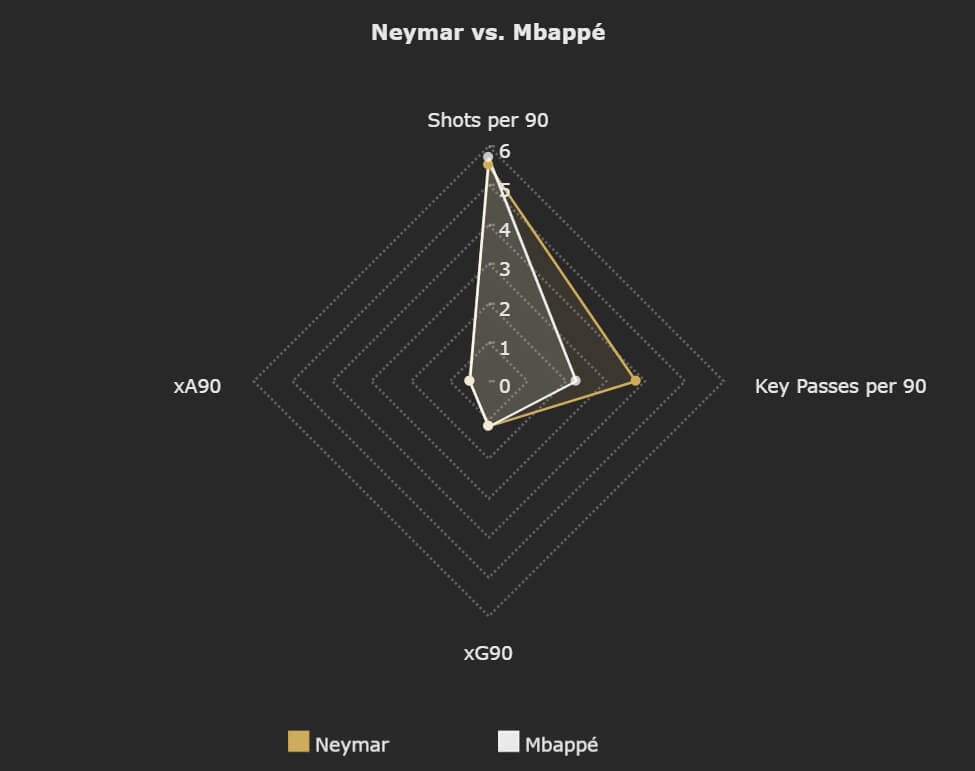 Mbappé created chances with 2.23 key passes per 90 minutes and Neymar has been more creative with 3.75 key passes per 90. However, Mbappé is shooting more often. He is averaging 5.69 shots per 90 minutes, Neymar is only slightly behind with 5.5 shots per 90 minutes.
When we compare their expected underlying stats, they are almost identical. Mbappé is averaging 1.16 xG and 0.48 xA per 90 minutes, while Brazilian is averaging 1.15 xG and 0.49 xA per 90 minutes.
However, Mbappé has been able to turn his stats into more goals than Neymar, while they both registered the same number of assists. So, Mbappé is our captain pick for Wednesday, if Salah fails to deliver at least 6 points.
You can compare underlying statistics from Understat of all four discussed ucl fantasy captain picks in the following table.
| Player | Shots per 90 | Key Passes per 90 | xG per 90 | xA per 90 |
| --- | --- | --- | --- | --- |
| Lewandowski | 7.13 | 1.48 | 1.81 | 029 |
| Salah | 4.83 | 2.83 | 0.71 | 0.32 |
| Mbappé | 5.69 | 2.23 | 1.16 | 0.48 |
| Neymar | 5.5 | 3.75 | 1.15 | 0.49 |
Limitless wildcard: should you use it in the Matchday two?
We have some nice fixtures in the Matchday 2 of Fantasy Champions League. For example, Lokomotiv Moskva vs. Bayern, Liverpool vs. Midtjylland and Basaksehir vs PSG.
A lot of premium ucl fantasy players from those teams could do very well in this matchday. However, there is no clear answer on the question, whether you should play your limitless wildcard in the matchday 2.
Of course, it depends on your current team and how it is set up for MD2, how it is set up for MD4, or your overall strategy and also on your plan to use classic wildcard.
So, consider ups and downs, see the bigger picture. And if you lean towards using your limitless wildcard in the MD2, then there are definitely great fixture to exploit the potential of this chip.
We revealed our Limitless Wildcard Squad for Matchday 2 of UCL Fantasy in new article. 
Which players have done well in recovering balls so far?
One matchday is very small sample size. However, few players have caught are eye thanks to the number of balls they recovered in the first round of CHampions League.
For example, Max Wober, Salzburg's center back, managed to recover more balls than anyone else – 18. That earned him extra 6six (yes six!) points against Lokomotiv Moskva. So he scored 7 ucl fantasy points in total, without keeping a clean sheet and without any attacking return. That is very impressive.
Joe Gomez recovered 16 balls and Casemiro recovered 15 balls, so both of them collected extra 5 points. Our tip is: keep an eye on these players, they could be great bargains that doesnot need to even score goals in order to get you a lot of points. 
Scout picks for Matchday 2
Well, at the end, look at our scout picks for UCL Fantasy Matchday 2.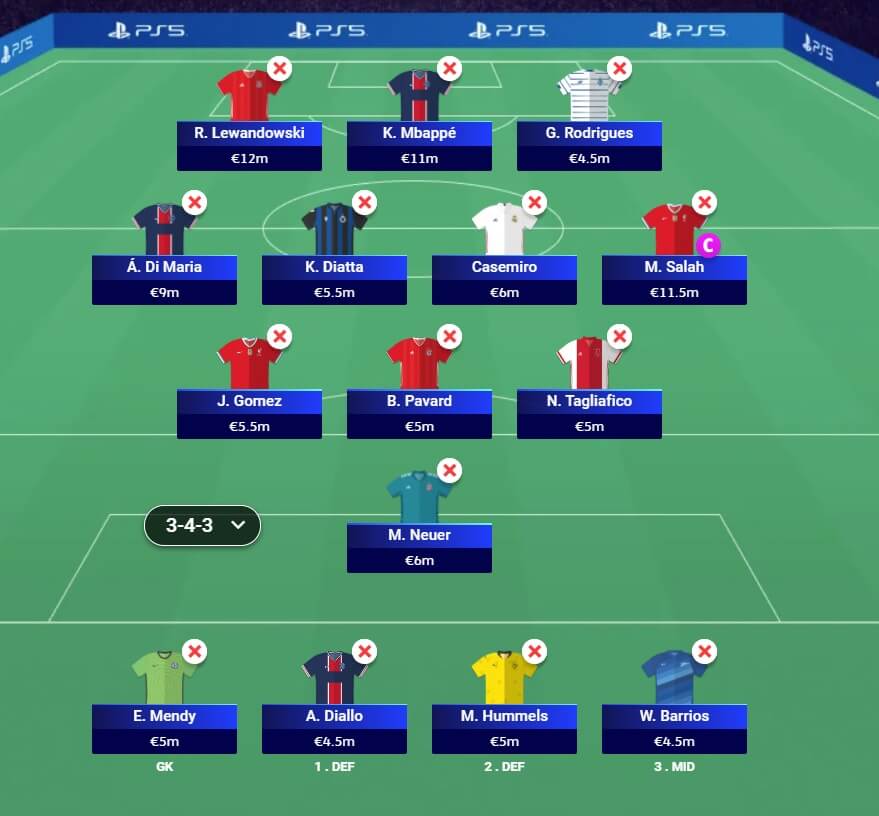 More about UCL Fantasy Matchday 2