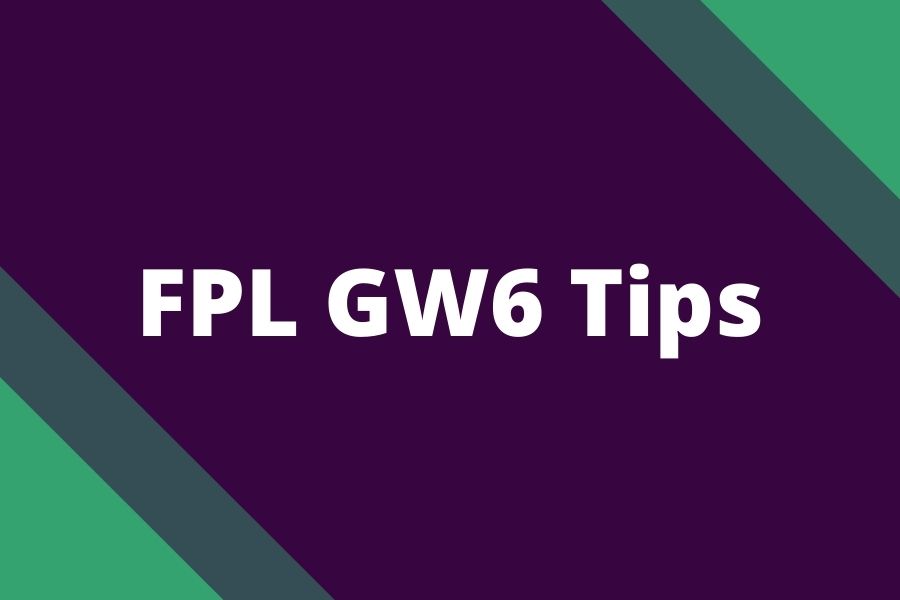 The fifth gameweek of Fantasy Premier League was another high-variance gameweek. Captaincy difference between Salah and Haaland was pretty big. But there is no time to look back. Keep the eye on the ball and move on to the Gameweek 6. 
Here are our FPL GW6 Tips.
Rodrigo replacements: Rodrigo is out for 3-4 weeks, here are his replacements for your FPL team: Zaha, Bernardo, Gundogan (if you can afford to upgrade Rodrigo), obvious option is Gross, another potential replacement is Harrison, but will he be good asset when Leeds plays without Rodrigo?
You can play Neco Williams in GW6. He has the highest xG and xA from all Nottingham players this season. If Nottingham scores against Bournemouth, there is a high chance he will be involved. Clean sheet is on the table as well, although Nottingham defence has been terrible and they have highest xG against from all teams. 
Start preparing your Wildcard plan. GW8 looks to be great option. You can take few risks and bring in some differential now that you will wildcard out in GW8
If you had Robertson, I would still keep him for next 2 gameweeks
Keep Salah
If you have Neto, just give him one last chance against Southampton. He have 0.58xG and 0.82xA, so he really should have had a return so far. After Southampton, fixtures are thought for Wolves, so you can finally sell him
Newcastle have great fixture swing in GW6.
Differential for GW6: Neco Williams (as majority of his owners will likely bench him), Darwin (could be great punt before GW8 wildcard)
Differential captain: Kane
Transfer targets for GW6: Zaha, Trippier, Darwin
Read more: 4 Books that will help you improve your FPL skills
Best captain pick in Gameweek 6
As usual, we narrowed down our list of captaincy picks to three players using our Captaincy Index.
You can read our full here: Best FPL Captain Picks.
According to the Captaincy Index, Salah is the best captain in Gameweek 6.
Haaland is the number 2 captaincy pick and Son number 3 captaincy pick. 
What bookies odds say about Gameweek 6
As usual, we converted bookies odds into probabilities using our Odds to probability calculator to assess the potential of gameweek 6.
Clean sheet odds for GW6
There is no team with a probability of a clean sheet higher than 50 %, so it is going to be harder to predict where to look for clean sheets. Bookies favor Chelsea (43 %), Liverpool (42 %), Manchester City (42 %) and Tottenham (42 %) to be the most likely sources of clean sheets. 
Based on these odds, bookies expect 5.24 clean sheets in gameweek 6. In last season, we were used to a rate of 5.58 per clean sheets gameweek. So far this season we have seen 5 clean sheets per gameweek.
We can say we are in a period of defensive underperformance because we have seen more clean sheets than we should have. This is also confirmed by our Expected Clean Sheets table. In GW1-GW5 we saw 25 clean sheets, while this number should be 26.99.
Is the regression to the mean coming?
Many managers are dumping underperforming expesnive defenders who just did not score enough FPL points and moving more money to the attack. 
But is it a good move? We think not. We think that regression to the mean is coming and that premium defenders will start outperforming similarly priced mids and forwards.
But no one really knows when. Just as in investing, you can never really time the market.
However, attentive FPL managers should be aware of the fact of the defensive underperformance and that the number of clean sheets we are currently witnessing will likely increase in the long run.
You can see the expected clean sheets table and clean sheet odds for all Premier League teams here.
Goalscoring odds for GW6
Haalnd (50 %) leads the pack again with the highest goalscoring odds for GW 6. He is closely followed by Kane (46 %) and Salah (41 %)
You can look at all most likely GW6 goalscorers here.
FPL GW6 Team - scout selection
Now let's look at our FPL team for Gameweek 6. 
Neco Williams
4.1 m | BOU (H)
Martinelli

6.4 m | MUN (A)
Haaland (VC)
11.9 m | AVL (A)

We hope our FPL GW6 tips helped you to gather some useful information before the Gameweek 6 deadline.
Join our Fantasy Football Reports League if you haven't already with a league code of zte1cv. Or click the auto-join here.
Good luck in FPL GW6!