After another goal fest that we witnessed in last gameweek, it is time to start thinking about another round of Fantasy Premier League football. We prepared FPL tips for GW6 with best captain, differential, clean sheet odds, goalscoring odds and scout squad. We also briefly discussed what to do with Liverpool defenders after the injury of Virgin van Dijk.
Who to trust with captaincy in GW6
After captain success with our last gameweek number one captain pick Harry Kane, we start our captain preview for GW6 with another Spurs player.
3. Son Heung Min (BUR (A))
Son Heung Min has been on fire this season so far. 7 goals and 2 assists in 5 matches is a statistic that does not require a commentary. From all Premier League players, only his teammate Harry Kane has been more productive than him. Kane scored 5 goals and registered 7 assists and he is good captaincy option for GW6, too.
However, we almost always favor a midfielder as a captain rather than a forward due to the extra point for goal and the extra point for clean sheet.  
Looking at the expected goals data from Understat, Son's underlying numbers suggest slight overperformance as he needed only 2.57 xG and 1.73 xA on 7 goals and 2 assists. However, he was able to overperform his expected goals in last four season, so it is typical for him.  
Spurs opponent Burnley have conceded 8 goals from 3.65 xG against, so they probably should have conceded less. Their expected defensive stats are ok, but their xG against suggests that they have conceded a lot goals from just few chances. And Son doesn't need a lot of chances to score, he has already shown that.  
Spurs has been in blazing form. No team has scored more goals (15) this season than them and Son have been involved in 60 % of them (Harry Kane in 80 %). If there are goals at Turf Moor, those two are likely to be involved again.  
2. Raheem Sterling (WHU (A))
Last time Raheem Sterling faced West Ham on London Stadium, he scored a hattrick. We have already written a lot of about Sterling's form in away matches, and we favor him to do well in another away game.  
Rahem Sterling has second best expected involvement statistics (xG+xA) from all Man City asset so far this season (after Kevin De Bruyne). He shoots often with 2.8 shots per 90 minutes and creating chances with 1.78 key passes per 90 minutes (only De Bruyne and Mahrez are better in both shots per 90 and key passes per 90).
Despite bad defensive display against Spurs, West Ham has been solid defensively this season so far. They have conceded 7 goals. Only two teams have conceded less: Aston Villa (2) and Arsenal (6). Their xG against is 5.24 what is fourth lowest from all Premier League teams.
However, The Hammers were all over the place in the first half against Spurs. And if they repeat that bad defensive display against Man City, there are likely to be goas in that match.  
1. Mohamed Salah (SHU (H))
In our opinion, Liverpool vs. Sheffield United is the standout fixture for the captaincy in gameweek 6. And Mohamed Salah as Liverpool's top scorer is our number one captain pick. He has scored 6 goals this season, only Son Heung-Min and Dominic Calvert-Lewin managed to score more.  
Salah's underlying stats are great. 5 shots and 3 key passes per 90 minutes and more than one expected involvement per 90 minutes (0.67xG90 + 0.37xA90). For us, Salah has slight edge over Sadio Mané due to penalties in his locker if Milner is not in the pitch.
If neither of them was on penalties, they would be two indifferent options for us – options lying on the same indifference curve with the same expected output. But that is not the case, so we prefer Salah.  
Sheffield United, similarly to West Ham, have conceded only 7 goals so far this season. Their xG against of 5,91 is also very similar to West Ham's. It is a home game for Liverpool and Salah's form at Anfield in unquestionable.  
In the chart below, you can see how did this season so far with our number 1 captain picks.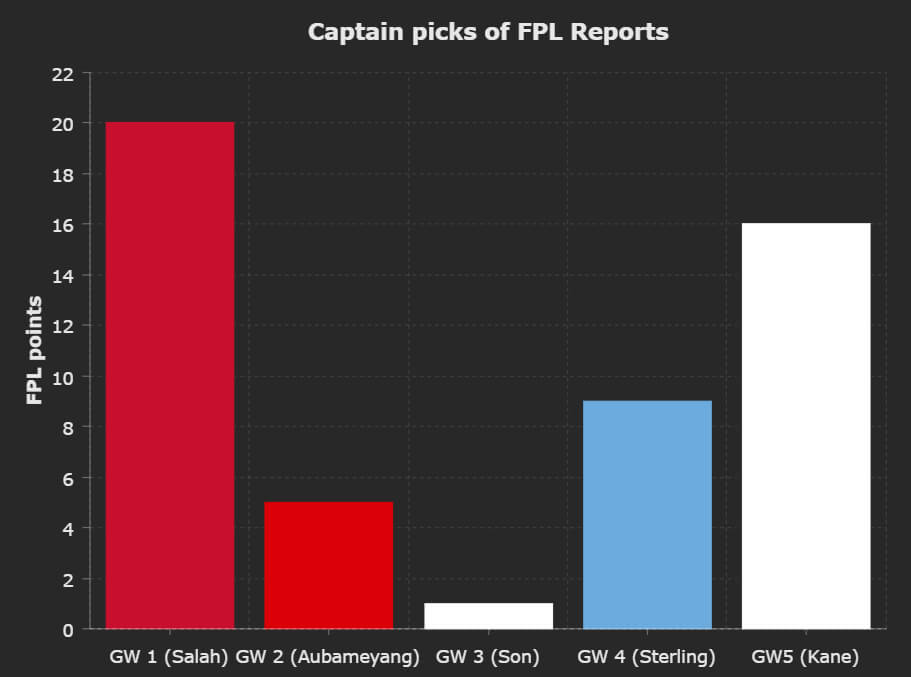 Differential captain: Sadio Mané (SHU (H))
We have already mentioned why we favor Salah over Mané, but if want to be a bit different from the pack in GW6, Sadio Mané is great differential captain.
Only 7.5 % of FPL managers own him. And his underlying numbers are very similar to Salah's. Just as we have said, if there were no penalties for Salah, we would consider Salah and Mané to be two indifferent FPL picks with the expected output through the season.
You can compare underlying statistics of Liverpool wingers in the spider chart below.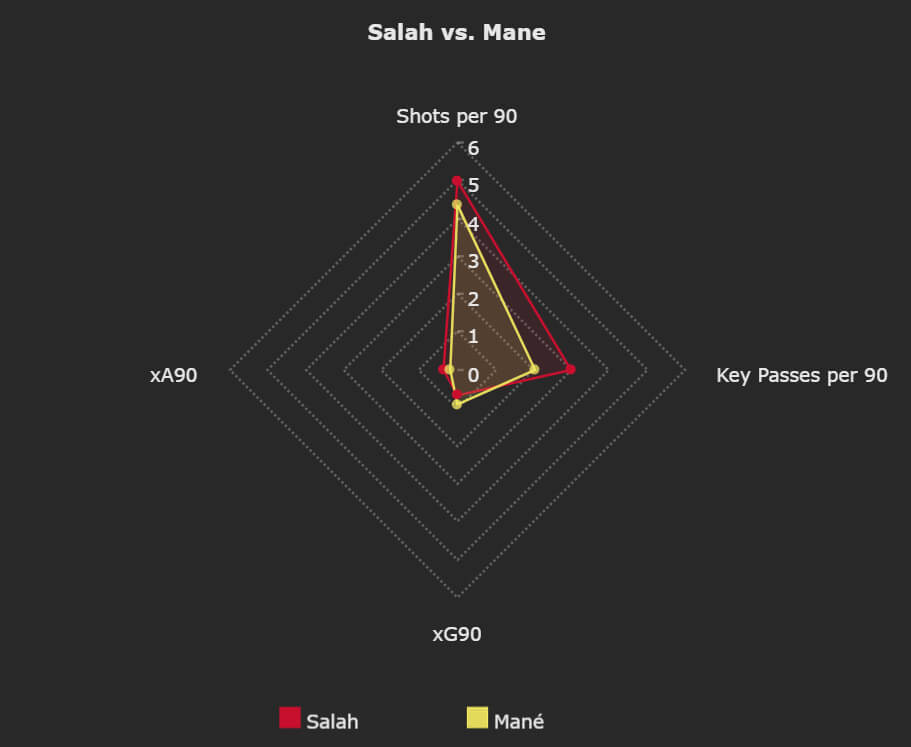 We have only one differential pick for GW6. 
Englishman is owned only by 1.6 % of Fantasy Premier League managers but he already has 2 goals in his two starts for Aston Villa.
Barkley is averaging 4 shots per match what is the highest from all Villa players. He is averaging 0.5 xG per 90 minutes, only Ollie Watkins from Villa players is averaging more. According to these stats, his goalscoring threat is very high unlike from his assist potential.
He is averaging only 0.03 xA and 0.5 key passes per 90 minutes. So, with Barkley, you should expect goals and not assists, really.
Aston Villa have amazing run of fixture from GW6 to GW15. 7 of their 10 fixtures have FDR 2, 3 fixtures have FDR 3 and only one fixture have FDR 4. It can't get better than that.
So, perhaps, a double up of Grealish + Barkley, or even triple up of Grealish + Barkley + one of Aston Villa defenders may be the way to go for the next 10 gameweeks.  
Clean sheet odds and goalscoring probabilities for GW6
You can read about clean sheet odds and goalscoring probabilities in separate articles that will be live soon.
Key talking point - Liverpool defence
Only one clean sheet for Liverpool in first five rounds and injury of Virgil van Dijk caused a headache to many FPL managers who own Liverpool defenders.
Should you get rid of TAA, Robertson or both, if own them? We do not think, you should sell them. Without doubt, Liverpool chances for a clean sheet are now lower without van Dijk, but TAA and Robbo still offer other ways how to get you points.
And Liverpool have very nice run fixtures until the January. Our recommendation is, if own them, do not sell. But if you do not own them, you do not have to necessarily bring them in.  
Back to four at the back in our scout squad. Despite a big amount of goals this season so far, we still favor playing on 4 or 5 defenders.  
Salah (C)

12.3 m | SHU (H)
In our goal, we trust Martinez to either keep a clean sheet against Leeds or to collect some save points (ideally both).
Despite the injury of VVD, we opted for both Liverpool fullbacks, their probability of clean sheet is still pretty high, and their attacking threat is unquestionable. We also trust Man City and Wolves defensively with Dias and Saiss the last two defenders in our squad.  
We have our all three captaincy picks Son, Sterling and Salah in the midfield with Egyptian getting an armband. It looks that Phil Foden cemented his role as a regular starter for Manchester City and we liked his underlying numbers. For 6.6m he has a lot to offer.
Jack Grealish and Ollie Watkins are last two names in our selection because we favor Aston Villa to do well not just in GW6, but in other upcoming gameweeks, too.  
The deadline for GW6 is quickly aproaching so do not forget to set your team, your captain before Friday evening. Hopefully, our tips help you to make right decisions about your FPL squad.