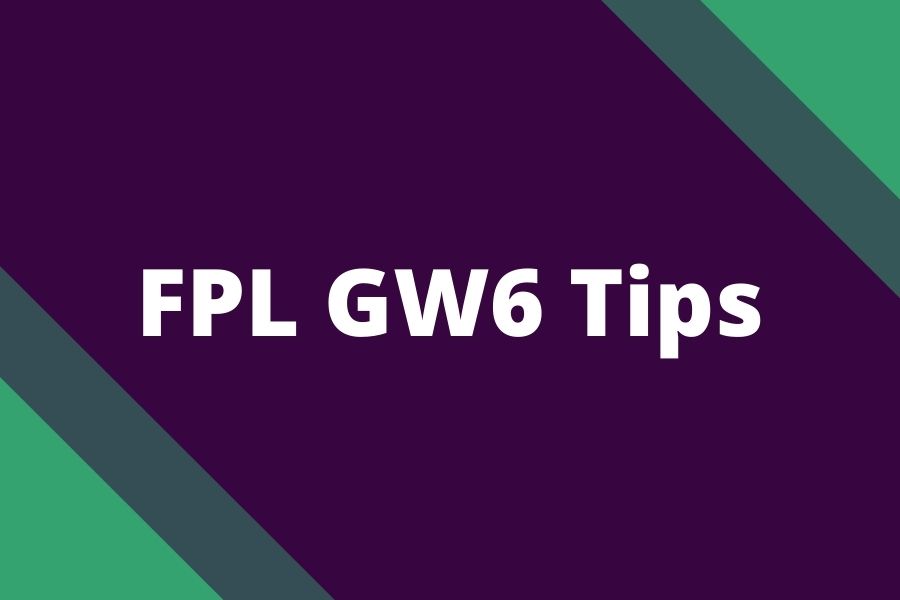 The fifth gameweek of Fantasy Premier League was another high-variance gameweek. A lot of popular picks blanked. But there is no time to look back. Keep an eye on the ball and move on to the Gameweek 6.
Here are our FPL GW6 Tips with the best picks, fixtures, transfer targets, odds, captain picks, and team selection.
1.

Fantasy Premier League Gameweek 6 Tips
There are Champions League and Europa League games in midweek, so save at least one of your free transfers for Thursday/Friday when you will have all the information about possible injuries
The UCL and EL will likely cause some rotation – be prepared for that
Gameweek 7 will be a double gameweek for Luton and Burnley, so do not forget about that. Although it will be OK if you go with zero or one Burnley or Luton player into that gameweek
What to do with Chilwell: Pochettino said he needed more attacking player (Mudryk) in that position when Chelsea lined up with back four. So it looks like if Chelsea plays 4 at the back, Chilwell is a big rotation risk. If they line up with 5 at the back, Chilwell should play. So, if you are on the Wildcard or you have no other issues in your team, you could replace him with Trippier, Schar or Botman. You could also consider Dias if you do not have him. If you cannot really afford a transfer on Chilwell, hold him and play him, we think he will get starts regardless, but he will be benched sometimes. Read more: Best Chilwell Replacements for Gameweek 6
What to do with Jackson: Alvarez is the clear replacement option. Wissa and Morris are other options. Read more: Best Jackson Replacements for Gameweek 6
What to do with Sterling: Hold him now, he is proven FPL asset, but likely sell on Wildcard later.
Read more: 
Poor score in Gameweek 5?
If your score in Gameweek 5 was low, do not be very frustrated about that. This is FPL, this happens all the time. Joy and disappointment repeat over and over again. The game is a big emotional rollercoaster, accept it and do not let it to ruin your weekend.
Variance will always play a role in your gameweek score and you will never get everything 100% right all the time – that is just how it is. You just must continue to the best possible decision based on the information you have available. Over time, as the law of large numbers takes effect, random fluctuations will average out and your true skill level will emerge more clearly.
Further reading:
2. Key players to own and transfer targets for FPL GW6
Key players
Haaland – captain option in almost any gameweek
Mbeumo – 3 great fixtures in the next 4 gameweeks for Brentford
Saka – stable output over the last few years, bonus points magnet
Rashford/Fernandes – hold one of them, if you have them. They are still key players for United.
Maddison – key man for Spurs
Estupinan/Mitoma – keep them, if you have them. This is the fixture you want Brighton players in your team.
Transfer targets
Alvarez – blanked only once this season, he looks to be second best Manchester City player to own this season
Salah – Liverpool assets are overlooked, but no team has a better fixture run up to GW12 than them. There could be plenty of goals for the Reds in that period and perhaps even a few clean sheets.
Trippier/Schar – Newcastle's fixture improves now.
Morris – double gameweek punt for GW7
3. Watchlists: Best players to pick in Gameweek 6 and beyond
We also looked at players from each position: goalkeepers, defenders, midfielders, and forwards.
We examine which players are best picks in each price bracket: budget enablers, midpriced picks, and premium options. Check our watchlists here:
4. Fixtures to target in Gameweek 6
In which fixtures we could expect a lot of fantasy points? Fixtures to target in GW6 according to bookies odds:
Manchester City vs. Nottingham: Citizens 85 % to win, 57 % to score 2.5+ goals
Brighton vs. Bournemouth: Brighton 70 % to win, 46 % to score 2.5+ goals
Liverpool vs. West Ham: The Reds 66 % to win, 43 % to score 2.5+ goals
Sheffield vs. Newcastle: Newcastle 66 % to win, 37 % to score 2.5+ goals
5. Best captain pick in FPL GW6
Who is the best captain in Fantasy Premier League Gameweek 6?
We think Haaland is the best captaincy option in GW6 and our captaincy index agrees.. He is the safe captaincy pick given his ownership, he is a reliable FPL asset and has a good fixture. Accoring to the captaincy index, Salah is the second best captain for GW6 and Fernandes 3rd.
If you want to go with a differential captain, consider Alvarez.
6. What bookies odds say about Gameweek 6
As usual, we converted bookies odds into probabilities using our Odds to probability calculator to assess the potential of gameweek 6.
Clean sheet odds for GW6
Manchester City is the only team with a probability of a clean sheet higher than 50 %. Bookies also favor Newcastle (39 %), Crystal Palace (37 %), Brentford (36 %) and Brighton (36 %) to do well defensively.
Based on these odds, bookies expect 4.8 clean sheets in gameweek 6. In last season, we were used to a rate of 5.45 clean sheets per gameweek. So far this season we have seen 3.8 clean sheets per gameweek.
Due to correction in the number of clean sheets: Fulham, Tottenham
Fulham overperformed their defensive expectations the most of all teams. They should have kept 0.96 clean sheets instead of 2 according to our expected clean sheets table.
Due to an improvement in the number of clean sheets: Brighton, Everton
Brighton underperformed their defensive expectations the most from all teams. They should have kept 1.56 clean sheets instead of 0 according to our expected clean sheets table.
You can see the expected clean sheets table and clean sheet odds for all Premier League teams here: Premier League Clean Sheet Odds.
Goalscoring odds for GW6
As usual, Haaland leads the table for anytime goalscorer odds in GW6. He is followed by Salah and Ferguson. Check all odds here: Premier League Goalsocring Odds
7. FPL GW6 Team selection
Now let's look at our FPL team selection for Gameweek 6 – Scout squad. Haaland is our captain.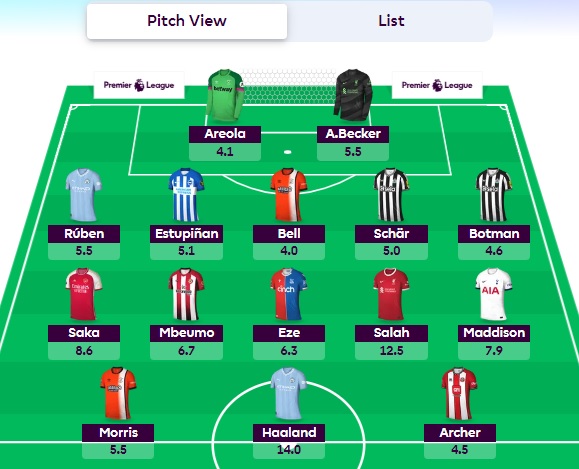 8. Fantasy Premier League Tips
Find more tips, strategies and picks for Fantasy Premier League in these articles:
We hope our FPL GW6 tips helped you to gather some useful information before the Gameweek 6 deadline.
Feel free to JOIN our Fantasy Football Reports mini-league by clicking this link or using our league code ti56kl.
Good luck in FPL GW6!