An international break is coming to an end. Fantasy Premier League managers, after fine rest from game we enjoy so much (despite occasional frustration) are starting to prepare for GW5. We are preparing, too, and we are putting information we know into our regular gameweek preview.
We hope our FPL tips for GW5 will help you to have a great gameweek. And with the Champions League matches to be played in the midweek, it is time to start worry about rotation again.  
Best captain pick for GW5
It is hard to tell, how the form of players will change after their international duties. However, we picked 3 standout captain options that we expect to do well in gameweek 5.  
3. Bruno Fernandes (NEW (A))
With the increase in penalty count in 2020/21 season Premier League, our all three captain picks for GW5 are penalty takers. Yes, it is a bit boring, but it maximizes the possible output of players. First one is Bruno Fernandes. Manchester United have not been very impressive so far. Nevertheless, they were able to find the back of the net in all three matches they played.
Despite uninspiring performance, they score four goals and Portuguese was involved in three of them. So far, Bruno's underlying stats are the best from United attacking quartetto Martial, Rashford, Greenwood, Fernandes. Based on understat data, he is averaging 1,97 shots and 3.14 key passes per 90 minutes. Fernandes has best expected goals statistics from his team, with 0.65 xG and 0.29 xA per 90 minutes.
Manchester United opponent Newcastle managed to win against Burnley in the previous gameweek, but their defensive stats are not that great. They have been defensively overperfoming, conceding just 5 goals, while allowing 6.36 xG against them. We expect Manchester United to score 1 or 2 goals against them, and Bruno Fernandes could be involved in at least one of them.  
2. Kevin De Bruyne (ARS (H))
Kevin De Bruyne is showing this season, that he is the heart of almost every Manchester City attack, again. Despite blank against Leeds, he dominates offensive stats over his teammates. His shot rate per 90 minutes is 3.67 and key passes rate is 4.67 per 90 minutes.  
Just as we highlighted in previous gameweek tips, that Sterling is a great captaincy option in Manchester City away matches, it is the same for De Bruyne in home games.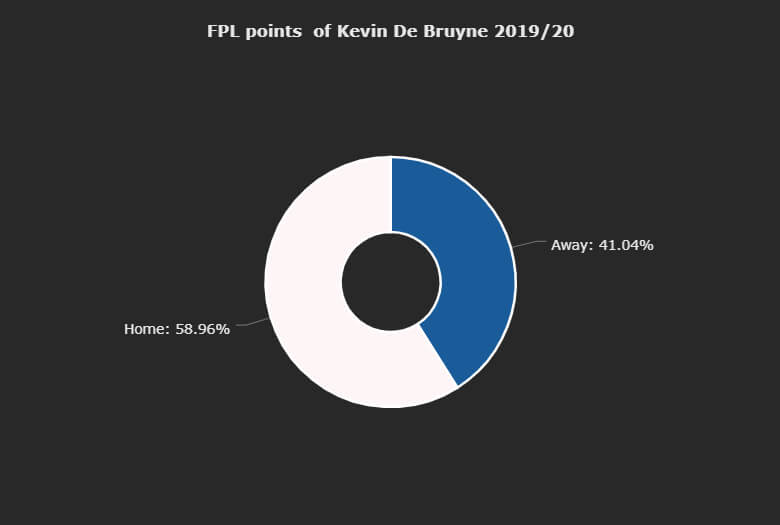 Last season De Bruyne scored 59 % of his FPL points at Etihad Stadium. And so far this season, his only FPL return came at home against Woves, too. It could be tough game against Arsenal, but City cannot afford to lose any more points. With De Bruyne's 42 % FPL ownership, we expect him to be popular captain choice among managers. 
Have we just seen Harry Kane returning to his best? His underlying statistics suggests that perhaps we have. However, it is still just small sample size of four gameweeks. Comparing data from this season with last season, Kane improved in almost every area of his offensive underlying stats.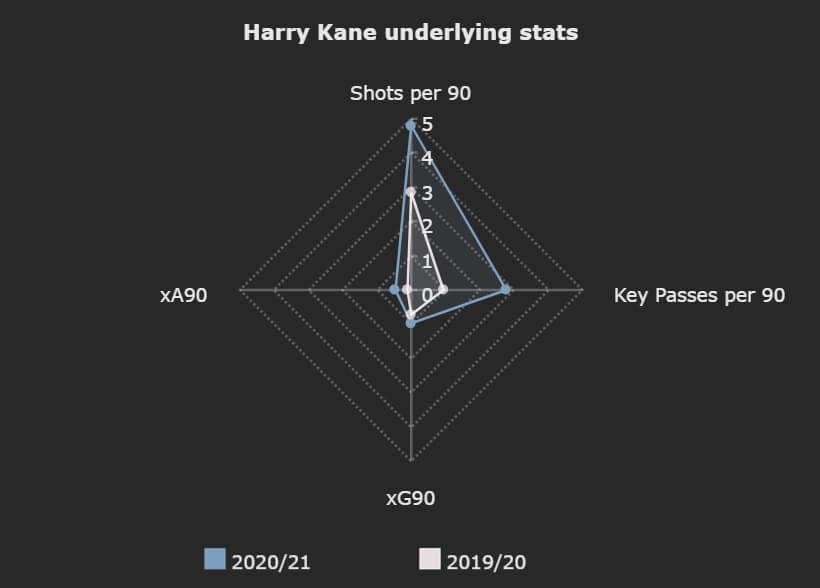 Source: Understat
Kane's shot rate per 90 minutes increased rapidly to 4.79, and his key passes per 90 minutes ration tripled to 2.77 comparing to last season. Because of that, his expected goals statistics are much better than last season. He is averaging 0.97 xG and 0.72 xA per 90.
It will not be an easy match for Spurs, they face West Ham who have shown solid defensive display against Wolves and Leicester. The Hammers have kept two clean sheets in a row. However, we think that there is no better stand out fixture, where we could find better captain pick. And with assist potential that Harry Kane have been showing in recent matches, he could be serious long-term pick for your FPL team and not just GW5 captain. 
Captaincy picks of FPL Reports
We decided to keep a track of number 1 captain picks for each gameweek. You can find it in the chart below.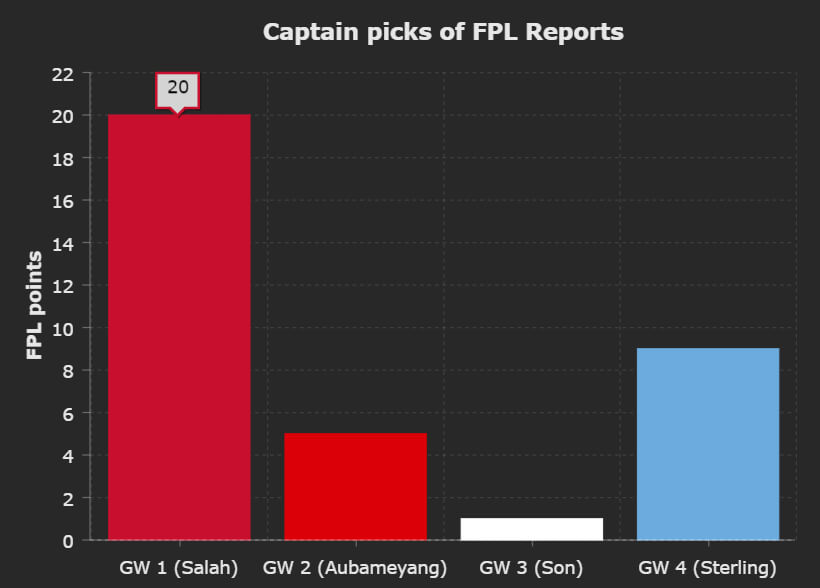 Under the radar players/Diferentials
Looking for some low-owned under the radar players? We have some inspiation.
Only 3.7 % owned West Bromwich playmaker has caught our eye during first four gameweeks. Talented Brazilian is a key player for WBA and almost every attack goes through him. Matheus Pereira is on free kicks what increases his potential.  
Pereira has already proven that he could be good FPL asset with one goal and two assists in first four gameweeks. West Bromwich have nice run of three good fixture (BUR (H), BHA (A) and FUL (A)) and if they score, we expect Matheus Pereira as their main man to be involved.  
Nelson Semedo, new Wolves acquisition, has shown a lot of potential in last gameweek. He looks to be very solid replacement for Matt Doherty in Wolves defense. Semedo almost opened his goal account against Fulham, but he missed a big chance.  
Wolves kept second clean sheet of the season, and they have favorable run of next three fixtures, where they could easily add other one or two clean sheets.  
Clean sheet and goalscoring probabilities for GW5
Key topic: Martial replacement
Anthony Martial was sent off against Spurs. He was popular pick among FPL managers and lot of them are now looking or his replacement. If you have some spare cash, Harry Kane is probably the best replacement. We wrote a lot about his stats in the captaincy picks section.
If you do not have some spare cash, and you still don't own Dominic Calvert Lewin, he should be among your top targets on Martial's position. According to understat, he is top for xG from all players in the league (6 goals from 4.41 xG). His shooting activity is also very high with 3.94 shots per minutes. On the other hand, he does not have such a great assist potential as Harry Kane. Calvert-Lewin's total xA from all 4 matches is just 0.11 and he is averaging just 0.26 key passes per 90 minutes.
That's why, if money is no problem, we think that Harry Kane is the best Martial replacement. 
As we mentioned in our Clean Sheet odds article, bookies expect less clean sheets than usual in GW5, that's why we deviate from our favorite formation on 4 defenders and choose only three at back in Scout Squad for GW5.  
De Bruyne
11.7 m | ARS (H)
Ramsdale has very high chance of clean sheet and he is third for saves among all goalkeepers, so we selected him as our GW5 keeper.
Despite not so high clean sheet probability and bad defensive display against Aston Villa, we still favor Liverpool defender in our scout squad due to their attacking threat. Stat-wise, Robertson has slight edge over Trent Alexander Arnold. Robbo had total Expected Involvement (xG+xA) of 1,42 xI in first four matches, while TAA had "only" 1,32 xI.
Ben Chilwell was superb in his debut and he contributed with goal and assist to Chelsea win. For 5.5m, he could be great pick for GW5 and beyond. The last name in our backline is Tottenham new signing Reguilón. Tottenham have solid chance of clean sheet and Reguilón also showed attacking potential against 10-men Manchester United. He had 2 shots and 4 key passes in that game, what are very good numbers for a defender. 
We went heavy in midfield. Kevin de Bruyne has the best attacking stats from all Man City players. Son Heung Min is in amazing form and with 6 goals he is currently a top scorer. Matheus Pereira is our differential for GW5. Wilfred Zaha has favorable fixture, and with 3 goals he has already proven, that we should not overlook him this season.  
Harry Kane is our captain, because we consider him as a best captaincy pick for gameweek 5. In scout squad attack he is partnered with Jimenez and Chris Wood, who both have nice fixture in the upcoming gameweek.  
The international break will soon be over. Hopefully, our GW5 FPL tips helped you to gain better insight before the start of upcoming gameweek.