Fantasy Champions League returns for 2021/22 season. We have a lot of talk about regarding the first matchday of UCL Fantasy.
Let's dive into our UCL Fantasy Matchday 1 Tips. 
Also, JOIN our UCL fantasy league by clicking this link or use league code 82C8X1QX01, we are looking forward to compete with you!
Fantasy Champions League Matchday 1 Tips
I decided to put together a few tips for UCL Fantasy success, so we will start with them. Tips are basic, but I hope very helpful.
They were a vital part of my strategy that got me 3 excellent finishes in the last three seasons (23rd, 216th and 494th). They helped me to rank 5th in the UCL Fantasy Hall of Fame of top managers.


All fantasy games are about optimization. And when you are optimizing your ucl fantasy team, you need to include some cheap budget players in your squad. 
Stekelenburg (4,5m, Ajax) – with Onana suspended for one full year, Stekelburg should be the no.1 goalkeeper for Ajax
Kobel (4,5m, Dortmund) – should be number one Goalkeeper for Dortmund
Mazraoui (4,5m, Ajax) – 1 goal and 2 assists in first 3 matches of Eredivisie this season. Could be "a new Tagliafico", great at balls recovered
Maehle (5m, Atalanta) – 0,5m cheaper than Gosens, amazing form at EUROs, great first two fixtures
Savic (4,5m, Atletico) – cheap defender for a team with great defensive capabilities
S. Roberto (5,0m, Barcelona) – 2 goals and 1 assist for Barca this season, however, not a certain starter
Sule (5,0m, Bayern) – Cheap route into Bayern defense
Matip (5,0m, Liverpool) – Cheap route into Liverpool defense
Wan Bissaka (5,0m, Manchester United) – Cheap route into Man United defense
Militao (5,0m, Real Madrid) – Cheap route into Real Madrid defense
Wober (4,0m, Salzburg) – Great at balls recovered, good group, but do not be surprised if benched
D. Carlos (4,5m, Sevilla) – good at balls recovered, good group
Edson Alvarez (Ajax, 4,5m) – perfect 4,5m midfielder, a regular starter for Ajax, occasional goal threat, could recover few balls to score extra fantasy points
De Roon (6,0m, Atalanta) – great at balls recovered
Correa (7,0m, Atletico) – amazing form from LaLiga, 3 goals and 1 assist in first 3 matches
Jorginho (6,0m, Chelsea) – good at balls recovered, but we are not sure he is still on penalties, as Touchel wants his strikers to take penalties
Lang (6,5m, Club Brugge) – solid form from Jupiler League
Ferran Torres (7,5m, Manchester City) – playing up front, solid form, but rotation risk
Casemiro (6,5m, Real Madrid) – amazing at balls recovered
Dusan Tadic (8,5m. Ajax) – amazing form in Eredivisie, a key man for Ajax, could get few MOTM awards
Braithwaite (6,0m, Barcelona) – solid form, 2 goals and 1 assist in first 3 matches of LaLiga
Depay (8,5m, Barcelona) – could be a new talisman of blaugranas, solid form, 2 goals and 1 assist in first three matches
Džeko (7,5m, Inter Milan) – 1 goal and 1 assist in first 2 matches in Serie A
Jota (8,0m, Liverpool) – superb for Liverpool, but rotation risk
B. Yilmaz (8,0m, Lille) – amazing last season for Lille, solid form this season, good group for Lille
Gabriel Jesus (8,5m, Manchester City) – started the season very well for City playing on the rightwing
Greenwood (8,0m, Manchester United) – great form at the start of the season, but rotation risk after Man United signed Ronaldo
Picking the right captain is an important part of fantasy Champions League success. Because we have matchday divided into two days, the best captain strategy is to select two players with the very high expected output, each one playing on a different day.
When your Tuesday captain score, great, you leave the armband on him. If he blanks, you move it to the one who is yet to play on Wednesday.  
We always select a reliable player that has easy fixture as our captain.
Standout captaincy fixtures for Tuesday:
Young Boys vs. Manchester United (Man. United has 65 % chance of winning the match)
Chelsea vs. Zenit (77 % probability of Chelsea winning the match)
Cristiano Ronaldo is our number one captain pick for Tuesday. We will know whether he starts or not before the deadline, because the lineup for this match will be known one hour before the MD1 deadline. If Ronaldo does not start, Lukaku would be our pick.
Standout Captaincy fixtures for Wednesday:
Besiktas vs. Dortmund (60 % probability of Dortmund to win)
Club Brugge vs. PSG (76 % probability of PSG to win)
Erling Haaland is our backup captain for Wednesday if our Tuesday captain blanks. If you do not want to go with the Dortmund striker, look at PSG trio Messi, Neymar, Mbappe, and captain one of them.
4. Best UCL fantasy picks for recovering balls
Awarding a point for every three balls recovered is a new feature that UCL Fantasy added to the game before the start of the 2019/20 season. And it completely changed our view on center-backs and defensive midfielders – players who are recovering balls most often.
There are fiew players in the game, who are constantly recovering more than 6 balls per game. That is extra two points. And these players cost only around 4.5-5.5 million.
Extra two points per game, that is 12 extra points per all six games in the group stage. 12 points are equivalent to a midfielder scoring 2 goals + 2 points. And which midfielder for 4.5 – 5.5 million will score with absolute certainty two goals in the group stage?
That cannot be easily predicted. Maybe none.
Predicting which players will be recovering balls very often is a much easier task when we have two seasons of data available.
You just pick some of these players, play them every week, and do not worry about them. At the end of the matchday, they will likely score 4-5 points (appearance points, potential clean sheet point + balls recovered points) for you without an attacking return.
In the separate article, we calculated which players are recovering balls most often per 90 minutes. These are players that have the highest potential of scoging a 2+ extra points in every match.  
You can find these balls recovering heroes here.
There is a new scoring feature for 2021/22 UCL Fantasy season. Player that gets awarded the MOTM (man of the match) will score 3 fantasy points!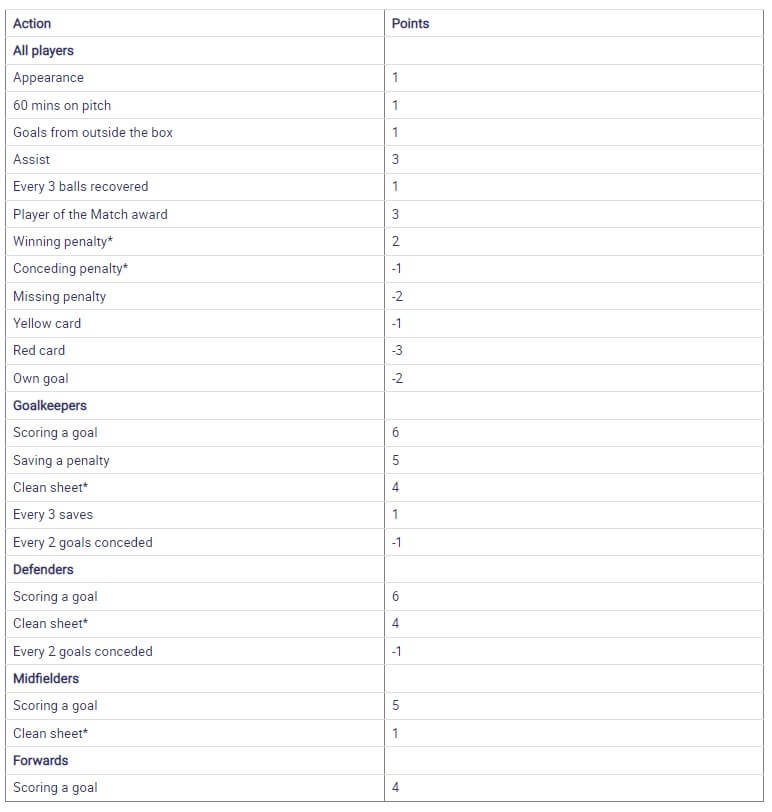 The question is, which players have the highest potential of getting these awards?
We think it will boost the appeal of talismans – the key players of teams, like Kevin De Bruyne or Lewandowski.
We looked at which players got the MOTM award most often last season. You can check it here in a separate article.
7. Scout picks for Matchday 1
Now, it is time to show our scout picks, our squad for matchday 1. Just as we mentioned in captaincy section, we have two armband contenders in our squad, one for Tuesday, the other for Wednesday. 
The same applies for our bench. All bench players play on Wednesday, so we will substitute them in for players who will have blanked on Tuesday.  
We paid special attention for players good at balls recovered, because it increases their expected points potential. We think that including some of players great in recovering balls in your team could play important role in your Fantasy Champions League success.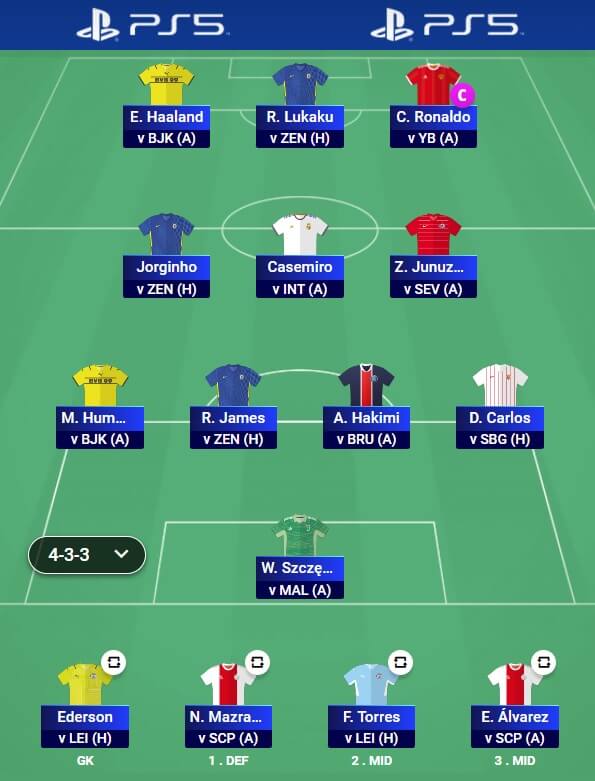 The first Matchday of the new Fantasy Champions League campaign starts in just a few days. Make an informed decision about your UCL Fantasy team and prepare it for success.
Good luck!
Do you like the article? Share it with your friends!