Fantasy Champions League returns for 2022/23 season. We have a lot of talk about regarding the first matchday of UCL Fantasy.
Let's dive into our UCL Fantasy Matchday 1 Tips. 
Also, JOIN our UCL fantasy league by clicking this link or use league code 116XH5NO04, we are looking forward to compete with you!
1. Fantasy Champions League Tips for success
As in previous season, I decided to put together a few tips for UCL Fantasy success, so we will start with them. Tips are basic, but I hope very helpful.
They were a vital part of my strategy that got me 4 excellent finishes in the last four seasons (23rd, 216th and 494th, 86th). They helped me to rank 5th in the UCL Fantasy Hall of Fame of top managers in 2021.


2. Budget picks for UCL Fantasy Matchday 1
All fantasy games are about optimization. And when you are optimizing your ucl fantasy team, you need to include some cheap budget players in your squad. Here are some budget enablers that you could consider bringin in your fantasy team in MD1.  
Guerreiro (4,5m, Dortmund) – 1 goal this season, great MD1 fixture
Otamendi (4,5m, Benfica) – magnet for balls recovered, MOTM awards, potential for goals from corners, amazing MD1 fixture with high clean sheet odds
Reinildo (4,5m, Atletico Madrid) – great at balls recovered. Good fixtures in group. Could be option to hold from MD1 to MD6.
Alex Sandro (4,5m, Juventus) – good fixtures from MD2, but could get rotaded
Nuno Tavares (4,0m, Marseille) – probably the best 4.0m option, 3 goals this season so far
Bassey (4.0m, Ajax) – start last two Ajax Eredivisie matches
Further reading: Best defenders for UCL Fantasy MD1
Florentino (Benfica, 4,5m) – regular starter for Benfica, could recover few balls to score extra fantasy points. One of very few regularly starting 4.5m mids.
Fernardo (5.0m, Sevilla) – balls recovered magnet, if you want a cheap mid, it should be Fernando
David Raum (5,0m, Leipzig) – budget enabler, could get some points from balls recovered
Jorginho (5.5m, Chelsea), great at balls recovered, on penalties, rotation risk but we will know whether he starts in MD1 before deadline
Kvaratskheila (5,5m, Napoli) – amazing form, but tough fixtures
Alex Witsel (5,5m, Atletico Madrid) – great at balls recovered
Fabinho (6,0m, Liverpool) – great at balls recovered, occasional goal threat
Joao Mario (6,0m, Benfica), great form, on penalties, great MD1 fixture
Skov Olsen (6,5m, Brugge) – great form, good fixtures in group
Further reading: Best Midfielders for UCL Fantasy MD1
3. Fixtures to target in MD1
Let's use our Odds to probability calculator to find out which fixtures we should target in MD1 according to bookies odds.
Tuesday fixtures
Leipzig vs. Sachtar Doneck: Leipzig 79 % to win, 52 % to score 2.5+ goals
Benfica vs. Macabi Haifa: Benfica 78 % to win, 48 % to score 2.5+ goals
Dortmund vs Kodaň: Dortmund 73% to win, 49% to score 2.5+ goals
PSG vs. Juventus: PSG 68 % to win, 42 % to score 2.5+ goals
Sevilla vs. Manchester City: City 67 % to win, 34 % to score 2.5+ goals
Zagreb vs. Chelsea: Chelsa 66 % to win, 34 % to score 2.5+ goals
Celtic vs. Real Madrid, Real Madrid 62 % to win, 33 % to score 2.5+ goals
Wednesday fixtures
Barcelona vs. Plzeň: Barcelona 90 % to win, 65 % to score 2.5+ goals
Tottenham vs. Marseille: Tottenham 66 % to win, 34 % to score 2.5+ goals
Ajax vs. Rangers: Ajax 66 % to win, 38 % to score 2.5+ goals
4. UCL Fantasy Matchday 1 captain
Picking the right captain is an important part of fantasy Champions League success. Because we have matchday divided into two days, the best captain strategy is to select two players with the very high expected output, each one playing on a different day.
When your Tuesday captain score, great, you leave the armband on him. If he blanks, you move it to the one who is yet to play on Wednesday.  
We always select a reliable player that has easy fixture as our captain.
Standout captaincy fixtures for Tuesday:
Celtic vs. Real Madrid
Sevilla vs. Manchester City
Karim Benzema is our number one captain pick for Tuesday. He has the form, fixture and potential to get MOTM. Other captaincy options for Tuesday: Haaland, Sterling, Werner.
Standout Captaincy fixtures for Wednesday:
Barcelona vs. Plzeň
Tottenham vs. Marseille
Lewandowski is our backup captain for Wednesday if our Tuesday captain blanks.Other captaincy options for Wednesday: Kane, Son, Bergwijn.
Changing the captain
As you know, in UEFA Fantasy Champions League. we can change our captain to a player who is yet to play. So, if your captain blanks on Tuesday, you can switch the captaincy to a player who is yet to play on Wednesday.
But what is the satisfying amount of points after which you will not change your captain?  
We prepared our system of captaincy thresholds, you can find it here: UCL Fantasy Captaincy Thresholds: When to change captain?
5. Best UCL fantasy picks for recovering balls
Awarding a point for every three balls recovered is a new feature that UCL Fantasy added to the game before the start of the 2019/20 season. And it completely changed our view on center-backs and defensive midfielders – players who are recovering balls most often.
There are fiew players in the game, who are constantly recovering more than 6 balls per game. That is extra two points. And these players cost only around 4.5-5.5 million.
Extra two points per game, that is 12 extra points per all six games in the group stage. 12 points are equivalent to a midfielder scoring 2 goals + 2 points. And which midfielder for 4.5 – 5.5 million will score with absolute certainty two goals in the group stage?
That cannot be easily predicted. Maybe none.
Predicting which players will be recovering balls very often is a much easier task when we have two seasons of data available.
You just pick some of these players, play them every week, and do not worry about them. At the end of the matchday, they will likely score 4-5 points (appearance points, potential clean sheet point + balls recovered points) for you without an attacking return.
In the separate article, we calculated which players are recovering balls most often per 90 minutes. These are players that have the highest potential of scoging a 2+ extra points in every match.  
You can find these balls recovering heroes here.
There were a new scoring feature introduced in last season of Champions League Fantasy. As you know, player that gets awarded the MOTM (man of the match) will score 3 fantasy points.
The question is, which players have the highest potential of getting these awards?
This feature boost points potential of talismans – the key players of teams, like Benzema, Mbappe.
We looked at which players got the MOTM award most often in two last seasons. You can check it here in a separate article.
As usual, we looked at what bookies think about the Matchday 1 of UCL Fantasy.
We checked the clean sheet odds to determine which teams are most likely to keep a clean sheet in the MD1 and goalscoring odds to determine which players are most likely to score a goal in MD1.
Clean sheet odds for MD1
Bookies favor Barcelona, Benfica and Leipzig to do well defensively in MD1. You can find the full Champions League clean sheet odds table here.
Goalscoring odds for MD1
Lewandowski leads the goalscoring odds table for any time goalscorer odds, 2 or more goals odds and hattrick odds as well.
You can check all Champions League Golascoring Odds here.
Wildcard: we think the best time to use wildcard is before MD3. That way you will prepare your squad for mirroring MD3 – MD4 fixtures where many big teams have easy matches
Limitless Wildcard: we aim to use a limitless wildcard in MD2 or in MD5
9. Scout picks for Matchday 1
Now, it is time to show our scout picks, our squad for matchday 1. Just as we mentioned in captaincy section, we have two armband contenders in our squad, one for Tuesday, the other for Wednesday. 
The same applies for our bench. All bench players play on Wednesday, so we will substitute them in for players who will have blanked on Tuesday.  
We paid special attention for players good at balls recovered, because it increases their expected points potential. We think that including some of players great in recovering balls in your team could play important role in your Fantasy Champions League success.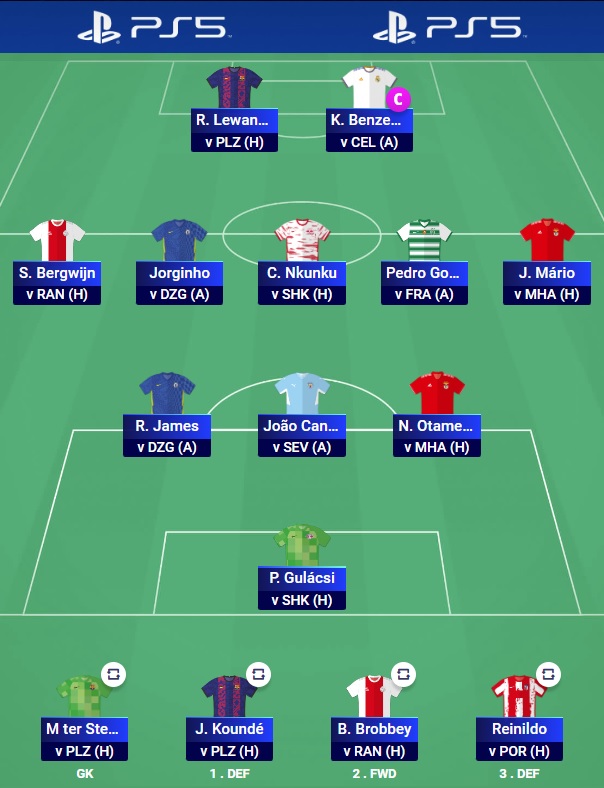 The first Matchday of the new Fantasy Champions League campaign starts in just a few days. Make an informed decision about your UCL Fantasy team and prepare it for success.
Good luck!
Do you like the article? Share it with your friends!