Fantasy Champions League returns for 2020/21 season. We prepared for you tips for Matchday 1 with budget picks, best captain, analysis of balls recovered and our scout squad for the first round of UCL Fantasy. Let's dive in. 
Fantasy Champions League Matchday 1 Tips
1. Budget picks for UCL Fantasy 2020/21 season
All fantasy games are about optimization. And when you are optimizing your ucl fantasy team, you need to include some cheap budget players in your squad. 
Nicolás Tagliafico was superb ucl fantasy pick in previous two seasons and he came only as at 5.0 million to the new season. Last year he scored one goal, registered one assist and collected amazing 14 points for balls reocvered.
Other great 5.0 million pick is Mats Hummels. Borussia Dortmund have favorable group, so they could keep few clean sheets. The biggest strength of Hummels is not in clean sheets, but in recovering balls, he scored 24 pts last season in this statistic. 5.0 million is a very low price for a defender with such a high points ceiling.
Another 5.0 million defender great at recovering balls (20 pts from balls recovered in last campaign) is Chelsea new acquisition Thiago Silva. 23 points from balls recovered and 3 clean sheets, that is the card of Lukas Klostermann, 5.0 million Leipzig centre-back, who have really great fixture in the first matchday against Istanbul Basaksehir.   
If you want 5.0 million route into Bayern Munich backline, make sure you will look at Benjamin Pavard and if you want to cheaply invest in Juventus defense, look at 5.0 million Danilo. Stefan Savic is also very kindly price at 4.5 million and we all know the defensive quality that Atletico Madrid have. 
Sevilla centre-back Jules Koundé looks to be rare 4.0 million regular starter in bigger team in this Champions League season. So, if you want to save some cash definitely look at him. Salzburg's Onguéné could be anothr one.
6.0 - 6.5 million midfielders
Few players caught are eye with their low price tag and solid form in domestic competitions. Let's start with Borussia Dortmund's youngster. Only 6.5 million, that is the price of of 17 years old and very talented Giovanni Reyna. Dortmund's winger has one goal and three assists in first three round of Bundesliga.
Benjamin Bourigeaud (6.5 m) is a standout pick from Rennes midfield. He scored one goal and assisted other two during first six round of Ligue 1.  
Martin De Roon was one of top players for recovering balls last season as he collected 16 pts in this statistic. It increased his price only by 0.5 to 6 million in new season. He has already scored one goal for Atalanta Bergamo in Seria A, but do not expect a lot of attacking returns from him.  
Chelsea's penalty taker Jorginho costs 6.0 million. Chelsea had 3 penalties in first four Premier League games. Jorginho scored two, missed one, and also registered one assist. The Italian is also great at recovering balls, he collected 15 points for that in last season, so there is a lot of options how he could score points for your UCL fantasy team.
Speaking about balls recovered, Casemiro as 6.0 million Real Madrid defensive midfielder collected 16 pts from this statistic last season and added one goal and an assist to his tally.  
Only one assist in Bundesliga so far for 6.0 million Leipzig winger Dani Olmo, who was stand out pick in previous fantasy Champions League campaign. However, fixture against Istanbul Basaksehir in first matchday makes him very appealing pick, if you plan to use your wildcard early. 
4.5 - 5.5 million midfielders
Club Brugge midfield duo Krépin Diatta and Ruud Vormer are in great form. Both cost 5.5 m and both are on fire in Jupiler League. Former has scored four goals in his 7 starts. The latter scored only 2 goals but also assisted other four in eight starts for Belgian champions.  
Lazio's wingbacks Lazzari (5.0m) and Marušić (5.5m) could be great value. They both have been involved in Lazio's goals in first three Seria A rounds. The former scoring one goal and the latter registering two assists.  
Another promising attacking midielder is Erokhin from Zenit. He costs just 5.0 million, but he has already managed to score three goals and two assists in first 10 rounds of Russian Premier League. And his teammates Wílmar Barrios (4.5 m) looks to be the best 4.5 million midfielder in the game. He doesn't have a lot of attacking threat, but he is a regular starter for Zenit and during previous Champions League season collected 14 pts from balls recovered.  
You probably did not plan to get near any Dynamo Kyiv players, but… But Gerson Rodrigues is 4.5 million not just playing but also inform forward. He probably will not be next Erling Haaland. However, in his last 8 matches for Dynamo, he found the back of the net three times and register one assist. Do not expect miracles from him, especially not against Barcelona or Juventus. But in two matches against Ferencváros, he could score some points for you team.   
Rennes forward Sehrou Guirassy is other cheap option available only at 6.5 million. He has scored 3 goals for current leaders of Ligue 1 so far.  The last budget forward that caught our eye is Micheal Krmenčík (5.5 m) from Club Brugge, he has three goals and one assist in Jupiler League. 
Picking right captain is important part of fantasy Champions League success. Because we have matchday divided into two days, the best captain strategy is to select two players with very high expected output, each one playing on different day.
When your Tuesday captain score, great, you leave the armband on him. If he blanks, you move it to the one who is yet to play on Wednesday.  
Tuesday Captain: Lionel Messi (FER (H))
It is no surprise that our number one captain pick for Tuesday is Lionel Messi. According bookies odds, Barcelona vs. Ferencváros could be high scoring match, so perfect fixture for the captaincy.
Even though Messi has scored only one goal in first three rounds of La Liga, his underlying offensive stats are the best from all Barca players. Thanks to Understat data, we know that he has been underperforming. Messi has turned 2.72 expected goals only into goal. He also has failed to register an assist despite having 0.41 expected assists.  
According bookies odds, Ferencvaros are the biggest outsider in this Champions League season, what suggests that Barcelona should win by a margin. If that is the case, Lionel Messi as their best player surely will be involved in Barcelona goals.  
Other armband contenders for Tuesday: Cristiano Ronaldo, Erling Haaland 
Wednesday captain: Kevin De Bruyne/Raheem Sterling (POR (H))
There is no similar fixture like Barcelona vs. Ferencvaros on Wednesday. However, not just we but also bookmakers favor Manchester City to do well against Porto. Kevin De Bruyne has superior underlying stats to his teammates. And as we have already discussed in our tips for FPL GW5, his home form is outstanding.  
It will not be such an easy match for Man City. However, we think that Kevin De Bruyne is the best "back-up" captain pick for Wednesday, if Lionel Messi fail to score points against Ferencváros.  
However, there are slight injury worries about De Bruyne fitness. He left Belgium squad, but Martinez said that it had been more a precaution. We have other captain contender if De Bruyne will not feature and it is his teammate Raheem Sterling who have been involved in 3 Man City goals in the Premier League this season. 
Other armband contenders for Wednesday: Benzema, Lukaku, Daka 
3. Best UCL fantasy picks for recovering balls
Awarding a point for every three balls recovered is a new feature that UCL Fantasy added to the game before the start of last season. And it completely changed our view on centre-backs and defensive midfielders – players who are recovering balls most often.
There are fiew players in the game, who are constantly recovering more than 6 balls per game. That is extra two points. And these players cost only around 4.5-5.5 million.
Extra two points per game, that is 12 extra points per all six games in the group stage. 12 points are equivalent to a midfielder scoring 2 goals + 2 points. And which midfielder for 4.5 – 5.5 million will score with absolute certainty two goals in the group stage?
That cannot be easily predicted. Maybe none.
Predicting which players will be recovering balls very often is much easier task when we have last season data available. You just pick some of these players, play them every week, and do not worry about them. At the end of the matchday, they will likely score 4-5 points for you without an attacking return or a clean sheet.
In the table below, you will find those players.  
| Player | Balls recovered per 90 minutes | Position |
| --- | --- | --- |
| Hummels | 9.88 | D |
| Van Dijk | 9.72 | D |
| Rakitskyy | 9.4 | D |
| Ismaily | 9.33 | D |
| Klosterman | 8.78 | D |
| Tiago Alcantara | 8.52 | M |
| Wober | 8.33 | D |
| Upamecano | 8.31 | D |
| Joe Gomez | 8.28 | D |
| De Vrij | 8.17 | D |
| Barrios | 8 | M |
| Deli | 7.83 | D |
| Junuzovic | 7.83 | M |
| Tagliafico | 7.68 | D |
| Thiago Silva | 7.67 | D |
| Rodri | 7.33 | M |
| Jorginho | 7.21 | M |
| Laimer | 7.03 | D |
| Felipe | 6.94 | D |
| Casemiro | 6.91 | M |
| Langlet | 6.62 | D |
| Gosens | 6.6 | D |
| De Roon | 6.24 | M |
| Robertson | 6.24 | D |
| Saul | 6 | M |
 
Source: UCL Fantasy Official

Virgil van Dijk and Mats Hummels are two players which we like the most from all these balls recovering heroes. They are not just great at balls recovered, but they offer big potential for few clean sheets.  
4. Scout picks for Matchday 1
Now, it is time to show our scout picks, our squad for matchday 1. Just as we mentioned in captaincy section, we have two armband contenders in our squad, one for Tuesday, the other for Wednesday. 
The same applies for our bench. All bench players play on Wednesday, so we will substitute them in for players who will have blanked on Tuesday.  
We paid special attention for players good at balls recovered, because it increases their expected points potential. We think that including some of players great in recovering balls in your team could play important role in your Fantasy Champions League success.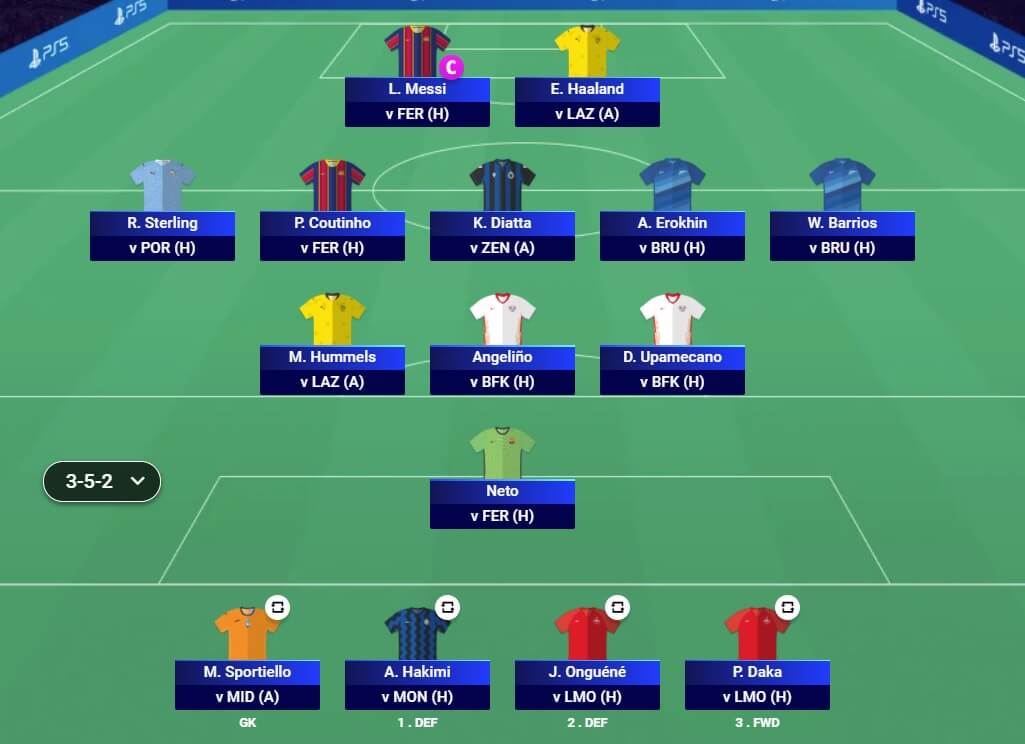 Fantasy Champions League will start on 20th October. Before that happens, we will be back soon with other UCL Fantasy tips: clean sheet odds and goalscoring probabilities for matchday 1. Do not miss the news and follow us on facebook, where we post our articles as soon as they are live, so you will not miss it. 
Do you like the article? Share it with your friends!