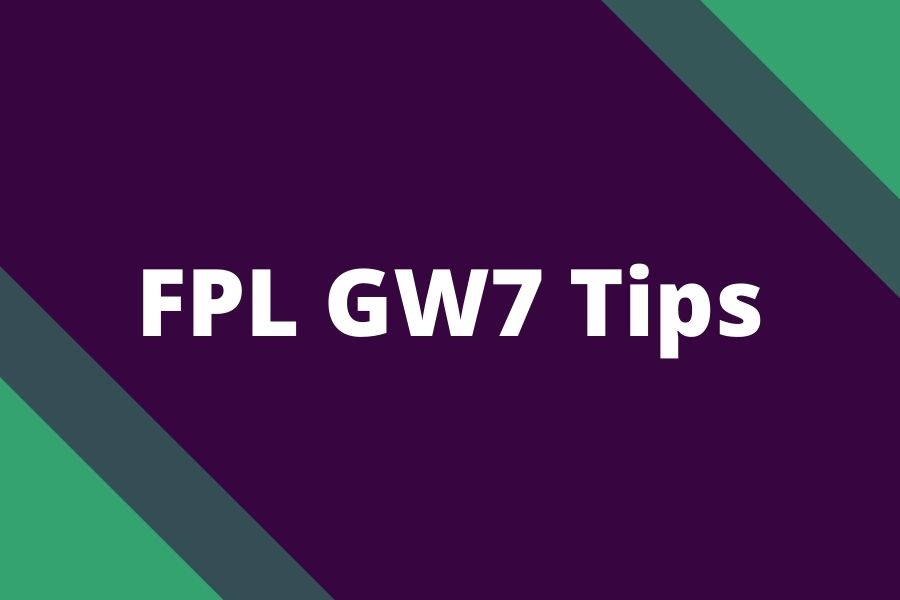 Fantasy Premier League Gameweek 7 is here and we are slowly approaching wildcard territory. It is not the worst gameweek to pull the trigger, however, we still like more GW8 (fixture swing) or GW9 (international break) to wildcard.
Let's look at our FPL GW7 Tips.
Update: All matches from Gameweek 7 were postponed. Just save free transfer to next gameweek. If you have chip active, this is what will happen:
This weekend's #PL match round is postponed as a mark of respect to Her Majesty Queen Elizabeth II

🔘 Gameweek 7 will roll over with no points scored

🔘 Triple Captain, Bench Boost & Free Hit Chips activated for GW7 will be reinstated. Wildcards will roll into the next Gameweek pic.twitter.com/qh3kXLUjIO

— Fantasy Premier League (@OfficialFPL) September 9, 2022
FPL Gameweek 7 Tips, Differentials and Transfer Targets
Manchester United have nice two fixtures ahead. Rashford or Sancho could be great players to own. However, Rashord had muscle issues at the end of the game, wait for press conference before bringing him in
There is going to be a time when Son will be a good FPL asset again. It might not be GW7 but put him on your watchlist. When he starts firing, we will see a couple of hauls in th sepan of a few gameweeks
If you do not have wildcard, prepare a plan how you will get Mitrovič in for GW8
GW8 is going to be blank gameweek for Brighton and Crystal Palace as their fixture has been postponed
Mac Allister might not be a good FPL pick. He has just 0.23 non-penalty xG and Brighton will not get penalty every gameweek
Transfer Targets: Rashford (but wait for press conference), Brighton mid (Gross or Trossard), Trippier
Differential for Gameweek 7: Trossard – still owned by just 4 % of managers and face Bournemouth in GW7
Differential captain: Sterling
Fixtures to target in GW7
Fixtures to target in Gameweek 7 according to bookies odds.
Liverpool vs Wolves: Liverpool 76 % to win, 45 % to score 2.5+ goals
Arsenal vs. Everton: Arsenal 71 % to win, 39 % to score 2.5+ goals
Manchester City vs. Tottenham: City 71 % to win, 43 % to score 2.5+ goal 
Best captain pick in Gameweek 7
We will keep the captaincy section short.
As usual, we narrowed down our list of captaincy picks to three players using our Captaincy Index.
You can read our full here: Best FPL Captain Picks.
According to the Captaincy Index, Salah is the best captain in Gameweek 7.
Haaland is the number 2 captaincy pick and Sterling number 3 captaincy pick. 
What bookies odds say about Gameweek 7
We converted bookies odds into probabilities using our Odds to probability calculator, to assess the potential of gameweek 7.
Clean sheet odds for GW7
Bookies favor Liverpool (52 %), Arsenal (46 %) and Brighton (41 %) to most likely keep a clean sheet in GW7.
Bookies expect 5.24 clean sheets in gameweek 7. In last season, we were used to a rate of 5.58 per clean sheets gameweek. This season we have seen clean sheets at the rate of 5 clean sheets per gameweek. We can say we are seeing less clean sheets than usual. 
Bookies' odds agree. According to our expected clean sheets table, we should have seen 32.23 clean sheets, however we saw just 30 clean sheets. We are still in the phase of defensive underperformance. The number of clean sheets per gameweek should return to the mean over the season. 
Newcastle and Wolves are due to the correction in their clean sheet count, we expect both teams to concede goals in the upcoming gameweeks.
Due to correction in the number of clean sheets: Newcastle, Wolves
Newcastle overperformed their defensive expectations the most of all teams. They should have kept 1.29 clean sheets instead of 3 according to our expected clean sheets table.
Due to an improvement in the number of clean sheets: Aston Villa, Leicetser
Aston Villa underperformed their defensive expectations the most from all teams. They should have kept 1.67 clean sheets instead of 0 according to our expected clean sheets table.
You can see the expected clean sheets table and clean sheet odds for all Premier League teams here.
Goalscoring odds for GW7
Another gameweek, another time when Haaalnd leads the anytime goalscorer odds in Premier League. The probability of him scoring is 52 %. He is followed by Salah with 43 %.
We have not seen much of Harry Kane this season so far, but he is the third most likely scorer this week with a 46 % probability. 
You can look at all most likely GW7 goalscorers here.
FPL GW7 Team - scout selection
Now let's look at our FPL team for Gameweek 7. Salah is our GW7 captain.
Neco Williams
4.1 m | LEE (A)
Martinelli
6.5 m | EVE (H)
We hope our FPL GW7 tips helped you to gather some useful information before the Gameweek 7 deadline.
Join our Fantasy Football Reports League if you haven't already with a league code of zte1cv. Or click the auto-join here.
Good luck in FPL GW7!
Good luck in FPL GW7!
Further reading: FPL Tips for success