One last gameweek of Fantasy Premier League before the international break is almost here. We will have unusually early Friday deadline, so do not miss it. We discuss usual business in this article with FPL tips for GW8, like best captain pick – especially Son vs. Kane captaincy dilemma – differentials and scout selection.
Let's dive right in.
Captaincy contenders for GW8
With Man City playing against Liverpool, there is a narrower pool of adepts for the captaincy in GW8. West Brom vs. Spurs is definitely the standout fixture, and two of our captain picks are from this game.
But first, let's start with a captain contender who does not play against West Brom but still has a favorable fixture in gameweek 8.
3. Pierre-Eemerick Aubameyang (AVL (H))
Only two goals and one assist for Pierre-Emerick Aubameyang in first seven gameweek of new season resulted only in 28 FPL points in total (4 points per match). Arsenal winger has lost almost two thirds of his owners in FPL and registered three price drops – big discount for a player of his quality.
But do we really expect that his performance will be on this unexpected low level for the whole season? We do not. His underlying statistics are similarly poor as his form.
However, stats only measure the past and their best use is for ex-post analysis (analysis of the past) and not really for the predicting – ex ante analysis.
Before the start of the season, we had expected that Aubameyang was going to score around 230 points (6.05 points per match) in 2020/21 season. He has scored only 28 points, so IF the prediction of him scoring 230 points in this season is correct, there is almost 202 points left in him for next 31 gameweeks. That would be 6.52 points per match.
Aubameyang is undervalued in terms of points he has scored so far. Can he find his best again? Home game against Aston Villa could be the first game of Aubameyang rediscovering his form.
This FPL captain tip is mainly for brave managers who want to approach GW8 with high risk and who do not want to captain Spurs player against WBA.
Aubameyang could be also a part of your long-term plan. Because players like Son and Kane could be at the top of their form and they really are overperforming the expectations we had about them in probably unsustainable way. On the other hand, Aubameyang is at the bottom of his form and we will likely only going to see the best he prepared for this season.  
Now, let's move to hot suspects, with superb form and probably the easiest fixture in GW8.
Kane and Son are going to be most popular captain picks in GW8. Not captaining one of them in gameweek 8 would be risky (in both ways, potential upside risk but also potential downside risk).
So, do not expect big rank boost when you captain one of them, because almost everyone will put the armband on someone from this duo.
However, do not get blinded by what other FPL managers do. You should always captain the best possible captain pick from your team in certain gameweek regardless whether the player is going to be captained by 7 million FPL players or just single one of them. That is the only way how you maximize the possible points output of your team.
Now, who is the better captain pick for GW8?
Son or Kane?
Well, it probably does not matter. They both could provide you with similar points output in GW8. In our thinking, they both lie almost on the same indifference curve of the imaginary captaincy chart. Almost.
The invisible indifference curve (in our thinking) that has Son as a captain lies little bit higher in this imaginary chart than the one with Kane as a captin.
1.Son Heung Min (WBA (A))
The fact, that we slightly favor Son Heung Min over Harry Kane for the captainy in gameweek 8 has nothing to do with underlying stats or form or something like that. No. It is very simple.
Son is classified as a midfielder, so his points ceiling is higher. For us, it is simple as that. Harry Kane has been involved in 14 goals this season so far, while Son only in 10 goals. Yet, they are both on 71 FPL points so far.
For those, who want to dig deeper into Son vs. Kane dilemma, here, in the cahrt bellow, are stats of those two from Understat. B
ut be careful. As we said in the section about Aubameyang, stats only measure past performance. They are great for ex-post analysis, but their use for predicting can be really tricky.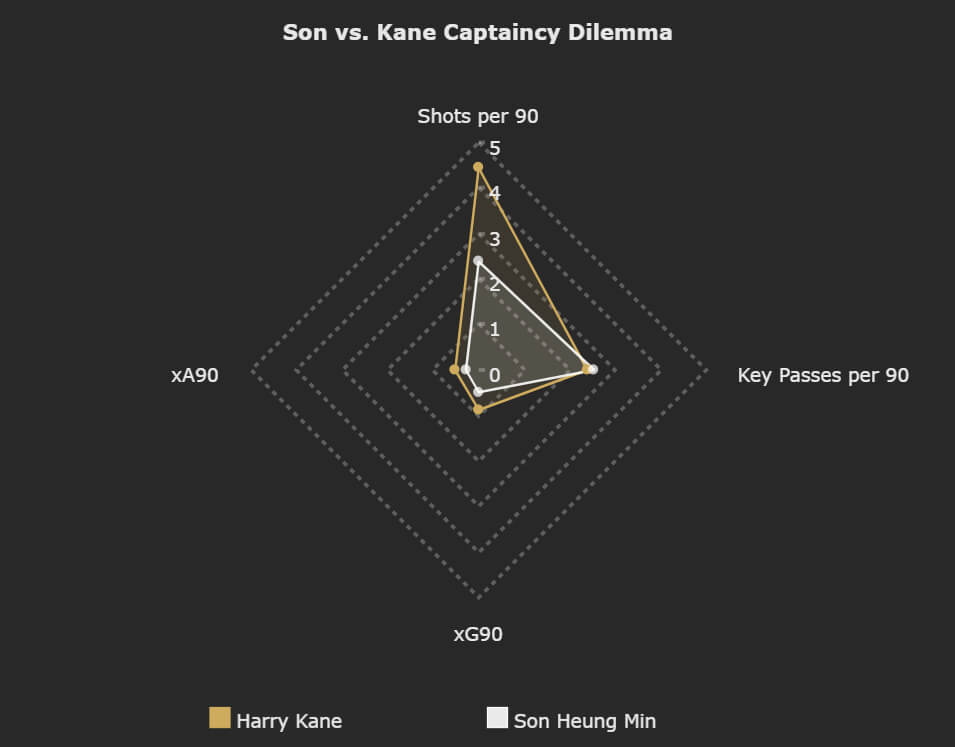 West Ham have looked strong this season so far. And with good fixtures on the short-term horizon, some of their players are worth a look.
Aaron Cresswell is currently 8th most scoring defender but he is still owned only by 6.6% of all FPL managers. Cresswell is proven FPL asset and he has been showing his attacking potential (especially assists potential) season after the season in last couple of years.
With fixtures against Fulham, Sheffield and Aston Villa in next three gameweeks, it looks like a perfect time to bring him in. Cresswell could also be your Saiss replacemant, if you are one of 22% of FPL managers who own Maroccan. 
Another West Ham player had caught are eye back then in the preseason and since then he had been continuing his form.
Three goals in 7 gameweeks are very solid statistic for only 6.3 million midfielder. Yes, we talk about Jarrod Bowen who scored 33 FPL points (4.71 points per match) in first six gameweeks.
With this kind of cheap players, you cannot have unrealistic expectations. For example, 4.25 points per match and 2 returns in 6 games is a realistic (and still very optimistic) expectation for sub 6.5 million midfielder. And Jarrod Bowen's returns are in line with these realistic expectations.
Bowen is definitely worth your look before the start of GW8.
Let's finish tips for GW8 with our scout picks.
Aubameyang
11.7 m | AVL (H)
We have been looking on Pope for a while now. Even with his price rise from last season, he could be good goalkeeper going forward. He still has great bonus points potential, Burnley have double gameweek on a horizon (double gameweek have not been arranged so far) and based on Expected Goals against, the Burnley defense is not as bad as it has looked so far. Goalkeeper transfers are bit boring, but Pope still could be great long term investment for your FPL squad. That is too much talk about one goalkeeper, but the main point of it is that he is the goalkeeper of our scout selection for GW8.
We picked 4 at the back as usual because despite "an offensive overperformance" and a lot of goals we have seen so far, we still think that this is the formation for maximizing value. We picked Reguilon, Chilwell, Bellerin and Cresswell mainly due to their fixtures that are really favorable. They all offer attacking threat, too, so you are not limited by only a clean sheet potential with these players.
Son Heung Min is the best captain pick for GW8 in our opinion, just as we discussed in captaincy section. We are gambling a bit with Aubameyang when we count on him rediscovering his lost form. He has been really undervalued in terms of points he scored so far this season, as we have already mentioned. It is a calculated gamble that carries pretty high risk in both directions. Wilfried Zaha and Jarod Bowen are two more midfielders in our scout selection. We do not have unrealistic expectations from them – so, one attacking return between them would be enough for GW8.
Harry Kane is in our squad mainly to cover the captaincy points that all other managers who will captain him will get. The last man in our scout picks is Jimenez, who we like because of the stability of returns he offer. With Jimenez, the fixture does not really matter, as we can see in our Flat Track Bully Index. He is good pick in almost every gameweek, not just GW8.
One more FPL tip for GW8 is yet to come
We will be back soon with one last FPL tip for gameweek 8. We will bring you clean sheet odds for GW8 very soon. Meanwhile, enjoy the decision making process about your FPL team. Then enjoy the last gameweek before the international break and two weak rest from Fantasy Premier League.