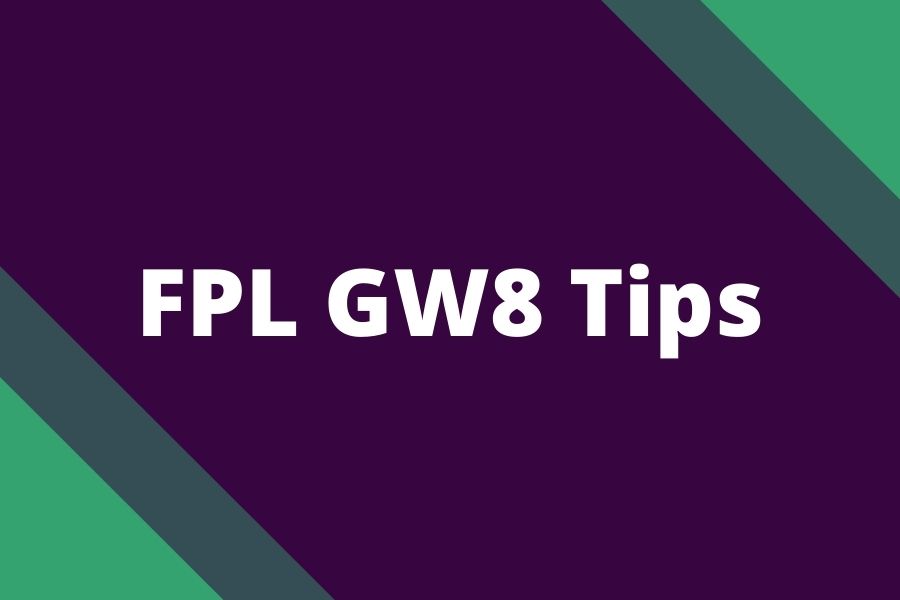 After a very volatile double gameweek, Fantasy Premier League is returning to normal with Gameweek 8.
So, let's move to our FPL GW8 Tips with the best picks, fixtures, transfer targets, odds, captain picks, and team selection.
1. 

Fantasy Premier League Gameweek 8 Tips
Teams to focus on Wildcard: Newcastle (their defense looks solid), Spurs (Son + Maddison double up for next 3 fixtures could be a way to go), Liverpool (Salah, Alisson), Aston Villa (Cash, Diaby, Watkins), West Ham (Bowen, JWP, Areola)
Areola + Turner could be great goalkeeping combo for those on Wildcard
Do not forget there are Champions League games in midweek, so save your transfer once European games are finished
Similarly, do not forget to set up your UCL Fantasy fantasy team for Fantasy Champions League
What to do with Chelsea players: If you own non-injured Chelsea assets, give them one last gameweek against Burnley
Be careful when selling Manchester United midfielders. If you have both, Rashford and Fernandes, you could sell one of them (our pick would be Rashford) for a Spurs midfielder. We would keep Fernandes as his underlying stats are still good (4th highest xGI among midfielders)
Give Wissa and Mbeumo two more gameweeks to deliver, unless you are on Wildcard
Best Estupinan replacements: Pedro Porro, Cash
2. Key players to own and transfer targets for FPL GW8
Key players
Haaland – captain option in almost any gameweek
Son – potential captain for Gameweek 8 if you do not want to captain Haaland
Maddison – key man for Spurs
Newcastle defender – Schar/Trippier/Botman/Pope
Alvarez – blanked only twice this season, he looks to be second best Manchester City player to own this season
Transfer targets
Salah – Liverpool assets are overlooked, but no team has a better fixture run up to GW12 than them. There could be plenty of goals for the Reds in that period and perhaps even a few clean sheets.
West Ham assets – Bowen, JWP, Areola
Cash/Watkins
Pedro Porro/Udogie – Tottenham defensive coverage for the next 3
3. Fixtures to target in Gameweek 8
In which fixtures we could expect a lot of fantasy points? These are the fixtures to target in Gameweek 8 according to bookies odds.
Luton vs. Tottenham: Spurs 65 % to win, 37 % to score 2.5+ goals
Manchester United vs. Brentford: The Red Devils 59 % to win, 32 % to score 2.5+ goals
Fulham vs. Sheffield: Fulham 59 % to win, 26 % to score 2.5+ goal
Burnley vs. Chelsea: The Blues 52 % to win, 24 % to score 2.5+ goal
4. Watchlists: Best players to pick in Gameweek 8 and beyond
We also looked at players from each position: goalkeepers, defenders, midfielders, and forwards.
We examine which players are best picks in each price bracket: budget enablers, midpriced picks, and premium options. Check our watchlists here:
5. Best captain pick in FPL GW8
Who is the best captain in Fantasy Premier League Gameweek 8?
Given the fixture Manchester City have, we think GW8 is a great gameweek to try to captain someone else than Haaland. Luton vs. Tottenham match picks itself as the best captaincy fixture in this round. So we think, Son is the best captain in Gameweek 8. Our captaincy index agrees. Watkins is the number 2 captaincy pick and Salah is number 3.
But you cannot go wrong with Haaland captain either. He will be heavily captained either way in GW8, with likely 150%+ effective ownership. So if he delivers, the red arrow could be huge. So, just as in the GW7, it depends on your risk tolerance. If you do not mind to take the risk against Haaland, go captain Spurs players. But if you are very risk-averse and rather play it safe, captain Haaland.
If you are looking for a differential captain, consider Salah against leaky Brighton defense is the one to pick.
6. What bookies odds say about Gameweek 8
As usual, we converted bookies odds into probabilities using our Odds to probability calculator, to assess the potential of FPL gameweek 8.
Clean sheet odds for GW8
Bookies favor Fulham (44 %) and Tottenham (38 %) to most likely keep a clean sheet in GW8.
Bookies expect 4.66 clean sheets in gameweek 8. In the last season, we were used to a rate of 5.45 clean sheets per gameweek. 
So far this season we have seen 4.29 clean sheets per gameweek. So clean sheets are definitely on the decline this season, likely mainly due to more added time.
Expected clean sheets
Due to correction in the number of clean sheets: Fulham, Crystal Palace
Fulham overperformed their defensive expectations the most of all teams. They should have kept 1.31 clean sheets instead of 3 according to our expected clean sheets table.
Due to an improvement in the number of clean sheets: Brighton, Everton
Brighton underperformed their defensive expectations the most from all teams. They should have kept 2.09 clean sheets instead of 0 according to our expected clean sheets table.
You can see the expected clean sheets table and clean sheet odds for all Premier League teams here.
Goalscoring odds for GW8
It is the first gameweek of the season when Haaland does not lead the table for anytime goalscorer odds. According to bookies odds, Son is the most likely to score a goal in gameweek 8. He is followed by Haaland and Rashford. Check all odds here: Premier League Goalsocring Odds.
7. Using Chips in Gameweek 8
Fixture swing
There is a notable fixture swing in GW8, which really favor the use of wildcard in this round. If your team is full of flagged players and players whose fixtures just turn red, consider deploying this powerful chip. If that is your case, focus on Spurs, West Ham, Liverpool, Aston Villa and Newcastle FPL assets.
Read more: FPL Wildcard Team for Gameweek 8
Haaland or not Haaland in Gameweek 8 Wildcard? Keep or sell Haaland?
A big dilemma for Gameweek 8 wildcard is whether or not to include Haaland in your GW8 Wildcard team. If you want to go without Haaland any time during the season, this is likely the best time to do it, given Manchester City fixtures between GW8 – GW14.
Read more: FPL Wildcard Team Without Haaland
If you want to go without Haaland in GW8, you must realize, that you are going against a 90%+ owned player (with 150%+ effective ownership in almost every gameweek) and a top scorer of the previous season. 
So the risk is very very high.
Also, fixtures are tough only on paper, but when you look closely at the next four (ARS, BHA, MUN, BOU), only Arsenal is really a tough fixture for City and Haaland could really feast in the other three given bad defensive form of all three teams.
So if you want to go without Haaland:
Haaland's every goal will hurt your rank tremendously.
That's why you have to be sure, that the balance you will find in your team without Haaland is worth the risk.
You must be sure you have another premium assets (Son, Salah) to be your captaincy options and that could match Haaland's points (or lag with 5-10 points) over the next 7 gameweeks
Include Alvarez in your team to still have the exposure to Manchester City's attacking power
Also, you must be prepared for the worst, like Haaland double-digit haul in almost every week (and he will be heavily captained, so it will hurt twice as much)
So, the potential reward of a Haaland-less team must outweigh all of these risks.
To sum things up:
If your risk tolerance is medium-high, medium, or low and you rather play it safe, definitely keep Haaland
If your risk tolerance is very high and you understand how bad this decision could go (but also it could be very rewarding if Haaland fails to perform very well), that the impact of this decision could shoot your overall rank tremendously in both directions, sell Haaland
Read more: Variance and its role in FPL
8. FPL Gameweek 8 Team selection
Now let's look at our FPL team for GW8. Son is our captain.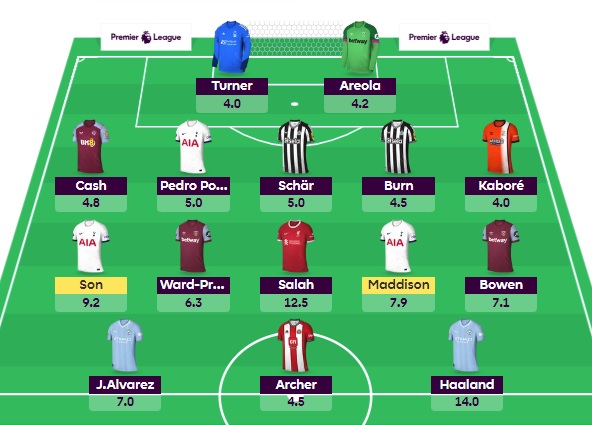 9. Fantasy Premier League Tips
Find more tips, strategies and picks for Fantasy Premier League in these articles:
We hope our FPL GW8 tips helped you to gather some useful information before the Gameweek 8 deadline.
Feel free to JOIN our Fantasy Football Reports mini-league by clicking this link or using our league code ti56kl.
Good luck in FPL GW8!