Two tough rounds are now behind us. And again, we have just a few days to prepare for another matchday – matchday 3 of UEFA Champions League Fantasy.
We prepared UCL Fantasy tips that focus on best captain, cheap picks with good fixtures, balls recovered and at the end on our scout selection. 
Hopefully, our tips will help you to make a good decision about your squad before the first kick-off of the third round of Champions League.
Let's dive in.
Tips for Matchday 3 of UCL Fantasy
Best captain for Matchday 3
Tuesday captain pick: Lewandowski (SBG (A))
For Tuesday, the most appealing fixtures for captaincy are Man City vs. Olympiacos and Salzburg Bayern. Picking a captain from Man City game could be very rewarding. However, with such a tight schedule, will KdB or Sterling start the match from the beginning? Hard to say.
At the end, we picked Robert Lewandowski as our captain for Tuesday.
Yes, he has two blanks in a row in Champions League, what is extremely frustrating for 50 % of UCL fantasy managers who own him. But what are the chances that a player of his quality will keep blanking?
If you think that he will continue in this unexpected trend, then, sure, do not captain him. However, we stand on the other side and we think that he will reward the trust of managers who put the armband on him.
Other captain picks for Tuesday: De Bruyne, Sterling, Salah, Tadič
Wednesday captain pick: Lionel Messi (DK (H))
The standout fixtures for the captaincy on Wednesday are Barcelona vs. Kyjev, Ferencváros vs. Juventus, Basaksehir vs. Manchester United and Brugge vs. Dortmund.
Lot of players from those games could do very well.
We picked Lionel Messi from them as our captain for Wednesday. He is proven UCL fantasy asset, talisman for Barcelona and he has already managed to score 17 points in first two rounds.
We do not try to shoot for the moon with our captaincy picks – that strategy does not work. We like the stability Messi offers as our back-up captain if Lewandowski fails to deliver.
Other captain picks for Wednesday: Haaland, Morata, Fernandes
In the Matchday 4 of UCL Fantasy we are going to see the same fixtures as in Matchday 3 (but reverse).
So, what is the best strategy for next two gameweeks? How can we exploit these reverse fixtures? 
Well, basically, it is all about easy fixtures and balls recovered. 
Let's take a closer look. 
1. At first, focus on premium players that are likely to haul and who play against very easy oppositions in MD3 and MD4 (like Messi against Dynamo Kyjev). 
2. Alongside these few heavy hitters focus on cheap players who have stable output in balls recovered. They will score extra 2-3 points for you every weak (like Barrios or Casemiro)
3. At the end, pick to your squad players from weaker teams that have now two good fixtures in a row. For example, players from Sachtar Doneck, Monchengladbach, Ajax, Porto, Marseille, Zenit, Lazio and Sevilla. Now, the important question. Which players from those teams are worth a look?
Budget picks for MD3 & MD4
Let's talk a bit about some cheap players (under 7 million) we prefer from teams we mentioned above.
5.5 million midfielder Solomon has 3 goals in his last four games for Sachtar Doneck. We favor him over more popular Sachtar pick – Tete.
Hoffman (7 million) is the most productive player from Monchengladbach in Bundesliga. He has 2 goals and 4 assists. He is currently owned by 0% of UCL Fantasy managers and he could be solid differential pick for upcoming two rounds.
We definitely favor Tagliafico as a 5.0 million defender to do well in two games against Midtjylland. His teammate Lassina Traoré (5.0 million forward) scored last week against Atalanta. He is a rotation risk player, but after his 5 goals and 3 assists in Ajax's demolition of Venlo (0-13) in Eredivisie it will be very difficult for Erik Ten Hag to leave him out of Ajax's starting 11.
Segio Oliveira (6.5 million) is a standout pick from Porto with 2 goals and 1 assists in Primeira Liga and another 1 goal from Champions League game against Olympiacos.
From Zenit, we still favor Erokhin (5.0 million) who has 5 goals and 2 assists in Russian Premier League. Also, we favor his teammate Barrios (4.5 million) who showed amazing consistency in recovering balls.
And from Sevilla, we like Jules Koundé – 4.0 million defender who cemented his role as a regular starter in Sevilla defense.
The absence of Onana opens door for 4.0 million Ajax goalkeeper Kjell Scherpen but probably for only one matchday. 
Our tip is – pick 1 or 2 of these players to your team for MD3 and MD4.
They have two nice fixtures in a row. And after MD4 you can easily swap them for another cheap player from other team that will have good fixtures in MD5 and MD6.
Players great at recovering balls
After two matchdays we have a better picture about players that are good at balls recovered. Players who can consistently do the job and score extra 2-3 points for you matchday after matchday.
The absolute leader in statistics of balls recovered is Atalanta's centre back Cristian Romero who recovered 33 balls in just two games. That meant extra 10 points for his owners in UCL Fantasy. Atalanta face Liverpool in MD3 and MD4, so the points for recovering balls will be highly likely his only source of points in next two games. However, IF he maintains this trend, you are looking at 6-7 points return against Liverpool (without a clean sheet).
Matts Hummels confirmed again that he is great at recovering balls. He recovered 26 balls in first two games and he is second in this statistic after Romero. If he was not a doubt for MD3, he would be very close to a must have for upcoming set of fixtures.
Casemiro and Fred share the third place with 24 recovered balls each and they could provide vital value for your midfield for a very low price.
Scout picks for UCL Fantasy Matchday 3
Let's finish our preview for the Matchday 3 of UCL Fantasy with our scout picks.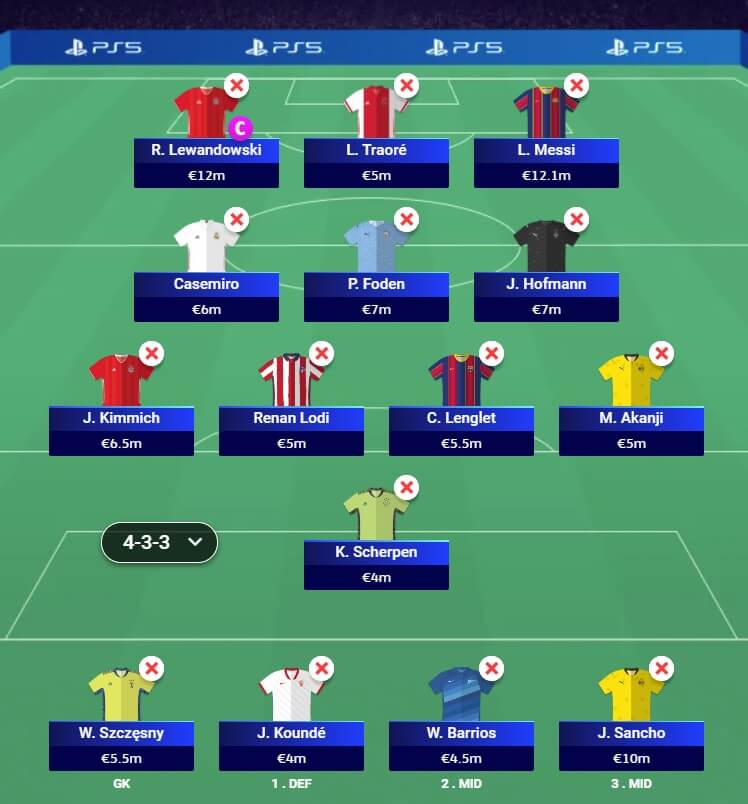 Few more tips for Matchday 3 are yet to come