Two tough rounds are now behind us. And now we have time to prepare for matchday 3 of UEFA Champions League Fantasy.
Here are our UCL Fantasy tips regarding the best captain, cheap picks with good fixtures, balls recovered, and our own scout team selection. 
Hopefully, our tips will help you to make a good decision about your fantasy squad before the first kick-off of the MD3 of Champions League.
Let's dive in.
1. Best captain for Fantasy Champions League Matchday 3
Let's look at who do we consider to be the best captain for UCL Fantasy Matchday 3.
Tuesday captain pick: Sané (PLZ (H))
For Tuesday, the most appealing fixtures for captaincy are Bayern vs Plzeň and Liverpool vs Rangers. Picking a captain from Bayern game could be very rewarding. 
We will know the Bayern lineup before the deadline of MD3! That is going to be great advantage for UCL Fantasy mangers on wildcard or on limitless wildcard. They can bring in Byern player they want just before the deadline after they know whether he starts. Sané is our pick. 
Other captain picks for Tuesday: Mané, Salah, Kane
Wednesday captain pick: Haaland (CPH (H))
The standout fixtures for the captaincy on Wednesday are Manchester City vs Kodaň, Real Madrid vs Šachtar Doneck and Benfica vs. PSG.
A lot of players from those games could do very well.
We picked Haaland from them as our captain for Wednesday. He is proven UCL fantasy asset, a talisman for Manchester City this season, and he has already managed to score in the first two rounds.
It is a boring captain pick, but we do not try to shoot for the moon with our captaincy picks – that strategy does not work. We like the stability Haaland offers as our backup captain if Sané fails to deliver.
Other captain picks for Wednesday: De Bruyne, Vinicius, Mbappé
2. Strategy and tips for MD3 & MD4
In Matchday 4 of UCL Fantasy, we are going to see the same fixtures as in Matchday 3 (but reverse).
So, what is the best strategy for the next two gameweeks? How can we exploit these reverse fixtures? 
Well, basically, it is all about easy fixtures and balls recovered. 
Let's take a closer look. 
1. At first, target easy fixtures. Focus on premium players that are likely to haul and who play against very easy oppositions in MD3 and MD4 (Sané, Salah, Haaland…)
2. Alongside these few heavy hitters focus on cheap players who have stable output in balls recovered. They will score extra 2-3 points for you every weak (like Florentino)
3. Pick defenders that have a high chance of a clean sheet in MD3 & MD4 (Beyern, City, Liverpool, Real Madrid…)
4. At the end, pick your squad players from weaker teams that have now two good fixtures in a row. For example, players from Sporting, Salzburg, Dinamo Zagreb, Ajax. Now, the important question. Which players from those teams are worth a look?
Which fixtures you should target? We always use bookies odds to help us determine that. Let's look at which teams have the highest chance of winning their match in Matchday 3 and to score a lot of goals in that game:
Bayern – 94 % to win, 76 % to score more than 2.5 goals in MD3
Manchester City – 90 % to win, 67 % to score more than 2.5 goals
Liverpool – 82 % to win, 57 % to score more than 2.5 goals
Real Madrid – 82 % to win, 55 % to score more than 2.5 goals
Juventus – 75 % to win, 45 % to score more than 2.5 goals
Budget picks for MD3 & MD4
Let's show some cheap players (under 7.6 million) we prefer from the "weaker" teams for Matchday 3 & 4:
Kudus (5.2m, Mid, Ajax) – attacking threat, good form, underpriced, classified as midfielder, playing as a forward
Okafor (7.6m, Mid, Salzburg) – attacking threat, good form and fixtures
Oršič (7.5m, Fwd, Zagreb) – in form, good fixtures, talisman
Tavares (4.0, Def, Marseille) – very cheap, clean sheet potential, attacking threat
To find more fantasy picks for matchday 3, check our articles for each position:
3. Players great at recovering balls
After two matchdays we have a better picture about players that are good at balls recovered. Players who can consistently do the job and score extra 2-3 points for you matchday after matchday.
If you are interested to know, which players did well in balls recovered during the last two seasons, check our article about Balls Recovering Heroes.
These players have the most balls recovered this season after two matchdays: 
20 – Di Lorenzo, Otamendi
19 –  Tomori, Tuta
18 – A. Silva
17 – Brozovič, Rrahmani, Pepe
15 – Bellingham, Veratti, Danil, Kalulu, Sundgren
Most MOTM before Matchday 3
There are just two players that got MOTM award (and extra 3 fantasy points) in each of first two matchdays and that are: Kevin De Bruyne and Mbappe.
As usual, we looked at what bookies think about the Matchday 3 of UCL Fantasy. We checked the 
clean sheet odds
to determine which teams are most likely to keep a clean sheet in the MD3 and
goalscoring odds
to determine which players are most likely to score a goal in MD3. It can be very helpful when selecting the defense of your UCL Fantasy team or choosing your captain. We used our
Odds to probability calculator
for converting bookies' odds into probabilities.
Clean sheet odds for MD3
Bookies favor Bayern and Manchester City to keep a clean sheet with 63 % probability. Basically, you need at least one defender from each of these two teams for MD3 and MD4. Real Madrid (50 %) and Liverpool (49 %) follow. Bookies expect 8.45 clean sheets in Matchday 3. You can find the full
Champions League clean sheet odds table here
.
Champions League Clean Sheet Odds #UCLFantasy #MD3

Odds for all teams here:https://t.co/KuT3sdmxks pic.twitter.com/J1nxqhfGTd

— FPL Reports (@FplReports) October 3, 2022
Goalscoring odds for MD3
Goalscoring odds for MD3 are coming soon… Check Any Time Goalscorer, 2 + goals, and hattrick odds in our article
Champions League Goalscoring Odds
.
Fantasy Champions League Goalscoring Odds #UCLFantasy #MD3

Odds for all players here:https://t.co/pZAJR7dDm7 pic.twitter.com/uvyPgmVmaa

— FPL Reports (@FplReports) October 3, 2022
5. UCL Fantasy Team Selection Matchday 3
Let's finish our preview for the Matchday 3 of UCL Fantasy with our scout picks. This is a good inspiration for managers on their wildcard (regular one). If you plan to use your limitless wildcard in MD3, check our limitless squad here.
We will likely make 2 or 3 changes to our team before the deadline. We will post our final team selection on our Twitter @FplReports one hour before the first kickoff.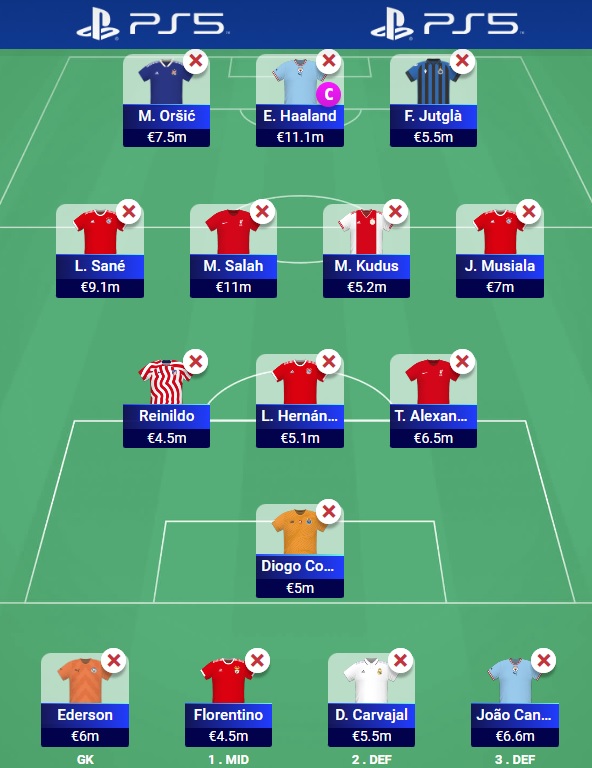 The third Matchday of the Fantasy Champions League campaign starts in just a few days. Make an informed decision about your UCL Fantasy team and prepare it for success.
Good luck!
Also, JOIN our UCL fantasy league by clicking this link or use league code 116XH5NO04, we are looking forward to compete with you!