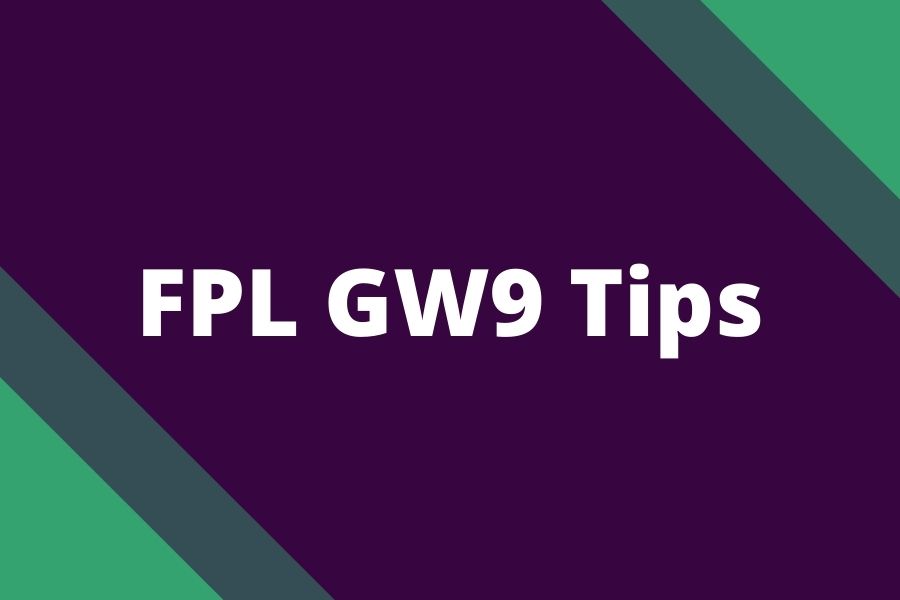 The gameweek 9 is here while the previous round of Fantasy Premier League brought mixed emotions for many fantasy managers. Some of them used their wildcard, but they did not get really spectacular results. Other aim to use their wildcard now in GW9 or GW10.
There is a lot to think about during the 2 weeks long international break.
So, let's jump to our FPL GW9 Tips with the best picks, fixtures, transfer targets, odds, captain picks, and team selection.
1. Making the most of the international break in FPL Gameweek 9:
Relax and Recharge (if you want): Take a breather from FPL and clear your mind. If FPL has been an emotional rollercoaster for you, a short break can help you refocus. Read more: Essential tips for enjoyable FPL seasons without sacrificing your mental health
Stay engaged (If you choose): Dive into stats and catch up on game highlights you missed.
If your team is struggling, consider using your wildcard. Activate it early to benefit from price rises. Read more: Tips for efficient use of wildcard in FPL.
Expand your knowledge: Delve into a book about FPL. Read more: 4 Books that will help you improve your FPL skills
Remember, the international break is a chance to come back stronger, whether you choose to disconnect or strategize further.
Reading for an international break
We prepared for you a list of a few articles and FPL Strategies to read during the international break:
2. Fantasy Premier League Gameweek 9 Tips
Having two free transfers is always handy during international breaks. If you saved on a transfer in the previous gameweek, you can use 1 free transfer early in the international break and save the other one for Saturday in case there are some injuries on international duty. If your team needs more rebalancing, you could do a "mini wildcard" with 3 transfers (2 free + one -4 points hit).
If you have just one free transfer, save it for the end of international break. You never know what will happen on international duty as some players might get injured.
Exploit fixtures swings with your transfers (or wildcard)
Sell Chelsea players (Sterling, Jackson) now when they finally delivered
Give Wissa and Mbeumo one more gameweeks to deliver, unless you are on Wildcard
Keep Bruno Fernandes for the fixture against Sheffield
Focus on Liverpool, Spurs, Aston Villa and West Ham players
With Robertson injured, Tsimikas is a differential worth considering
There is a fixture swing after GW10: Prepare that you will want Brighton and Arsenal players in GW10
Plan how you get Crystal Palace players in for their fixture run after GW11
IF you are deciding whether to use your wildcard in GW9 or GW10, it really depends on: how many Chelsea players you have (you should sell them now in GW9), whether you want to give Brentford and Manchester United players one more gameweek (we think you should) and whether you already have at least few key players from Spurs, Liverpool, Aston Villa and West Ham in your team.
3. Key players to own and transfer targets for FPL GW9
Key players
Haaland – captain option in almost any gameweek
Son/Maddison – or even both, key men for Spurs
Porro/Udogie – one of Spurs attacking full backs
Watkins/Diaby/Cash – one or two Aston Villa players
Bowen/JWP – West Ham midfielder
Alvarez – second best Manchester City player to own this season
Transfer targets
Salah/Diaz/TAA – Liverpool attacking coverage
Saka/Odegaard – plan how you get back Arsenal midfielders to your team
Raya/Gabriel/Saliba – plan how to get Arsenal defensive coverage back to your team
4. Fixtures to target in Gameweek 9
In which fixtures we could expect a lot of fantasy points? These are the fixtures to target in Gameweek 9 according to bookies odds.
Liverpool vs. Everton: The Reds 70 % to win, 45 % to score 2.5+ goals
Manchester City vs. Brighton: Citizens 67 % to win, 48 % to score 2.5+ goals
Newcastle vs. Crystal Palace: The Magpies 66 % to win, 33 % to score 2.5+ goal
Sheffield vs. Manchester Unite: The Red Devils 65 % to win, 37 % to score 2.5+ goal
Find 2.5+ goals odds for all teams in our article: Premier League Over 2.5 Goals Odds.
5. Updated watchlists: Best players to pick in Gameweek 9 and beyond
We also looked at players from each position: goalkeepers, defenders, midfielders, and forwards and updated our watchlists.
We examine which players are best picks in each price bracket: budget enablers, midpriced picks, and premium options. Check our watchlists here:
6. Best Captain Pick in GW9
Who is the best captain in Fantasy Premier League Gameweek 9?
According to our captaincy index, Salah is the best captain in FPL Gameweek 9 with index score of 1.96. Son is the number 2 captaincy pick and Haaland is number 3.
However, it will be hard to go against Haaland's captaincy in GW9. He is the safe captaincy pick given his ownership, he is a reliable FPL asset and has a good fixture. The form is not really there, but he faces Brighton who are yet to keep a clean sheet this season.
If you want to go with a differential captain, consider Maddison.
7. What bookies odds say about Gameweek 9
As usual, we converted bookies odds into probabilities using our Odds to probability calculator to assess the potential of gameweek 9.
Clean sheet odds for GW9
Bookies favor Newcastle (46 %) and Nottingham (44%) to most likely keep a clean sheet in GW9.
Zobraziť tento príspevok na Instagrame
Bookies expect 4.73 clean sheets in gameweek 9. In the last season, we were used to a rate of 5.45 clean sheets per gameweek. 
So far this season we have seen 4.38 clean sheets per gameweek. So clean sheets are definitely on the decline this season, likely mainly due to more added time.
Expected clean sheets
Due to correction in the number of clean sheets: Crystal Palace, Fulham
Crystal Palace overperformed their defensive expectations the most of all teams. They should have kept 2.04 clean sheets instead of 4 according to our expected clean sheets table.
Due to an improvement in the number of clean sheets: Brighton, Sheffield
Brighton underperformed their defensive expectations the most from all teams. They should have kept 2.21 clean sheets instead of 0 according to our expected clean sheets table.
You can see the expected clean sheets table and clean sheet odds for all Premier League teams here.
Goalscoring odds for GW9
Usual business as Haaland leads the goalscoring odds table followed by Salah, Nunez and Son. Check all odds here: Premier League Goalsocring Odds.
📝Back to the usual. Haaland leads to goalscoring odds table. #FPL.#GW9 #FPLCommunity

Full table at: https://t.co/et4aIgVw0p pic.twitter.com/fQ3ZjAJh5g

— Fantasy Football Reports (@FplReports) October 18, 2023
8. Using Chips in Gameweek 9
The international break can be a great time to use wildcards. However, if your team is not full of injuries players, you might want to consider waiting one more week with your wildcard. There is a fixture swing rather in GW10 than in GW9.
So:
if you want to give a last chance to your Manchester United or Brentford players in their good fixtures,
if you currently have Son or Maddison,
have Liverpool attacking coverage,
do not have Arsenal players,
hold off wildcard for one more week. Then you can use the wildcard in GW10 and load up on Arsenal, Liverpool, Aston Villa and West Ham players.
But if you are keen on widlcarding in GW9, here is our draft for your inspiration: FPL Wildcard Team for Gameweek 9.
9. FPL Gameweek 9 Team selection
Now let's look at our FPL team selection for GW9. Haaland is our captain.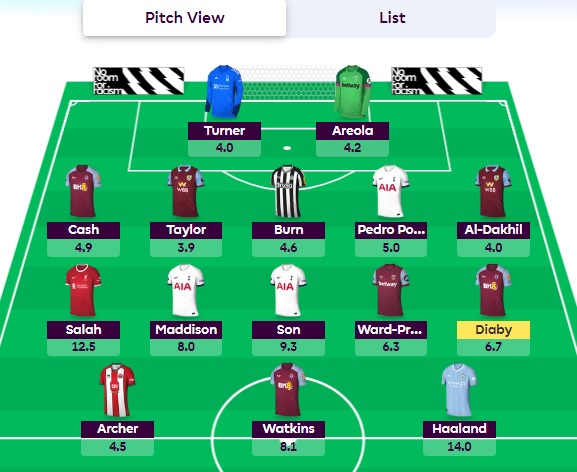 10. Fantasy Premier League Tips
Find more tips, strategies and picks for Fantasy Premier League in these articles:
We hope our FPL GW9 tips helped you to gather some useful information before the Gameweek 9 deadline.
Feel free to JOIN our Fantasy Football Reports mini-league by clicking this link or using our league code ti56kl.
Good luck in FPL GW9!