Three rounds behind us, another three rounds in the group stage to go. Regarding the fixtures, the following three rounds of UEFA Fantasy Champions League will be mirroring the previous three.
Does this mean that we can expect the same outputs in MD4-MD6 as we saw in MD1-MD3? It could happen…
Let's jump to our UCL Fantasy tips for Matchday 4.
Hopefully, our tips will help you to make a good decision about your fantasy team before the first kick-off of the MD4 of Champions League.
UCL Fantasy Matchday 4 Tips
Let's look at who do we consider to be the best captain for UCL Fantasy Matchday 4.
Tuesday captain pick: Lewandowski (BEN (H))
For Tuesday, the most appealing fixtures for captaincy are Malmo vs Chelsea, Juventus vs Zenit and Bayern vs. Benfica.
There is no need to overcomplicate and overthink this decision.
No team scored more goals in this Champions League campaign than Bayern Munich. Their firepower is undeniable, bookies really favor them to do well, and if the trend continues we will see a lot of goals from them in this one too.
Last time, it was Sané who stole the show. Now, we think it is time for Lewandowski to shine again.
Robert Lewandowski is the best captain for UCL Fantasy MD4.
Other captain picks for Tuesday: Sané, Mount, Ronaldo
Wednesday captain pick: Benzema (SHK (H))
The standout fixtures for the captaincy on Wednesday are Real Madrid vs. Sachtar Doneck, Dortmund vs. Ajax, Manchester City vs. Brugge, and Liverpool vs. Atletico. 
Choosing our backup captain is more complicated, as there are plenty of options for captaincy on Wednesday. 
Manchester City has an amazing fixture, but we do not really know how they will line up and there is a chance that some of their best players might find themselves benched in Matchday 4 of UCL Fantasy.
There could be a lot of goals again in Dortmund vs. Ajax match, but we do not dare to guess who is the safest captain pick from those two teams, as it is hard to guess who will win this one.
Salah has amazing form, but we still think that Atletico is a tough fixture (despite the fact that The Reds scored 3 goals in the reverse fixture).
That leaves us with Karim Benzema as our backup captain. He did not really delivered a lot of fantasy points this season. But he is a key man for Los Blancos, he has the form, and he has the fixture on his side in MD4. And we will know whether he is in starting lineup on our before the substitution window close.
Karim Benzema is our backup captain pick for Wednesday, if Lewandowski fails to deliver (score 9+ points).. 
You can read more about when you should change your captain and about rules we use for changing the captaincy in our article: When you should change your UCL Fantasy captain?
Other captain picks for Wednesday: De Bruyne, Salah, Haaland, Haller
2. Strategy for UCL Fantasy MD4 and onwards
In Matchdays 4, 5, and 6 we will see reverse fixtures for MD1, MD2, and MD3. 
Basically, we have already seen these fixtures but in reverse. So, try to exploit all the information you can get from the dataset you have about MD1, MD2, and MD3 to fully prepare your UCL Fantasy team for the same set of fixtures.
Fixtures to target in MD4
Which fixtures you should target? We always use bookies odds to help us determine that. Let's look at which teams have the highest chance of winning their match in Matchday 4 and to score a lot of goals in that game:
Manchester City – 86 % to win, 58 % to score more than 2.5 goals in MD3
Bayern Munich – 82 % to win, 57 % to score more than 2.5 goals
Chelsea – 79 % to win, 50 % to score more than 2.5 goals
Real Madrid – 78 % to win, 48 % to score more than 2.5 goals
Inter Milan – 74 % to win, 42 % to score more than 2.5 goals
Juventus – 67 % to win, 31 % to score more than 2.5 goals
3. Players great at recovering balls
After three matchdays we have a better picture about players that are good at balls recovered. Players who can consistently do the job and score extra 2-3 points for you matchday after matchday.
If you are interested to know, which players did well in balls recovered during the last two seasons, check our article about Balls Recovering Heroes.
These players have the most balls recovered this season after three matchdays: 
🏆⚽ The most Balls Recovered in MD1-MD3 of #UCLfantasy

30 - Lauper
26 - Meunier, Nsoki
25 - Sydorchuk, D. Carlos
24 - Barrios
23 - Fernando, André, Upamecano, Akanji, De Light, Suoza, Timber

— FPL Reports (@FplReports) October 29, 2021
As usual, we looked at what bookies think about the Matchday 4 of UCL Fantasy.
We checked the clean sheet odds to determine which teams are most likely to keep a clean sheet in the MD4 and goalscoring odds to determine which players are most likely to score a goal in MD3. 
It can be very helpful when selecting the defense of your UCL Fantasy team or choosing your captain.
We used our Odds to probability calculator for converting bookies' odds into probabilities. 
Clean sheet odds for MD4
Bookies favor Manchester City to keep a clean sheet with 57 % probability. Real Madrid (50 %) and Chelsea (49 %) follow. Bookies expect 8.125 clean sheets in Matchday 4. You can find the full Champions League clean sheet odds table here.
Goalscoring odds for MD4
You can find goalscoring odds for MD4 here.
5. UCL Fantasy Team Matchday 4
Let's finish our preview for the Matchday 4 of UCL Fantasy with our scout picks. This is a good inspiration for managers on their wildcard (regular one). If you plan to use your limitless wildcard in MD4, check our limitless squad here.
We will likely make 1 or 2 changes to our team before the deadline. We will post our final team on our Twitter @FplReports one hour before the first kickoff.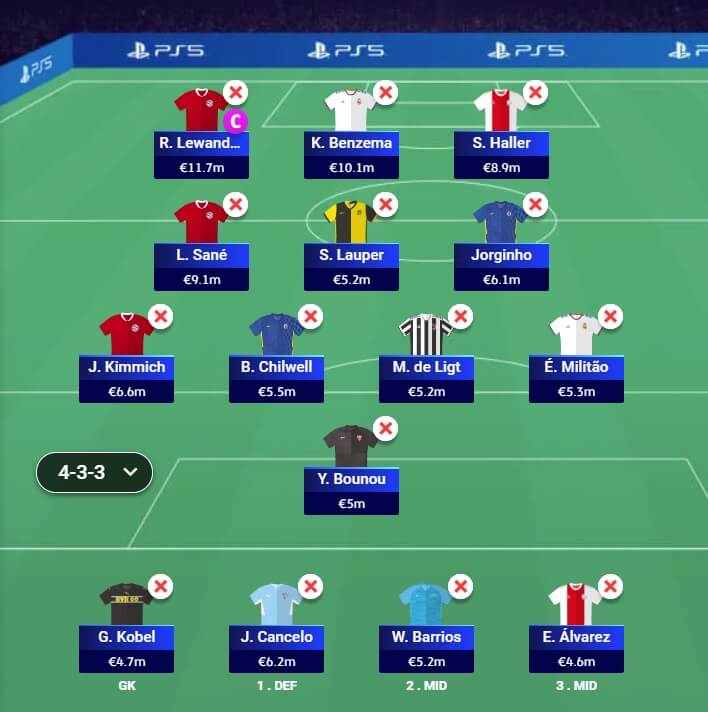 The fourth Matchday of the Fantasy Champions League campaign starts in just a few days. Make an informed decision about your UCL Fantasy team and prepare it for success.
Good luck!
JOIN our UCL fantasy league by clicking this link or use league code 82C8X1QX01, we are looking forward to compete with you!