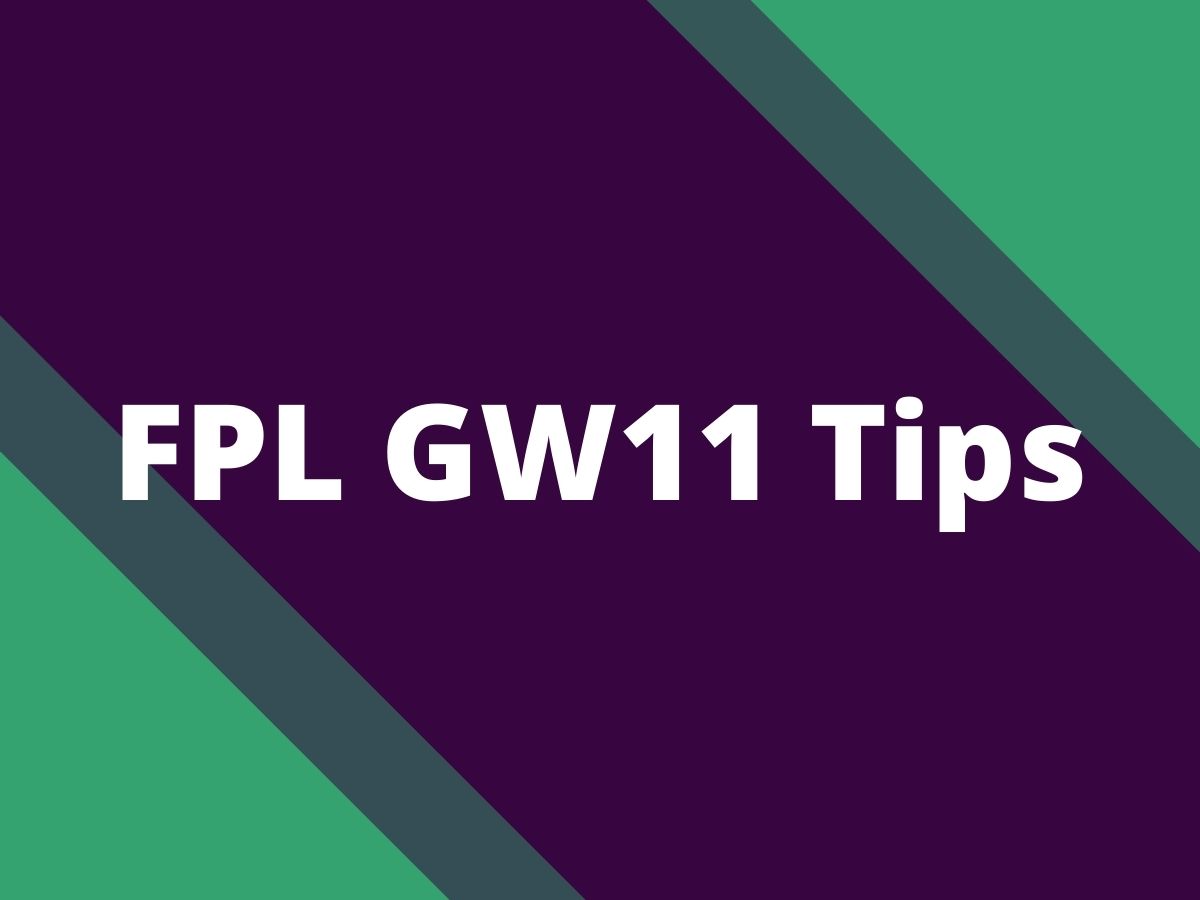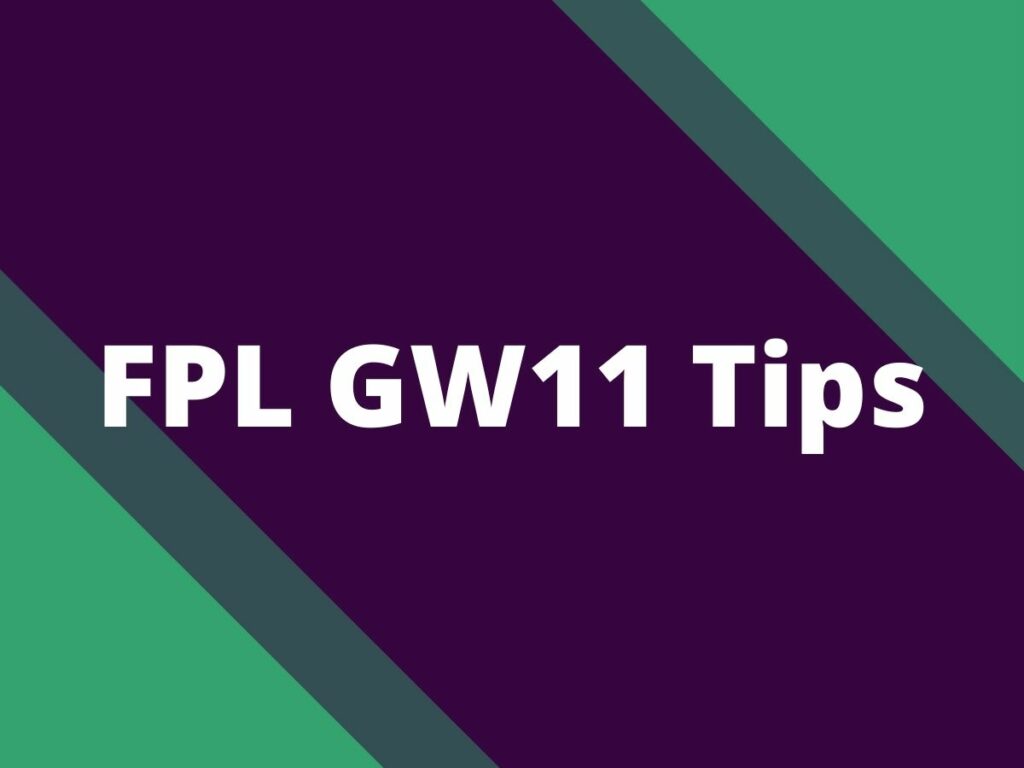 A tight schedule of football continues and it is time to prepare our teams for Gameweek 11 of Fantasy Premier League.
So, let's jump to our FPL GW11 Tips with the best picks not just for wildcard teams, fixtures, transfer targets, odds, captain picks, and team selection.
1. Fantasy Premier League Gameweek 11 Tips
Be careful with your transfers, leave them for Friday/Saturday, as there are midweek cup games – Carabao Cup R4 (see our FPL calendar)
Do not overlook the bench of your FPL team, we are approaching a busy schedule, you might need it (see our guide: How to sort your bench during busy schedule)
Teams to target: Aston Villa, Brighton, Crystal Palace, Arsenal, Liverpool, West Ham
If you have two free transfers and do not now what to do with them, you can use one of them to make a change on your bench. For example, transferring 4.0m defender and replacing him with 3.9m Charlie Tayol to free 0.1m. Or you can transfer out Newcastle or Spurs defender. Or you can use it to make some sideway move or a slight upgrade elsewhere in your team. Even burning a transfer is OK, if your team is in perfect shape.
Notes for Gameweek 11
Zobraziť tento príspevok na Instagrame
Pedro Neto is out for a couple of weeks: Potential Pedro Neto replacements: Mitoma, Diaby, Doucuré
Ward Prowse played deeper in the GW10 and is still expected to play deeper in GW11 with Edson Alvarez suspended. However, our advice would be to keep him until he delivers, and then sell. While playing for Southampton, he played deeper and still managed to score 140+ FPL points in the last 3 seasons.
Note: Watkins has 13 attacking returns from 6.1 xGI – big overperformance.
Keep Fernandes until GW13 – good fixtures, okay underlying stats
After GW12, there is an international break, plan your transfers in a way that allows you to have 2 free transfers during IB
If you are aiming to bring in Eduard, be wary of the big decline in his underlying stats (3.11xGI in his first 5 games, but only 0.43xGI in his last 4)
Eze is back in training and Hodgson hopes he will be available for Everton's game in GW12 – if that happens Eze will be one of our top transfer targets for Gameweek 12.
Debating the #TripleCaptain for Haaland in #GW11? 🤔⚽️

Our view: it is risk vs. reward play.

We hold off the TC chip for a double gameweek.

The anticipated points over two matches = higher expected value & reduced variability. Lower risk. #FPLStrategy #FantasyPremierLeague

— Fantasy Football Reports (@FplReports) November 4, 2023
Some FPL managers are considering using the triple captain chip on Erling Haaland against Bournemouth. Nonetheless, we prefer to keep the triple captain chip for a double gameweek, where the anticipated points haul over two matches typically offers a higher expected value, coupled with reduced variability in performance outcomes.
One week punts, differentials: Kudus, Jota
2. Key players to own and transfer targets for FPL GW11
Key players
Haaland – captain option in almost any gameweek
Salah – unbelievable form
Son/Maddison – key men for Spurs
Saka/Odegaard/Nketiah – It is time to bring Arsenal midfielders back to our teams
Raya/Gabriel/Saliba – time to focus on Arsenal's defence again
Watkins/Diaby/Cash – one or two Aston Villa players
Bowen – West Ham midfielder
Alvarez – second best Manchester City player to own this season
Trippier – is on course to become top scoring defender again, but fixtures are becoming tough for Newcastle, so he is not essential
Transfer targets
Tsimikas/VVD/Diaz – Liverpool defensive coverage
Mitoma – Brighton with an amazing fixture run
Johnstone/Andersen/Guehi – reinforce the defense of your FPL with Crystal Palace defensive players who have great fixtures up to GW15
Arsenal MID/DEF
Who to transfer out:
Newcastle defender (Burn, Schar)
Chelsea players (Sterling, Jackson)
Udogie (he is 50/50 to paly)
Luis Diaz
Brentford defenders
Rashford
Morris
3. Fixtures to target in Gameweek 11
In which fixtures we could expect a lot of fantasy points? These are the fixtures to target in Gameweek 11 according to bookies odds.
Manchester City vs. Bournemouth: The Citizens 86 % to win, 60 % to score 2.5+ goals
Luton vs. Liverpool: The Reds 75% to win, 49 % to score 2.5+ goals
Fulham vs. Man. United: The Red Devils 49 % to win, 23 % to score 2.5+ goal
Nottingham vs. Aston Villa: The Villans 49 % to win, 23 % to score 2.5+ goal
Find 2.5+ goals odds for all teams in our article: Premier League Over 2.5 Goals Odds.
Whipping boys (the season):
Sheffield (27.46 xGC)
Luton (24.83 xGC)
Bournemouth (24.06 xGC)
Whipping boys (last 30 days):
Luton (9.65 xGC)
Burnley (7.76 xGC)
Manchetser United (6.98 xGC)
Data source: Understat
Read more: What do xG, xA, xGI, xGC mean in FPL?
4. Updated watchlists: Best players to pick in Gameweek 11 and beyond
We also looked at players from each position: goalkeepers, defenders, midfielders, and forwards and updated our watchlists.
We examine which players are best picks in each price bracket: budget enablers, midpriced picks, and premium options. Check our watchlists with our ratings and comments here:
5. Best Captain Pick in GW11
Who is the best captain in Fantasy Premier League Gameweek 11?
The Manchester City have the best fixture (according to bookies odds) in Gameweek 11, so captaining Haaland will be a no-brainer. We think Haaland is the best captain in GW11. He will be heavily captained with high effective ownership.
Our captaincy index agrees. According to our captaincy index, Haaland is the best captain in FPL Gameweek 11 with a captaincy index score of 2.16.
Salah (captaincy index score 2.05) is the number 2 captaincy pick and Son (1.6) is number 3.
If you want to go with a differential captain (or do not own Haaland), consider captaining Alvarez or Watkins.
6. What bookies odds say about Gameweek 11
As usual, we converted bookies odds into probabilities using our Odds to probability calculator, to assess the potential of gameweek 11.
Clean sheet odds for GW11
Bookies favor Manchester City (51 %), Liverpool (42 %), and Manchester United (29 %) to keep a clean sheet in GW11.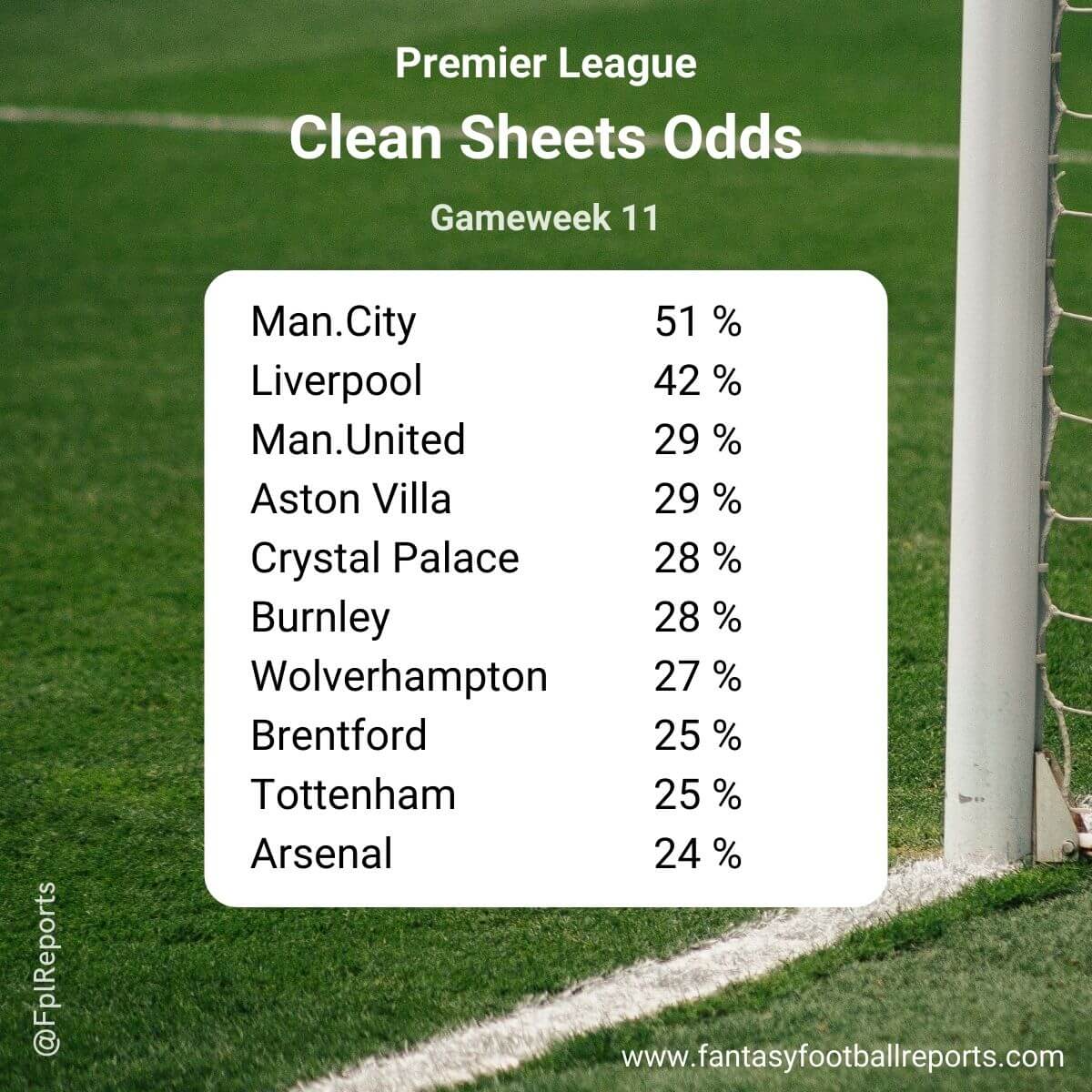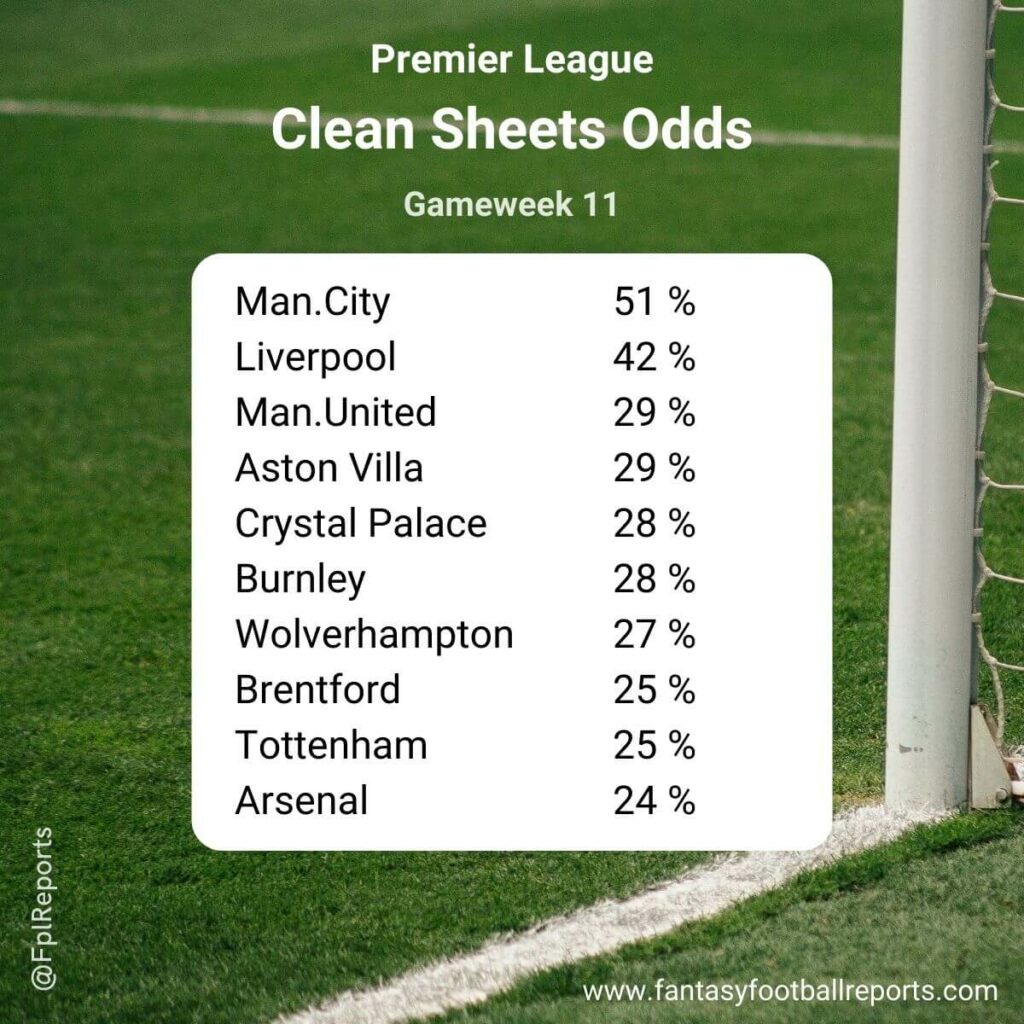 Bookies expect 4.7 clean sheets in gameweek 11. In last season, we were used to a rate of 5.58 per clean sheets gameweek. This season we have seen clean sheets at the rate of 4.4 clean sheets per gameweek.. So clean sheets are definitely on the decline this season, likely mainly due to more added time.
Expected clean sheets
Due to correction in the number of clean sheets: Crystal Palace, Arsenal
Crystal Palace overperformed their defensive expectations the most of all teams. They should have kept 2.31 clean sheets instead of 4 according to our expected clean sheets table.
Due to an improvement in the number of clean sheets: Brighton, Burnley
Brighton underperformed their defensive expectations the most from all teams. They should have kept 2.6 clean sheets instead of 0 according to our expected clean sheets table.
You can see the expected clean sheets table and clean sheet odds for all Premier League teams here.
Goalscoring odds for GW11
Usual business as Haaland (65 %) leads the goalscoring odds table followed by Salah (45 %) and Nunez (42 %).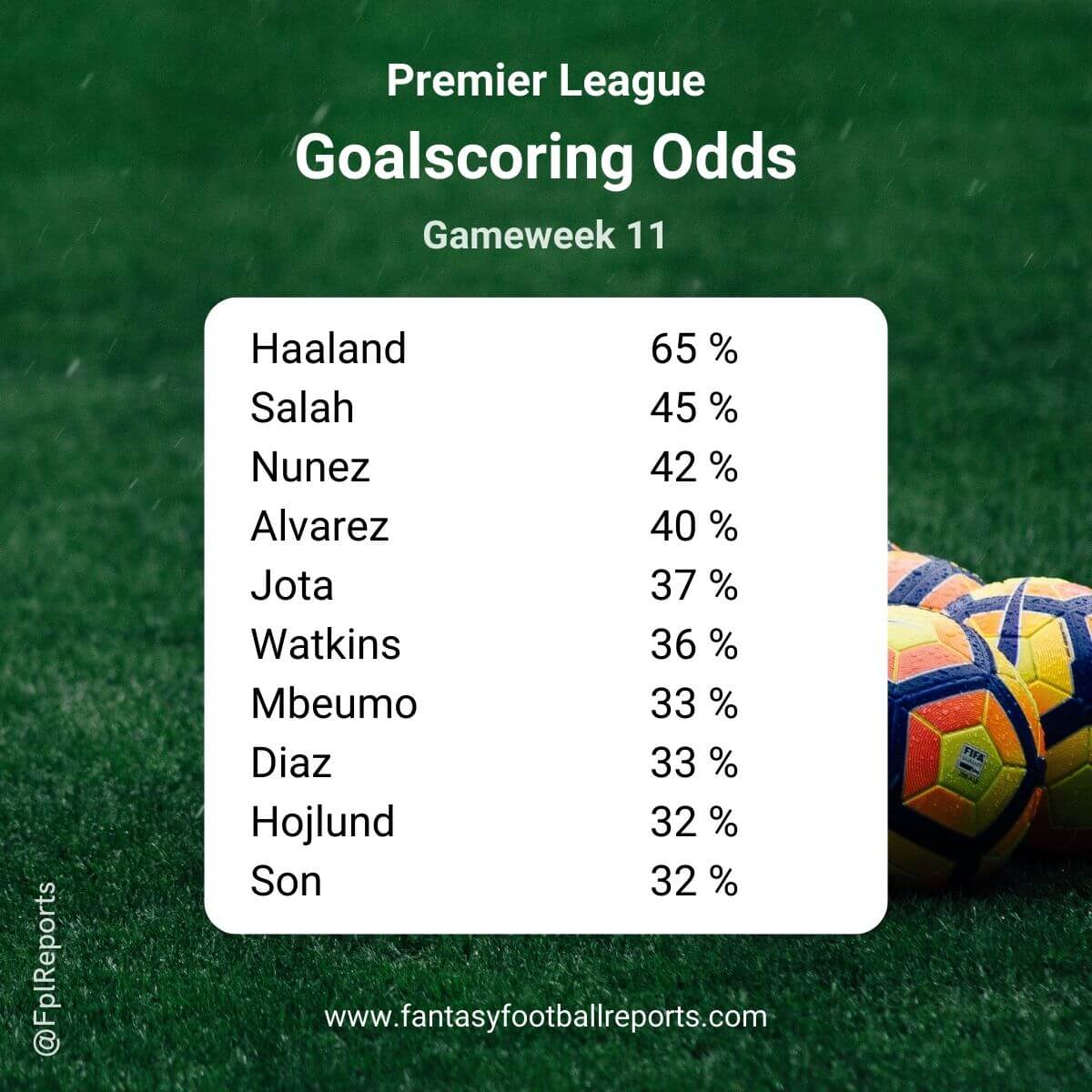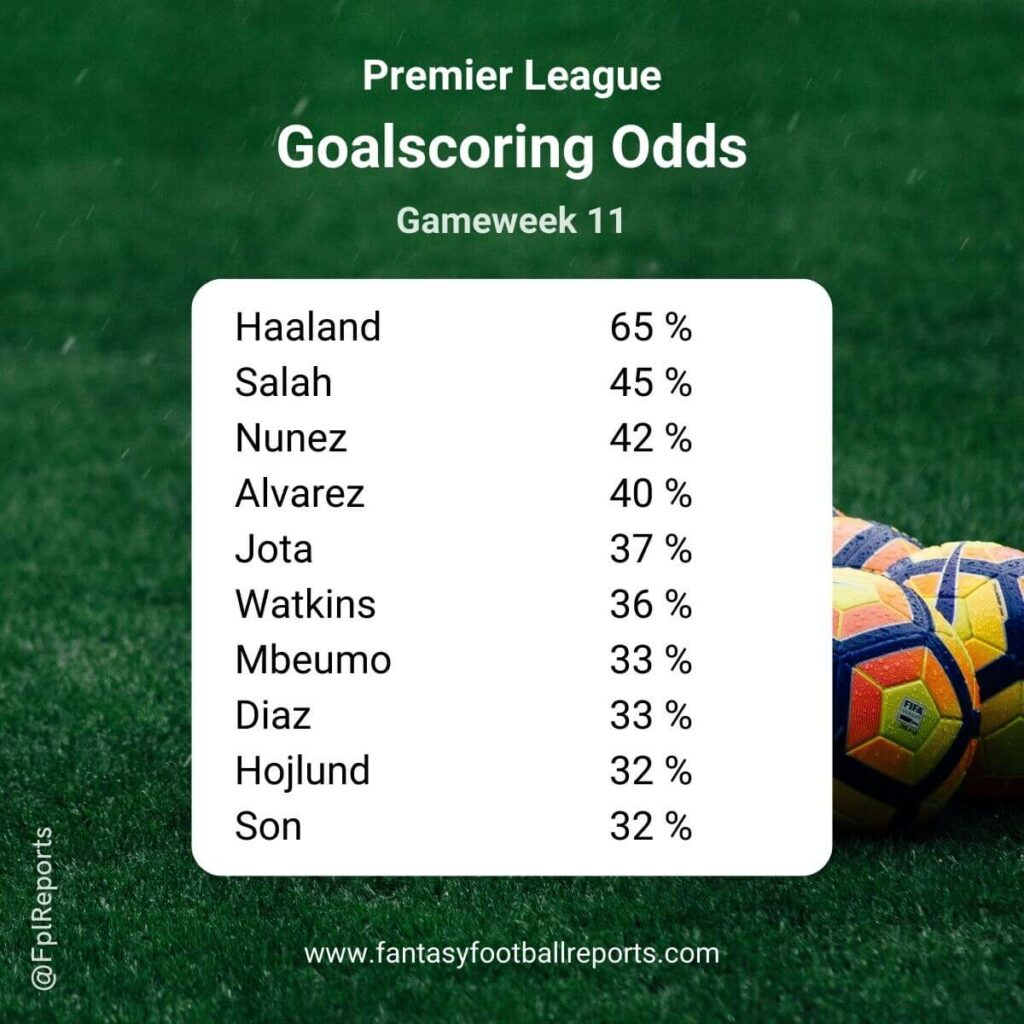 Check all odds here: Premier League Goalsocring Odds.
7. FPL GW11 Team Selection – Scout picks
Now let's look at our FPL team selection for Gameweek 11. Haaland is our GW11 captain.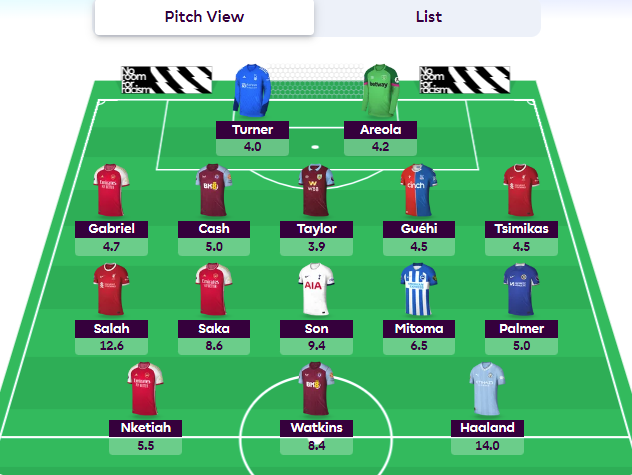 8. Fantasy Premier League Tips
Find more tips, strategies and picks for Fantasy Premier League in these articles:
We hope our FPL GW11 tips helped you to gather some useful information before the Gameweek 11 deadline.
Feel free to JOIN our Fantasy Football Reports mini-league by clicking this link or using our league code ti56kl.
Good luck in FPL GW11!