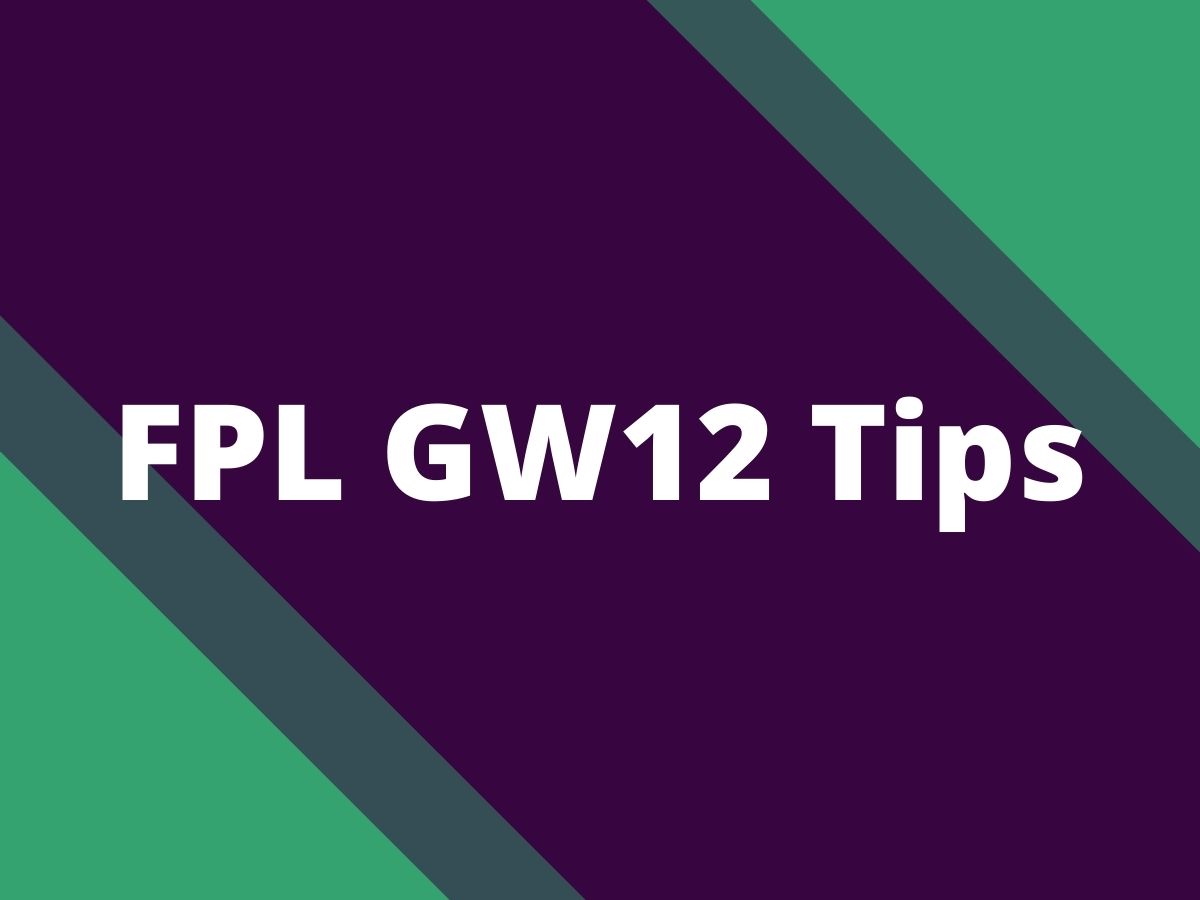 The last round before the international break – gameweek 12 of Fantasy Premier League is here.
So, let's quickly jump to our FPL GW12 Tips with the best picks not just for wildcard teams, fixtures, transfer targets, odds, captain picks, and team selection.
1. Fantasy Premier League Gameweek 12 Tips
There are Champions League matches in midweek – so

do not use your transfer very early

if someone gets injured.
Haaland is fit after his injury, expected to start
There is an international break (see our FPL calendar) after GW12, so, if you have only one free transfer, try to save it to have 2 free transfers during IB – as anything can happen on two week long break
Teams to focus on in GW12: Arsenal, Brighton, West Ham, Aston Villa, Liverpool, Crystal Palace
Eze is one of our top transfer targets for Gameweek 12
Cash is fit for GW12, featured in Europa Conference League
Dunk, and Estupinan – their injuries are not serious, but they are unlikely to feature
Saka has a knock, but could be OK for GW12 (but he could get a rest)
Maddison has been withdrawn from the England squad, he is out until January
Dan Burn is out until January – so it is likely Livramento who could get a starting spot in the Newcastle backline, however, he could be rotated with Hall
Wilson has a hamstring injury – but so far it is too early to say how serious it could be and whether he would be fit Saturday (but unlikely)
We can confirm that James Maddison has been withdrawn from the England squad due to an ankle injury.

The midfielder will not feature in the Three Lions' UEFA EURO 2024 qualifiers against Malta and North Macedonia, and will remain at Hotspur Way for rehabilitation with the Club's… pic.twitter.com/Y4WelJrcbO

— Tottenham Hotspur (@SpursOfficial) November 10, 2023
2. Best Udogie and Dan Burn Replacements
You have multiple options when replacing Udogie and Dan Burn:
Focus on Crystal Palace assets: If you have some money in the bank, Andersen is the obvious choice. If not Guehi and Mitchell are also viable alternatives
Upgrade to Arsenal defender: Saliba is likely the safest option. But if you have strong bench, you can risk it with Gabriel.
Livramento (4.3m): But you must prepare he might not start all matches
Lascelles (4.0m): Botman's injury might require surgery so he might be out longer than previously thought
Dalot: differential option, attacking threat, good fixtures, but Manchester United are very shaky defensively this season. Despite all that, they kept 3 clean sheets so far and are 2nd for clean sheet odds (according to bookies) in GW12
Pedro Porro: If Udogie owners want to stick to Spurs defense
Maddison replacements
Maddison is out until January, he are his best replacements according to our opinion:
Saka – if he would 100% fit, he would be 100% best Maddison replacement
Fernandes – differential given how many people are offloading Man. United assets, but still key man for United. Despite Red Devils are in bad form, they will score goals, and Fernandes is one very few of them, that is capable of that.
Eze – key man for Palace, amazing fixtures, but Crystal Palace do not tend to score so many goals
Mitoma – great fixtures for Brighton
Bowen/Kudus – if you do not have West Ham offensive coverage
Trossard – one week punt against Burnley, but then rotation risk
3. Key players to pick and transfer targets for FPL GW12
Key players to pick
Haaland – captain option in almost any gameweek
Salah – great form
Son/Maddison – key men for Spurs
Saka/Odegaard– It is time to bring Arsenal midfielders back to our teams, but wait for their injury news
Raya/Gabriel/Saliba – time to focus on Arsenal's defence again
Watkins/Diaby/Cash – one or two Aston Villa players
Bowen – West Ham key player
Trippier
Transfer targets
Eze – back from injury, great fixtures
Kudus – great differential
Johnstone/Andersen/Guehi/Mitchell – reinforce the defense of your FPL with Crystal Palace defensive players who have great fixtures up to GW15
Mitoma – Brighton with an amazing fixture run
Arsenal MID/DEF
4. Fixtures to target in Gameweek 12
In which fixtures we could expect a lot of fantasy points? These are the fixtures to target in Gameweek 12 according to bookies odds.
Arsenal vs. Burnley: The Gunners 84 % to win, 51 % to score 2.5+ goals
Brighton vs. Sheffield: Brighton 81 % to win, 55 % to score 2.5+ goals
Man. United vs. Luton: The Red Devils 77 % to win, 49 % to score 2.5+ goal
Liverpool vs. Brentford: The Reds 66 % to win, 42 % to score 2.5+ goal
Find 2.5+ goals odds for all teams in our article: Premier League Over 2.5 Goals Odds.
Teams with bad defensive stats (the season):
Sheffield (28.61 xGC)
Luton (27.87 xGC)
Bournemouth (26.46 xGC)
Teams with bad defensive stats (last 30 days):
Luton (9.39 xGC)
Manchetser United (7.14 xGC)
Crystal Palace (6.22 xGC)
Best fixture runs in the next 3 gameweeks
West Ham – 2 average FDR over the next 3 matches
Arsenal – 2.33 average FDR over the next 3 matches
Brighton – 2.33 average FDR over the next 3 matches
Crystal Palace – 2.33 average FDR over the next 3 matches
See the average FDR over the next 3 and next 6 gameweeks for all teams in our article: Best fixture runs in FPL from Gameweek 12
5. Updated watchlists: Best players to pick in Gameweek 12 and beyond
We also looked at players from each position: goalkeepers, defenders, midfielders, and forwards and updated our watchlists.
We examine which players are best picks in each price bracket: budget enablers, midpriced picks, and premium options. Check our watchlists with our ratings and comments here:
6. Best Captain Pick in GW12
Who is the best captain in Fantasy Premier League Gameweek 11?
According to our captaincy index, Salah is the best captain in FPL Gameweek 12 with a captaincy index score of 1.8. Son (captaincy index score 1.7) is the number 2 captaincy pick and Haaland (1.68) is number 3.
But there are plenty of differential captaincy opportunities for GW12, such as Saka (if fit) against Burnley, Bowen against Nottingham, Fernandes against Luton or Mitoma against Sheffield.
7. What bookies odds say about Gameweek 12
As usual, we converted bookies odds into probabilities using our Odds to probability calculator, to assess the potential of GW 12.
Clean sheet odds for GW12
Arsenal (52 %) has the highest probability of a clean sheet in GW12. Bookies also favor Man. United (45 %) and Brighton (45 %) to keep a clean sheet in GW 12. However, the bookies odds for Brighton keeping a clean sheet could be a bit overoptimistic, given they are yet to keep a clean sheet this season.
Bookies expect 4.93 clean sheets in gameweek 12. In last season, we were used to a rate of 5.45 per clean sheets gameweek. This season we have seen clean sheets at the rate of 4.36 clean sheets per gameweek.
Expected clean sheets
Due to correction in the number of clean sheets: Crystal Palace, Newcastle
Crystal Palace overperformed their defensive expectations the most of all teams. They should have kept 2.59 clean sheets instead of 5 according to our expected clean sheets table.
Due to an improvement in the number of clean sheets: Brighton, Burnley
Brighton underperformed their defensive expectations the most from all teams. They should have kept 2.81 clean sheets instead of 0 according to our expected clean sheets table.
You can see the expected clean sheets table and clean sheet odds for all Premier League teams here.
Goalscoring odds for GW12
Usual business as Haaland (47 %) leads the goalscoring odds table followed by Salah (44 %) and Ferguson (44 %).
Check all odds here: Premier League Goalsocring Odds.
8. FPL GW12 Team – scout selection
Now let's look at our FPL team for GW12. Salah is our captain. Our Gameweek 12 scout squad is identical to our GW12 Wildcard team you can find here.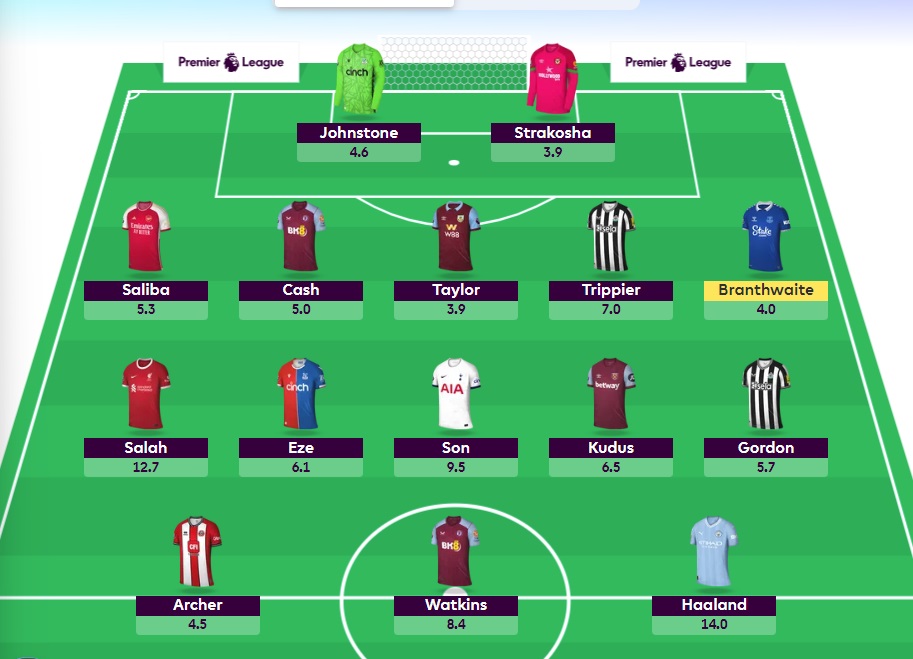 9. Fantasy Premier League Tips
Find more tips, strategies and picks for Fantasy Premier League in these articles:
We hope our FPL GW12 tips helped you to gather some useful information before the Gameweek 12 deadline.
Feel free to JOIN our Fantasy Football Reports mini-league by clicking this link or using our league code ti56kl.
Good luck in FPL GW12!