The last Matchday of Fantasy Champions League Group stage is here.
It is the last chance to do something about your rank and mini-league position before half of all UCL Fantasy options disappear.
When elimination round begins, teams of UCL Fantasy managers will look very similar, because there will be very few players to pick from.
So, after the Matchday 6, movement in overall ranking will be more limited.
There is only one thing to do about that. Exploit all opportunities that Matchday 6 offers.
Let's dive in our Tips for Matchday 6.
Tips for Matchday 6 of UCL Fantasy
The most important tip for Matchday 6
Many teams have already secured their R16 spot (or the 1st place in the group), we can expect a lot of rotation again.
Pick players (especially your captain) from teams that have still something to play for.
Otherwise you may find your captain sitting on the bench or not even in the squad.
So, which teams we should (not) focus on?
Teams we should not focus on in Matchday 6
Bayern, Manchester City, Liverpool and Chelsea are already group winners, so they are most likely to rotate some of their key players.
Sevilla and Porto have certainty of 2nd place in the group with no possibility to get to the 1st spot. Krasnodar have the certainty of 3rd place in Group E.
And Midtjylland, Basaksehir, Rennes and Zenit will finish 4th in their groups no matter what.  
However, keep in mind that despite having secured spot in their groups, some teams might still play full strength in order to win prize money for Champions League match victory.  
Teams we should definitely focus on in Matchday 6
So, which teams we should focus on?
Dortmund is in R16, but they have not secured 1st place in the group yet, so we do not expect a lot of rotation from them.
Similarly, Barcelona and Juventus. They are in R16, but they both will fight for the number 1 spot in Group G.
Manchester United, PSG and Leipzig are all three on 9 points in Group H, so they all will have to play with everything they have to get victories in their matches.
There is similarly complicated situation in Group B, where all 4 teams: Monchengladbach, Šachťar Doneck, Real Madrid and Inter Milan will fight for two R16 spots.
Also, one team from each of these three matches will advance into R16: Salzburg vs. Atletico, Ajax vs. Atalanta and Lazio vs. Brugge.
And of course, there are few teams from the bottom half of tables that still have chance for 3rd spot in their groups: Dynamo Kyjev, Ferencváros, Olympiakos, Marseille and Lokomotiv Moscow.
So, there is still a lot of UCL Fantasy assets to chose from.
And we definitely want pick our captain from teams that have a lot to play for.
Let's dive in our captain selection.
Best captain for Matchday 6
Tuesday captain pick: Mbappé (BFK (H))
PSG vs. Basaksehir is the standout fixture for captaincy in Matchday 6. Kylian Mbappé and Neymar could do well in that game.
They are both UCL Fantasy assets with similar expected output in Matchday 6. But when we have to pick one, we prefer Frenchman over Brazilian.
Although Mbappe failed to score in first 5 matchdays of Chmapions League, he has 9 goals and 4 assists in Ligue 1 so far.
Neymar is currently on 3 goals and 3 assists in French competition and 3 goals in Champions League.
In case you do not trust PSG players with armband on Tuesday of Matchday 6, there are few other players we recommend you to look at and consider as your captain: Immobile, Sancho and Fernandes.
Wednesday captain pick: Lukaku (SHK (H))
If Mbappe fails to deliver at least 6 points on Tuesday, we have a back up plan. And that is Romelu Lukaku.
Inter face Šachťar Doneck and both teams will fight for R16. Lukaku has already 4 goals in current Champions League campaign and he is a key player for Inter.
If you would like to look elsewhere, Dušan Tadič, Joao Felix and Karim Benzema are viable captain picks for Wednesday, too.
Picking defenders (and defensive midfielders) who are excellent at recovering balls has been great UCL Fantasy strategy this season.
Let's look at some players that are leading statistics of balls recovered after 5 rounds of group stage.
Cristian Romero: The ultimate balls recovering hero
Cristian Romero has been absolute gold for his UCL Fantasy owners this season.
Romero scored amazing 12 points in Matchday 5 and we are glad we picked him as a best captaincy option in previous matchday.
He played only 4 matches but he still dominates balls recovered statistics with 60 balls recovered (15 per match). 
Although Atalanta face Ajax, if Romero recovers 15 balls (his average) he will earn you extra 5 points regardless whether Atalanta keep a clean sheet.
Cristian Romero is the ultimate hero of this UCL Fantasy campaign.
Other UCL Fantasy picks great at balls recovered
Salzburg defenders André Ramalho and Max Wober, they both have over 50 balls recovered so far (51 and 50).
Do not expect clean sheet from them against Atletico, but they will earn you extra points from balls recovered for very low price (4.5 and 4.4 respectively).
And if you are looking for defender who has high chance of clean sheet in Matchday 6 and who is also brilliant at recoverin balls, Matts Hummels is your man.
Hummels recovered outstanding 45 balls in just four games.  
Among midfielders, Wilmar Barrios and Danilo recovered most balls (43 each).
Scout picks for UCL Fantasy Matchday 6
Let's combine all that information into our scout picks for UCL Fantasy Matchday 6.
Here it is.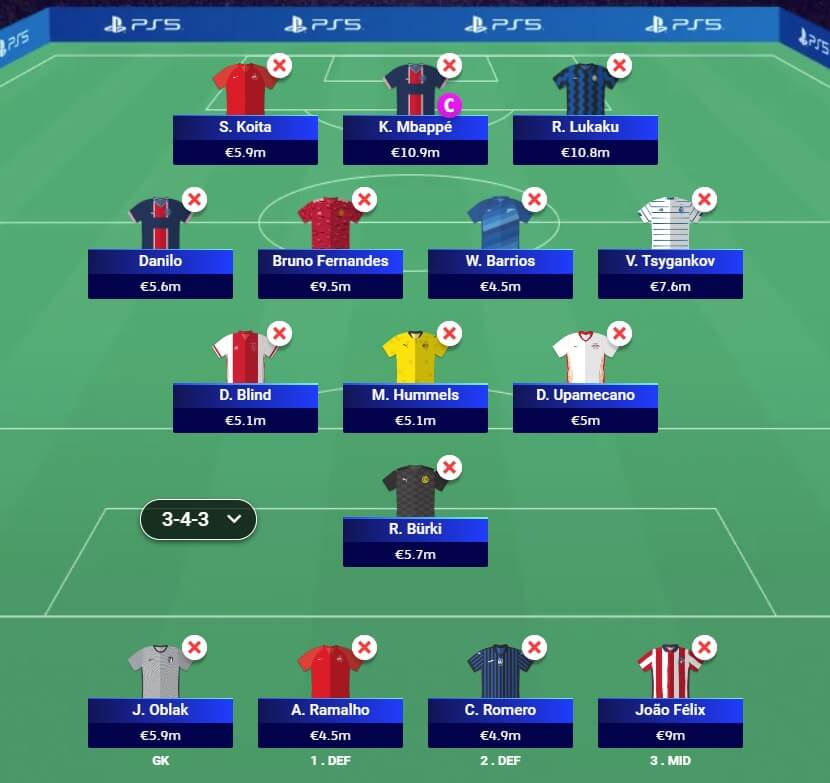 Few more opportunities are yet to come