The last Matchday of Fantasy Champions League Group stage is here.
It is the last chance to do something about your rank and mini-league position before half of all UCL Fantasy options disappear.
When elimination round begins, teams of UCL Fantasy managers will look very similar, because there will be very few players to pick from.
So, after the Matchday 6, movement in overall ranking will be more limited.
There is only one thing to do about that. Exploit all opportunities that Matchday 6 offers.
Let's dive in our UCL Fantasy Tips for Matchday 6.
Tips for Matchday 6 of UCL Fantasy
1. The most important tip for Matchday 6
Many teams have already secured their R16 spot (or the 1st place in the group), we can expect a lot of rotation again.
Pick players (especially your captain) from teams that have still something to play for.
Otherwise you may find your captain sitting on the bench or not even in the squad.
So, which teams we should (not) focus on?
Teams we should not focus on in Matchday 6
Manchester City, Liverpool, Ajax, Bayern and Manchester United are already group winners, so they are most likely to rotate some of their key players.
PSG and Sporting have certainty of 2nd place in the group with no possibility to get to the 1st spot. Zenit, Dortmund and Sherif Tiraspol have the certainty of 3rd place in Group E.
And Besiktas, Sachtar, Dynamo Kyjev and Malmo will finish 4th in their groups no matter what.  
However, keep in mind that despite having secured spot in their groups, some teams might still play full strength in order to win prize money for Champions League match victory.  
Teams we should definitely focus on in Matchday 6
So, which teams we should focus on?
Real Madrid, Inter, Chelsea and Juventus are in R16, but they have not secured 1st place in the group yet, so we do not expect a lot of rotation from them, as we expect them to fight for the no 1. spot in their groups. 
Manchester United, PSG and Leipzig are all three on 9 points in Group H, so they all will have to play with everything they have to get victories in their matches.
Porto, AC Milan, Barcelona, Benfica, Villareal, Atalanta, Lille, Salzburg, Sevilla, Wolfsburg – they all still have a chance to advance into R16.
And of course, there are few teams from the bottom half of tables that still have chance for 3rd spot in their groups: Leipzig and Brugge.
So, there is still a lot of UCL Fantasy assets to choose from.
Players from known lineups
We will also know City and PSG lineups before the deadline, so pay attention to them. There could be a lot of goals in their matches.
And we definitely want pick our captain from teams that have a lot to play for.
Let's dive in our captain selection.
2. Best captain for Matchday 6
Tuesday captain pick: Mbappé/Messi (BRU (H))
For Tuesday, the most appealing fixtures for captaincy are PSG vs. Brugge, Leipzig vs. Manchester City, Ajax vs. Sporting and Dortmund vs. Besiktas. Picking a captain from teams that are already in R16 or from teams that have no chance of going to the next round of the Champions League is extremely tricky. 
BUT, we will know the PSG lineup before the deadline of Matchday 6! That is going to be great advantage for UCL Fantasy mangers on wildcard or on limitless wildcard. They can bring in PSG player they want just before the deadline after they know whether he starts.
Mbappe would be our pick if he starts. If he does not, but Messi does, he would be our captain. Whoever of those two starts on Tuesday should do well against Brugge.
Other captain picks for Tuesday: Sterling, Benzema, Haaland, Haller
Wednesday captain pick: Lewandowski (BAR (H))
The standout fixtures for the captaincy on Wednesday are Juventus vs. Malmo, Zenit vs. Chelsea, Manchester United vs Young Boys, and Bayern vs. Barcelona.
A lot of players from those games could do very well.
We picked Robert Lewandowski from them as our captain for Wednesday. He is proven UCL fantasy asset, a talisman for Bayern, and so far he returned fantasy points in each of his 5 matches.
There is a slight risk of him being benched as Bayern already secured the 1st spot in their group. That's why pay attention to the Bayern press conference before making the call. 
If there are signs that Bayern will play in full strength due to their respect for the opposition, Lewandowski is definitely going to be our backup captain.
Other captain picks for Wednesday: Lukaku, Mount, Ronaldo,
3. Balls recovering heroes
Picking defenders (and defensive midfielders) who are excellent at recovering balls had been a great UCL Fantasy strategy in previous seasons.
Important note: there are fewer balls recovered in the current 2021/22 UCL Fantasy season in comparison to the previous season. Before Matchday 6 in the last season, Cristian Romero led the balls recovered table with 60 points, followed by Ramalho on 51 and Wober on 50.
This season, Manuel Akanji leads the balls recovered table with "only" 41 balls recovered. He is followed by Lauper on 40 and Mandava on 39 balls recovered.
This season, balls recovered are not as huge advantage in picking UCL Fantasy players as they were during the previous two seasons.
What is the best approach to UCL Fantasy Matchday 6? We will get unlimited transfers before R16. So you can take risks and bring in some differential players that you do not want in your team a long-term. 
If you have a limitless wildcard chip left, use it now. After Matchday 6, our budget will increase by 5 million in R16, so this chip will not have such an effect as now. 
Which fixtures you should target? We always use bookies odds to help us determine that. Let's look at which teams have the highest chance of winning their match in Matchday 6 and to score a lot of goals in that game:
Juventus – 81 % to win, 49 % to score more than 2.5 goals
PSG – 75 % to win, 48 % to score more than 2.5 goals
Dortmund– 72 % to win, 47 % to score more than 2.5 goals
Benfica – 72 % to win, 37 % to score more than 2.5 goals
Manchester United – 69 % to win, 41 % to score more than 2.5 goals
Ajax – 63 % to win, 37 % to score more than 2.5 goals
As usual, we looked at what bookies think about the Matchday 6 of UCL Fantasy.
We checked the clean sheet odds to determine which teams are most likely to keep a clean sheet in the MD6 and goalscoring odds to determine which players are most likely to score a goal in MD6. 
It can be very helpful when selecting the defense of your UCL Fantasy team or choosing your captain.
We used our Odds to probability calculator for converting bookies' odds into probabilities. 
Clean sheet odds for MD6
Bookies favor Juventus to keep a clean sheet with 52 % probability. Benfica (48 %) and Chelsea (42 %) follow. Bookies expect 7.7 clean sheets in Matchday 6. You can find the full Champions League clean sheet odds table here.
Goalscoring odds for MD6
Coming soon…
6. UCL Fantasy Team Matchday 6
Let's finish our preview for the Matchday 6 of UCL Fantasy with our scout team. This is a good inspiration for managers on their wildcard (regular one). If you plan to use your limitless wildcard in MD6, check our limitless squad here.
We will likely make 1 or 2 changes to our team before the deadline. We will post our final team on our Twitter @FplReports one hour before the first kickoff.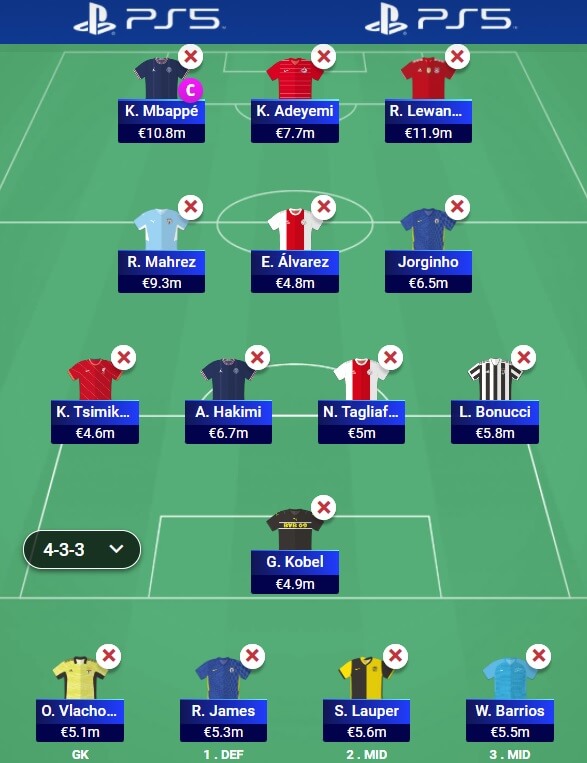 The last Matchday of the Fantasy Champions League Group Stage starts in just a few days. Make an informed decision about your UCL Fantasy team and prepare it for success. Matchday 6 is the last chance to do something with your UCL Fantasy team before the R16!
Good luck!
JOIN our UCL fantasy league by clicking this link or use league code 82C8X1QX01, we are looking forward to compete with you!