The last two rounds of Fantasy Champions League group stage are here. Only a few options on how to boost your ranking before the beginning of Round of 16 left.
So we prepared for you UCL Fantasy tips for Matchday 5 in order to help you find opportunities to climb up the ranking before the elimination rounds begin.
We will focus on the best captain, cheap picks with good fixtures, balls recovered, and our own scout team selection. 
Let's quickly dive in
Tips for Matchday 5 of UCL Fantasy
1. Best captain for Matchday 5
Let's look at who do we consider to be the best captain for UCL Fantasy Matchday 5.
Tuesday captain pick: Lewandowski (DKV (A))
For Tuesday, the most appealing fixtures for captaincy are Dynamo Kyjev vs. Bayern, and Villareal vs. Manchester United. 
However, the Tuesday captain is a no-brainer to us. We will captain Robert Lewandowski as we think he is the best captain option for UCL Fantasy Matchday 5. Lewandowski scored in all 4 Champions League Matchdays and registered 3 double-digits hauls.
And we will know Bayern's lineup before the deadline.
When the captaincy choice is this clear, there is no need to be different and pick a second-best captaincy option as your captain. Second-best is the second-best (and not the best) for a reason. So, select the best option as your captain. 
Other captain picks for Tuesday: Sané, Ronaldo
Wednesday captain pick: Benzema (SHE (A))
The standout fixtures for the captaincy on Wednesday are Besiktas vs. Ajax, Sporting vs. Dortmund, Liverpool vs. Porto, and Sheriff Tiraspol vs. Real Madrid.
There is a wider captaincy range for our backup captain. A lot of good options and good fixtures to choose a player from. 
We have a tough decision to make, but in the end, we chose Benzema as our Wednesday captain, if Lewandowski fails to deliver at least 9 points (you can read our rules for switching the captaincy here). 
We wanted to pick Salah, who is in outstanding form, has a great fixture, and he is classified as a midfielder so he will earn an extra point for goal and a clean sheet. However, we are not sure he will start for Liverpool, as the Reds has the comfortable lead in the Group B and guaranteed first place. 
Other captain picks for Wednesday: Salah, Haller
Your fantasy football strategy for MD5 will depend on the number of chips you have available and when you plan to use them. 
If you already used your wildcard and the limitless wildcard, you need to keep an eye on MD6 fixtures when doing transfers, and even perhaps save one free transfer. Then you will have 3 free transfers in MD6, where we expect a lot of rotation as it is the last group stage match. 
So try to bring in players that have good fixtures in both, MD5 and MD6 as well.
If you plan to use your limitless wildcard in MD6 (as we plan), now is time to use all your free transfers. You do not have to look at MD6 fixtures and you can make transfers that will bring you the highest expected output in the Matchday 5.
Strategy for everyone
Focus on players that are good at balls recovered, such as Lauper, Barrios, Casemiro, Jorginho. Their points output is stable due to the balls recovered and score 4-5 points for you even without an attacking return.
Load up on Bayern and Ajax players. Their attacking force is undeniable and both teams have amazing fixtures in the Matchday 5. Our preferred 3 players from Bayern are: Lewandowski, Sané, Kimmich. Our preferred three players from Ajax are: Haller, Berghuis, Mazraoui.
Differential pick: Tsimikas. Liverpool will likely rotate, so we assume that Tsimikas will get the nod over Robertson against Porto. Tsimikas was superb for Liverpool in their first Premier League matches, and he is a super cheap route into Liverpool's defense. 
Which fixtures you should target? We always use bookies odds to help us determine that. Let's look at which teams have the highest chance of winning their match in Matchday 5 and to score a lot of goals in that game:
Bayern – 78 % to win, 48 % to score more than 2.5 goals
Real Madrid – 77 % to win, 47 % to score more than 2.5 goals
Inter Milan – 71 % to win, 42 % to score more than 2.5 goals
Ajax – 60 % to win, 36 % to score more than 2.5 goals
Barcelona – 58 % to win, 32 % to score more than 2.5 goals
Manchester City – 56 % to win, 32 % to score more than 2.5 goals
As usual, we looked at what bookies think about the Matchday 5 of UCL Fantasy.
We checked the clean sheet odds to determine which teams are most likely to keep a clean sheet in the MD5 and goalscoring odds to determine which players are most likely to score a goal in MD5. 
It can be very helpful when selecting the defense of your UCL Fantasy team or choosing your UCL Fantasy captain.
We used our Odds to probability calculator for converting bookies' odds into probabilities. 
Clean sheet odds for MD5
Bookies favor Bayern Munich to keep a clean sheet with 53 % probability. Inter Milan (46 %) and Real Madrid (41 %) follow. Bookies expect 8.05 clean sheets in Matchday 3. You can find the full Champions League clean sheet odds table here.
Goalscoring odds for MD5
Coming soon…
Check Any Time Goalscorer, 2 + goals, and hattrick odds in our article Champions League Goalscoring Odds.
4. UCL Fantasy Team Matchday 5
Let's finish our preview for the Matchday 5 of UCL Fantasy with our scout picks. This is a good inspiration for managers on their wildcard (regular one). If you plan to use your limitless wildcard in MD5, check our limitless squad here.
We will likely make 1 or 2 changes to our team before the deadline. We will post our final team on our Twitter @FplReports one hour before the first kickoff.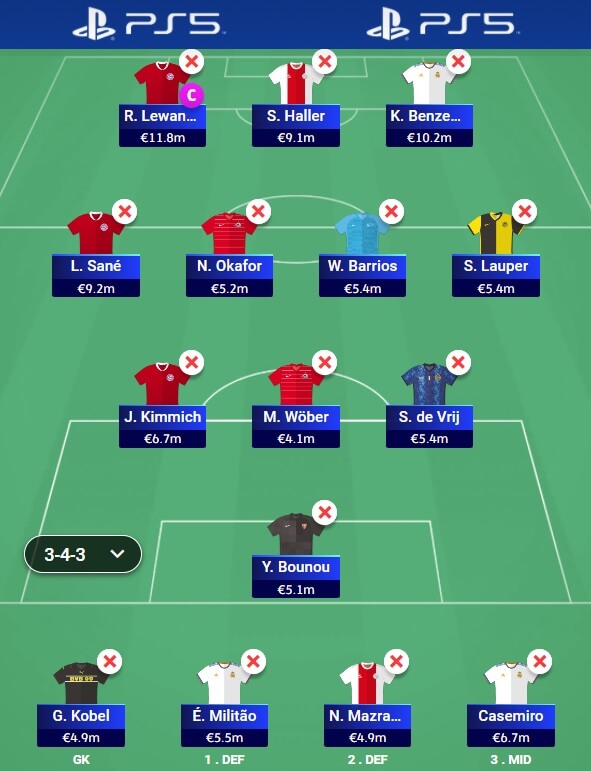 The fifth Matchday of the Fantasy Champions League campaign starts in just a few days. Make an informed decision about your UCL Fantasy team and prepare it for success.
Good luck!
JOIN our UCL fantasy league by clicking this link or use league code 82C8X1QX01, we are looking forward to compete with you!