Last two rounds of Fantasy Champions League group stage are here.
Only few options how to boost your ranking before the beginning of Round of 16 left.
That's why we prepared for you UCL Fantasy tips for Matchday 5.
To help you find opportunities to climb up the ranking before the elimination rounds begin.
Tips for Matchday 5 of UCL Fantasy
Best captain for Matchday 5
In the Matchday 5, there are tough fixtures, and it is not as easy to spot the best captain pick as usual. 
Let's start the captaincy section with our captain for Tuesday matches. Robert Lewandowski will not feature against Atletico, so somebody else must be our captain for Tuesday.
And it is a surprising one. Despite considering every other option, this is our clear winner for Tuesday captaincy.
Tuesday captain pick: Cristian Romero (MID (H))
Atalanta vs. Midtjylland is probably the best fixture for finding the captain from all Tuesday games.
Even bookmakers agree, as no other team have higher probability of winning on Tuesday (based on bookies odds) than Atalanta.
That is great news for those who own Atalanta attackers like Gomez or Zapata.
However, our captain for Tuesday is neither of them. It is Atalanta centre back Cristian Romero. Yes, centre back.
Let me explain. Main reason behind this decision is expected output of Atalanta centre back. There is 48 % percent of Atalanta keeping a clean sheet.
That means, that expected fantasy points from clean sheets for Atalanta defenders are: 4 * 0.48 = 1.92 points
When we add appearance 2 points to that, that is 1.92 + 2 = 3.92 expected points for Atalanta defenders without considering their attacking threat or points from balls recovered.
So now, let's consider expected points from balls recovered for Romero.
He recovered 44 balls in three games. That's 14.67 balls recovered per game and that is extra 4 points per game.
And those 4 points are "low risk" points as Romero's numbers of balls recovered per games have low variance.
When we add these 4 expected points for balls recovered to Romero's expected points for appearance and clean sheet we got 2 + 1.92 + 4 = 7.92 points projection.
That is Romero's expected output in Matchday 5. So, we expect Romero to score 7.92 points in MD5.
And that's why Cristian Romero is our captain for Tuesday game.
Other armband contenders for Tuesday: Zapata, Salah, Sterling, Lukaku
Wednesday captain pick: Erling Haaland (LAZ (H))
Our back-up captain for Wednesday is more obvious. He has the fixture, form and stats at his side.
With 6 goals Erling Haaland is currently top goalscorer of this Champions League season.
He has been very reliable fantasy asset as he has scored in every UCL match so far this campaign.
And no player has more attempts on target (11) than him in first four matchdays.
Haaland is our preferred captain for Wednesday.
But if you want to play it bit differently, there few other captain options for Wednesday games: Messi, Hummels, Ronaldo, Angelino.
Key players for Matchday 5
Out two captain picks Romero and Haaland are first two key players for Matchday 5.
Another key player is Matts Hummels who is recovering balls at rate 12 balls recovered per game. He will score points for your UCL Fantasy squad with and without Dortmund clean sheet.
Diogo Jota is in amazing form and he had his rest in previous matchday. We expect Liverpool to play in full strength against Ajax and Jota to lead the attack for The Reds. And for 7.7 million he is an absolute bargain.
Angelino has already shown his attacking capabilities. Leipzig will face Basaksehir and Angelino might repeat his stunning performance from the first games between those two.
Scout picks for UCL Fantasy Matchday 5
Now, let's look at our scout squad for Matchday 5 of Fantasy Champions League.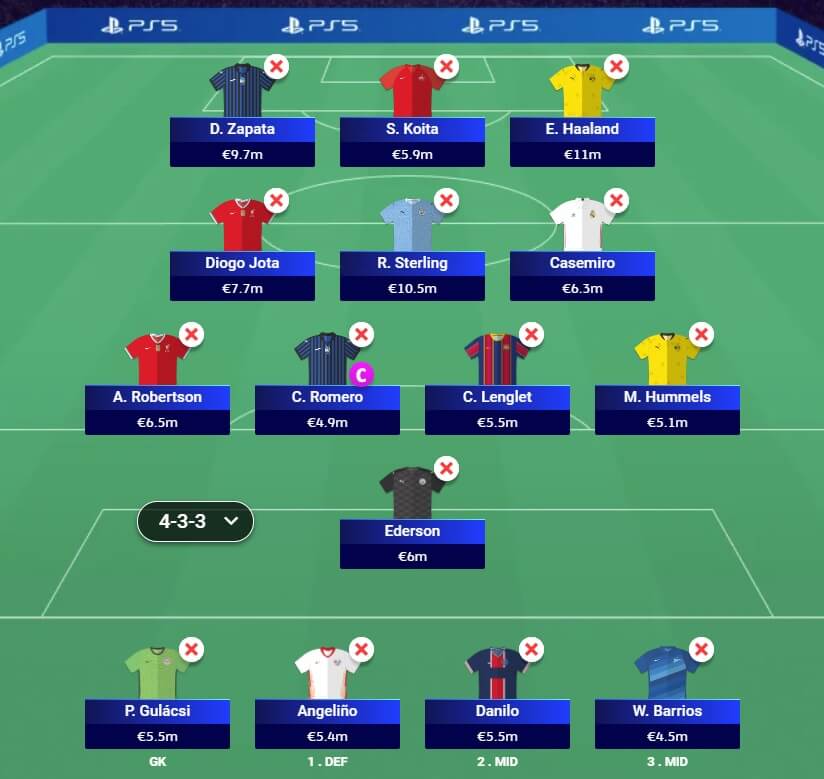 More tips for Matchday 5 are yet to come