Just 5 games left in the 2020/21 Fantasy Champions League season. That is not much room to gain a lot of fantasy points.
Teams of all UCL Fantasy managers will look very similar in the semifinals.
So, let's look at UCL Fantasy MD11 tips, and let's show you how to make the most of this matchday. 
Tips for Matchday 11 of UCL Fantasy

Strategy for the semifinals 1st leg
Your biggest advantage over other UCL Fantasy managers can be if you start preparing your teams for the Champions League Final right now.
You will not have to take unnecessary -4 point hits after the semifinals.
So, let's look at how to do it.
1. Do not go all-in in two teams.
In the UCL Fantasy R16 and in the Quarterfinals, we always emphasized that you should focus on players from teams that will likely go through. Well, not anymore.
The situation in the 1st leg of the semifinals is not the same. We have already published the probabilities of progressing to the final, and we saw that there are no clear favorites in the semifinals.
In R16 and Quarterfinals, there were teams with an 80 %+ chance of progressing, so we focused on them.
In the semifinals 1st leg, the probabilities for all 4 teams are very close to 50 %, so before we know the 1st leg results, we cannot really predict who will go through. So, what should you do in this case?
The answer is diversification…
Yes, before the start of the semifinals 1st leg, you should use diversification to spread the exposure in your UCL Fantasy squad to all 4 teams equally.
It means you should have almost the same number of players from all 4 teams in your UCL Fantasy squad.
Let's bring back the probabilities of progressing to the final from our previous UCL Fantasy article for the semifinals first leg.
| Team | Probability of advancing to the final |
| --- | --- |
| Man City | 61 % |
| Real Madrid | 52 % |
| Chelsea | 48 % |
| PSG | 39 % |
So, here is how you should spread spots in your squad:
3 PSG players (because the probability of PSG going to the final is the lowest from all 4 teams)
4 Chelsea players
4 Real Madrid Players
4 Manchester City players
This will help you to get perfectly set up for the Fantasy Champions League Final round – it will help you maximize your chances of having at least 11 starters in your UCL Fantasy squad in the final.
3. What to do after UCL Fantasy semifinals 1st leg
After the 1st leg is over, the probabilities of progressing to finals will change for all teams.
Based on the 1st leg results, there likely will be two teams that will have gained an edge in the semifinals 1st leg, so they will have a higher chance of progressing to the final.
And you will have 3 transfers available. That will help you rebalance your squad and move from diversification to concentration. Let me tell you what that means…
It means, that you will use your three free transfers before the semifinals 2nd leg to get rid of 3 three players that will have lost their 1st leg match, and the probability that their team progressing to the finals will have decreased significantly.
Best captains for UCL Fantasy Semifinals
We will keep the captaincy section very short. We think, there are two obvious in-form captaincy options for the 1st leg of the semifinals.
Our first captain for Tuesday is Karim Benzema who has 11 goals and two assists in his last 10 La Liga matches.
Our backup captain for Wednesday is Kylian Mbappé who managed to score 10 goals and register 1 assist in his last 10 Ligue 1 appearances.
Mbappé and Benzema are probably two most in-form players in Europe, so we do not consider other options.
Scout picks for UCL Fantasy Semifinals 1st Leg
Let's finish our MD11 tips with our scout picks for the first leg of the UCL Fantasy Semifinals.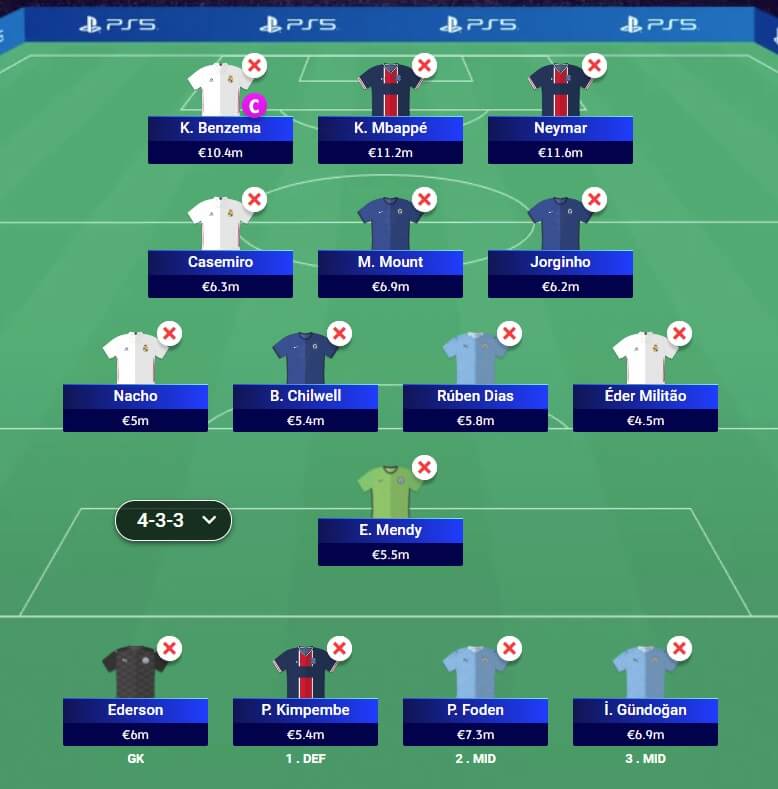 Few more tips for the semifinals are yet to come
FPL Reports will bring you other UCL Fantasy Semifinals tips soon. MD11 Clean Sheet Odds and MD11 Goalscoring Odds will be live soon.