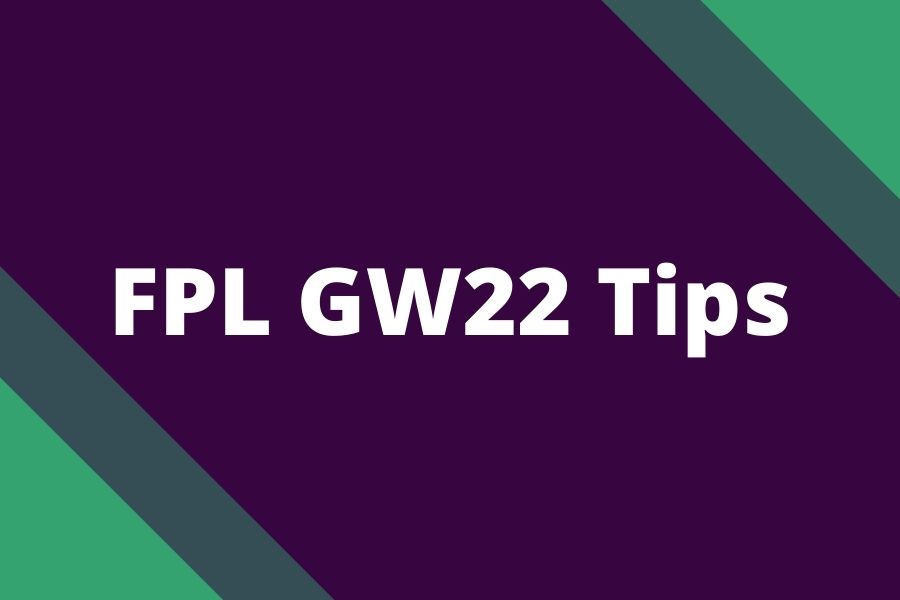 In the coming days, there is another double gameweek Fantasy Premier League on the horizon, as Manchester United and Leeds play twice. Let's look at our usual FPL GW22 Tips to help you navigate through the gameweek 22.
1.

Fantasy Premier League Double Gameweek 22 Tips
do not forget that Manchester United have blank in GW25, but it is still okay to triple up on them in DGW22
Rashford + Fernandes + Shaw is our preferred United trio
It is not necessary to have Leeds players in DGW22
Have an eye on double gameweek 23 and blank gameweek 25 when making your transfers
if you have 2 free transfers, it is okay to use only one, and save the other for DGW23
Differential captain: Shaw
GW22 Differential: Antony
Big thanks to Mikkel Tokvam for creating this useful overview of upcoming double gameweeks and blank gameweeks:
The cup games finally settled. Updating the Transfer Algorithm based on the future probabilistic fixture list until the end.

The teams are ranked based on no. of fixtures in the next 8. But the list is pretty much upside down come the last 8 GWs. Its the WC swing right there. pic.twitter.com/4Q7xf63kKU

— the Transfer Algorithm (@MikkelTokvam) January 31, 2023
2. Best (triple) captain pick in Doouble Gameweek 22
We will keep the captaincy section short once again.
Captaincy is clear for DGW22. In his current form, Rashford is the best captain pick for GW22. He is going to be our triple captain.
3. What bookies odds say about Gameweek 22
As usual, we converted bookies odds into probabilities using our Odds to probability calculator, to assess the potential of gameweek 22.
Clean sheet odds for GW22
Manchester United dominates clean sheet odds in GW22 – aim to have at least one United defender in your team. Bookies also favor Brighton and Arsenal to potentially keep a clean sheet.
Bookies expect 5.88 clean sheets in gameweek 22. In last season, we were used to a rate of 5.58 per clean sheets gameweek. This season we have seen clean sheets at the rate of 5.52 clean sheets per gameweek.
Due to a correction in the number of clean sheets: Newcastle, Manchester United
Newcastle overperformed their defensive expectations the most from all teams. They should have kept 5.8 clean sheets instead of 12 according to our expected clean sheets table.
Due to an improvement in the number of clean sheets: Southampton, Liverpool
Southampton underperformed their defensive expectations the most from all teams. They should have kept 3.68 clean sheets instead of 1 according to our expected clean sheets table.
You can see the expected clean sheets table and clean sheet odds for all Premier League teams here.
Goalscoring odds for GW22
You can look at all most likely goalscorers for GW22 here: Premier League Goalscoring Odds. No surprise that Haaland leads the table by a big margin again. However, we do not have odds available for the second Manchester United game yet.
4. FPL DGW22 Team selection
Now let's look at our FPL team selection for Gameweek 22. Rashford is our (triple) captain.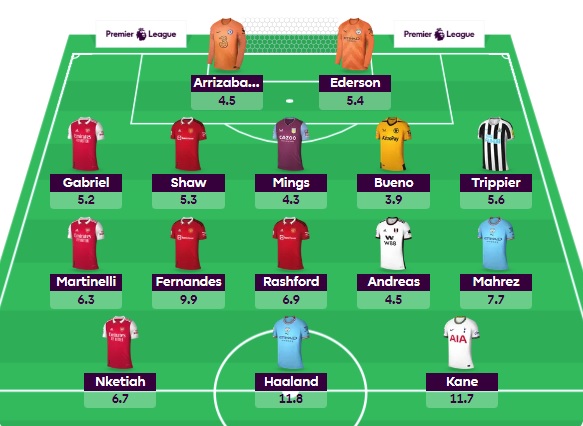 5. Fantasy Premier League Tips
Find more tips, strategies and picks for Fantasy Premier League in these articles:
We hope our FPL GW22 tips helped you to gather some useful information before the Gameweek 22 deadline.
Join our Fantasy Football Reports League if you haven't already with a league code of zte1cv. Or click the auto-join here.
Good luck in FPL GW22!