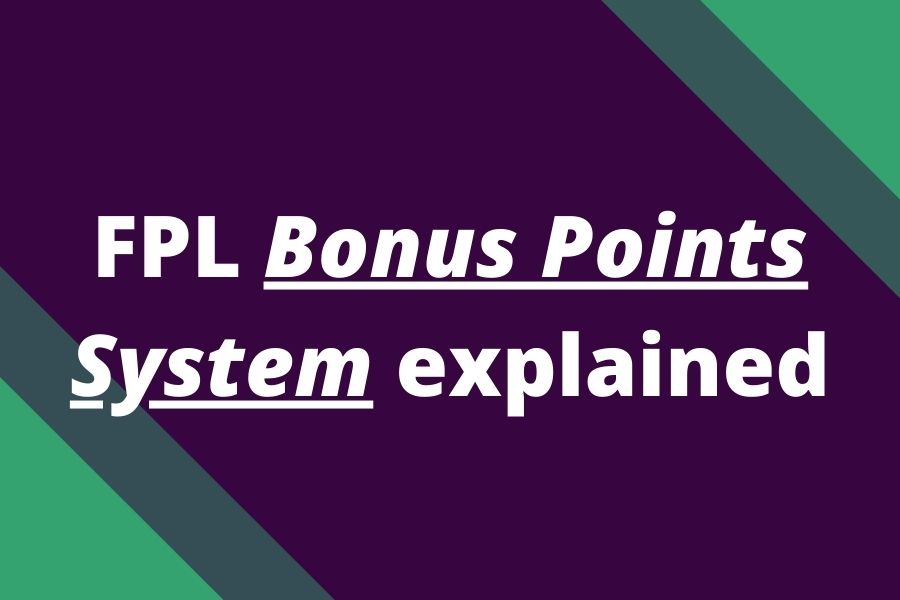 There is a lot to take in as an FPL player, and understanding the inner workings of the game we all love (and occasionally hate) is sometimes a complex process.
It can be further complicated by the bonus points system, which can be rewarding, maddening and confusing in equal measure, especially if you're not au fait with the BPS and how it works.
In this article, we will endeavour to cover what the bonus points system is, how it works, what this means for you, and how it might help you to select players with a higher chance of scoring bonus points in your FPL team.
After all, how many times can players bagging bonus points make a massive difference to your overall gameweek score?
Let's take a closer look at how the FPL bonus points system operate.
What is the BPS (Bonus points system)?
The BPS, or Bonus Points System, is the metric that is used within Fantay Premier League to determine which individual players should receive bonus points at the end of each match of the gameweek.
The system first became fully active from the 2012/13 season, and the players with the top three performance scores in each match receive bonus points – 3 to the highest scoring player, 2 to the second-highest, and 1 for the third-highest.
Due to the intricacies of the BPS, it is often the case that several players can receive the same bonus point score, and we will discuss this in greater detail below.
How Do Bonus Points Work in FPL?
The BPS accounts for numerous metrics and individual statistics from players over the course of a match in order to determine who should be awarded bonus points at full-time.
The statistical data used in the BPS scoring is supplied by OPTA, and focuses on a performance score for each player.
How are bonus points calculated?
How do players get bonus points in FPL? Here is a list of the different statistics that are used in the BPS, and how much they are worth:
| Statistics | Bonus points awarded |
| --- | --- |
| Playing 1 to 60 minutes | 3 BPS |
| Playing over 60 minutes | 6 BPS |
| Goalkeepers and defenders scoring a goal | 12 BPS |
| Midfielders scoring a goal | 18 BPS |
| Forwards scoring a goal | 24 BPS |
| Assists | 9 BPS |
| Goalkeepers and defenders keeping a clean sheet | 12 BPS |
| Saving a penalty | 15 BPS |
| Save | 2 BPS |
| Successful open play cross | 1 BPS |
| Creating a big chance | 3 BPS |
| Every 2 clearances, blocks & interceptions | 1 BPS |
| Every 3 recoveries | 1 BPS |
| Key pass | 1 BPS |
| Successful tackle (net*) | 2 BPS |
| Successful dribble | 1 BPS |
| Scoring the winning goal | 3 BPS |
| 70-79% pass completion (at least 30 passes attempted) | 2 BPS |
| 80-89% pass completion (at least 30 passes attempted) | 4 BPS |
| 90% pass completion (at least 30 passes attempted) | 6 BPS |
| Conceding a penalty | -3 BPS |
| Missing a penalty | -6 BPS |
| Yellow card | -3 BPS |
| Red card | -9 BPS |
| Own goal | -6 BPS |
| Missing a big chance | -3 BPS |
| Making an error that leads to a goal | -3 BPS |
| Making an error that leads to a goal attempt | -1 BPS |
| Being tackled | -1 BPS |
| Conceding a foul | -1 BPS |
| Being caught offside | -1 BPS |
| Shot off target | -1 BPS |
Source: Official FPL
How are bonus points awarded?
So, the player with the highest BPS score gets 3 bonus points. A player with the second highest BPS score gets 2 bonus points and a player with the third highest BPS gets 1 bonus point.
This is an extensive list, but it's not something that you need to obsess over too much, as the game takes care of this automatically.
It is simply useful to see a breakdown of what makes up the BPS, and how it is tracked, as well as being able to understand how this applies to your players and their chances of securing those all important bonus points.
What happens if there is a tie in BPS?
Many times, some players end up the game with same amount of BPS scored. Let's look at rules on how bonus point ties are resolved:
If there is a tie for first place, Players 1 & 2 will receive 3 bonus points each, and Player 3 will receive 1 point.
If there is a tie for second place, Player 1 will receive 3 bonus points and Players 2 and 3 will receive 2 points each.
If there is a tie for third place, Player 1 will receive 3 bonus points, Player 2 will receive 2 points and Players 3 & 4 will receive 1 point each.
Source: Rules of Official FPL
When Are Bonus Points Added in FPL?
Bonus points are usually awarded around one hour after the game has finished. On some rare occasions, it might take a bit longer for FPL to update the game with bonus points.
Once Bonus Points get added, just click on your player and you will see how many bonuses he earned.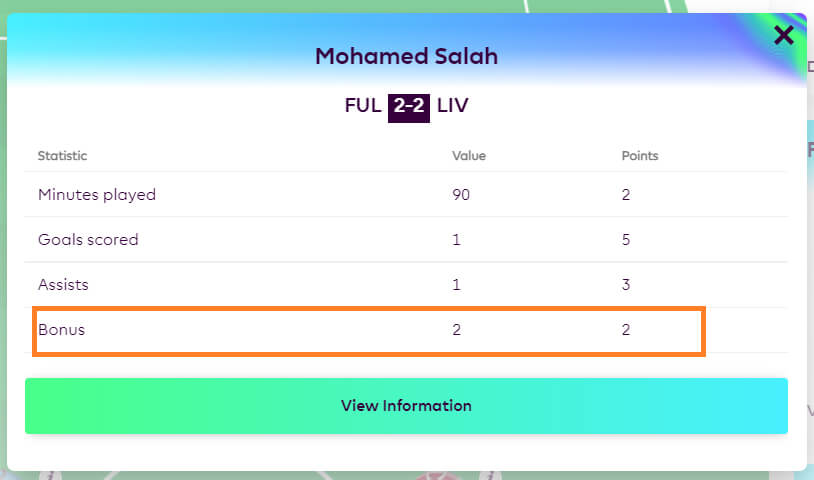 Can You Check Bonus Points Live During Games?
Yes, it is also possible to view and track bonus points live in real-time as a match is unfolding.
Of course, the preliminary bonuses will change regularly depending upon the events that occur in the game, and this is important to keep in mind.
Being able to check out live bonus points whilst a game is in progress is a great way of seeing how well your players are performing throughout a match, especially if you are not watching the game live.
Now, there are a couple of ways of being able to track and view the breakdown of BPS performance scores.
Official FPL website
The easiest way of being able to check the BPS breakdown is to head to the official Fantasy Premier League site and select the fixtures tab (or scroll down below your FPL team to see the fixtures), then choose the game you wish to view.
By clicking on the current score, you will be able to view goal scorers, assisters, bookings, and the players currently leading the bonus, as well as their BPS score.
LiveFPL
Another way of tracking bonus points live is LiveFPL.net, a site that allows you to track the bonus points system in real time, and see which players are leading the race for bonuses from kick-off until the final whistle.
Which Players are Good & Bad for Bonus Points?
Due to the way the bonus points system works in FPL, there are certain players who are going to be better or worse for bonuses, and it's worth knowing about these players.
The first thing to note is that players who miss a lot of big chances are typically bad news for BPS. Perhaps paradoxically, some players who are excellent FPL assets tend to struggle when it comes to securing bonus points, with FPL royalty Mo Salah a prime example of this.
On the flip side of this, creative players who tend to make a lot of key passes, create chances, and dictate play will often score an unexpectedly high volume of bonus points throughout the season; this includes players like Kevin De Bruyne.
You can easily check which players are good or bad in BPS by sorting  players by Bonus or by Bonus Points System: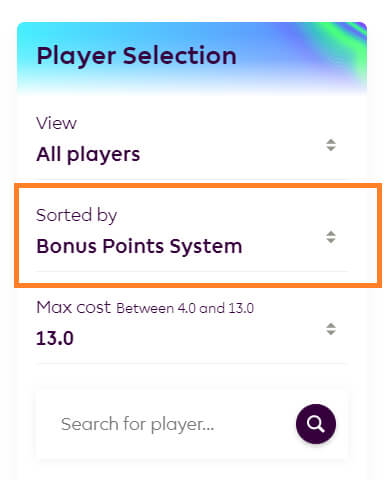 You can also see BPS of each player from each march by looking at player information: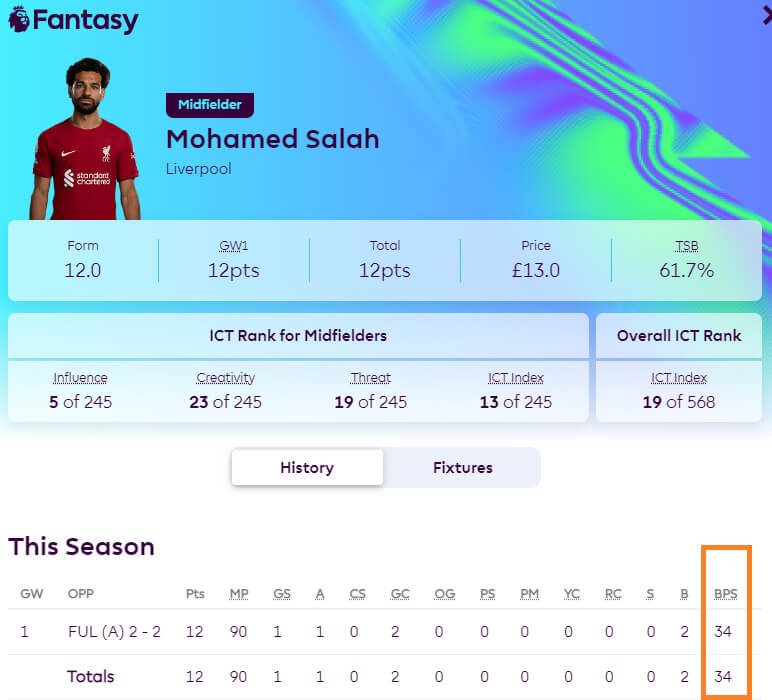 Checking these data will help you find players that do exceptionally well in BPS.
Also, check our article where we examined which players were best at Bonus Points over the last 3 seasons: FPL Bonus Points Magnets.
Conclusion
As you can see, there is plenty to digest here, and understanding the way the bonus points system works can feel a little overwhelming.
But it is something that should become easier as the season progresses, particularly as you can follow the BPS scores for players throughout the course of the season as well.
Hopefully, you now have a better understanding of the bonus points system, and how it is used to help award bonus points and help provide a boost for our FPL teams.
FAQ
How to get bonus points in Fantasy Premier League?
When picking your FPL team, focus on players that usually do well in the Bonus Points System, that way you will increase the chances of getting more bonus points.
Are bonus points doubled in FPL?
If your captain receives bonus points then yes, the captain's bonus points will be doubled. So, if the player you captained receives a maximum amount o bonus points – 3, he will earn 6 points for your fantasy team. In the case of a triple captain, it would be 9 points.
Further resources