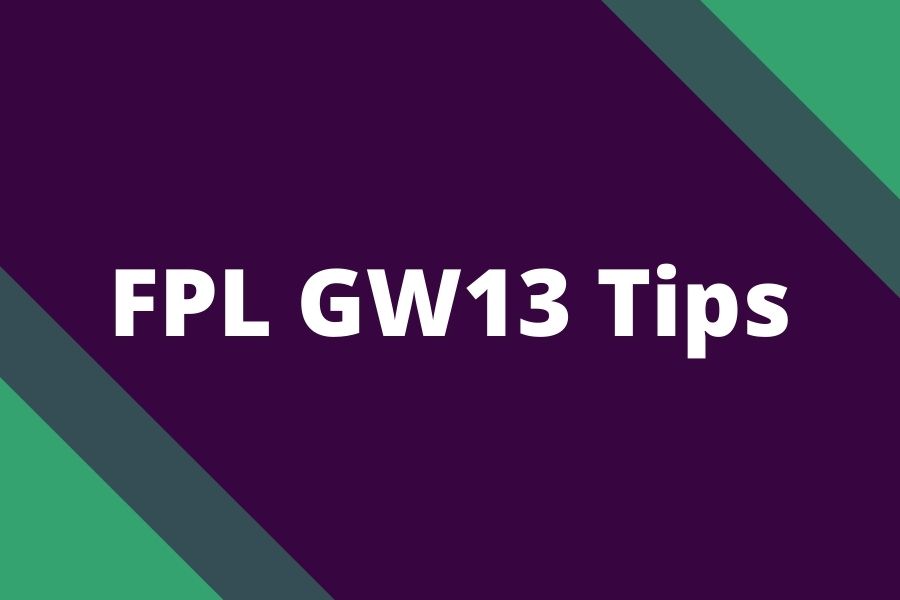 The Fantasy Premier League Gameweek 13 is here and there is a lot to think about during the 2 weeks long international break.
So, let's jump to our FPL GW13 Tips with the best picks, fixtures, transfer targets, odds, captain picks, and team selection.
1. Making the most of the international break in FPL Gameweek 13:
Relax and Recharge (if you want): Take a breather from FPL and clear your mind. If FPL has been an emotional rollercoaster for you (we had a few really low-scoring gameweeks that have been tough), a short break can help you refocus. Read more: Essential tips for enjoyable FPL seasons without sacrificing your mental health
Stay engaged (If you choose): Dive into stats and catch up on game highlights you missed.
If your team is struggling, consider using your wildcard. Activate it early to benefit from price rises. Read more: Tips for efficient use of wildcard in FPL.
Expand your knowledge: Read a book about FPL. Read more: 6 Books that will help you improve your FPL skills
Remember, the international break is a chance to come back stronger, whether you choose to disconnect or strategize further.
Reading for an international break
We prepared for you a list of a few articles and FPL Strategies to read during the international break:
2. Fantasy Premier League Gameweek 13 Tips
Having two free transfers is always handy during international breaks. If you saved on a transfer in the previous gameweek, you can use 1 free transfer early (if necessary) in the international break and save the other one for Saturday in case there are some injuries on international duty. But if there are no urgent transfers to be made, save both free transfers to the end of the International break.
Doing mini Wildcard: If your team needs rebalancing, you could do a "mini wildcard" with 3 transfers (2 free + one -4 points hit).
If you have just one free transfer, save it for the end of the international break. You never know what will happen on international duty as some players might get injured.
Keep Bruno Fernandes for the fixture against Everton
Focus on Arsenal, Liverpool, Brighton and West Ham players
Bench order: Burnley has nice fixtures ahead – you can have Charlie Taylor first on your bench (Read more: How to order your bench in FPL?)
You could play Archer in Gameweek 13, if your team structure allows it, and if you do not have to bench a better player
Start slowly planning for AFCON 2024 (some players might miss 3-4 gameweeks between GW21 – GW24) – see our FPL calendar
Haaland's injury does not seem to be serious, is expected to play against Liverpool (it is early kick off, so perhaps there will be some information before the deadline on whether he is fit)
Mitoma was back in training, but will not feature in GW13 game against Nottingham (source). He is sell for us unless you have some great options from the bench, or other more pressing issues
Bowen is an injury doubt, but the decision will be made before the game. He is a hold for us. (source)
Cash should be fit to start in GW13
Read more: Best Mitoma and Bowen replacements
PEP 💬 He (Erling Haaland) trained yesterday with some niggles. Yeah, today we [will do] the last training session, hopefully, he can play a part. pic.twitter.com/4LpfV3Zosx

— Manchester City (@ManCity) November 24, 2023
"Mitoma and Milner can't play, they are not available. We will have to see with Igor.

"We have too many injuries – I have lost count! Dunk is available, Estupinan isn't – I think for a long time. Lamptey is better which is good news." #BHAFC pic.twitter.com/s9car1PXzy

— Brighton & Hove Albion (@OfficialBHAFC) November 24, 2023

3. Key players to pick and transfer targets for FPL GW13
Key players to pick
Haaland – captain option in almost any gameweek
Salah – great form
Son – captaincy candidate for GW12
Saka – It is time to bring Arsenal midfielders back to our teams, but wait for their injury news
Gabriel/Saliba –  focus on Arsenal's defence again
Watkins/Diaby/Cash – one or two Aston Villa players, give them 2 more gameweeks
Bowen (if fit) – West Ham key player
Trippier – but not essential given injuries among Newcastle defenders and tougher fixtures
Johnstone/Andersen/Guehi/Mitchell – Crystal Palace defensive players who have great fixtures up to GW15
Transfer targets
Eze – back from injury, great fixtures
Kudus – great differential
Arsenal MID/DEF
Solanke – good stats, form, a key man for Bournemouth, and nice fixtures ahead (the only downside is, that Bournemouth will not score many goals)
Mbeumo – to be one week early before the GW14 bandwagon started to happen
Wood – differential with Aowniyi out for 3 months
4. Fixtures to target in Gameweek 13
In which fixtures we could expect a lot of fantasy points? These are the fixtures to target in Gameweek 13 according to bookies odds.
Manchester City vs. Liverpool: Citizens 58 % to win, 34 % to score 2.5+ goals
Brentford vs. Arsenal: The Gunners 52 % to win, 23 % to score 2.5+ goals
Nottingham vs. Brighton: Brighton 47 % to win, 25 % to score 2.5+ goal
Fulham vs. Wolves: Fulham 45 % to win, 15 % to score 2.5+ goal
Find 2.5+ goals odds for all teams in our article: Premier League Over 2.5 Goals Odds.
Teams with bad defensive stats (the season):
Luton (30.61 xGC)
Sheffield United (29.7 xGC)
Bournemouth (26.76 xGC)
Teams with bad defensive stats (last 30 days):
Luton (12.13 xGC)
Burnley (8.33 xGC)
Crystal Palace (8.01 xGC)
Best fixture runs in the next 3 gameweeks
Burnley – 2 average FDR over the next 3 matches
Arsenal, West Ham, Bournemouth, Crystal Palace, Nottingham – 2.33 average FDR over the next 3 matches
See the average FDR over the next 3 and next 6 gameweeks for all teams in our article: Best fixture runs in FPL from Gameweek 13
5. Updated watchlists: Best players to pick in Gameweek 13 and beyond
We also looked at players from each position: goalkeepers, defenders, midfielders, and forwards and updated our watchlists.
We examine which players are best picks in each price bracket: budget enablers, midpriced picks, and premium options. Check our watchlists with our ratings and comments here:
6. Best captain pick in FPL Gameweek 13
According to our captaincy index, Haaland is the best captain in FPL Gameweek 13 with a captaincy index score of 1.86.
Son (captaincy index score 1.46) is the number 2 captaincy pick and Salah (1.38) is number 3.
7. What bookies odds say about Gameweek 13
As usual, we converted bookies odds into probabilities using our Odds to probability calculator, to assess the potential of GW 13.
Clean sheet odds for GW13
Crystal Palace (35 %) has the highest probability of a clean sheet in GW13. Bookies also favor Arsenal and Fulham (33 %) to keep a clean sheet in GW 13. However, clean sheet odds are very tight for GW13, no team close to 50 % probability as we are used to, which suggests clean sheets could be unpredictably spread around in Gameweek 13.
💡Which teams will likely keep a clean sheet in #GW13?#GW13 #FPLCommunity

Find full table at: https://t.co/qqR5rk3ohZ pic.twitter.com/8myJ4URVtl

— Fantasy Football Reports (@FplReports) November 25, 2023
Bookies expect 4.64 clean sheets in gameweek 13. In last season, we were used to a rate of 5.45 per clean sheets gameweek. This season we have seen clean sheets at the rate of 4.25 clean sheets per gameweek. Clean sheets are on the decline in 2023/24 season.
Expected clean sheets
Due to correction in the number of clean sheets: Crystal Palace, Newcastle
Crystal Palace overperformed their defensive expectations the most of all teams. They should have kept 2.9 clean sheets instead of 5 according to our expected clean sheets table.
Due to an improvement in the number of clean sheets: Brighton, Burnley
Brighton underperformed their defensive expectations the most from all teams. They should have kept 3.26 clean sheets instead of 0 according to our expected clean sheets table.
You can see the expected clean sheets table and clean sheet odds for all Premier League teams here.
Goalscoring odds for GW13
Usual business as Haaland (51 %) leads the goalscoring odds table followed by Son (35 %) and Watkins (34 %).
Check all odds here: Premier League Goalsocring Odds.
Zobraziť tento príspevok na Instagrame
8. FPL GW13 Team – scout selection
Now let's look at our FPL team for GW13. Haaland is our captain, and we are waiting for Bowen injury news.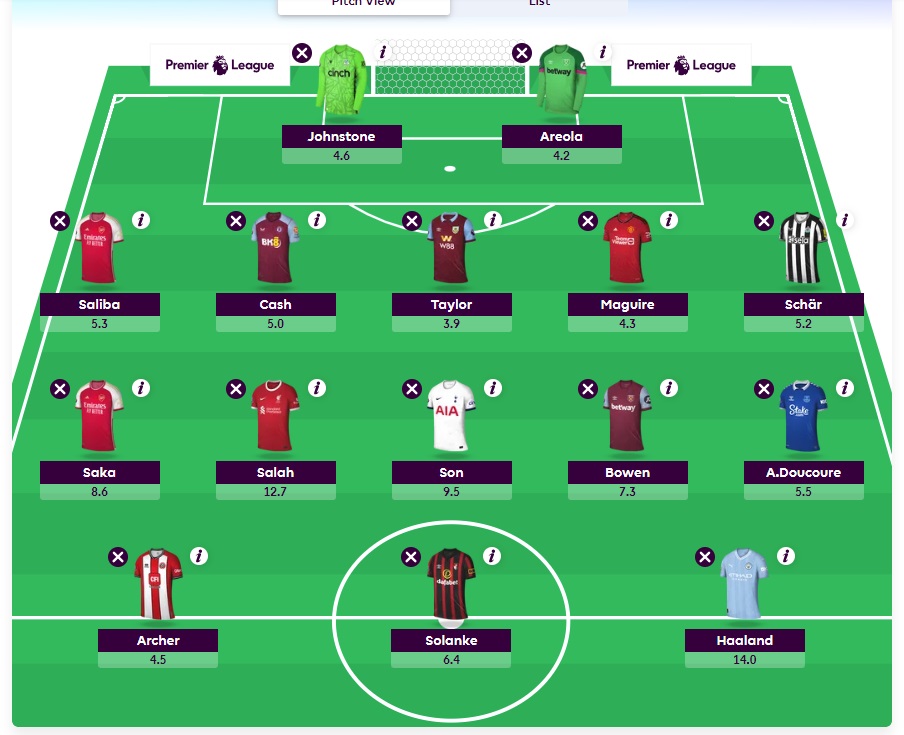 9. Fantasy Premier League Tips
Find more tips, strategies and picks for Fantasy Premier League in these articles:
We hope our FPL GW13 tips with the best picks, fixtures, transfer targets, odds, captain picks, and team selection helped you to gather some useful information before the Gameweek 13 deadline.
Feel free to JOIN our Fantasy Football Reports mini-league by clicking this link or using our league code ti56kl.
Good luck in FPL GW13!