Fantasy World Cup Matchday 1 starts in a few days! There is a lot to talk about regarding new rules, the best players' picks, captain, chip strategy, or team selection for MD 1 of FIFA Fantasy. 
So, without further ado, let's dive into our Fantasy World Cup Matchday 1 Tips. 
1. New rules = new strategy
There are a few changes in the points scoring system that we are used to from UCL Fantasy or FPL, so we must adjust our strategy accordingly:
7 points for the defender's goal = just 3 points for an assist, but 7 points for a goal means that you should aim to bring in defenders that are rather good at scoring than assisting (centre backs, set-piece specialists, penalty takers…)
-1 point for an additional goal conceded (apart from the first one) for GK and DEF – 3 goals conceded means 0 pointer for your defender. We must focus on DEF and GK that do not concede much.
5 points for a clean sheet = just have 5 playing defenders with high clean sheet odds in your fantasy team
1 point for every 2 key passes and 1 point for every 3 tackles for MID: cheap defensive and creative midfielders will get a slight boost because of this. But do not expect much from it: 1-2 extra points per match for players good at tackles and players good at key passes (see our tables on links)
5 points for scoring a goal for FWD: MIDs and FWDs are awarded the same amount of points for a goal = FWDs are far more attractive for captaincy now. This fantasy game will be about forwards. Do not waste your three precious posts.
1 point for every 2 shots on targets for FWD: it slightly boosts the appeal of forwards who shoots often, but do not expect much: only extra 1-2 points at best for players who have many shots on target
2. Fixtures to target in Matchday 1 of Fantasy World Cup
Let's look at who are bookies' main favorites to do well in MD1:
Spain vs. Costarica: Spain 84 % to win, 46 % to score 2.5+ goals
Argentina vs. Saudi Arabia: Argentina 83 % to win, 47 % to score 2.5+ goals
France vs. Australia: France 76 % to win, 42 % to score 2.5+ goals
England vs. Iran: England 72 % to win, 28 % to score 2.5+ goals
Portugal vs. Ghana: Portugal 69 % to win, 30 % to score 2.5+ goals
Brazil vs Serbia: Brazil 66 % to win, 33 % to score 2.5+ goals
Based on these probabilities, Argentina, Spain and France coverage for Matchday 1 looks crucial.
3. Clean sheet and goalscoring probabilities for MD1
Let's continue analyzing bookies odds for Fantasy World Cup Matchday 1. We used our Odds to probability calculator to convert other odds to probabilities as well, which helps us assess the potential of the following matchday.
Clean Sheet Odds Matchday 1
Bookies expect 10.32 clean sheets in MD1 – the most from all matchdays, so MD1 should be good for defenders. But which teams have the highest chance of keeping a clean sheet? Bookmakers especially favor Argentina (67 %), Spain (64 %) and England (63 %) to keep a clean sheet in Matchday 1.
🤩 It is almost here! #WorldCup2022 starts in a few days. Which teams are most likely to keep a clean sheet in #MD1 ?#FIFA #WorldCupFantasy

All odds available at:https://t.co/yc9cuiRlJ4 pic.twitter.com/G5efkHzQiM

— Fantasy Football Reports (@FplReports) November 13, 2022
See our full table here: World Cup 2022 Clean Sheet Odds.
Clean Sheet odds Group Stage
Bookies favor France (1.56), Argentina (1.54) and England (1.5) to keep the most clean sheets in the Group Stage of World Cup 2022.So if you are building your fantasy team for the whole group stage, you should have at least one defender from those 3 teams.
⚽Which teams will keep most clean sheets in Group stage of #WorldCup2022? We converted bookies odds into probabilities to find out. #FIFA #WorldCupFantasy

All odds available at:https://t.co/yc9cuj8WAC pic.twitter.com/qQxo59Qem5

— Fantasy Football Reports (@FplReports) November 13, 2022
Goalscoring Odds Matchday 1
Messi leads our goalscoring odds table with a 52 % probability of scoring a goal. He is followed by France Mbappe on 46 % goalscoring odds. Our full table here: World Cup 2022 Goalscoring Odds.
⚽ Goalscoring Odds for #MD1 #FantasyWorldCup2022 #fantasyworldcup

All odds available at:https://t.co/X8aSR59cwd pic.twitter.com/koqZFJftGg

— Fantasy Football Reports (@FplReports) November 20, 2022
Other probabilities
We looked at some other probabilities as well, you can check them in our separate articles:
4. Best players from each nation
Which players should you consider when making your own fantasy world cup team selection?
Top scorers of each nation in Qualification
We checked which player were the scorers of each nations in World Cup 2022 Qualiffication. You can look at them in these articles:
Best players to pick at each position
Then we looked at players from each position: goalkeepers, defenders, midfielders, and forwards. We examine which players are best picks in each price bracket: budget enablers, midpriced picks, and premium options:
Top picks and differentials for Matchday 1
And we looked at the 5 best scout picks for MD1 and then at top 8 differentials (under 2 = owned). You can check them in our articles:
5. Best captain for Fantasy World Cup Matchday 1
When we select a captain in fantasy football, it is all about the fixture. Basically, we try the pick the fixture that has the highest haul potential (or hattrick potential).
We think, that for Matchday 1, Argentina vs Saudi Arabia is the best fixture for captaincy, therefore we think, that Messi is the best captain in Matchday 1. He is also top for goalscoring odds in MD1.
But because we can change our captain only ONCE per matchday, after your first captain is locked, you should have two captaincy options available. And if your first captain will not deliver you can switch captaincy to another player who is yet to play (is unlocked).
Backup captain
Your backup captain for MD1 could be Mbappe, or De Bruyne. Yes, you can switch captain from Messi to Mbappe despite them playing on the same day, as Mbappe will be unlocked when the Argentina match ends.
Captaincy thresholds:
Standout captaincy threshold strategy: fixed captaincy threshold
So, when to change the captain? What is the satisfying amount of points? With 5 points for goals and points for Key Passes and Tackles, we think that the magic number is 6 points. So when your captain scores 6 points or more, you leave the armband on him. When he scores less, you switch the captaincy.
Switching captaincy is a common feature in UCL Fantasy as well, so you can find more interesting information about switching the captaincy in our article: When to change captain in UCL Fantasy? All ideas mentioned in the article 100% apply to Fantasy World Cup as well.
6. Chip strategy Fantasy World Cup
We have 7 matchdays in Fantasy World Cup, 3 boosters and 2 x Unlimited transfers. That means that if you want to do well in this game, you must use boosters and unlimited transfers effectively. Fantasy World Cup is a sprint, while FPL is a marathon and you must approach the game accordingly. 
Fixtures will matter a lot in World Cup 2022 fantasy, so you should try to exploit easy fixtures as much as you can. And boosters will help you with that. We covered in separate articles when is the best time to use certain boosters:
Potential chip (booster) strategies:
12th man in MD1 (Mbappe, Kane..) or MD2 (Lewandowski..), Wildcard in MD3 (to deal with rotation), Power captain in Semifinals or Final (to deal with only 1 possible captaincy switch). This way you would use unlimited transfers before MD1 to create a team for first two matchdays
12th man in MD1 or MD2 or MD3, Wildcard before QF (to deal with players who got eliminated in R16, if you think 4 free transfers will not be enough), Power captain in Semifinals or Final

All in group stage strategy

(to get the most out of easy fixtures in the group stage): 12th man in MD1, Wildcard in MD2 (to set up your team for MD2 and MD3 , Power Captain in MD3 (to catch the biggest haul)
+ combinations and variations of these 3 strategies, but you got the picture of

how to build your own chip strategy
Actually, the best time Wildcard might be in Matchday 2. But be careful we are not completely sure it will definitely work like this!
Big thanks to @LetsTalk_FPL for the work he did in his pursuit for clarification about the rules:
Here's some #WorldCupFantasy clarifications.

Starting with unlocked and locked players as that's important for the rest of the rules. pic.twitter.com/OdHz0xmrHy

— Andy (@LetsTalk_FPL) November 18, 2022
Even with all the clarifications to rules I'm still being asked about Wildcard 😂

So here you go, it's basically crazy powerful… #WorldCupFantasy pic.twitter.com/mHNK4kGHyJ

— Andy (@LetsTalk_FPL) November 18, 2022
7. Team selection for Matchday 1
Here is our current team selection for Matchday 1. The bench is prepared for manual substitutions.  Messi – De Bruyne potential captaincy sequence. We updated our team and now it is built for matchday 1 only, as we will use wildcard in MD2.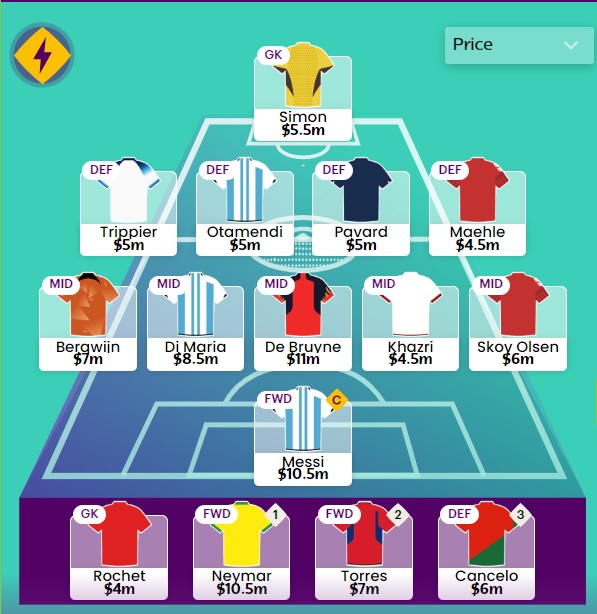 8. Fantasy World Cup Tips
Find more tips, strategies and picks for Fantasy World Cup in these articles:
FAQ
Who is the best captain in Fantasy World Cup Matchday 1?
Argentina has the best fixture in MD1, so we think Messi is the best captain for the first matchday of the Fantasy World Cup.
Which players should I pick for my team in Matchday 1?
These are players we consider to be almost essential picks for MD1: Trippier, Maehle, De Bruyne, Messi
When is the deadline for Matchday 1?
The deadline for MD1 is on Sunday at 16:00pm GMT, 20th November 2022.
Can I change my captain in World Cup Fantasy?
Yes, you can change the captain of your team in World Cup Fantasy to a player who is yet to play. But you can do it only once per matchday!