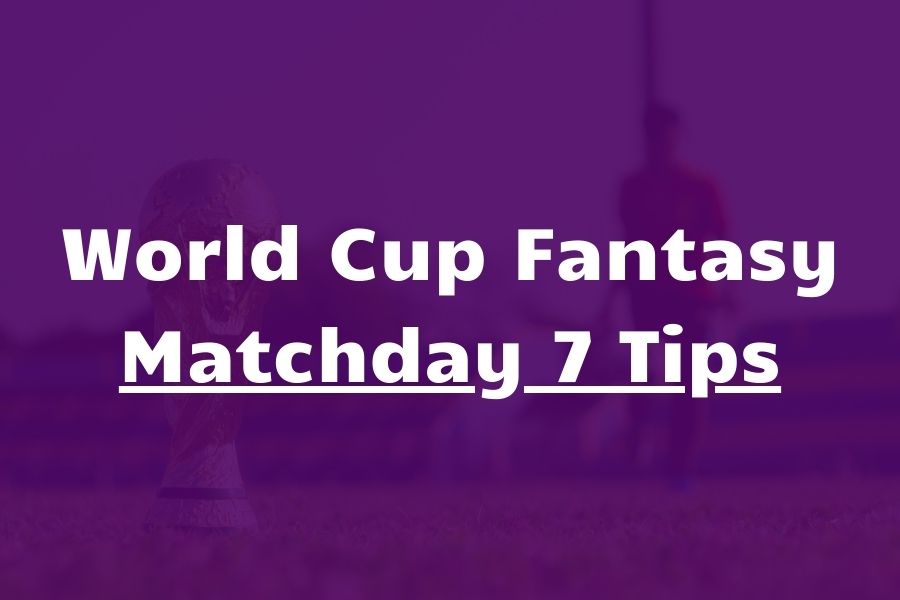 The grand finale of Mundial is here. So, let's prepare our squads for Matchday 7 of World Cup Fantasy.
We all can pick players only from four teams again, so there will not be many differences between teams of the majority of fantasy managers (apart from those, who gave up)-
The potential of moving your team in overall ranking or in your mini leagues is limited.
However, there is a way (risky way) how you can still climb the ranking or to take that number 1 spot in your mini league even in the matchday like this (with limited upside).
Let's jump right to it.
1 Best Strategies for World Cup Fantasy Matchday 7 (Final)
The strategy to play the World Cup Fantasy Final is the same as we introduced in the UCL Fantasy Final.
It depends on whether you are a leader in your mini-league, or you are a chaser.
Let's look at both of these possibilities in more detail.
a) Strategy for mini league leaders
If you are leading your mini league, you need to prevent the chasers behind you to overtake you.
That is why you have to try to match the teams of your rivals in Matchday 7.
If you and the number 2 in your mini league have the same team and the captain for the final, there is no way he will overtake you.
Try to match the teams of your biggest rivals. You will not get it to 100% match.. But do your best to field almost the same XI as the mini-league chasers.
b) Strategy for keeping the position in the ranking
If you have comfortable lead in your mini league, and you try to preserve your position in overall ranking – your strategy is to play it safe.
Field the "template" team of highly owned players in Matchday 7. Captain players that the majority will captain.
Diversify and pick players to your starting 11 almost equally from all 4 teams.
This is the way that will help you to "fix" your position in the rankings. You will own highly owned players, so you will not move up, but you will also do not move down.
However, you should improve your position by a small margin, because you will get ahead of managers, who gave up and do not make any transfers.
So, if you are happy with your position in the overall ranking, and in the mini leagues, this defensive strategy is for you.
c) Strategy for mini league chasers
If you are chasing and trying to get that number 1 spot in your mini league, you just have to risk it in the Matchday 7.
This is the strategy with the highest variance – you can win big, but also you can loose big.
But, if place number 1 in your mini league is all you take and you are like 15 points behind, then this "risky" strategy is for you.
Basically, go all-in in two teams, that you think will win their matches.
Or..
Do you think one team will keep a clean sheet in the Matchday 7? Go for 5 defenders (including keeper) from that team.
Or you can go all in in 3rd place game attacking players as it is usually a high-scoring match…
You got my point. Play it all on one card.
You will get big number of points if you hit it right.
But you will get little points if you do not.
2. World Cup Fantasy Final Tips
Pick the strategy based on your position in mini leagues and overall rankings
You can "risk it" by captaining a defender if you believe there is going to be a clean sheet for some team
Do not fotget to use your remaining Matchday 6 transfers befor the final whistle of France vs Morocco match
You do not need to use all 6 free transfers before the kickoff of 3rd place game, save few of them for the time when you know the lineups for final. For example, have a placeholder for Di Maria in your team, and if you see him in the starting lineup, you will bring him in then (and not before the 3rd place game kickoff)
If you cannot maximize the budget of 105 million, it is fine. Pick the best players – players that are going to score points, and not the most expensive players. If it will leave you 3 or 4 million in the bank, it is fine. 

Do not fall into the budget trap.
3. Fixtures to target in Matchday 7 of Fantasy World Cup
There are no good or bad fixtures at this stage of the tournament.
Try to pick players from all teams equally.
However, the third place game might be a high-scoring. In the last 5 World Cups, we saw 3.8 goals on average in the 3rd place game. Expect some rotation there as well.
4. Best players to pick in Final
We also looked at players from each position: goalkeepers, defenders, midfielders, and forwards.
We examine which players are best picks in each price bracket: budget enablers, midpriced picks, and premium options:
Top scout picks and differentials for Matchday 7
We also looked at the 5 best scout picks for Semifinals and then at top differentials (under 10 % owned). You can check them in our articles:
5. Best captain for Fantasy World Cup Matchday 7
There are just 2 games in Matchday 7. So you need to have a captaincy option in 3rd place game and in the Final as well. We think that Messi is the best captain from the second match – he is our backup captain. But our first captain will be Perišič, the top scoring Croatian player in the game.
Captaincy thresholds:
So, when to change the captain? What is the satisfying amount of points? With 5 points for goals and points for Key Passes and Tackles, we think that the magic number is 6 points.
So when your captain scores 6 points or more, you leave the armband on him. When he scores less, you switch the captaincy.
Switching captaincy is a common feature in UCL Fantasy as well, so you can find more interesting information about switching the captaincy in our article: When to change captain in UCL Fantasy?
All ideas mentioned in the article 100% apply to Fantasy World Cup as well.
6. Probabilities for Matchday 7
Would you like to look at the World Cup 2022 Fantasy Final from a probabilistic point of view? Check the odds for Matchday 7:
7. Team selection for Matchday 7 
Captaincy sequence:
Team selection: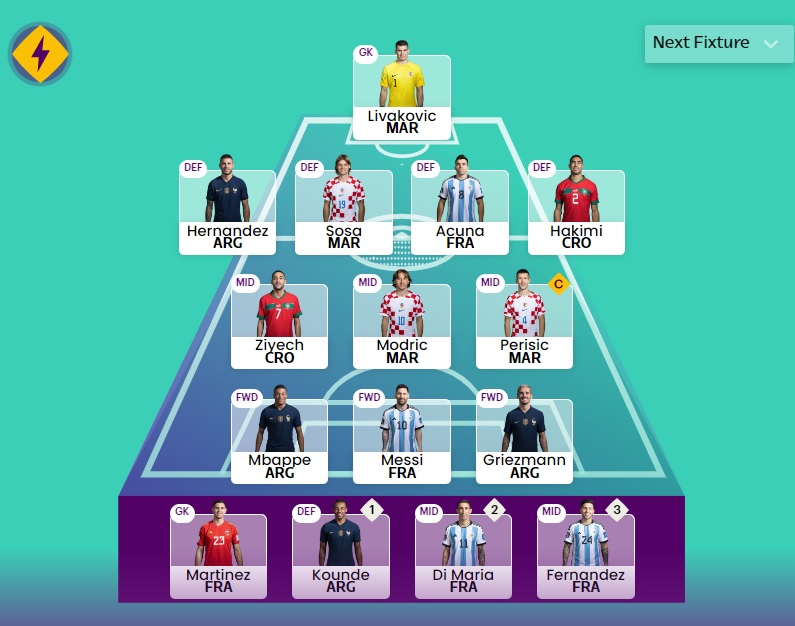 8. Fantasy World Cup Tips
Find more tips, strategies and picks for Fantasy World Cup in these articles:
Hopefully, our World Cup Fantasy Matchday 7 tips will help you achieve your goals in the final matchday of this competition. Enjoy the final, enjoy the football.
Fantasy Football Reports will be back with new content about Fantasy Premier League and Fantasy Champions League soon.
Good luck.