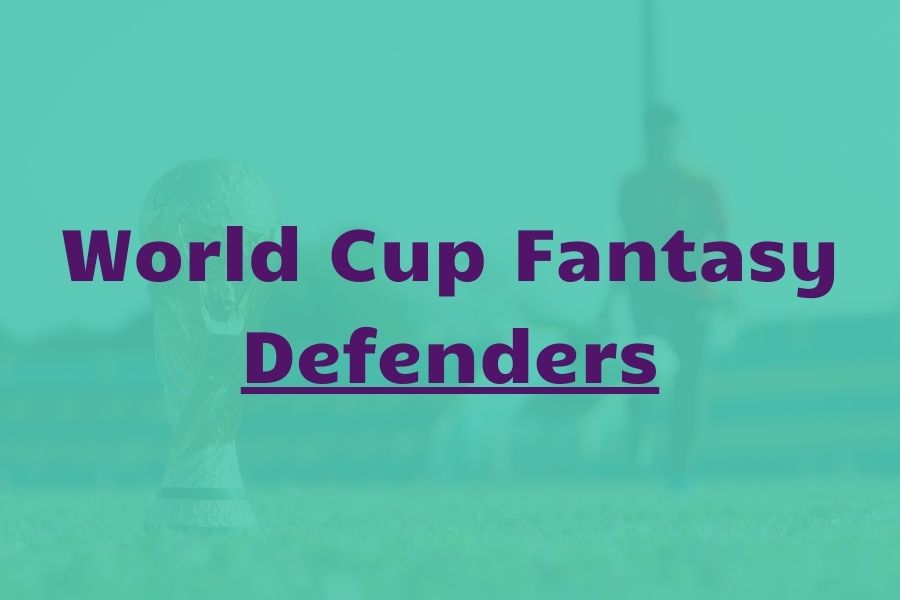 In this article, we will look at the best defenders to pick for your Fantasy World Cup team in the Round 16 – Matchday 4.
We look at each price bracket: budget defenders, midpriced picks, and premium options for R16.
Mid-priced defenders for Round of 16
There is a lot of options in the 5.0m bracket.
Trippier (5.0m, England)
on set pieces
amazing form in Premier League
England has solid defense, very high chance of clean sheet in almost every match
rested in the last match of Group Stage, should return to the starting lineup
54 % probability of keeping a clean sheet against Senegal
Theo Hernandez (5.0m, France)
superb attacking performance for France so far
2 assists already and 9 key passes (a lot for a defender)
plays very advance
an excellent pick for R16 for sure, great value for 5.0n
However, France are yet to keep a clean sheet at the World Cup
Alex Sandro (5.0m, Brazil)
Brazil have solid defence and can keep clean sheet against anyone
Already 2 celan sheets in 2 matches
Otamendi (5.0m, Argentina)
attacking threat, can score after corners, free kicks
Should be nailed in Argnetina defence, started 3/3
Argentina with the best fixture in R16 (although we all have been before MD1)
65 % probability of keeping a clean sheet
Raphael Guerreiro (5.0m, Portugal)
Nuno Mendez will likely miss the rest of the World Cup, so Guerreiro should start for Portugal
He did very well for Dortmund in the Champions League, 2 goals
OK form in Bundesliga as well: 1G + 2A
Guerreiro is a solid alternative to much expensive Cancelo, you can use spared 1m elswhere
Potential differential with less than 2 % managers having him in their teams
But do not expect many clean sheets from Portugal
Premium defenders for Round of 16
Dumfries (6.0m, Netherlands)
Has 2 goals and an assist in Nations League this season
Dumfries was an excellent fantasy asset to own during EURO Fantasy as well
Play very advanced in MD1, MD2 and MD3, will he finally return fantasy points?
Netherlands with 40% probability of a clean sheet in R16
When he do not deliver, you can sub him off, as Netherlands plays first match of the round
Cancelo (6.0m, Portugal)
Before the group stage, he looked like a no-brainer for our squads
However, does not look at his best form at World Cup
Portugal defence also looks a bit shaky, so do not expect many clean sheets
But still top selected defenders in the game
Best defenders for Matchday 3
Robinson (4.0m, USA)
a cheap route into USA defense in the good fixture against Iran (although Iran showed their attacking strength against England and Wales as well)
39 % probability of a clean sheet according to bookies odds
but only if you really need a 4.0m defender in your Matchday 3 team, otherwise try to upgrade to a defender from our 4.5m picks
Joakim Maehle (4.5m, Denmark)
If you played EURO 2020 Fantasy, we do not need to introduce you attacking Denmark fullback Joakim Maehle
He was superb at the EUROs and in the World Cup 2022 Qualifications as well, where he end up as Denmark top scorer with 5 goals (alongside Skov Olsen)
Denmark needs a win against Australia
48 % probability of keeping a clean sheet in Matchday 3
David Raum (4.5m, Germany)
attacking fullback, 3 goals and 11 assists for Hoffenheim last season (but only 1 assist for Leipzig this season)
Germany needs a big win in Matchday 3
Germany 2nd for clean sheet probability in Matchday 3 (59 %)
Costa Rica with zero shots against Spain, but bit improved performance against poor Japan (but still only 4 shots and 1 shot on target)
Alex Telles (4.5m, Brazil)
with Danilo out, he should potentially start as a right-back for Brazil
Brazil with 57 % probability of keeping a clean sheet against Cameroon
you will need Brazil's defensive coverage in Matchday 3
you could save one free transfer for the end of Matchday 3 and if he doesn't not start, you will replace him with another Brazil DEF
Alphonso Davies (5.0m, Canada)
Bayern Munich star playing OOP (out of position, on the wing) for Canada
he is on penalties as well
5 goals and 5 assists for Canada in World Cup qualification
the best fixture for Canada in a tough Group F
but still only 26 % probability of a clean sheet against Morocco, so it is more about attacking return than a clean sheet
Hakimi (5.0m, Morocco)
Differential, could be a good punt for MD3 wildcard
on set pieces
attacking threat
30 % probability of a clean sheet in against Canada
Other defenders to pick in Fantasy World Cup
We have many budget defenders in the game. However, only a few of them offer points potential that is higher than just appearance points.
Due to the different pricing, there are many 3 or 3.5m million defenders, but are they really worth it? You can get 5 points for a clean sheet and 7 for a goal if your defenders can achieve that. But those cheap enablers likely cannot, so it feels like wasting one of your precious defenders' spot, if you decide to buy 3 or 3.5million defenders.
Khoukhi (3m, Qatar)
Well, if you really decide to go for a very very cheap defender in your team to enable upgrades elsewhere, Khouki is the one to look at. He has 7 appearances and 1 goal for Qatar this season and is predicted to start at the back.
For Qatar, it is all about the first two fixtures, so if they are going to keep a clean sheet, it is likely going to be in one of those two matches. According to bookies odds, Qatar is expected to keep 0.5 clean sheets in the first two matchdays. So, with Khoukhi, you have 50 % chance of one clean sheet in first two matches, which is not that bad, especially if you aim to use your wildcard in MD3.
The problem with 3.0 million defenders is, that if you decide to sell them, you cannot downgrade them, so you would likely have to use 2 transfers just to get rid of your poorly-performed defender.
Araujo (3.5m, Uruguay)
The bargain, but still in the race to be fit for Matchday 1. Araujo already trained with the Uruguay squad and progressed in his fitness, but Ortega said that he will not take any risk if there are concerns about his fitness (source). But if we get some news that he might be starting, he would be the best budget enabler for our Fantasy World Cup teams. Uruguay has a solid defense and is predicted to keep 1.08 clean sheets in the group stage. Unless we get some news, Araujo is probably not a good pick for Matchday 1 as we are unsure about his fitness.
But if we see him starting in MD1 or MD2, he is definitely one to consider for MD3 (because of good fixture), especially for those on Wildcard.
Borna Sosa (3.5m, Croatia)
another great pick at 3.5m bracket
5 assists for Stuttgart this season, 1G + 8A previous seasaon
a bit of rotation risk, but should start for Croatia
Other defenders pick at 3.5m:
Bronn (Tunisia) – solid defensive display in MD for Tunisia, but do not expect much from their defenders
Sabaly (4.0m, Senegal)
solid budget enabler
Senegal top for clean sheet probabilities in Matchday 2
Diallo also option at this price bracket if he will be fit to start
Matty Cash (4.0m, Poland)
We know from FPL how attacking Matty Cash is (4 goals and 3 assists in the last Premier League season).
He could be a good option, Poland yet to concede at this tournament, but tough fixture in MD3
His teammate Glik is an option as well
Nikola Milenkovič (4.0m, Serbia)
could be a great enabler if you want to go big in attack on your Wildcard
Serbia's fixture improve after MD1
Defenders pick at 4m:
Kristensen (Denmark) – attacking full back, had 7 goals and 3 assists for Salzburg last season
Other picks at 4.5m:
Estupinan (Ecuador) – 3 goals and 1 assist for Ecuador in 2022
Neco Williams (Wales) – attacking threat, 1G + 1A in World Cup qualification, but Wales do not score many goals
Yoshida (Japan) – attacking threat after set pieces, should be safe pick from Japanese defenders
Other picks at 5.0m:
Shaw (England) – if you decide to double op on England defence
Pavard (France) – cheap route into France defense with very high chance of a clean sheet in every match – France are top for expected clean sheets in the group stage
Other good defenders at 5.5m:
Romero (Argentina) – should be nailed as well in the Argentina backline
Mendes (Portugal) – an alternative to Cancelo, 1G + 4A for PSG this season
Blind (Netherlands) – if he starts for Netherland
Other interesting premium picks:
Van Dijk (Netherlands) – could score after corners, solid clean sheet probabilities
Carvajal (Spain) – very good pick solely for MD1 or MD3, attacking, high chance of clean sheet, great pick for those who want to play wildcard in MD2
How to pick the best defenders in Fantasy World Cup
Also, let's dive into come criteria when picking the best defenders for your World Cup fantasy squad. When selecting a defender into your team you should consider:
Whether a defender that you pick has a good chance of a clean sheet. Our World Cup Clean Sheet Odds will help you with that. This is the most important criterium you should consider, as clean sheets are the most important source of fantasy points for defenders. And in Fantasy World Cup,

defenders are awarded 5 points for clean sheets

(not 4 as we are used to) which magnifies the importance of this.
Whether a defender has attacking potential: Can he score goals after free kicks and corners? Does he play in an advanced position so he could register a few assists? Is he playing OOP – Out of position? For example, some players might be classified as defenders in the World Cup Fantasy game, but in reality, they might play in the midfield
Defenders are awarded 7 points for a goQW (not 6 as we are used to from other fantasy games) but only 3 points for an assist, so

prioritize defenders who have a high chance of scoring a goal

(DEF on set pieces, penalties, centre back that can score after corners).
Also in Fantasy World Cup, defenders are awarded -1 point for each additional goal conceded (apart from the first one), so try to pick defenders from nations that have a rock-solid defense – that even if they concede they concede one goal max so your team is not awarded minus fantasy points. It is a different rule from FPL or UCL Fantasy where we are used to minus point being awarded after every 2 goals conceded. And without balls recovered, we might see a lot of zero-pointers in the defense, so pay special attention to this
If you are unsure how are defenders scoring points in World Cup 2022 Fantasy, visit our article: How are points awarded in World Cup Fantasy?
Have 5 playing defenders in your team. Due to the substitutions, the formation of your team does not matter, so if some of your defenders fail to deliver, you can replace him with another player who is yet to play (respecting formation constraints).