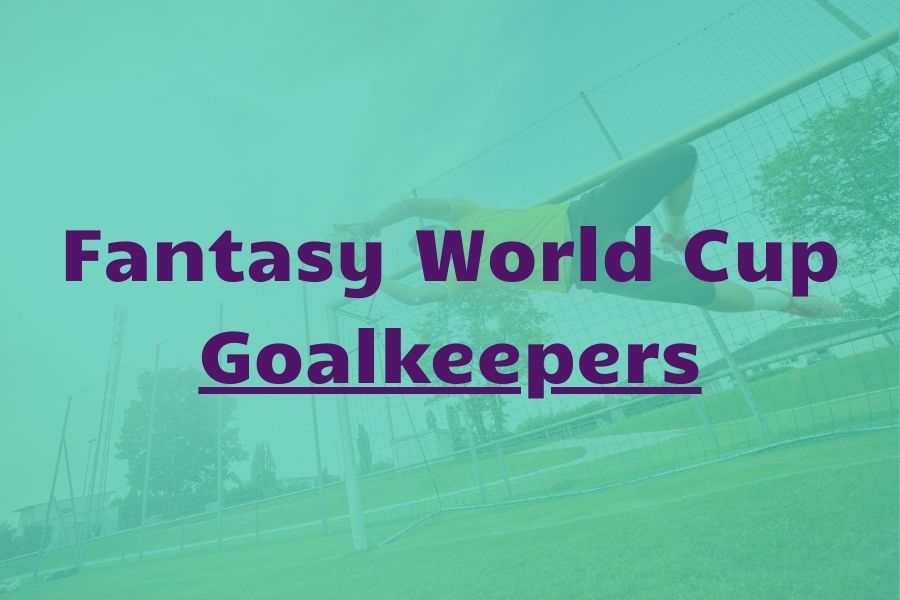 In this article, we will look at the best goalkeepers to pick for your FIFA World Cup Fantasy team in Final – Matchday 7.
We will look at goalkeepers at each price options: budget enablers, midpriced picks and premium options for our fantasy teams in MD7.
Budget enablers for Matchday 7 (Final)
Bounou (4.5m, Morocco)
penalty shootout hero from Matchday 5
Morocco with one of the best defences at the World Cup
Morocco conceded just 3 goal and kept 4 clean sheets
unfortunately, they have injured 3 regularly starting defenders
cheap enabler if you need to use funds elsewhere
Morocco with the lowest clean sheet probability in Matchday 7
Mid-priced goalkeeper for Matchday 7 (Final)
Dominic Livakovič (5.0m, Croatia)
Croatia had solid defense in Nations League A (6 goals conceded in 6 matches against tough oppositions) and World Cup qualification (4 goals conceded in 10 matches)
Very good defensive display from Croatia so far, two clean sheets in the group stage
Probably the one to go for from 3rd place game over Bounou
It is not only about the fixture, Livakovič showed in UCL Fantasy that he can collect points for saves as well
Livakovič is top for saves (23 according to FBREF) from all goalkeepers in the game, however, almost half of those saves came in the match against Brazil
Croatia with similar clean sheet probability as Morocco, but a slightly higher
3rd place game used to be high-scoring, so do not really expect a clean sheet there
If you do not expect many clean sheets in Matchday 7, you just might go for cheaper goalkeepers and use funds elsewhere
Premium goalkeepers for

Matchday 7 (Final)
Emiliano Darmian Martinez (5.5m, Argentina)
Cannot be overlooked
Argentina is solid defensively at this World Cup
We know from FPL, that Martinez get points for saves as well, finally got a save point in Semifinals
Argentina's defence do not allow many shots against – just 8 shots on target against in the whole World Cup, the least from all remaining teams
Argentina is second for clean sheet odds in Matchday 7 (31 %), but only 1% behind France, so it could be a coin toss for a clean sheet in MD7, if we see any
Lloris (6m, France)
Bookies expected France to keep 1.56 clean sheets in the group stage – the most from all teams, but their first clean sheet came in semifinals
However, we know from FPL and UCL that Lloris is good at collecting save points and at saving occasional penalty as well, so you would not have to rely solely on clean sheet points with him.
France with 32 % probability of keeping a clean sheet against Argentina (the highest of all teams)
Our current goalkeeper combination for Matchday 7
Make sure you pick goalkeepers from both matches – so you can use GK subs if the first goalkeeper does not keep a clean sheet. You can also have just one GK – from the first match (3rd place game) and save the other transfer. And if your first GK does not keep a clean sheet, you will transfer out your second keeper for Lloris or Martinez.
Our current combination is: Livakovič + Martinez
How to pick the best goalkeepers for your World Cup fantasy team
With goalkeepers,

you always want a keeper that has a very high chance of a clean sheet

. You can use our World Cup 2022 Clean Sheets Odds to find nations, who are most likely to keep a clean sheet in Matchday 1.
It is also best to have

two playing goalkeepers

– Both who play on a different time so you could use substitution if the first one will not keep a clean sheet. (If their match starts on the same time, they both will be locked at the same time so you couldn't make substitutions)
That way, if the goalkeeper who plays earlier does not score enough points (we use 4 points as our threshold) you can replace him with a goalkeeper that is yet to play on another day.
This will help you maximize the World Cup points gained from your goalkeepers.
Also, when considering a goalkeeper for your fantasy team, you always have to take a look at fixtures and asses whether a certain keeper has the potential for a clean sheet. Does he have a tough or easy fixture? And as we mentioned, our clean sheet odds will help you with that.
Also, asses saves potential of a goalkeeper you would like to pick
Not sure how are goalkeepers scoring points in Fantasy World Cup? Check our article: How are points awarded in World Cup Fantasy?
Further resources
Looking for players to pick for your World Cup Fantasy team from different positions? Check our following articles:
Who might start and who might be benched?
Goalkeepers from previous matchdays of Fantasy World Cup
Although we have 3.5 million goalkeepers in the game, non of them is regularly starting goalkeeper for their nation, so we start at 4.0 million bracket. And we do not recommend to have your backup keeper 3.5 million non-starter, as that would mean that you cannot use substitution on your goalkeeper in case your number 1 will not keep a clean sheet.
Sergio Rochet (4.0m, Uruguay)
Sergio Rochet is the cheapest of Uruguay goalkeepers in the Fantasy game but started 8 of 9 Uruguay matches in 2022. We started in Matchday 1, kept a clean sheet and we expect him to start in Matchday 3 as well. Uruguay has a quite favorable Group H and in Matchday 3, they face Ghana which is a favorable fixture for a clean sheet (42 % clean sheet probability).
However, before the Group Stage, bookies expected Uruguay to keep 1.08 clean sheets in the Group Stage. Perhaps we got that one clean sheet in Matchday 1 already. But let's see what the Law of Large numbers prepared for us in MD3, as deviations from the expected values are very common in such a small sample size.
Gonda (4.0m, Japan)
If you really need to go for a cheap goalkeeper, Gonda could be an option
Japan failed to keep a clean sheet in the Group stage – but they have a tough group
Croatia managed to score only against Canada, so we could potentially see another 0-0 there
But do not bee surprise if Japan concede, 4.0m goalkeepers are priced like that for a reason
Dahmen (4.0m, Tunisia)
great budget enabler for those wildcarding in Matchday 2, but not a good pick for MD3
solid defensive performance against Denmark
but you get what you pay for so do not be surprised, if they concede
But we have some interesting 4.0 million picks there…
Apart from Rocket, these are other starting 4.0 million goalkeepers:
Al Sheeb (Qatar)
Galindez (Ecuador)
Vanja Milinkovič (Serbia) an option as well
Andries Noppert (4.5m, Netherlands)
collected a save point on each matchday so far
so Noppert has a bit higher points ceiling than just a 6-pointer when keeping a clean sheet
But the Netherlands with a low probability of a clean sheet (27 %) in the Quarterfinals against Argentina
But you can pair him up with a premium goalkeeper to free funds for forwards and midfielders
World Cup 2022 is full of surprises and it is hard to predict clean sheets
Other interesting options at 4.5m:
Turner (USA) – OK fixtures in MD1 and MD3 for potential clean sheets
Ryan (Australia) – a good option for MD2
Hennessey – should be Wales no. 1 GK, good fixture against Iran in MD2
Diogo Costa (5.0m, Portugal)
You should aim to bring a goalkeeper who has a high chance of a clean sheet in every match – and that are usually nations who are favorites to win their group. And Portugal is definitely a favorite Group H. That is one of the reasons why we like Diogo Costa as a backup goalkeeper for World Cup Fantasy group stage (backup because Portugal always play on last day of matchday, so you would play another goalkeeper ahead of him and then sub Costa in).
On the top of that, he was top scoring goalkeeper in UCL Fantasy where he manage to save three penalties in three matchdays in a row. Portugal are 4th in our table for expected clean sheets in group stage as bookies predicted them to keep 1.47 clean sheets in MD1, MD2 & MD3 (only England, Argentina and France are expected to keep more clean sheets).
Ochoa (5.0m, Mexico)
great performance in Matchday 1 against Poland, than weaker performance against Argentina
can get points for saves or penalty saves as well
Mexico still have something to play for
45 % probability of keeping a clean sheet against Saudi Arabia
Schmeichel (5.0, Denmark)
Danes with good fixture but they will have to go for a win if they want to advance to R16
48 % probability of keeping a clean sheet according to bookies odds
Other interesting options at 5m:
Sommer (Switzerland) – good pick in MD3 against Serbia
Pickford (5.5m, England)
England kept the most clean sheets at EURO 2020 and the most Clean Sheets at World Cup 2022 so far as well
Tough fixture, but England with very good defensive performances so far
It is hard to predict clean sheets at this World Cup
According to bookies' odds, they have a 25% chance of keeping a clean sheet against France
Not as expensive as Allison or Lloris, so you can use 0.5m elsewhere
Wojciech Szczesny (5.5m, Poland)
Poland are yet to concede at the World Cup
Szczesny can get points for saves and penalty saves as well
Other 5.5m goalkeepers to consider: 
Unai Simon (Spain) – solid Spain defence, but tough MD2 fixture against Germany, one to consider for MD3 wildcard
Alisson (6.0m, Brazil)
Safe pick, likely the best fixture of Quarterfinals
Can get points for clean sheet, saves, and potentially assists as well (as we know from FPL)
Brazil with high clean sheet probability in every match they play
51 % probability of keeping a clean sheet against Croatia
Two clean sheets in three matches so far
Manuel Neuer (6.0, Germany)
good fixture in Matchday 3 given Costa Rica weak offensive display so far
Germany second best for clean sheet odds in MD3
59 % probability of keeping a CS
Germany will go for a win
Other 6m goalkeepers to consider: 
Courtois (Belgium) – one of the best GK in the world currently. Save points machine from UCL Fantasy. But will Belgium defence be solid enough to keep 2 clean sheets in the group stage?