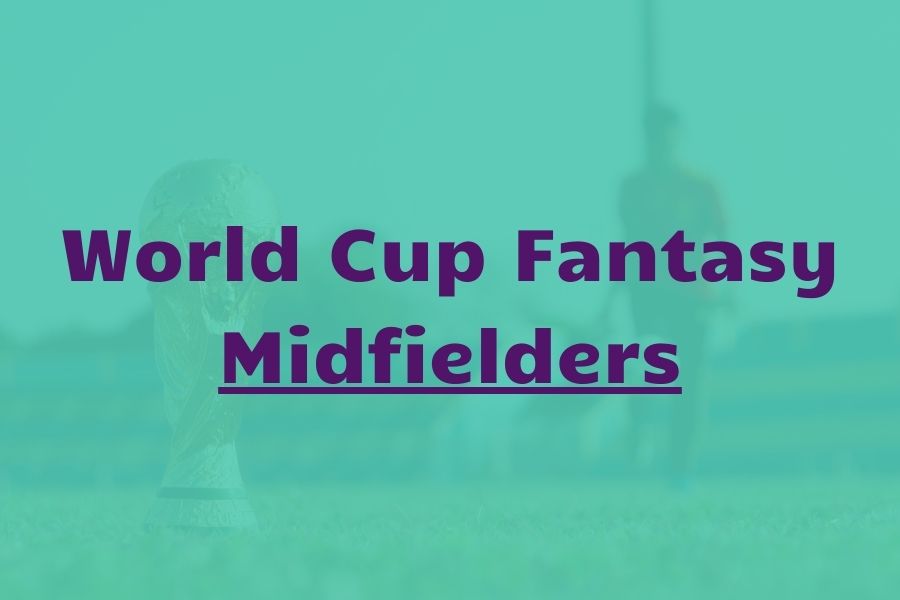 In this article, we will look at the best midfielders to pick for your Fantasy World Cup team in Round of 16 – Matchday 4.
We look at each price bracket: budget midfielders, midpriced picks, and premium options.
Budget midfielders for Round of 16
Klaassen (6.0m, Netherlands)
Klaassen was the Netherlands midfielder we should get before the start of the tournament, not Bergwijn
Should be nailed to start, had great performances so far, and he could keep Berwgijn benched
1G + 2A so far in World Cup
4G + 4A in World Cup Qualification (only Depay had more for Oranjes)
Midpriced options for Round of 16
Pulišič (7.5m, USA)
key man and a talisman for USA, already with an assist and a goal on this tournament
Involved in both USA goals so far
He is on penalties and all set pieces
USA's top scorer in qualification with 5 goals
But a tougher fixture against Netherlands
Saka (8.0m, England)
Cannot be overlooked after his performance in Matchday 1, however, he was not really on it in Matchday 2
OK fixture for England, favorites to win the match against Senegal and advance to QF
You can go with Saka from the start of R16, or buy him after you see the lineups (in that case you must have a placeholder for him). And if he does not start, you will transfer him out for Foden or Bellingham
Premium midfielders for Round of 16
Di Maria (8.5m, Argentina)
Went off early against Poland due to the injury concerns, but should be fine for R16
If you want to double up on Argentina's attack, Di Maria + Messi could be the way to go (although we all have been there against Saudi Arabia in MD1)
Argentina are improving their performance in every match
Probably one of the best fixtures to target in R16
Di Maria can get points for key passes as well, delivered an extra point in all three matches of the group stage
Bruno Fernandes (9.5m, Portugal)
heavily involved for Portugal so far
top scoring player in Fantasy World Cup so far
one of the best player at the tournament based on his performances
3G + 2A in World Cup Qualification (only Ronaldo and Jota had more for Portugal)
Best midfielders for Matchday 3
Kudus (6.0m, Ghana)
one of the heroes of the current UCL Fantasy campaign where he scored 46 fantasy points in 6 matches.
Could continue in his form at World Cup as well
fixtures are improving for Ghana after Matchday 1
Kudus was the main man for Ghana against Portugal and Korea as well
Kimmich (7.0m, Germany)
Occasional goal threat
But he is good at both: key passes and tackles as well, so should offer regular points output in every match
on set-pieces
Great fixture against Costa Rica in Matchday 3
Eriksen (8.0m, Denmark)
a talisman for Denmark, when they score, he is likely going to be involved (but still waiting for an attacking return on this tournament)
excellent at key passes, Eriksen had 8 key passes in the first two fixtures, which increases his points output even when he does not score
Denmark needs to go for a win against Australia if they want to advance to R16
Musiala (8.0m, Germany)
Germany with the best fixture of the matchday and you will need their offensive coverage in Matchday 3
Great form at Bayern, an assist against Spain
slight worries he could be rotated, but you can plan with your free transfers for that
Sané would be great pick if his injury issues are behind him and we see him in predicted lineups
Other midfielders to pick in Fantasy World Cup
4.0m – 5.5m bracket
Abdulaziz Hatem (4.0m, Qatar) – one of very few starting 4m midfielders. Not a good pick. Only if you really really need 4.0m midfielder. His teammate Boudiaf is also an option. The only positive is, that you can sub them off when they do not deliver. Other 4.0m options: Salaman Al Faraj and his teammate Kanno (Saudi Arabia) should get a few starts too.
Khazri (4.5m, Tunisia) – Has 3 goals in World Cup Qualifiers for Tunisia, 2G + 2A in the last Word Cup 2018
Leandro Paredes (4.5m, Argentina) – 4.5 million for regularly starting Argentina midfielder with so favorable fixtures in Group C? Great enabler. However, do not expect much from him, has 0 goals this season
Hector Herrera (4.5m, Mexico) – used to be a talisman for Mexico. He had injury problems lately, but should get 1 or 2 starts regardless. His teammate Carlos Rodriguez is also an option at this price bracket.
Rodrigo de Paul (5.0m, Argentina) – another budget midfielder from Argentina. With attacking potential. 1G + 4A at Worl Cup Qualifiers, 1G + 1A at Copa America. A better option than Paredes if you have a spare 0.5m.
Nicola Vlasič (5.0m, Croatia) – not completely nailed, but should get a few minutes and perhaps starts for Croatia. Top scoring midfielder in the Group stage of the 2018 UCL Fantasy season, so he definitely can deliver fantasy points.
Pašalič (5.0 m, Croatia) – option as well. You can have him or Vlašič in your team, and if you do not see him in the starting line up, you will transfer him out for Vlašič (if he is starting) whilst both of them are unlocked. Good example of using transfers during matchday.
Caicedo (5.5m, Ecuador) – definitely one to consider, as you can easily sub him off if he will not deliver. 2G + 4A in World Cup Qualification. He has 3.12 tackles per 90 in Premier League, so should get an extra point for tackles as well.
Trossard (5.5m, Belgium) – if he was nailed, we all would have him in our teams. From FPL, we all know how explosive fantasy asset he is. But Hazard should start instead of him, if fit.
De Arrascaeta (5.5m, Uruguay) – superb in Qualifiers where he has 5G + 1A. A good fixture in MD1. But might be not nailed to start for Uruguay. Another disadvantage is that he plays on the last day, so you can not sub him off if will not deliver.
Kamada (5.5m, Japan) – Another solid mid at the 5.5m bracket. If you play UCL Fantasy, you probably know him as he scored 3 goals in the Group stage. 7G + 4A in 13 appearances in Bundesliga this season. Also, 6G and 1 assist in last 16 matches for Japan
6.0m – 7.5m bracket
Casemiro (6.0m, Brazil) – should get extra points for tackles and an occasional attacking return
Skov Olsen (6.0m, Denmark) – great performances for Club Brugge this season. Denmark's top scorer in Qualification with 5G + 3A.
Bentancur (6.0m, Uruguay) – solid season at Spurs (4G + 2A), but has only 1 goal for Uruguay in the last 5 years. However, he is good at tackles so should get some extra point(s) there.
Harry Wilson (6.0m, Wales) –  1 G + 3A in World Cup Qualification
Tchouameni (6.5m, France) – should get few extra point(s) for tackles – but 1-2 max per match.
Zielinski (6.5m, Poland) – superb season at Napoli, very good at key passes so should get extra points
Bergwijn (7.0m, Netherlands) – it feels that he is a bit underpriced based on his performances in Champions League and Eredivisie. And with Depay likely out, the Netherlands attack will rely on him
Minamino (7.0m, Japan) – very tough Group E, but he is a key man for Japan as he has 10G + 2A in qualifiers
Bellingham (7.5m, England) – superb asset in UCL Fantasy, can score in any match. Good at tackles as well, so can get few extra points. But play too deep in England team, so probably Saka or Foden are better assets.
7.5m-11m bracket
Modrič (8.5, Croatia) – A talisman for Croatia. Good at key passes. He is on penalties as well
Valverde (8.5m, Uruguay) – very good season in La Liga and in the Champions League as well. However, he was overperforming xG and xA a lot. He has just 4 goals for Uruguay in last 5 years.
Leroy Sané (9.0m, Germany) – superb form for Bayern that he could replicate in the World Cup.
De Bruyne (11.0m, Belgium) – The most expensive midfielder in the game for a reason. Great form in PL and he is top for key passes across all 5 big European leagues, so should get 1-2 extra points in every match. De Bruyne can do well in any game.
How to pick best midfielders in Fantasy World Cup
Also, let's look at some criteria when picking the best midfielders for your World Cup fantasy team.
When selecting best midfielders for your squad you should consider:
If you pick a premium midfielder, make sure he is also a good captaincy option.
If you pick a cheap midfielder (less than 5.5 million), make sure he is good at tackles, or key passes, or that he is a talisman for his nation
Form and fixtures are also important parts of your decision-making process
Consider probabilities when picking midfielders. Let bookies any time goalscorer odds to help you with that. You can find them here: World Cup 2022 Goalscoring Odds.
Make sure you have all playing midfielders and no non-starters in your team – you can sub off players when they blank for a player who is yet to play. Read more about substitutions here.
Think about the structure of your midfield. It could be something like:

11m (premium captaincy option)
9m (talisman good at key passes or tackles, or high goalscoring odds)
7m (talisman)
6m (differential with good fixture)
5m (defensive mid good at tackles)