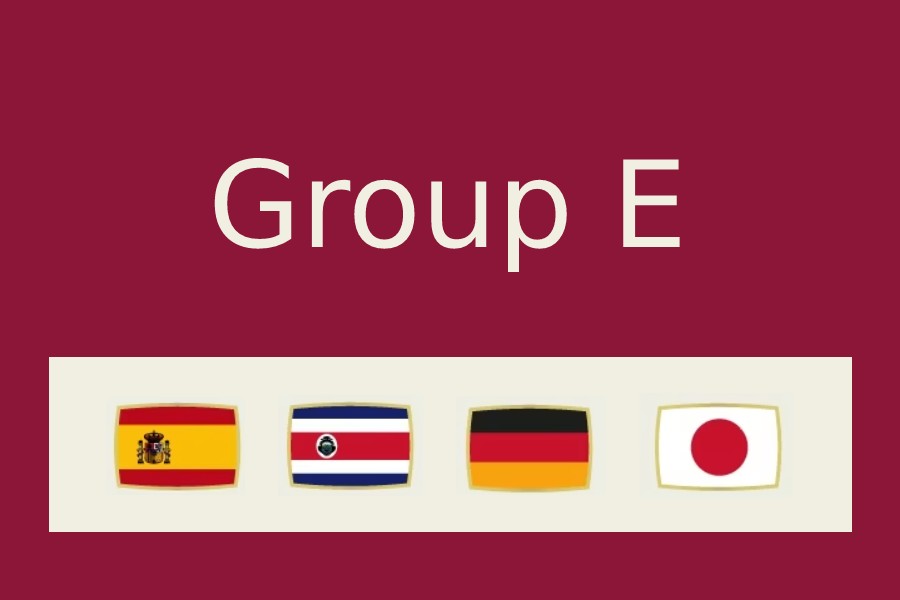 Our analysis of Group E with top scorers for each team from World Cup 2022 Qualification. Hopefully, it will help you pick the right players for your Fantasy World Cup Matchday 1 team!
FIFA World Cup 2022 Group E Teams: Spain, Japan, Germany, Costarica
Probabilities of winning the Group E
Probabilities of winning group E according to bookies odds.
| Team | Probability of winning Group E |
| --- | --- |
| Spain | 49% |
| Germany | 43% |
| Japan | 6% |
| Costarica | 2% |
Our prediction of Group E results
Germany
Spain
Japan
Costarica
According to bookies' odds, 5 teams have better odds of winning the tournament than Germany. But we disagree and we see them in the top 3. Their team has high football quality in each position: experienced players like Neuer, Sané, Kimmich, Muller will fit well with younger players like Havertz and Musiala. A very strong core of their team brings amazing form from Bayern Munich which is their big advantage. Their attacking players (Sané, Musiala, Kimmich, Goretzka..) scored a lot of points for fantasy managers who had them in their Champions League Fantasy teams and this trend could continue through FIFA World Cup Fantasy as well.
Spain has a young dynamic team, they passed the qualification without major problems while they failed to win only twice. They will rely on solid defense but could struggle in the attack. In qualifiers, they scored just 15 goals in 8 matches (although they had a smaller group) which was the least of all group winners.
But Group E is not only about Spain and Germany. Japan will fight for the second spot too, they have many players who play in European competitions and they will be led by the experienced captain M.Yoshida. They could cause some surprises in Group E.
Costa Rica will rely on K. Navas and perhaps he can rack up a few save points in this tough group. Otherwise, we do not see many other players with good fantasy football potential in their squad.
Germany
Squad:
From 1️⃣ to 2️⃣6️⃣: our squad numbers for the 2022 @FIFAWorldCup have been confirmed 🇩🇪 pic.twitter.com/DIXXk6HJEB

— Germany (@DFB_Team_EN) November 11, 2022
Top scorers in World Cup qualification:
Gnabry 5G + 1A
Werner 5G + 1A
Gundogan 5G
Sané 4G + 2A
Muller 3G + 3A
Havertz 3G + 2A
Reus 2G + 5A
Hofmann 2G + 1A
Goretzka 1G + 6A
Top scorers in Nations League:
Kimmich 2G + 1A
Werber 2G + 1A
Gundogan 2G
Havertz 2G
Hofmann 2G
Gnabry 3A
Spain
Top scorers in World Cup qualification:
Torres 4G
Morata 2G + 1A
Olmo 2G + 1A
Top scorers in Nations League:
Sarabia 2G + 1A
Morata 2 G
Asensio 3A
Japan
Top scorers in World Cup qualification:
Minamino 10G + 2A
Osako 10G
Ito 6G + 2A
Asano 3G
Furuhashi 3G
Kamada 3G
Mitoma 2G + 1A
Costarica
Top scorers in World Cup Qualification:
Campbell 3G + 1A
Borges 2G + 2A
Contreras 2G
Ruiz 2G
Top scorers in Gold Cup:
Campbell 2G + 1A
Borges 2G
Lassiter 1G + 1A