Do you aim to use your Wildcard in Matchday 3 of Fantasy World Cup? Here are our wildcard drafts for your inspiration! One for the end of Matchday 2 – for managers who aim to exploit wildcard hack.
And of the start of Matchday 3 – for managers who want to exploit all the rotation we expect in MD3.
With Matchday 3 wildcard you will get unlimited transfers during the whole matchday, sou you can freely go with som of riskier players like Mbappé, Sané, and Fullkrug and if they are benched you will replace them (while they are unlocked) with your unlimited transfers after you see lineups.
Wildcard team for Matchday 3
Our wildcard draft inspiration for people who aim to use this booster in MD3 and exploit the rotation and good fixtures.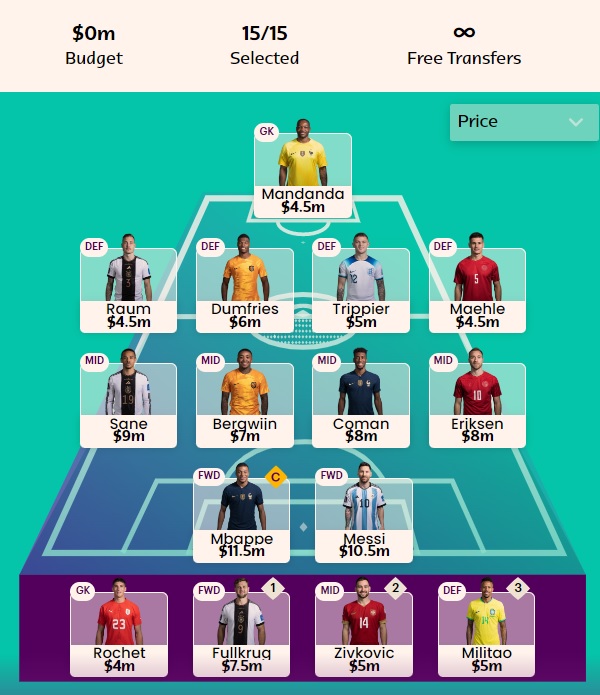 Wildcard team for the end Matchday 2 – for Wildcard Hack
At the end of Matchday 2, we will use "wildcard hack", so we transfer out all locked players and bring in players who have good fixtures in Matchday 3 (but it must be done before Matchday 2 is over, while wildcard is active, as it is active during the whole Matchday 2).
This is our updated wildcard draft for those who aim to use their wildcard at the end of Matchday 2. If Mbappe is benched, he will become Thuram with free transfer. If Jesus is benched, he will become Riharlison with a second free transfer.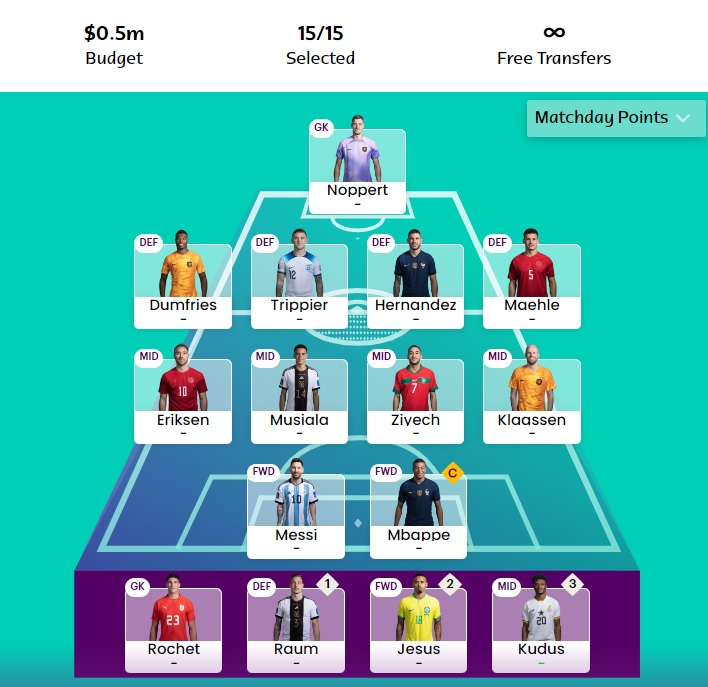 Not sure when to use wildcard? Check our article: When is the best time to use Wildcard in Fantasy World Cup?