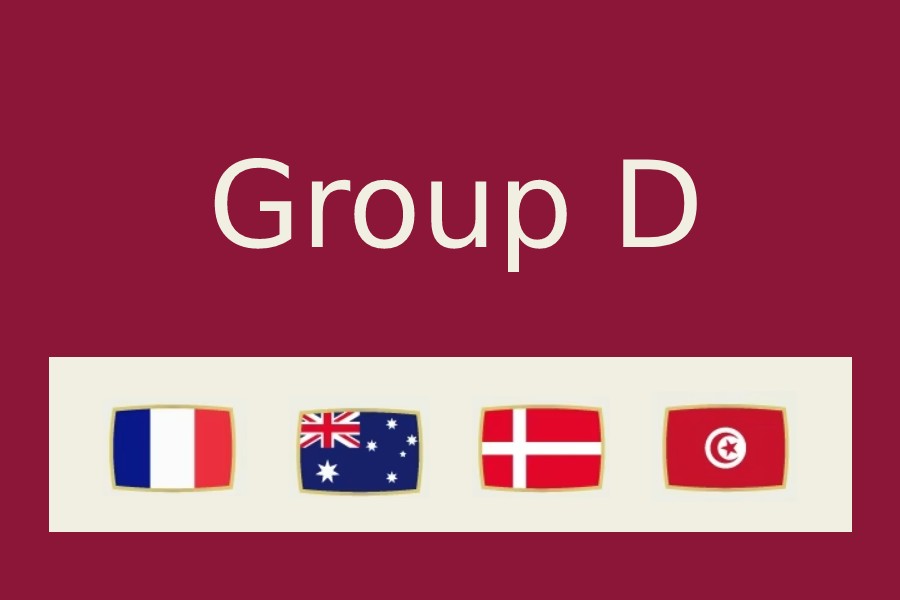 Our analysis of Group D with top scorers for each team from World Cup 2022 Qualification. Hopefully, it will help you pick the right players for your Fantasy World Cup Matchday 1 team!
FIFA World Cup 2022 Group D Teams: France, Denmark, Tunisia, Australia
Probabilities of winning the Group D
Probabilities of winning group D according to bookies odds.
| Team | Probability of winning Group D |
| --- | --- |
| France | 65% |
| Denmark | 23% |
| Tunisia | 6% |
| Australia | 6% |
Our prediction of Group D results
France
Denmark
Australia
Tunisia
France, the current World Cup champions, is another serious title contender. Their team full of starts like Benzema, Mbappe, Coman, Griezmann, looks astonishingly strong on paper. Let's see what the atmosphere will be in their dressing room and whether they can defend the title and undo the disappointment from EURO 2020.
The second spot in the group should belong to Denmark. The Danes had an excellent qualification where they lost only once and scored 30 goals in 10 matches. Hojbjerg, Christensen, Eriksen and Schmaichel are very experienced players and they should lead Denmark to the R16.
The clash between Australia and Tunisia will decide who will finish third in the group. These two teams do not really offer players we should consider in our fantasy team. According to bookies odds, both teams belong among the 6 weakest teams in the tournament. However, that is good news for fantasy managers considering France and Denmark players, as they are expected to score goals against their opponents.
France
Top scorers in World Cup qualification:
Griezmann 6G + 1A
Mbappe 5G + 2A
Benzema 3G + 1A
Martial 1G + 1A
Rabiot 1G + 1A
Top scorers in Nations League:
Mbappe 2G
Benzema 1G
Giroud 1G
Rabiot 1G
Nkunku 2A
Denmark
Top scorers in World Cup qualification:
Skov Olsen 5G + 3A
Maehle 5G
Damsgaard 2G + 5A
Wind 2G + 1A
Dolberg 2G
Kjaer 2G
Delaney 1G + 3A
Top scorers in Nations League:
Cornelius 2G
Skov Olsen 2G
Eriksen 1G + 1A
Hojbjerg 1G + 1A
Wind 1G + 1A
Maehle 3A
Australia
Top scorers in World Cup qualification:
Maclaren 7G
Duke 5G + 1A
Souttar 5G
Leckie 4G + 1A
Irvine 3G
Taggart 3G
Boyle 3G + 1A
Mabil 2G
Rogic 1G + 2A
Tunisia
Top scorers in World Cup Qualification:
Top scorers in AFCON:
Khazri 2G + 1A
Jaziri 1G
Mathlouthi 1G
Msakni 1G