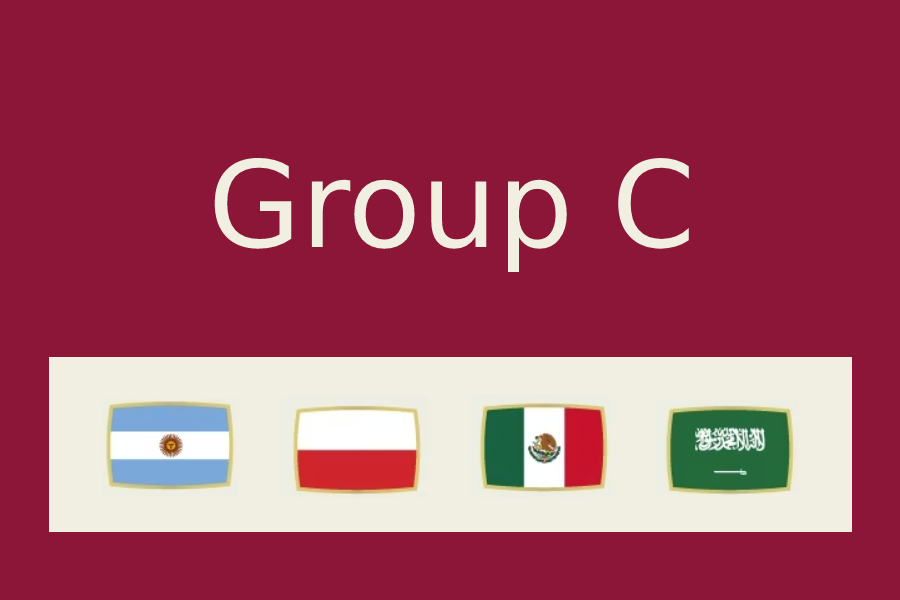 Our analysis of Group C with top scorers for each team from World Cup 2022 Qualification. Hopefully, it will help you pick the right players for your Fantasy World Cup Matchday 1 team!
FIFA World Cup 2022 Group C Teams: Argentina, Mexico, Poland, Saudi Arabia
Probabilities of winning the group C
Probabilities of winning group C according to bookies odds.
| Team | Probability of winning Group C |
| --- | --- |
| Argentina | 65 % |
| Mexico | 17 % |
| Poland | 15 % |
| Saudi Arabia | 3 % |
Our prediction of Group C results
Argentina
Poland
Mexico
Saudi Arabia
Argentina is a clear favorite of Group C. And according to bookies' odds, they are among the top 3 favorites to win the whole competition. They beat Brazil in the Copa America final which really helped to boost their self-confidence. On top of that, they won finallisima match of the current EURO and Copa America champions against Italy this year. They are on an amazing winning strike, as the last time they lost a competitive match was back in 2019.
Their team is not only about Messi, they also have a really balanced squad of experienced players (Otamendi, Tagliafico, Di Mária, Martínez) and we favor them to go really deep in World Cup 2022.
Poland, led by Lewandowski and Zielinski, will fight with Mexico for the second spot in Group C. Mexico's team lacks stars that could decide matches and we see Poland at the second spot rather than them. According to bookies odds, Saudi Arabia is one of the weakest teams in the tournament and we could consider them to be "whipping boys". So targeting players (Messi, Lewandowski) playing against them could be an interesting fantasy strategy.
Argentina
Top scorers in World Cup qualification:
Martinez L. 7G + 3A
Messi 7G
Di Maria 3G + 1A
Gonzalez 3G + 1A
Correa 2G
de Paul 1G + 4A
Top scorers in Copa America:
Messi 4G + 5A
Martinez L. 3G
Gomez 2G
Di Maria 1G + 1A
de Paul 1G + 1A
Mexico
Top scorers in World Cup qualification:
Jimenez 3G
Martin 2G
Vega 2G
Corona 1G + 2A
CONCACAF nations league top scorers
Martin 1G
Reyes 1G
Romo 1G
Sanchez 1G
Poland
Top scorers in World Cup qualification:
Lewandowski 9G + 4A
Swiderski 5G + 1A
Buksa 5G
Jozwiak 2G + 2A
Linetty 2G + 1A
Piatek 2G
UEFA Nations League top scorers:
Swiderski 2G
Lewandowski 1G + 1A
Saudi Arabia
Top scorers in World Cup Qualification 3rd phase:
Al Shehri 4G
Al Brikan 3G
Al Dawsari 2G
Al Najei 2G
Top scorers in World Cup Qualification 2nd phase:
Al Dawsari 5G
Al Faraj 4G
Al Muwallad 4G
Al Shehri 3G
Asiri 2G