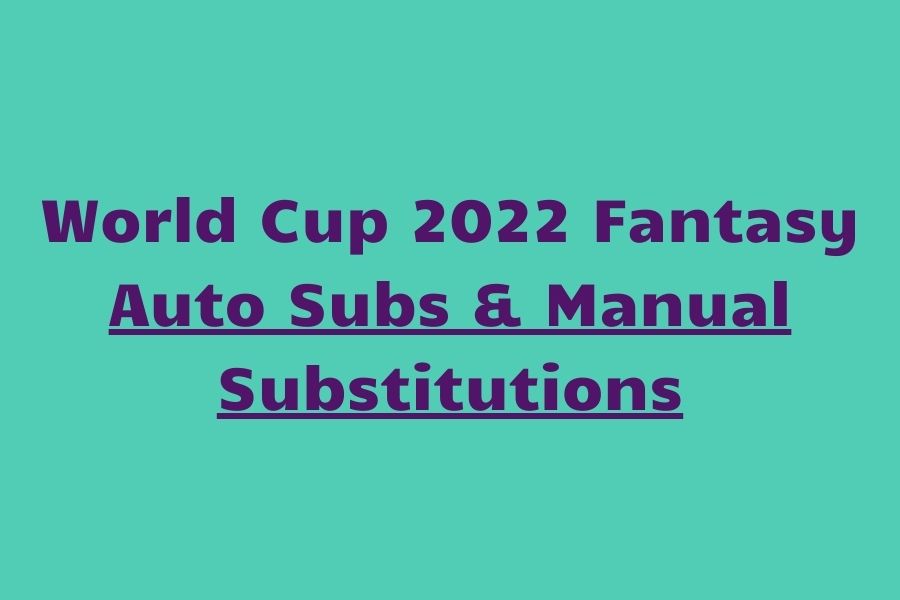 Substitutions in FIFA World Cup 2022 Fantasy are the same as substitutions in UCL Fantasy.
When selecting your fantasy team, you put four players to the bench of your team (1 of them must be a goalkeeper) and you can use those 4 players as substitutes in your team during a matchday.
This article is a part of series: How to play World Cup 2022 Fantasy
There are two types of substitutions in World Cup 2022 Fantasy: Auto subs and manual substitutions. What are their basics and how to use them as a part of a successful Fantasy World Cup strategy?
What are manual substitutions in World Cup Fantasy?
With manual substitutions, you can directly sub out players in your team and replace them with players from your team that are yet to play. 
Between matchdays, you can make an unlimited number of substitutions as you play around with your squad.
But once the matchday had started, you can sub out a player from your starting XI (maximum 4 players) and replace him with one of your bench players who is yet to play. 
Of course, points of players you sub out will not count for your team total on that matchday.
Note: Unlike UCL Fantasy, you can also sub out a player who received a red card.
What are automatic substitutions?
If some player from your starting XI does not play at all, he might be automatically subbed out and replaced with a player from your bench (according to the bench order -so do not forget to order your bench correctly according to players points potential).
However! Auto subs can happen ONLY if you had not done any manual substitutions during a matchday!
So you cannot make any manual substitutions, or change your bench order, in order to auto subs to happen!
When do automatic substitutions happen?
Auto subs will happen at the end of the matchday and only if you did not make manual subs to your squad.
Should you rely on auto subs in your strategy?
As an active World Cup Fantasy manager, you should never rely on automatic substitutions. Relying on auto subs is very limited as you cannot make any manual subs in your team during matchday.
That's why you should always make manual substitutions and manual changes to your team – that will allow you to maximize the points output from 11 players in your team at the end of each matchday.
How to use manual substitutions as the part of fantasy football strategy?
If you aim to succeed in FIFA World Cup 2022 Fantasy competition, you should aim to get the most of manual substitutions in your strategy.
Thanks to manual substitutions you can use all 15 players from your squad (of course, those who end the matchday on the bench will score you 0 points)
Because of that, make sure all of your 15 players are players who are regularly starting
That will help you maximize the probability that some of your 11 players (whose points count) will deliver
You do not want to have 3.5 million defender or 3.0 million goalkeeper who do not play for their team – you cannot use them as your substitutions – so you are limiting the potential of your 15 players
Make sure you have two playing goalkeepers – both who play on different time – that will increase chances that you will catch one clean sheet from your GK. And if the first of them will not keep a clean sheet, you will replace him with sub goalkeeper who is yet to play (you could not do it if they play on the same time as both will lock at the same time)
Try to have a balanced squad of players who plays on each day during matchday. If all 15 players in your fantasy team play on the last days within matchday, you cannot use manual substitutions to maximize your points potential and you will leave points on your bench
Try to have cheap players who play on the first days. Usually, the cheaper the player, the lower his points potential is. If you have 4.5 million midfielder in your team, it is better if he plays on the first, second or third day in the matchday as you can sub him out for the last day of matchday if he failed to deliver. But if he miraculously delivers, you catch his points and do not need to use your manual sub on him. If he would play on the last day in Matchday, you would likely sub in just 2 points.
And of course, as we can change the captain, make sure you have two good captaincy options for each matchday. If the first captain failed to deliver, you can change your captain one time to another player