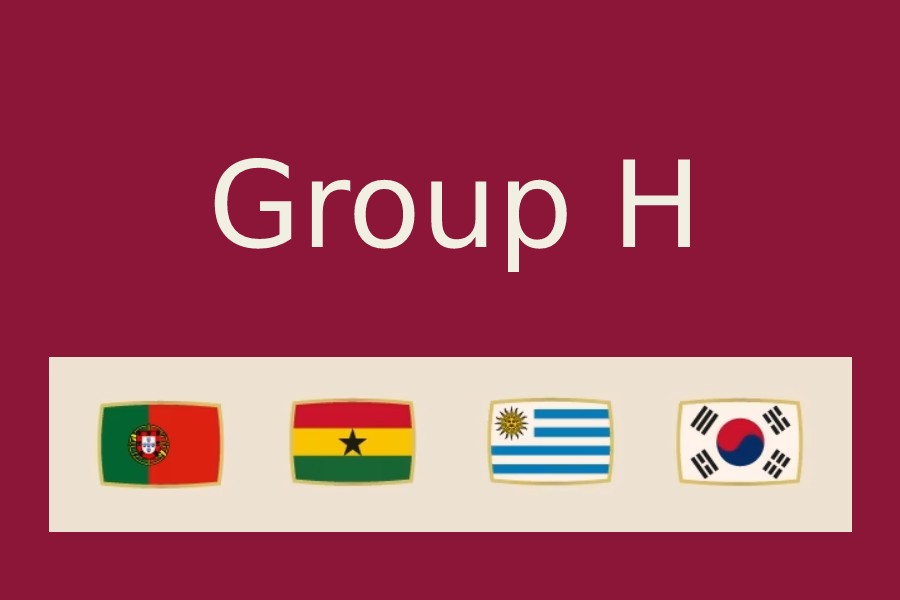 Our analysis of Group H with top scorers for each team from World Cup 2022 Qualification. Hopefully, it will help you pick the right players for your Fantasy World Cup Matchday 1 team!
FIFA World Cup 2022 Group H Teams: Portugal, Ghana, Uruguay, South Korea
Probabilities of winning the Group H
Probabilities of winning group H according to bookies odds.
| Team | Probability of winning Group H |
| --- | --- |
| Portugal | 56 % |
| Uruguay | 30 % |
| Ghana | 7 % |
| South Korea | 7 % |
Our prediction of Group H results
Portugal
Uruguay
South Korea
Ghana
Portugal's team is not only about Cristiano Ronaldo, but he will be the driving force of this squad. Portuguese have a balanced team with other players that we could consider to pick into our fantasy football squads, like Cancelo, B.Silva, Fernandes, Leao, Carvalho.
The second place in Group H is open to all three teams, with Uruguay being slight favorite.
Portugal
Top scorers in World Cup qualification:
Ronaldo 6G + 1A
Jota 5G + 2A
Fernandes 3G + 2A
Palhinha 2G
Silva B. 1G + 4A
Top scorers in Nations League:
Ronaldo 2G + 2A
Cancelo 2G + 1A
Dalot 2G
Jota 1G + 2A
Silva B 3A
Uruguay
Top scorers in World Cup qualification:
Suarez 8G
De Arrascaeta 5G + 1A
Cavani 2G
Valverde 2G
Top scorers in Copa America:
Ghana
Top scorers in World Cup qualification:
Ajew A 3G
Partey 3G
Kudus 1G
Wakaso 1G
Top scorers in AFCON Qualification:
Kudus 2G
Afena-Gyan 1G
Bukari 1G
Top scorers in AFCON:
Ajew A 1G
Boakye 1G
Djiku 1G
Partey 2A
South Korea
Top scorers in World Cup Qualification:
Son 7G
Kim Shin Wook 6G
Kwon Chang Hoon 4G
Hwang Hee Chan 3G + 3A
Hwang Ui Jo 2G + 1A
Lee Jae Sung 1G + 3A
Kim Jin Su 1G + 1A