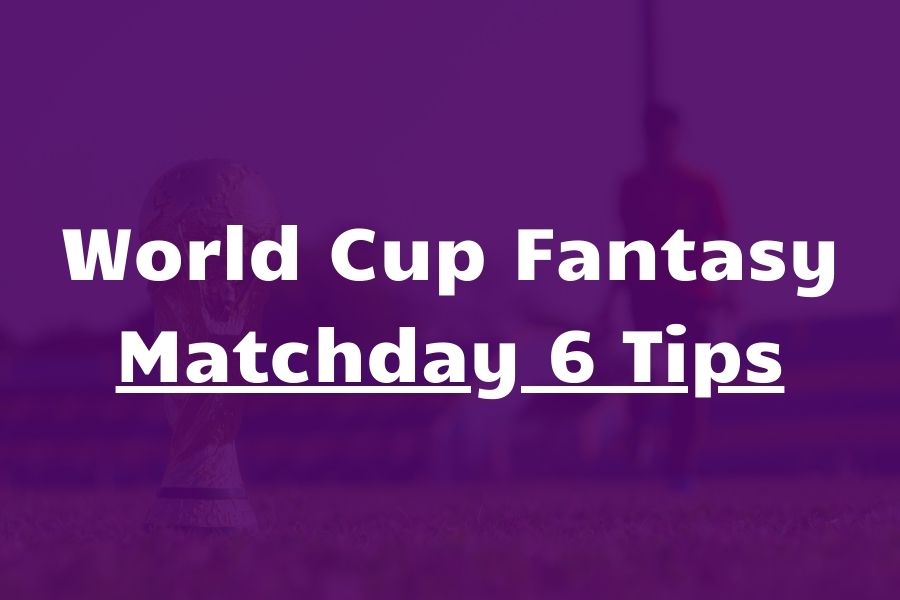 Matchday 6 is almost here, and there are just 4 games left in World Cup 2022. It means that there are not going to many Fantasy points around.
There are not many good fantasy options left, so the fantasy squads of many managers will look very similar in the Semifinals – Matchday 6.
It will be extremely hard to move in overall rankings or in your mini-leagues.
But we at Fantasy Football Reports are here with tips to help you navigate the Semifinals of World Cup 2022 Fantasy.
1. Strategy for World Cup Fantasy Semifinals – Matchday 6
Your strategy for this round depends on the number of eliminated players in your fantasy team.
Strategy if you have a lot of eliminated players
If a lot of your players got eliminated in World Cup Quarterfinals, you have to focus on these things:
Make sure (again, just as in Quarterfinals) you have 11 starters no matter what.
This should not be very problematic, as we have 5 free transfers available in Matchday 6. And you also likely have a few transfers in Matchday 5, that you can use on locked players already during Matchday 5 (before you lose them when the last match ends).
But if you cannot get 11 starters with your free transfers, take -3 hit. But only to get those 11 players. Do not take -3 for 12th, 13th , etc, player.
We have just two games in the semifinals: there will not be a lot of fantasy points around, so hits for your bench players and substitutions will not be worth it.
And with just 4 teams, there are just a few players that are good fantasy assets.
Focus on must-have players and talismans – most likely sources of fantasy points – Messi, Di Maria, Modrič, Perišič, Ziyech, Mbappe, Giroud, Hernandez… You will likely do not get them all, but try to bring in as many of them as possible.
And make sure you have two best captaincy options for both semifinal days – bring in best captains if you do not have them.
Strategy if you have just a few eliminated players
If you used your wildcard in the last round, there is a high chance that you do not have a lot of eliminated players in your fantasy team for World Cup Fantasy Semifinals.
Therefore, your strategy for this round will be a little bit different.
You should focus on these things:
Make sure you have 15 playing players – that you can make all subs. Also, make sure you have goalkeepers for both days, so you can sub off the first one if necessary.
Focusing on having a full playing team (15 players) will be your huge advantage in this round.
Many fantasy managers who used their wildcard in the group stage, do not have that luxury right now and they have to focus solely on fielding 11 playing players and benching eliminated players (that is the best strategy for them).
But also make sure that the bigger half of your team plays on the first day to make your subs more effective (ideally: 8-9 players on the first day, and 6-7 players on second day). That way more of your players have a chance to blank and can be subbed off.
The last thing you should focus on is obvious: having a great captain for each day within the matchday.
Also, save some of your 5 free transfers you are awarded at the start of the Semifinals, in case some of your players are benched during Matchday 6.
2. World Cup Fantasy Semifinals Tips
Pick your strategy based on the number of eliminated players in your team.
Spread funds into players from all 4 teams – you do not need to put an emphasis on players who are most likely advance to the final, as we have 3rd place game in Matchday 7 as well. Basically, non of your semifinals players will get eliminated.
There will not be a many clean sheets (maybe none), so pick attacking defenders from all teams, but put a little more emphasis on teams that have a high probability of a clean sheet
Play it safe in the semifinals, do not take a lot of risk by going for differential players. Many managers will be reckless and will try to take more risk in this gameweek (bringing in differentials, going overweight in one team or defense), but they might get burned. So, just picked the players you think will get the most points in Matchday 6. There will be time to play it riskier in the final and we will show you how.
If you cannot maximize the budget of 105 million, it is fine. Pick the best players – players that are going to score points, and not the most expensive players. If it will leave you 3 or 4 million in the bank, it is fine.

Do not fall into the budget trap.
3. Fixtures to target in Matchday 6 of Fantasy World Cup
Bookies favor Argentina and France to win their fixtures.
But there are no good or bad fixtures at this stage of the tournament.
Try to pick players from all teams equally.
4. Best players to pick in Semifinals
We also looked at players from each position: goalkeepers, defenders, midfielders, and forwards.
We examine which players are best picks in each price bracket: budget enablers, midpriced picks, and premium options:
Top scout picks and differentials for Matchday 6
We also looked at the 5 best scout picks for Semifinals and then at top differentials (under 10 % owned). You can check them in our articles:
5. Best captain for Fantasy World Cup Matchday 6
There are just 2 games in Matchday 6. So you need to have a captaincy option in both of them. We think that Messi is the best captain from the first match. And Mbappe is the backup captain.
Captaincy thresholds:
So, when to change the captain? What is the satisfying amount of points? With 5 points for goals and points for Key Passes and Tackles, we think that the magic number is 6 points.
So when your captain scores 6 points or more, you leave the armband on him. When he scores less, you switch the captaincy.
Switching captaincy is a common feature in UCL Fantasy as well, so you can find more interesting information about switching the captaincy in our article: When to change captain in UCL Fantasy?
All ideas mentioned in the article 100% apply to Fantasy World Cup as well.
6. Probabilities for Matchday 6
Would you like to look at the World Cup 2022 Fantasy Semifinals from a probabilistic point of view? Check the odds for Matchday 6:
7. Booster strategy for World Cup Fantasy Semifinals
Do you still have your wildcard left?
Use it now in Semifinals. This is the last round when some players get eliminated. In the final, we have also 3rd place game, so we will be picking players from the same 4 teams again.
Read more in our article: Should you use your wildcard in Matchday 6 or 7?
You can also check our wildcard team selection here: Our Wildcard team for Matchday 6! (SF)
Power captain in Matchday 6?
If you have not used Power Captain already, you can save it for Matchday 7, where are just a few captaincy options.
Read more: Should you use Power Captain in Matchday 6 or 7?
What about 12th man?
We have 4 teams left in the tournament – all of them play on Matchday 6 and Matchday 7.
The conditions for using this chip will be almost the same in the Semifinals and in the Final (because of 3rd place game).
But we think, using the 12th man in Matchday 6 has a slight advantage over Matchday 7. Here is why: 12th man: Use it in Matchday 6 or 7? Who to pick?
8. Team selection for Matchday 6 (Semifinals)
Captaincy sequence:
Team selection: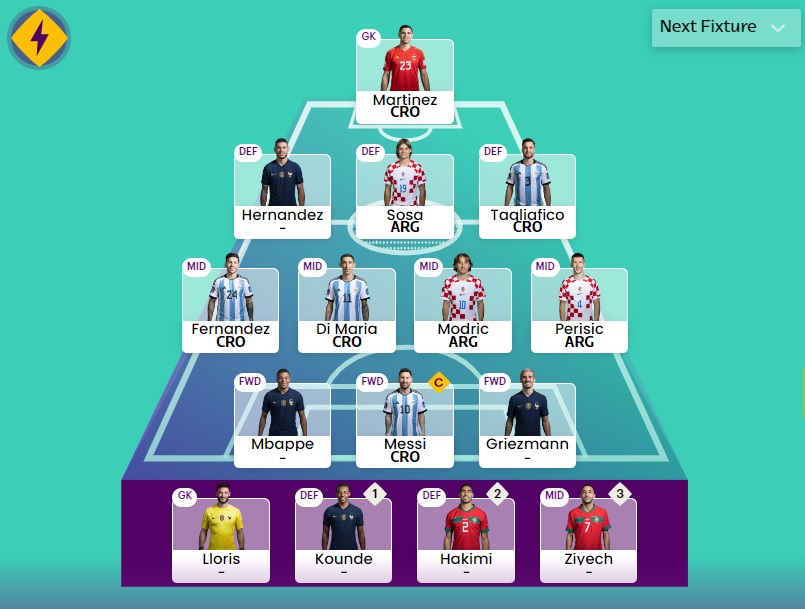 9. Fantasy World Cup Tips
Find more tips, strategies and picks for Fantasy World Cup in these articles:
FAQ
Who is the best captain in Fantasy World Cup Matchday 6?
We think Messi is the best captain for the Matchday 6 of the Fantasy World Cup.
Which players should I pick for my team in Matchday 6?
These are players we consider to be almost essential picks for MD6: Messi, Mbappe, Perišič, Martinez, Hernandez.