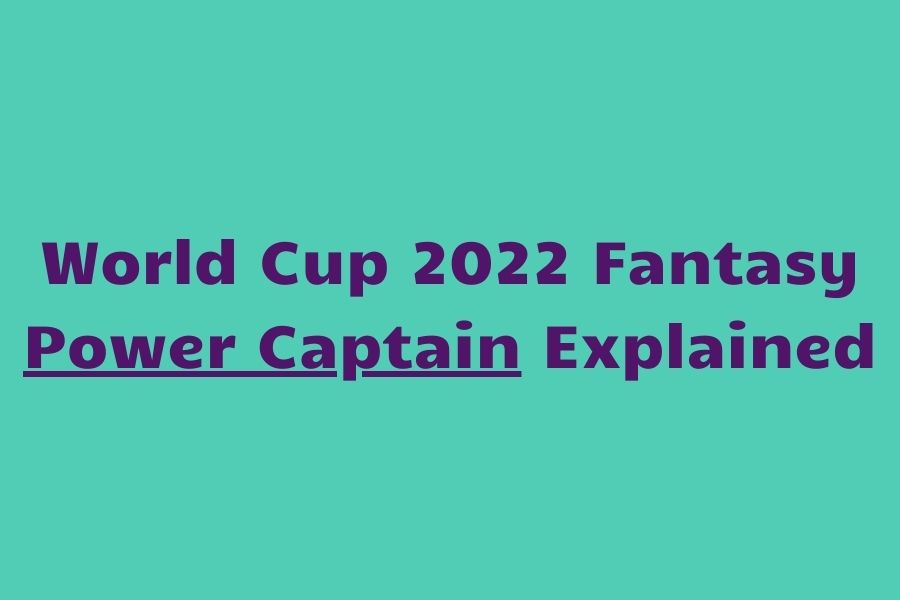 This article is a part of series: How to play World Cup 2022 Fantasy
What is power captain chip?
Power captain is one of three boosters in FIFA World Cup 2022 Fantasy and it allows you to get double points from a player who scores the most points from your lineup.
Basically, you do not need to worry about captaincy in the matchday where you activate the power captain booster.
It can only be used once during the tournament. 
When is the best time to use power captain chip?
For example, you can use the power captain chip in a matchday where you will be unable to actively manage your team. Because of lack of time you activate you power captain and let it do its job.
But for more active fantasy football managers, the best time to use power captain will be on a matchday where:
captaincy is unclear and you are not sure which players from your team are the best captaincy options
Good time to use power captain chip could be in semifinals or in finals, where are just 2 matches and low points potential, so you cannot really predict which player from your team will score the most points. The power captain booster will sort it for you.
But you can also use it in the group stage, as we can change captain only ONCE (when your first captain is locked) to a player who is yet to play, so this chip might help you catch a captaincy haul. If you want to use in Group Stage, likely the best time to use it is in Matchday 3, as in MD2 you would use your wildcard and in MD1 12th man.
Should you use Power Captain in Matchday 6?
Well, the deeper we will go to the tournament, the smaller the chance of catching a big captaincy haul with Power Captain booster is. Fewer teams mean lower points potential.
However…
Fewer teams also mean that you have a smaller chance of catching a captaincy haul even with your regular 2 captaincy choices.
So, we think, that if you still have your Power Captain booster, use it in Matchday 6 or Matchday 7.
Matchday 6 vs. Matchday 7 for Power captain?
Because of the 3rd place game, we will have 2 matches on both of these matchdays.
So the range of players we can pick into our teams will be the same on both matchdays.
So, from this point of view it doesnot really matter which one you pick.
But Matchday 7 will have a slight advantage for using Power captain if you cannot field 15 players in your fantasy team for Matchday 6. But you will get awarded 6 free transfers for the final (and no team gets eliminated), and you can refill your squad with starting players.
That way your Power captain can land on anyone from 15 starters in Matchday 7. Which is more options than potentially only 12-13 starters on Matchday 6, if you cannot get to 15 players with your free transfers.
Should you use Power Captain in Matchday 3?
Matchday 3 will be full of rotation
so we cannot really predict whether some big names and captaincy options (Mbappe, Richarlison, Ronaldo, Fernandes..) start
Bookies expect the least clean sheets in Matchday 3 from all 3 matchdays
There could be some crazy scores and high points potential
We have many good fixtures for captaincy
Power captain in Matchday 3 vs World Cup Final
The points potential in Matchday 3 is definitely higher than in the final matchday, where we will have just 4 teams to pick our captain from. So, the best tie to use this chip definitely depends on your risk tolerance.
So, if you want to exploit the full power of this booster and catch a big captaincy haul,

use it now in Matchday 3.

If you want to make sure, your captain gets at least 6 points in the last matchday,

use it in the final.
Results will likely be very similar in both scenarios. Imagine these imaginary situations:
Power captain in MD3: You captain Mbappe who will get 7 points. Your power captain lands on Dumfries who get 13 points. You gain net 6 points from the power captain.
Power captain in the final: You captain an attacker who blanks and get 1 point. Your power captain lands on a defender who gets a clean sheet and 6 points. You gain net 5 points from your power captain.
For us, Matchday 3 is the answer.
It is an especially good option if you have your fantasy World Cup team full of options that could do really well in easy fixtures of MD3, like Sané, Musiala, Messi, Mbappe, Dumfries, Gakpo, Depay, Coman, Eriksen, Fullkrug, Jesus and we could go one.
Yes, you probably could catch a captaincy haul anyway, with the popular captaincy sequence for Matchday 3 – Mbappe – Messi…
But what if some of your German players score big against Costa Rica?
What if Dumfries, De Bruyne, Erisken or Maehle finally delivers and delivers big? 
The captaincy in Matchday 3 is not as clear as in previous matchdays and points potential is extremely high.
We have so many options..
Yeah, and you just do not need to worry about your captain in this one and can fully enjoy the big scores we all expect on Matchday 3.