The first two matchdays of World Cup 2022 Fantasy Football are now over, few errors and bugs have been fixed, some points have been added and the mood among fantasy managers are slowly improving. But many of them still face a lot of frustration.
The last round of the group stage, Matchday 3 starts in a very short time and we have a lot to talk about.
Let's quickly look at our MD3 tips, best players' picks, captain, possible chip strategy, and of course our team selection for MD 3.
Hopefully it will help you to gather some useful insight and better manage your squad in the following round of FIFA Fantasy.
So, without further ado, here are our Fantasy World Cup Matchday 3 Tips. 
1. Tips for Matchday 3 of FIFA World Cup Fantasy
Focus on teams that have something to play for in Matchday 3
Some nations have already secured their R16 spot, so we can expect rotation from them. In the past, the last matchday of the group stage of the World Cup or EURO was always rotation-heavy, so be prepared for that.
Luckily, we can use 2 free transfers within the matchday 3, so if you see some of your players benched, you can transfer him out before he is locked.
So, pick players (especially your captain) from teams that have still something to play for.
If on a Matchday 2 wildcard, do not forget to change your squad before MD2 ends
If you activated your wildcard in MD2 and plan to exploit the "wildcard hack" – and prepare your squad for Matchday 3 as well, do not forget to do that before the end of Matchday 2.
So you transfer all your locked players and bring in players you want in Matchday 3 instead of them.
Boosters are active during the whole matchday.
The Matchday ends at midnight AST on the day of last matches in the Matchday. So you need to have your wildcard team prepared before that.
Important: The matchday ends on midnight AST (Arabian standard time) time! Make sure you convert it into your timezone!
Matchday 2 ends around 5 mins after the end of the last fixture (Portugal vs. Uruguay).
You can use for example Arabian Standard time converter. Big thanks to Vas for pointing out that AST actually is meant to be Arabian Standard Time and not Atlantic Standard time.
If on a Matchday 3 wildcard, exploit the rotation
If you will activate your wildcard for Matchday 3 (after MD2 end, before MD3 deadline), you will get unlimited transfers for the whole Matchday 3.
That way you can exploit the expected rotation, transfer out players that are benched and replace them with an unlocked alternative.
For example, if Giroud is benched for Thuram, you can transfer Giroud out when you see the lineups and replace him with Thuram without a points deduction. But you must do that while both are unlocked of course.
So with wildcard activated for Matchday 3, you can get 15 starters in your squad, while other managers will have just 2 transfers to deal with rotation.
The unlimited budget hack will not work in Matchday 3
According to the official guidelines you cannot transfer out a locked player in Matchday 3.
So "unlimited budget hack" will not work for Matchday 3 (it worked in MD1 and MD2, where you could transfer out a locked expensive player for a cheap player and use that funds to upgrade an unlocked cheap player to unlocked expensive player).
2. Fixtures to target in Matchday 3 of Fantasy World Cup
Let's look at who are bookies' main favorites to do well in MD3:
Costa Rica vs. Germany: Germany 87 % to win, 59 % to score 2.5+ goals
Netherlands vs. Qatar: Netherlands 83 % to win, 53 % to score 2.5+ goals
Cameroon vs. Brazil: Brazil 82 % to win, 47 % to score 2.5+ goals
Japan vs. Spain: Spain 70 % to win, 36 % to score 2.5+ goals
Argentina vs. Poland: Argentina 67 % to win, 30 % to score 2.5+ goals
Wales vs. England: England 66 % to win, 33 % to score 2.5+ goals
Based on these probabilities, Germany, Brazil and Netherlands coverage for Matchday 3 looks crucial.
3. Clean sheet probabilities for MD3
Let's continue analyzing bookies odds for Fantasy World Cup Matchday 3.
We used our Odds to probability calculator to convert other odds to probabilities as well, which helps us assess the potential of the following matchday.
Clean Sheet Odds Matchday 3
Bookies expect 9.53 clean sheets in MD3 – the least from all matchdays in the group stage. Will we see a lot of goals?
Which teams have the highest chance of keeping a clean sheet?
Bookmakers especially favor the Netherlands (61 %), Germany (59 %) and Brazil (57 %) to do well defensively in Matchday 3.
See probabilities for all nations here: World Cup 2022 Clean Sheet Odds.
Goalscoring Odds Matchday 3
Which players are most likely to score a goal in Matchday 3 according to bookies odds? Check our any-time goalscorer table here: World Cup Goalscoring Odds.
4. Best players to pick in Matchday 3
We also looked at players from each position: goalkeepers, defenders, midfielders, and forwards.
We examine which players are best picks in each price bracket: budget enablers, midpriced picks, and premium options:
Top picks and differentials for Matchday 3
We also looked at the 5 best scout picks for MD3 and then at top differentials (under 2 % owned). You can check them in our articles:
5. Best captain for Fantasy World Cup Matchday 3
When we select a captain in fantasy football, it is all about the fixture. Basically, we try the pick the fixture that has the highest haul potential (or hattrick potential).
We think, that for Matchday 3, Tunisia vs. France, Argentina vs Poland and Brazil vs Cameroon are the best fixtures for captaincy.
However, we are not sure whether Mbappe starts for France, so we wait for some news. That leaves us with Messi as our captain again. So currently, we think that Messi is the best captain in Matchday 3.
Richarlison (or Jesus) based on who starts for Brazil, will be our backup captain. We will try to save one of our two free transfers for the last day of MD3 for the Brazil fixture.
Do not forget we can change our captain only ONCE per matchday, after your first captain is locked.
Alternative captain strategy:
According to the rules, you can change captain unlimited times between unlocked players. So you can start the Matchday 3 with Mbappe as your captain, and if he is benched, you quickly switch your captaincy to Messi while Mbappe is unlocked.
That way you can still change your captain from Messi to someone else, if Messi fails to deliver.
However, if you would change your captain from Mbappe to Messi after Mbappe is locked (after Tunisia vs. France kickoff), you would use your only captaincy change there, so if Messi blanks, you cannot longer change your captain.
Captaincy thresholds:
So, when to change the captain? What is the satisfying amount of points? With 5 points for goals and points for Key Passes and Tackles, we think that the magic number is 6 points.
So when your captain scores 6 points or more, you leave the armband on him. When he scores less, you switch the captaincy.
Switching captaincy is a common feature in UCL Fantasy as well, so you can find more interesting information about switching the captaincy in our article: When to change captain in UCL Fantasy?
All ideas mentioned in the article 100% apply to Fantasy World Cup as well.
6. Booster strategy for MD3
Still have your wildcard left?
As we mentioned at the beginning of the article, you can use your wildcard in Matchday 3 to deal with rotation. Alternatively, you can save it for QF where you could exploit the "Wildcard hack" and prepare your Squad for QF and Semifinals as well.
However, the power of wildcard decreases in knockout stage, as we are awarded:
4 transfers at the start of R16
5 transfers at the start of QF
5 transfers at the start of SF
Basically we will get 4 + 5 = 9 free transfers to set up our squad for Quarterfinals. So it is probably better to use wildcard in Matcdhay 3, if you still have it.
Power captain now in Matchday 3?
Originally we thought, that the best round for power captain will be the final.
However, with one captain change allowed in the group stage, it could be good strategy to use it in Matchday 3, as you have higher chance of catching a big captaincy haul, as the points potential in the final is lower
What about 12th man?
If you have not used your 12th man already, you could, potentially, use it now in Matchday 3. However, big cautious with this booster.
It must be activated before the deadline, and once you select your 12th man, you cannot undo it. So if you go for Mbappe as your 12th man and he is benched, you would wasted this booster.
So make sure you will pick a player from a team that has still something to play for in Matchday 3.
7. Wildcard team selection for Matchday 3
Wildcard for Matchday 3 Wildcarders –  for the start of MD3
Read more about our team selection for Matchday 3 wildcarders here: Our updated Wildcard team for Matchday 3
Captaincy sequence:
If Mbappe plays: Mbappe – Messi
If Mbappe is benched: Messi – Germany player confirmed to start based on starting lineup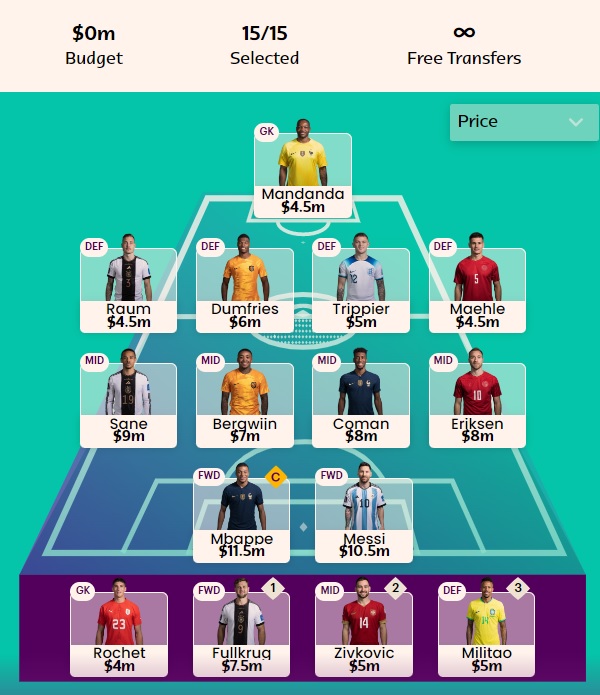 Wildcard for Matchday 2 wildcarders – for the end of MD2
Here is our current wildcard team selection for Matchday 2 wildcarders (exploiting MD2 wildcard hack, setting up a team for MD3 at the end of MD2). Captaincy sequence:
If Mbappe plays: Mbappe – Messi
If Mbappe is benched: Messi – Richarlison (Jesus)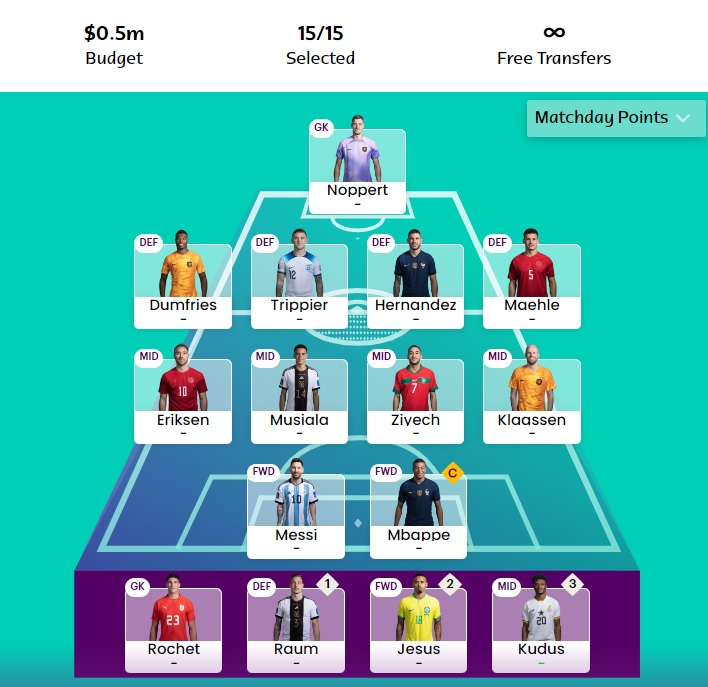 8. Fantasy World Cup Tips
Find more tips, strategies and picks for Fantasy World Cup in these articles:
Do you like our content? Support Fantasy Football Reports
Do you find our content helpful? Feel free to support us by buying us a cup of coffee. We will continue to do our best to bring you the best content possible for World Cup Fantasy and UCL Fantasy.
FAQ
Who is the best captain in Fantasy World Cup Matchday 3?
We think Messi is the best captain for the Matchday 3 of the Fantasy World Cup.
Which players should I pick for my team in Matchday 3?
These are players we consider to be almost essential picks for MD3: Messi, Mbappe, Dumfries, Maehle.
Should I use my wildcard in Matchday 3?
If you still have your wildcard, you can use it on Matchday 3, as it helps you to deal with heavy rotation on this matchday. With unlimited transfers during the whole matchday, you can select 15 starters into your fantasy team.
Can I change my captain in World Cup Fantasy?
Yes, you can change the captain of your team in World Cup Fantasy to a player who is yet to play. But you can do it only once per matchday!
When to change captain in World Cup Fantasy?
We use a threshold of 6 points for changing the captaincy. So if your first captain scores 6 or more points, you leave the armband on him.