We are in the konckout rounds of World Cup 2022 Fantasy Football, and the round of 16 starts in just a few days-
Without further ado, here are our Fantasy World Cup Matchday 4 Tips. 
1. Tips for Matchday 4 – Round of 16 – of FIFA World Cup Fantasy
Focus on teams that have high chance of advancing to the quarterfinals
Unless you still have your wildcard left, pick mainly players who have the highest chance of advancing to the next round.
We will got 4 free transfers at the start of R16 and another 5 at the start of QF, so we should have a lot of flexibility to deal with eliminated players, but still make sure your team will be in good shape on each round.
Pick goalkeepers from both sides of bracket
Goalkeepers of your fantasy World Cup team could be from both sides of the bracket – that way you make sure they do not end up playing against each other in the next round, which would mean that you cannot make goalkeepers subs.
If you still have your wildcard, create free hit teams
If you plan to use your wildcard in QF, you can make 3 free hit squads in the row.
For Round of 16 with unlimited transfers now
For Quarterfinals with wildcard activated in QF
For Semifinals with "wildcard hack" and setting up your team with wildcard at the of QF
and than you will get 5 free transfers at the start of SF and 6 at the start of the Final, so you can make many changes there as well without any team being eliminated (SF losers will play 3rd place match)
2. Fixtures to target in Matchday 4 of Fantasy World Cup
Let's look at which fixtures should be good for points in the Round of 16:
Argentina vs. Australia
France vs Poland
England vs Senegal
3. Best players to pick in Matchday 4
We also looked at players from each position: goalkeepers, defenders, midfielders, and forwards.
We examine which players are best picks in each price bracket: budget enablers, midpriced picks, and premium options:
Top picks and differentials for Matchday 3
We also looked at the 5 best scout picks for R16 and then at top differentials (under 2 % owned). You can check them in our articles:
4. Best captain for Fantasy World Cup Matchday 4
When we select a captain in fantasy football, it is all about the fixture. Basically, we try the pick the fixture that has the highest haul potential (or hattrick potential).
We think, that for Matchday 4, Argentina vs Australia, and France vs Poland are best fixtures for captaincy. So currently, we think that Messi is the best captain in Matchday 4.
Mbappe, will be our backup captain.
Do not forget we can change our captain only ONCE per matchday, after your first captain is locked.
Captaincy thresholds:
So, when to change the captain? What is the satisfying amount of points? With 5 points for goals and points for Key Passes and Tackles, we think that the magic number is 6 points.
So when your captain scores 6 points or more, you leave the armband on him. When he scores less, you switch the captaincy.
Switching captaincy is a common feature in UCL Fantasy as well, so you can find more interesting information about switching the captaincy in our article: When to change captain in UCL Fantasy?
All ideas mentioned in the article 100% apply to Fantasy World Cup as well.
5. Probabilities for Matchday 4
Would you like to look at the World Cup 2022 Fantasy Round of 16 from probabilistic point of view? Check the odds for Matchday 4:
6. Booster strategy for round of 16
Still have your wildcard left?
Use it Quarterfinals which allow you to create 3 free hits drafts.
Power captain in Matchday 4?
Originally we thought, that the best round for power captain will be the final, but than we switched to MD3. So if you have not used it already, you can save it for the final matchday, where are just few captaincy options.
What about 12th man?
If you have not used your 12th man already, you could, potentially, use it now in Matchday 4. For example, your 12th man could be Kane or Depay.
However, with more teams getting eliminated in every round, the possibility you will catch a big haul with this booster is decreasing in every matchday.
So we are leaning towards using 12th man as soon as possible.
The range of players you can choose from for this booster is smaller every round in the knockout stage.
7. Team selection for Matchday 4 (Round of 16)
Captaincy sequence:
Current team selection for R16 (likely final team):
goalkeepers from both sides of bracket, so cannot end up playing against each other in the next round
diversity in the defense, no more than 1 defender per nation, clean sheets are really unpredictable
5m increase in budget allowed premium attack + Bruno.
as Dobo mentioned in the comments, there are rumors that Walker could start instead of Trippier, so we will likely change Trippier to Shaw before the deadline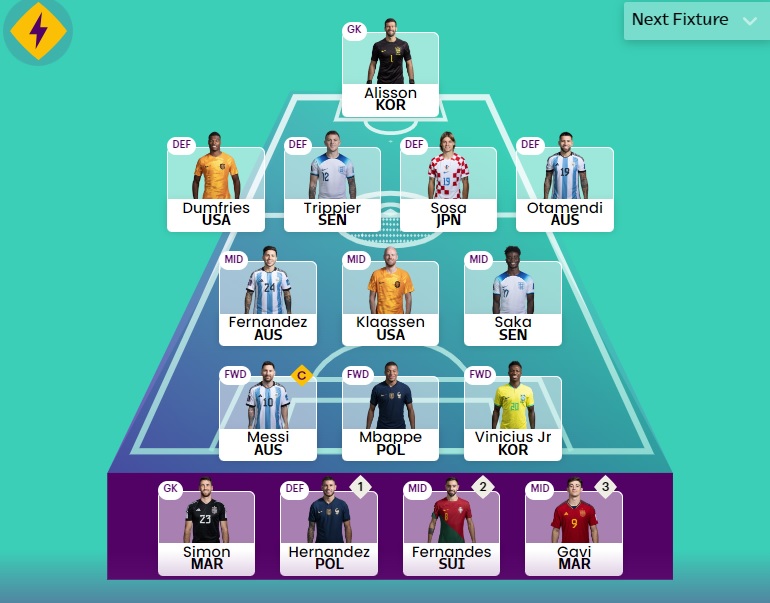 8. Fantasy World Cup Tips
Find more tips, strategies and picks for Fantasy World Cup in these articles:
FAQ
Who is the best captain in Fantasy World Cup Matchday 4?
We think Messi is the best captain for the Matchday 4 of the Fantasy World Cup.
Which players should I pick for my team in Matchday 4?
These are players we consider to be almost essential picks for MD4: Messi, Mbappe, Dumfries, Trippier.